LLC Formation Guide: 50 States
This table has links to our LLC formation guides and business name search info for each state.
How to Form an LLC – Business Name Search by State
* State fees are subject to change.
9 Steps –

How

to Create an LLC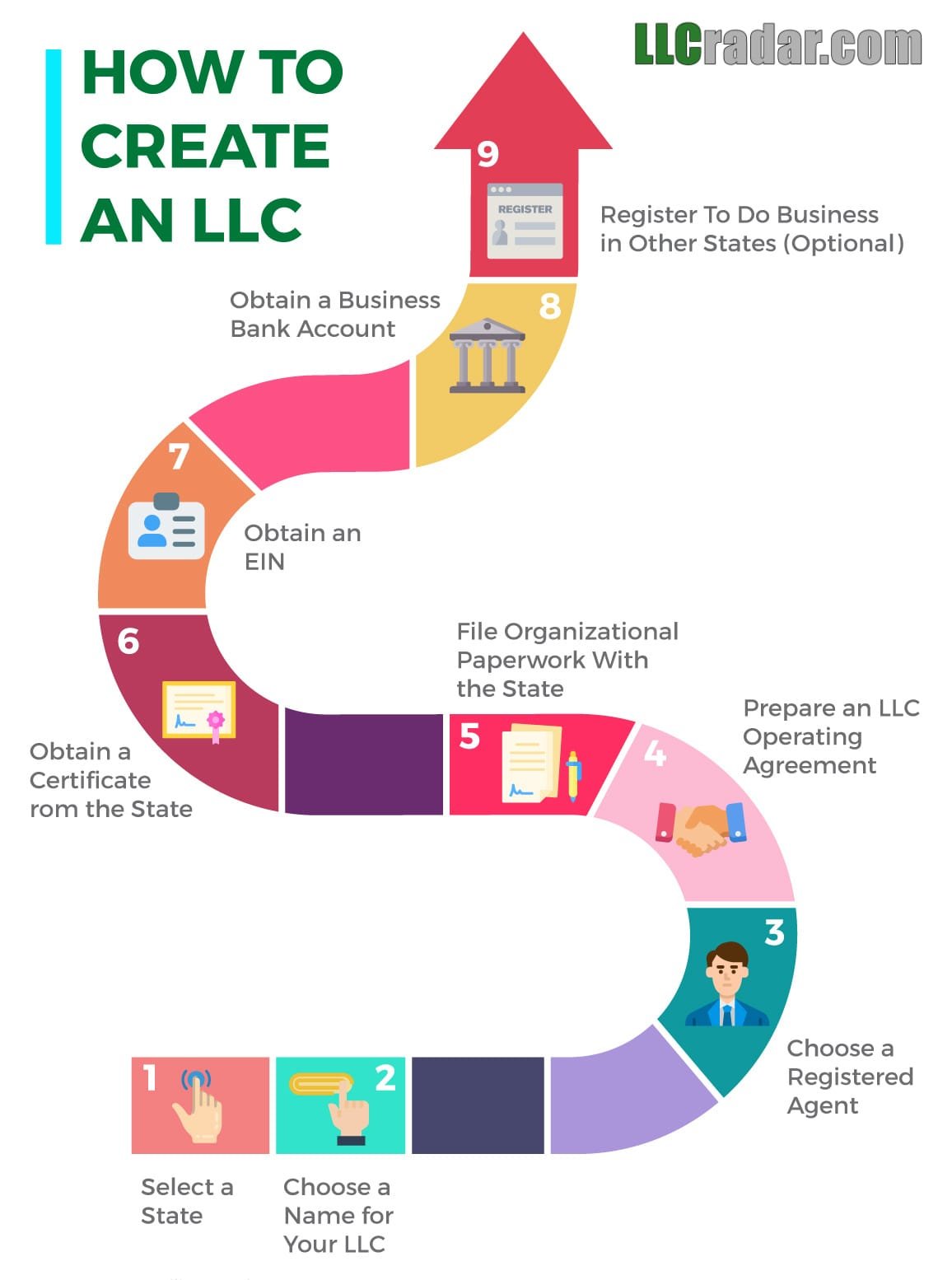 Create an LLC
Step 1: Select a State
Step 2: Choose a Name for Your LLC
Step 3: Choose a Registered Agent
Step 4: Prepare an LLC Operating Agreement
Step 5: File the Organizational Paperwork with the State
Step 6: Obtain a Certificate from the State
Step 7: Obtain an EIN (Employer ID Number)
Step 8: Open a Business Bank Account
Step 9: Register to Do Business in Another State (Optional)
---
Our Top 4 Picks for LLC Formations 
If you are starting a new business, finding the right service to organize and file all the necessary documents to create a limited liability company can be difficult. I think the best approach for most people is to learn the basic guidelines for your state and then find a trusted LLC service that can help you get through the formation process.
A professional and affordable LLC service will save you time and money. The service already knows and understands the LLC formation process in your state. They can help you fill in the forms, provide guidance, and ensure everything is correct before filing.  By hiring a good LLC service, you can reduce the chance that your LLC filing will be rejected because it is incomplete or incorrectly submitted.
Cost to Form an LLC by State
This table lists the filing fees and the annual fees for each state. Fees are subject to change.
State
Filing Fee
Recurring State Fees
Alabama
$200
$10 Annual Report
$100 Annual Privilege Tax (minimum)
Alaska
$250
$100 (every two years)
Arizona
$50 (plus publishing costs)
$0 (report due annually)
Arkansas
$45 online, $50 by mail
$150 Franchise Tax Report (annually)
California
$70
$800 – Franchise Tax (annually)
(Exemptions are available)
$20 – Statement of Information (annually)
Colorado
$50
$10 (annually)
Connecticut
$120
$80 (annually)
Delaware
$90
$300 Franchise Tax (annually)
Florida
$125
$138.75 (annually)
Georgia
$100 online, $110 by mail
$50 (annually)
Hawaii
$50
$15 (annually)
Idaho
$100 online, $120 by mail
$0 (report due annually)
Illinois
$150
$75 (annually)
Indiana
$95 online, $100 by mail
Biennial report – $32 online, $50 by mail
Iowa
$50
$60 (biennial report)
Kansas
$160 online, $165 by mail
$55 (annually)
Kentucky
$40
$15 (annually)
Louisiana
$100
$30 (annually)
Maine
$175
$85 (annually)
Maryland
$100
$300 (annually)
Massachusetts
$500
$500 (annually)
Michigan
$50
$25 (annually)
Minnesota
$155 online, $135 by mail
$0 (report due annually)
Mississippi
$50
$0 (report due annually)
Missouri
$50 online, $105 by mail
$0
Montana
$70
$20 (annually)
Nebraska
$100 online, $110 by mail
$10 (biennial report)
Nevada
$75, plus $150 for the initial list of officers
$150 Annual List of Members & Managers
New Hampshire
$100
$100 (annually)
New Jersey
$125
$75 (annually)
New Mexico
$50
$0
New York
$200 (plus publishing costs)
$9 (biennially)
North Carolina
$125
$200 (annually)
North Dakota
$135
$50 (annually)
Ohio
$99
$0
Oklahoma
$100
$25 (annually)
Oregon
$100
$100 (annually)
Pennsylvania
$125 (plus publishing costs)
$70 (decennial report)
Rhode Island
$150
$50 (annually)
South Carolina
$110
$0
South Dakota
$150 online, $165 by mail
$50 (annually)
Tennessee
$300 (minimum)
$300 (minimum)
Texas
$300
$0 report
Franchise Tax
Utah
$70
$20
Vermont
$125
$35 (annually)
Virginia
$100
$50 (annually)
Washington
$200
$60 (annually)
West Virginia
$100
$25 (annually)
Wisconsin
$130 online, $170 by mail
$25 (annually)
Wyoming
$102 online, $100 by mail
$50 minimum (annually)
* State fees are subject to change.
---
What about LegalZoom?
Strong brand, but I think they're pricey!
$727 + state fee 

😲

LLC Pricing

LegalZoom Registered Agent Pricing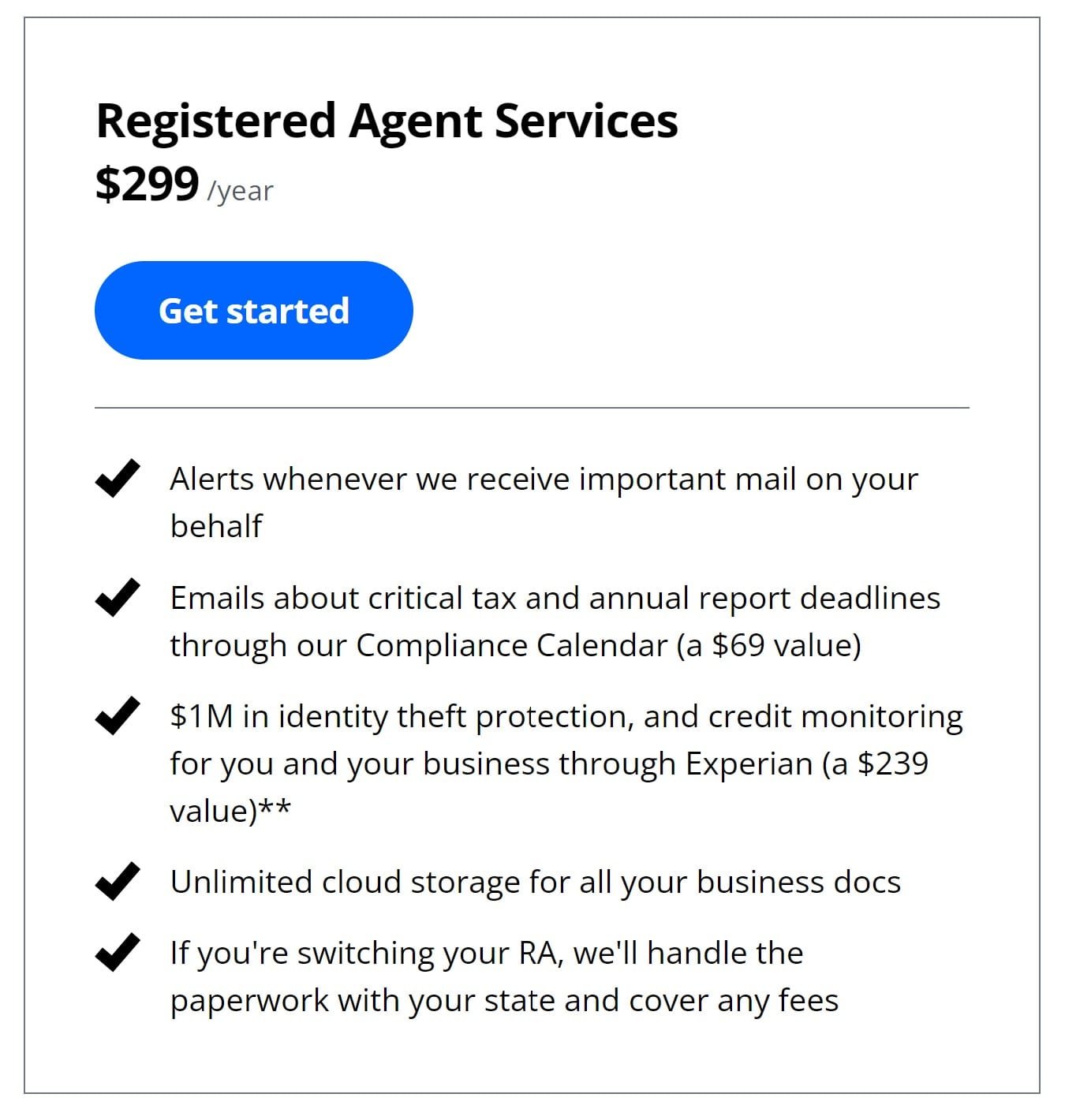 LegalZoom LLC Operating Agreement Pricing

LLC Formation "Standard Plan" = $329
Registered Agent Service = $299  😲
LLC Operating Agreement = $99
$329
+
$299
+
$99
= $727  😲
---
My Recent Posts
Our website provides articles on business formations and business ideas. You will find reviews on software, services, and solutions for small business owners and entrepreneurs.
It's exciting to start a business if you are an entrepreneur. You've got a great idea, and it's now time to take it further. Now it's time to start your business.
However, that's the end of the excitement. As soon as you start to research the process of business formation, you'll realize that it is not as easy as you thought. This is why I am here!
LLC Radar can help with all of your business formation needs.
Entrepreneurs have a particular niche in which they excel.
You might not be good at completing paperwork or keeping track of the required documentation. It's fine! I've been there, and I understand how hard it can be.
You can find services that will help you, just like you, manage your business requirements so you can be focused on what's most important: your customers and business. There are many online LLC formation options, and it can take time to find the one that is right for you.
This is where I come in!
I have a small team of entrepreneurs who have a combined 18 years of business formation experience. I have spent hours poring over LLC services. This includes looking through websites, reviewing applications, and contacting customer service to assess customer reviews.
We've compared prices, reviewed features, and checked accuracy. We have researched for your benefit and will match you with the best Registered Agent service, LLC service, or incorporation service. 
My Popular Posts
Top 9 Best LLC Services for 2022
Registered Agent Requirements for Each State (2022 Guide)
How to Login to GoDaddy
45 Great Startup Ideas for Small Business Entrepreneurs
How to Get a Resale Certificate in California
How to Get A Resale Certificate in Texas
How to Get a Resale Certificate in Florida