9 Best Dropshipping Companies to Partner With in 2023
Best Dropshipping Companies: Oberlo is one of the most popular dropshipping companies right now, and they rank near the top of our list of the best dropshipping companies to partner with within 2023. 
Dropshipping allows you to launch an e-commerce website without handling the inventory, shipping, and fulfillment. Dropshipping will enable manufacturers to ship directly to customers, so there are no hassles.
This guide compares and reviews the top dropshipping companies.
It's simple to manage a profitable online store with the right dropshipping solution.
Best Dropshippers and Suppliers Comparison
AliDropShip – Best Plugin for AliExpress and Best Overall Dropshipping Company
Importify – Runner-up to Best Overall Dropshipping Company
Oberlo – Very popular dropshipping company for Shopify 
SaleHoo – The best Dropshipping Directory and a Great Value
Inventory Source – A time-saving dropshipping automation tool
Dropified – Lots of features, integrates with Woocommerce, and Shopify
Spocket – Quality merchandise for dropshipping
Worldwide Brands – Largest supplier and Dropshipping Company
Wholesale2B – A versatile supplier and dropshipping hub
Compare Dropshipping Companies
COMPANY
PLATFORM INTEGRATION 
PRICING
SUPPLIERS 
PLAN TIERS
AliDropShip

AliExpress

One-time payment of $89 for the plugin or $299 for a custom store.

AliExpress

Plugin or Custom Store

Importify

Shopify and WooCommerce

$14.94 to $37.95/month

AliExpress, Costco, Walmart, Shein, etc.

Basic, Premium, Gold

Oberlo

Shopify 

Free to $29.90/month

N/A

Starter, Basic, Pro

SaleHoo

Shopify and WooCommerce

$27 to $97/ month

Over 8,000

Annual and Lifetime Memberships

Inventory Source

Over 25 different e-commerce platforms, including BigCommerce, Ecwid, Shopify and WooCommerce

Free to $199/month

Over 230

Directory, Inventory Automation, Full Automation

Dropified

Shopify, WooCommerce, and CommerceHQ 

$19-$47/month

AliExpress, eBay, and select U.S.-based suppliers

Builders and Premier

Spocket

Shopify and WooCommerce

$24 to $99/monthly

N/A

Starter, Pro, Empire, and Unicorn

Worldwide Brands

N/A

One-time payment of $299

Over 8,000

N/A – One membership

Wholesale2B

eBay, Amazon, WooCommerce,




Shopify

$29.99-$49.99

Over 90+ suppliers and 1,500,000+ products.

Multiple plan options
AliDropShip: WordPress Plugin for Dropshipping With AliExpress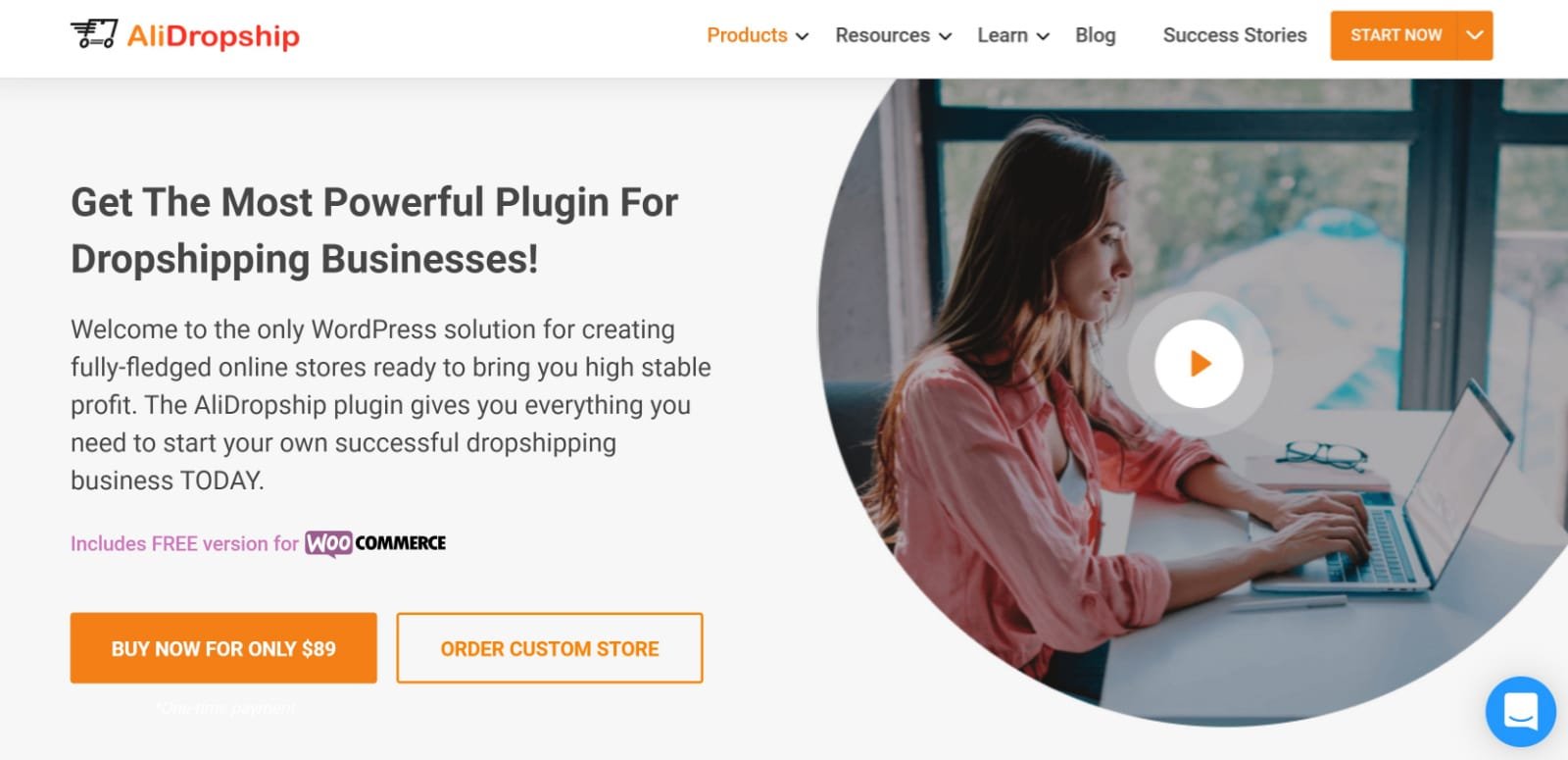 ADD AN UNLIMITED AMOUNT OF PRODUCTS FROM ALIEXPRESS
SEND ORDERS WITH ONE CLICK
IMPORT ALIEXPRESS PRODUCT REVIEWS
ALIDROPSHIP PLUGIN WORKS WITH PAYPAL AND STRIPE
YOU OWN 100% OF YOUR STORE
ONE-TIME PAYMENT
BOTH BEGINNERS AND EXPERTS CAN USE THIS TOOL
PLUGIN $89
CUSTOM STORE $299
Visit AliDropship
AliDropship is an excellent option for entrepreneurs looking to start an online business. It allows you to pay a small amount and get a full-fledged store online.
Best Dropshipping Services: AliDropship with AliExpress
Dropshipping Video
Visit AliDropship
https://alidropship.com
These solutions include a plugin, custom store, and various add-ons. They are designed to create a seamless, satisfying experience for dropshipping store owners.
The plugin integrates seamlessly with WordPress, WooCommerce, and the Shopify app for your convenience.
AliDropship offers effective and valuable solutions for dropshipping entrepreneurs, new or experienced.
Importify: The Best WooCommerce Dropshipping Tool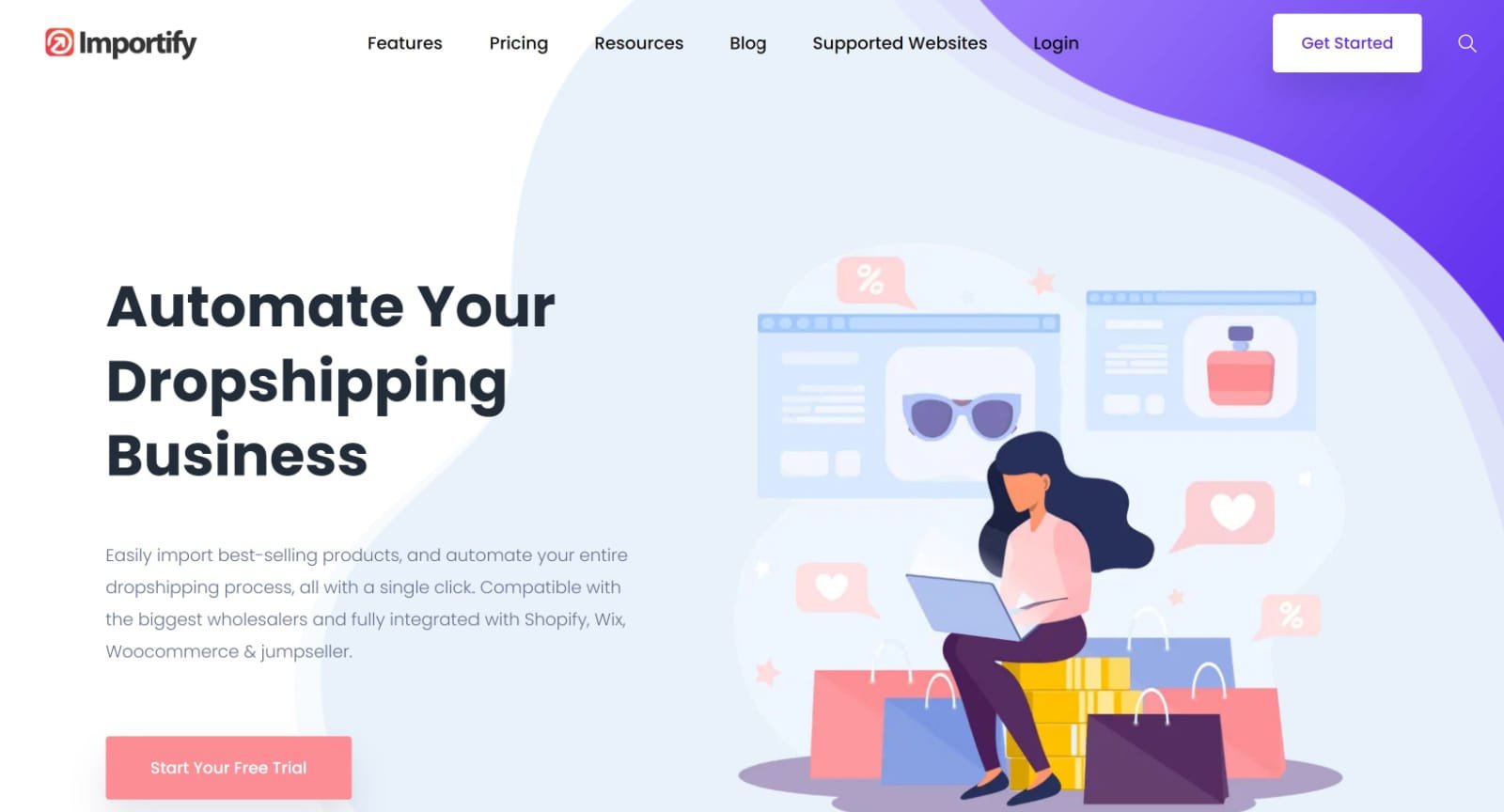 AUTOMATION ON THE GOLD PLAN
ONE-CLICK PRODUCT IMAGING
SHOPIFY & WIX WORKS AS WELL
Visit Importify
Importify is a top-rated platform for WooCommerce-based dropshipping. Importify automates product imports and automation for dropshipping sites powered by Shopify, Wix, or Jumpseller.
It offers a wide range of tools that focus almost exclusively on Shopify stores.
It begins with its research and source tool. This allows you to locate products through prominent wholesalers like:
DHGate
Costco
Walmart
Sears
Kohls
com
Bonanza
Etsy
Flipkart
Geekbuying
In one click, find what you are selling and import it into your WooCommerce store.
Importify allows you to easily switch suppliers for a product out of stock or get a better deal at a different supplier. It is possible to set pricing rules before importing, making it easier for you and your customers.
A product listing editor and Chrome extension are included for easier product import.
You also receive 24/7 support.
All the above is included in Importify's Basic Plan for $14.95 per month.
You can import Ali Express and Amazon products with their Premium plan, which costs $27.95 per month.
Importify's Gold plan is for high-traffic drop shippers. It costs $37.95 per month. This unlocks Importify's automated order fulfillment. So you can ship and sell faster and at higher volumes than ever before and automatically get customer addresses from supplier forms.
---
Orbelo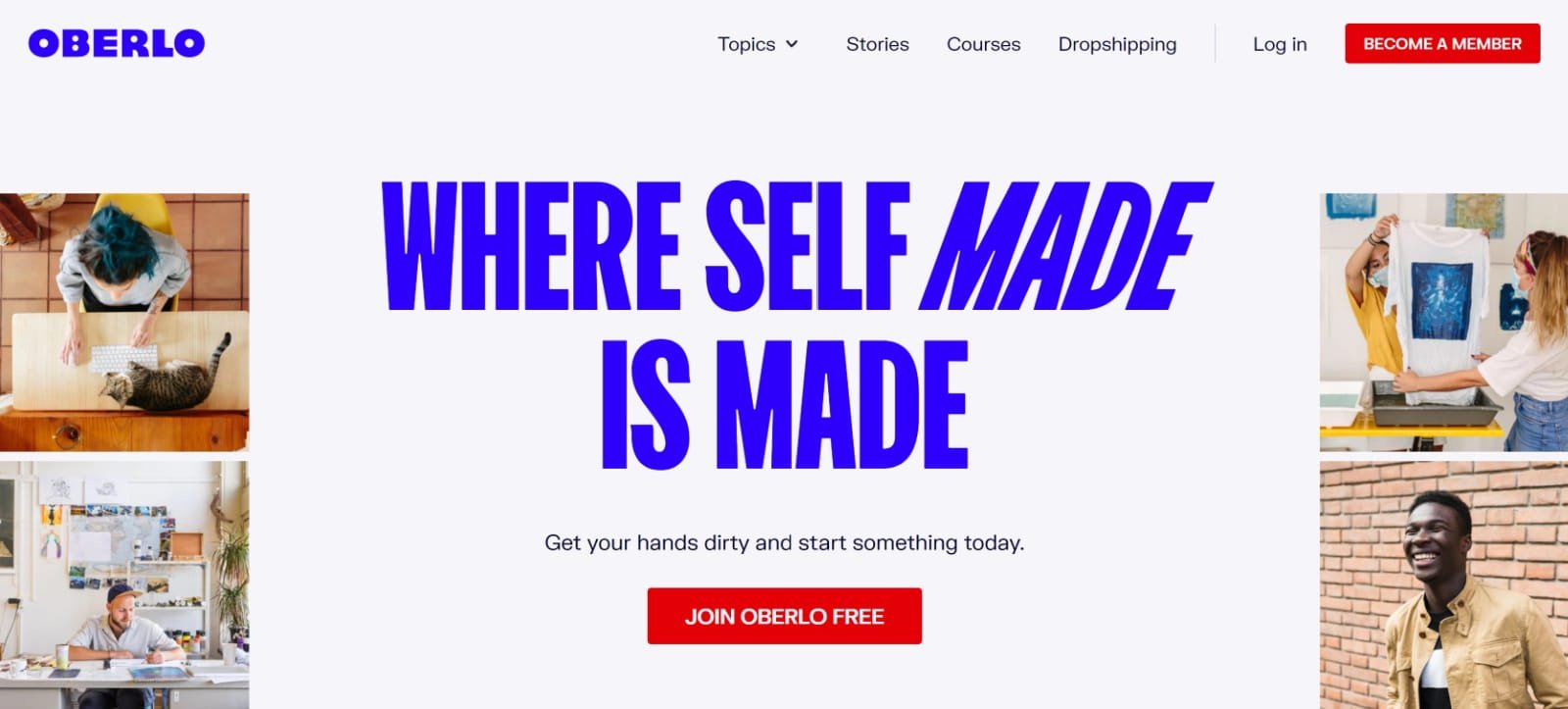 FREE STARTER PLAN
BASIC PLAN $30 PER MONTH
PRO PLAN $80 PER MONTH
4.6 OUT OF 5 STARS
Visit Oberlo
You are responsible for product selection and fulfillment. This allows you to spend your time driving traffic to your store.
Oberlo offers a free forever-free Starter Plan. To unlock shipment tracking and order fulfillment monitoring (I recommend), you will need to upgrade to the Basic Plan at $30 per month.
You'll be able to increase your sales limit from 50 up to 500. After you reach 500 sales, you will be in Pro territory. This is $80 per month and allows multiple users.
Oberlo is rated 4.2 out of 5 stars based on 2,000 reviews on the Shopify app store.
---
SaleHoo – Exclusive Members-Only Database Of 8,000+ Suppliers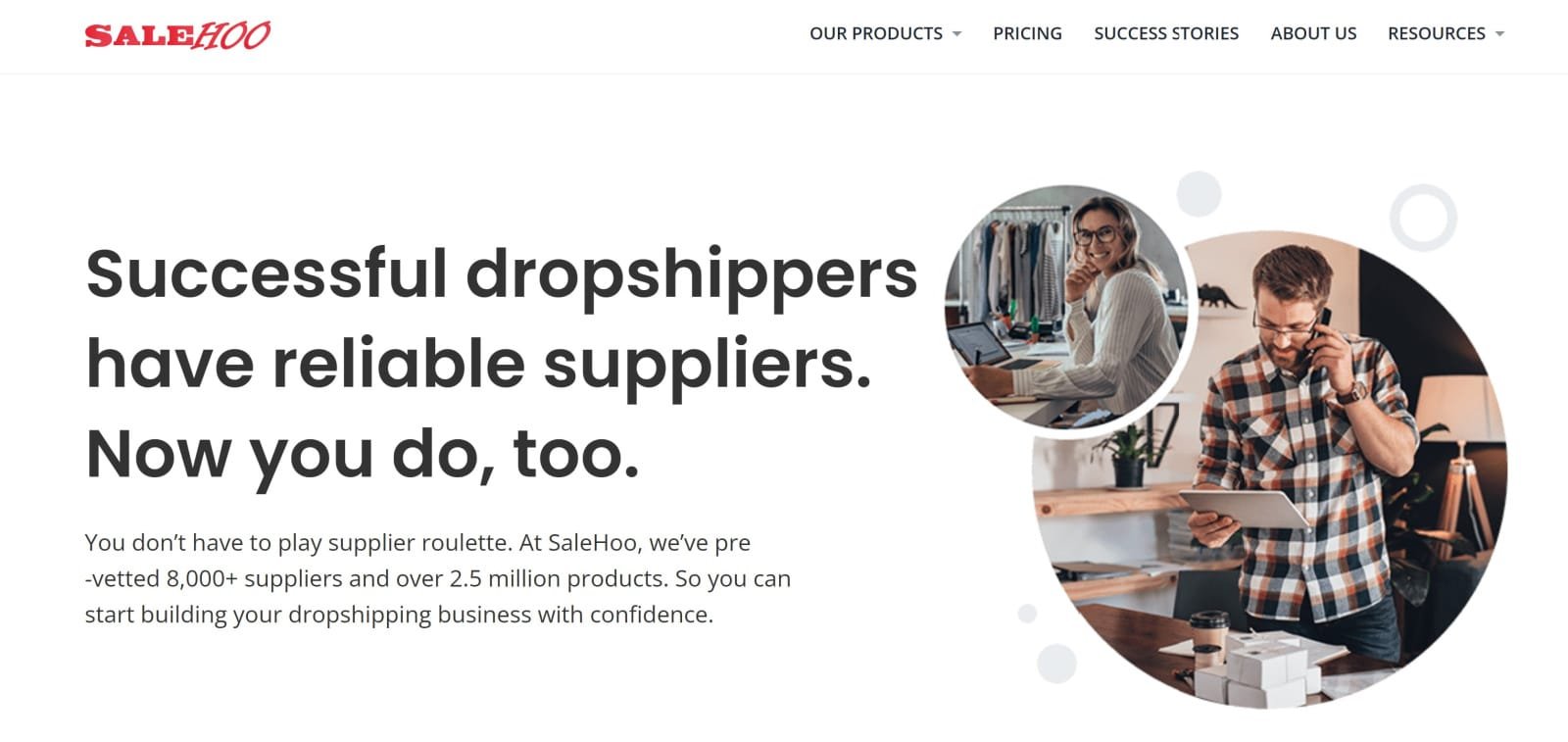 60-DAY FREE TRIAL
ANNUAL PLAN $67/YEAR
LIFETIME PLAN $127 FOR ONE TIME
9.6 STARS OUT OF TEN
SALEHOO FREE TRY
Salehoo is an excellent dropshipper with a vast supplier database.
Salehoo offers a $67 per year membership that grants access to the database of over 8,000 wholesalers and dropshippers. All of them are screened by SaleHoo before being added to the directory. You can try it for free for 60 days. The customer service scores high: 9.6/10 with 300 TrustPilot reviews.
Dropshipping is possible because of the availability of great deals. If it's listed on SaleHoo, you don't need to worry about "too good to believe"
SaleHoo database price comparison image.
With a single sale, you can get back your annual membership fee.
SaleHoo's Market Research Lab gives you access to fully-vetted suppliers. Take a look at the trends and use the data to discover the most important for your market.
The Lab allows you to see the competition among drop shippers, compare profit potential between items, and spot emerging trends that will enable you to strike. At the same time, it is hot (or before other sellers).
SaleHoo gives you access to the wholesaler directory, but that's only half. You'll also enjoy unprecedented agility compared to drop shippers.
---
Inventory Source — Time-saving Dropshipping Automation Tool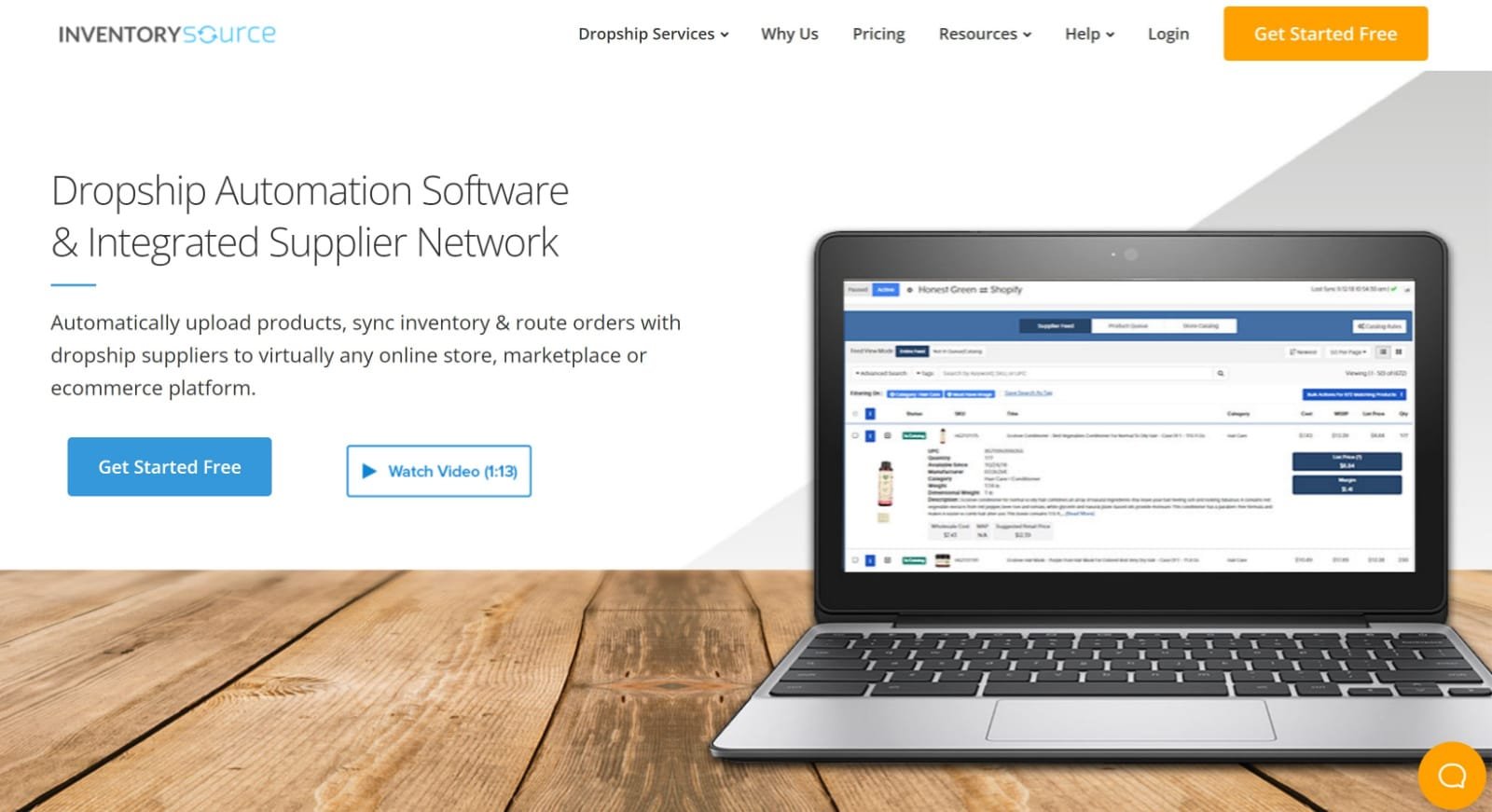 AUTOMATION SOLUTIONS FOR DROPSHIPPING
INVENTORY $99/MONTH
FULL AUTOMATION $150 per MONTH
180+ DROPSHIP SUPPLIERS
Inventory Source is an automation tool that allows you to sync your supplier's products with your page (inventory automation) or the entire customer purchase process so that your orders can be placed automatically with your supplier (full automation).
Inventory Source automatically uploads quantities, weights, and colors for you. These data are directly from the supplier's feed, so they're always current. This reduces the amount of busywork.
Full automation costs $199/month, while inventory automation costs $99 per month. You can get a directory account that allows you to access all dropship suppliers and preview product feeds for free. That's the best you can get, right?
---
Dropified – AliExpress's Most Popular Shopify App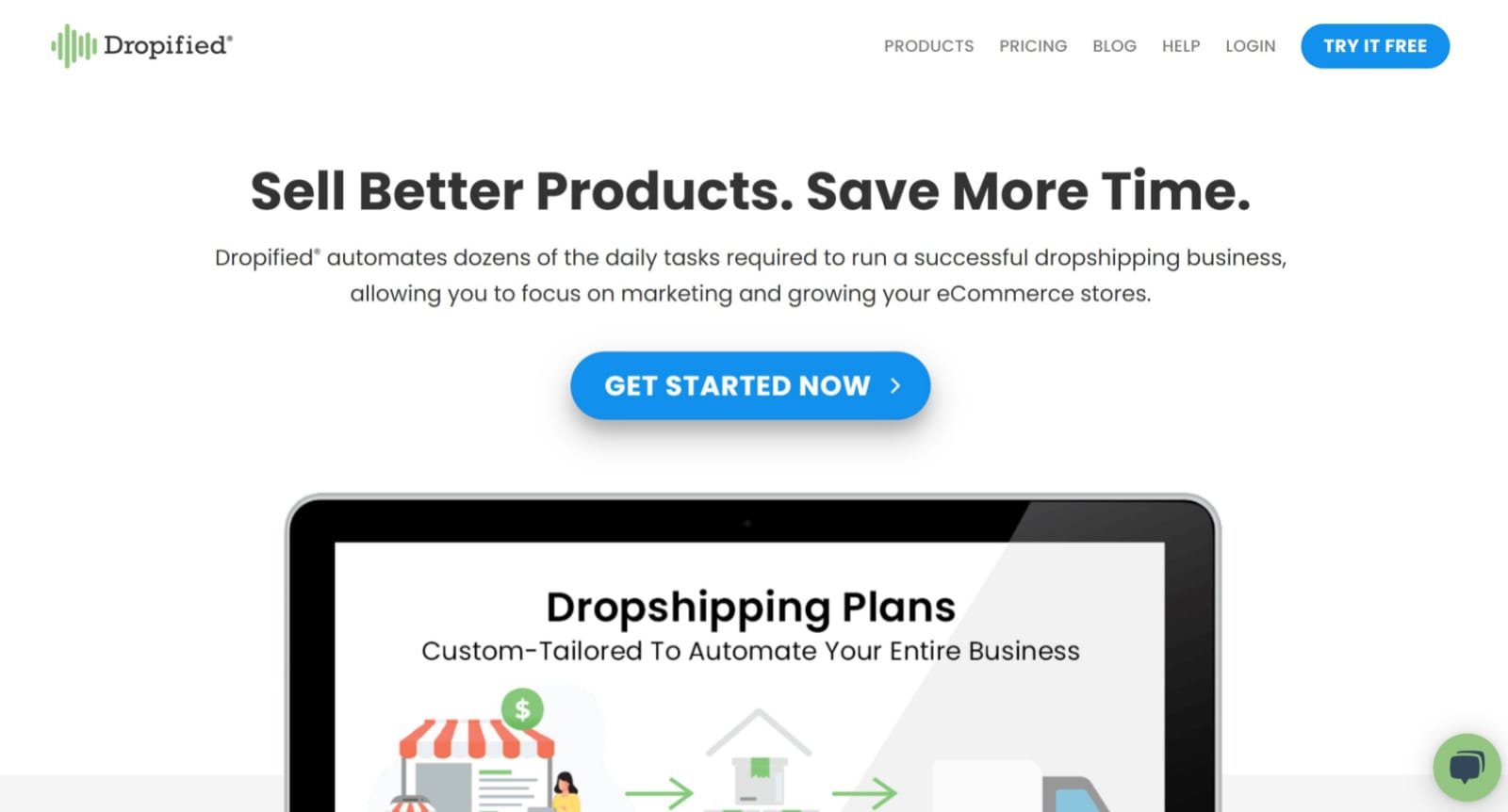 14-DAY FREE TRIAL
BUILDER PLAN $47/MONTH
PREMIER PLAN $127/MONTH
4.8 STARS OUT OF 5.0
Another Shopify app is available to stock your store, automate your AliExpress orders (including shipping addresses), and manage your Shopify account.
Dropified does not have a marketplace. Instead, it offers a browser plugin that allows you to pull from any web page. You can define margin parameters and rules to change the price points of your store.
You can try it for 14 days free. After that, $47 per month is charged for the Builder plan and $39 per month for the annual plan. Premier plans cost $127 per month, $97 per month with annual billing, and include Zapier integration, a profit dashboard, and unlimited high-speed captcha solving.
Shopify users have rated the app 4.4 out of 5 stars based on 104 reviews.
---
Spocket – Shopify Database App With Good Reviews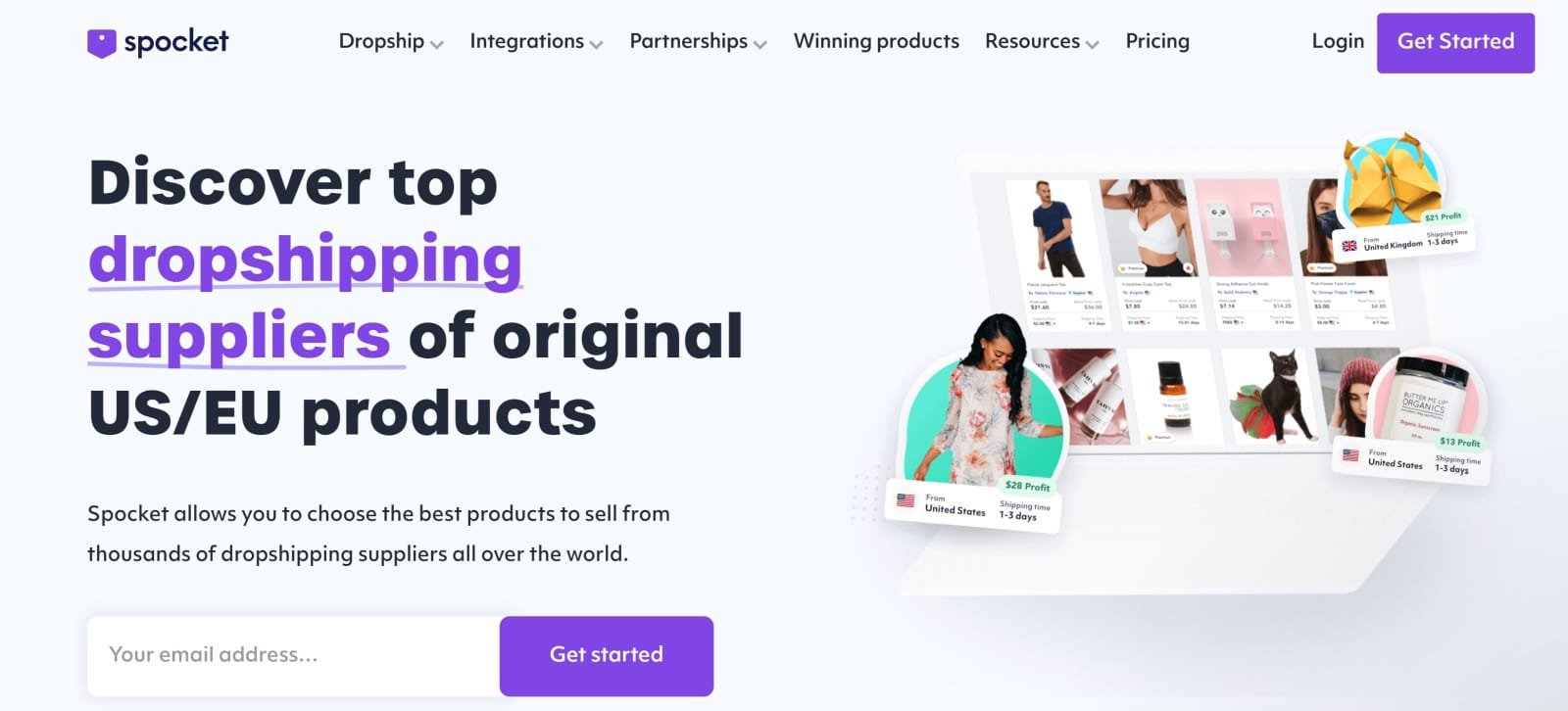 FREE STARTER PLAN
PRO PLAN $49/MONTH
EMPIRE PLAN $99/MONTH
4.7 out of 5 STARS
TRY SPOCKET FOR FREE
Spocket is a database app that allows you to dropship items. You can sort the products by country and upload them to your Shopify store.
These items make it easier to locate US and EU products that will ship in your country rather than China. This reduces shipping times.
The Basic plan includes 25 products and complete orders. Upgrading to Pro costs $49 per month and allows for 250 products and branded billing. Unlimited products are available with the Empire plan for $99 per month. Shopify has awarded the app 4.5 stars.
---
Worldwide Brands – The Best Budget-Friendly Database
Visit Worldwide Brands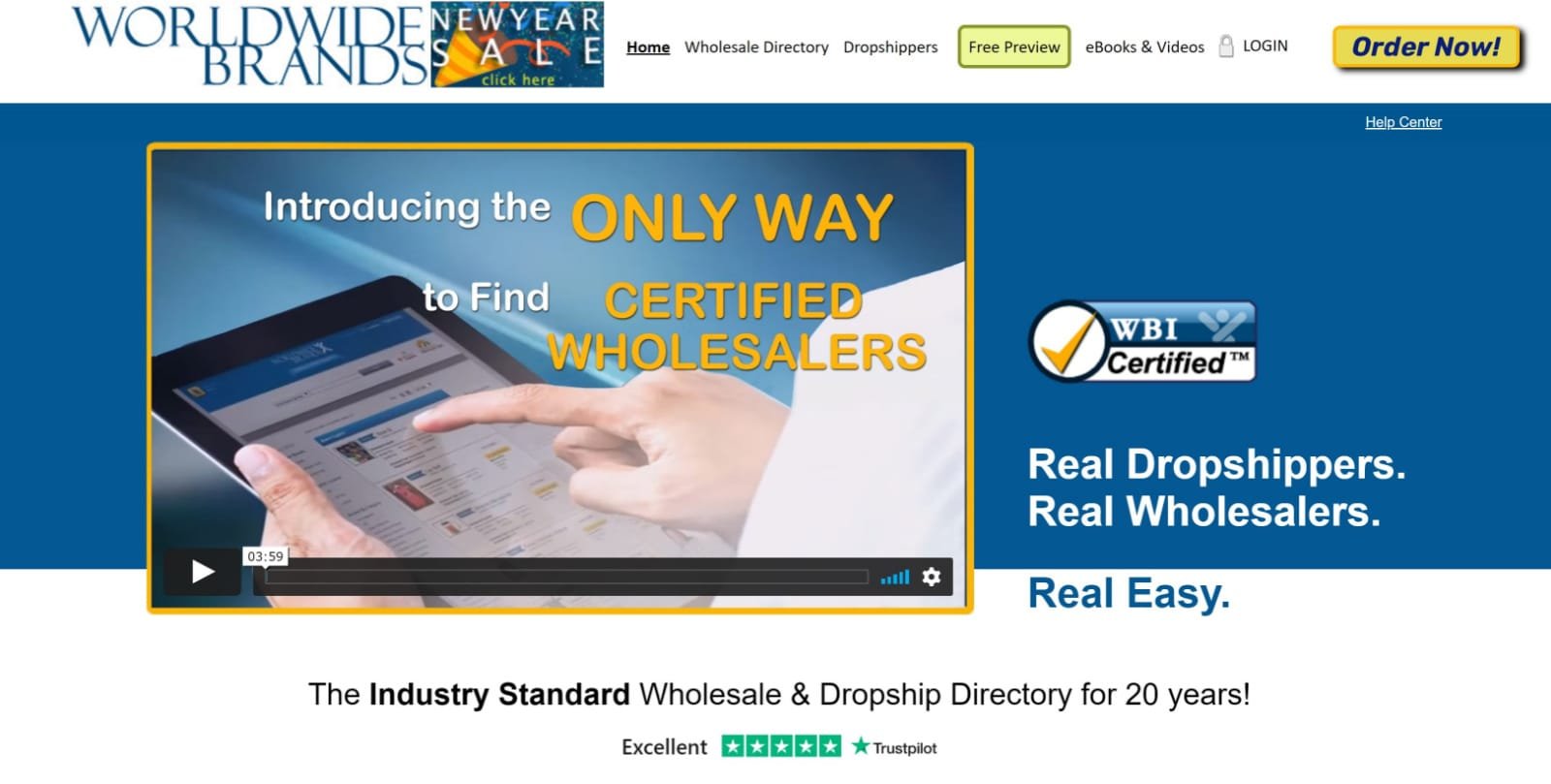 LIFETIME PLAN $299
DIRECT ACCESS FOR ALL WHOLESALERS
16+ MILLION WHOLESALE PRODUCTS
BBB A+ RATED
Worldwide Brands offers a lifetime subscription for $299 to its drop shippers and wholesalers database. This is a budget-friendly option for anyone looking to sell products on Amazon or Etsy.
Its extensive upper-market wholesale directory distinguishes worldwide Brands with certified dropshippers and its reliable and responsive support team. Lifetime membership is also a great benefit. Worldwide Brands received 4.9 stars from 171 Trustpilot reviews.
---
Wholesale2B has over 1,000,000 products available for dropshipping.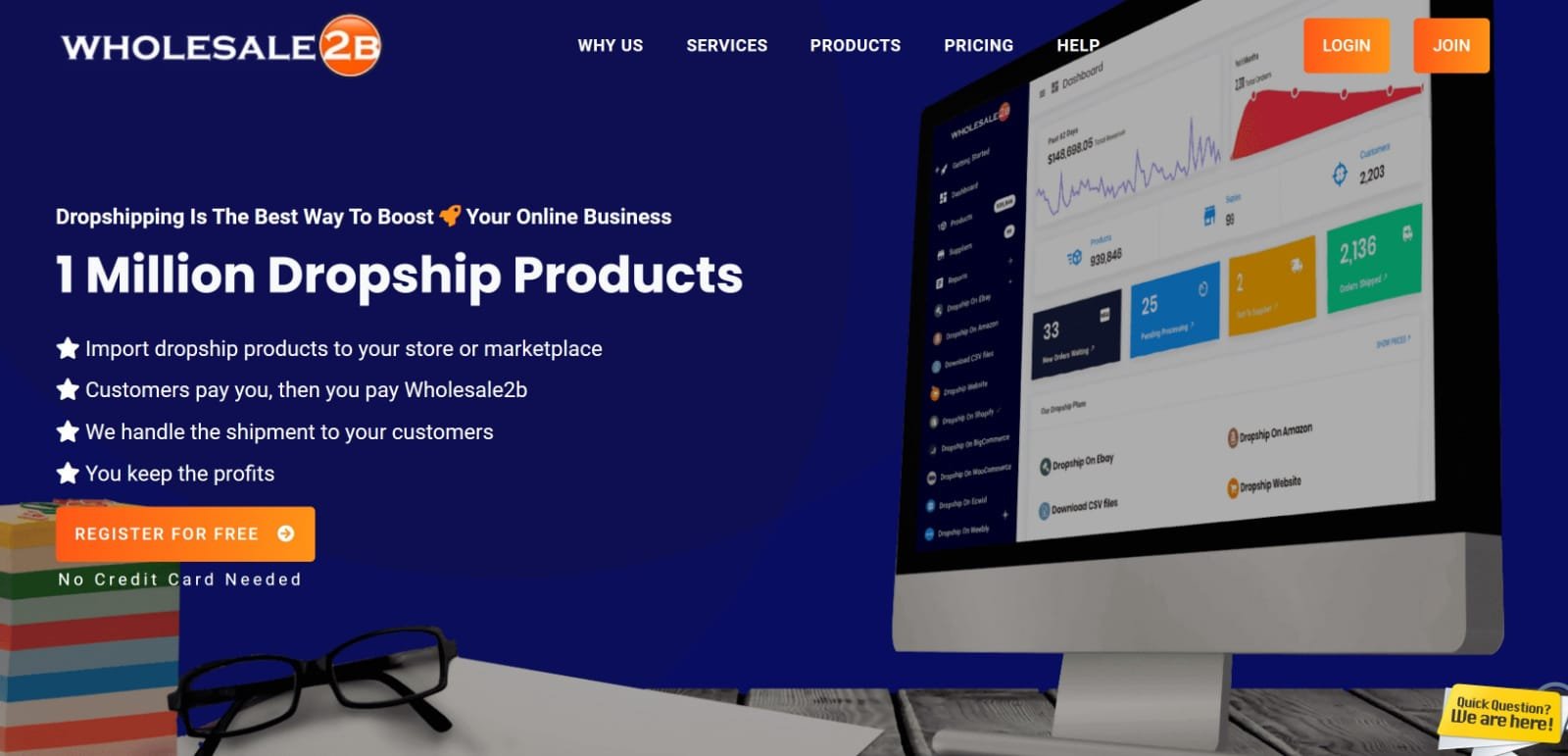 BROWSE FOR FREE
MULTIPLE PLAN OPTIONS
$29.99 TO $49.99 PER MONTH
DIY PLAN $67 PER YEAR
They also allow you to sell your products:
eBay
Amazon
WooCommerce
Shopify
Magento
Weebly
BigCommerce
Register as a reseller with each supplier to handle the orders. You can also pay Wholesale2B a fee of 3% to take it for you.
Wholesale2B is entirely free, with 1,000,000 products, customer support, a lifetime account, and no monthly fees.
---
Which dropshipping company is best for me?
It's a bit absurd to try and find the best dropshipping business. It's like asking eBay for the best seller or Etsy store.
Dropshippers are great because they communicate well and can ship quickly. The product arrived in one piece and had excellent packaging and was not chewed by an alligator. It arrives precisely as promised. It comes exactly as promised.
As an eBay seller, the best drop shipper is the one who sells what you are interested in buying (and then reselling). They will communicate with you and ship your product quickly at a profit.
Dropshippers typically use Shopify or Wix stores and an automation app such as Modalyst, Oberlo, or Modalyst. This is the best way to start dropshipping if you are new.
Shopify is the best place to start your dropshipping company
This means that you're creating an e-commerce store equivalent. Shopify is the clear winner for e-commerce stores. Shopify has been the leader in e-commerce for quite some time.
The best thing about dropshipping is the robustness of the app store. Most stores use Shopify, so app developers looking to create high-quality apps for Shopify can do so.
If you haven't set up Shopify yet, it should be on your list. This post will walk you through the steps of setting up your Shopify store. It's easy. You can even take Dropshipping 101 in the Shopify Academy.
Dropshipping with eBay is not something I recommend.
It is easy to open a shop on a marketplace. You don't need to create a website or pay a subscription. Shopify is a similar platform. However, it's not something I recommend. eBay is becoming more hostile to dropshipping businesses than Shopify, which is super enthusiastic and helpful. 
eBay will not forgive you if your store is slow shipping. These are my issues:
You are probably not the only person selling this item
Your business case may not be clear. Why should someone purchase that item from you instead of another eBay seller?
eBay is targeting Dropshippers and resellers. They will ask for proof of possession and then freeze your store until it is received. A photo of your ID card and the item could be proof of ownership. This is not the same as a picture of the item. For more information on eBay aggressively banning drop shipping/arbitrage accounts, see this article at eSellerCafe.com.
To help you understand the risks and challenges involved in dropshipping with eBay, I recommend spending a few months or more in the seller forums.
How to start a dropshipping business
1. Sell items
First, find your niche.
There is a lot of talk on the internet about finding your dropshipping niche. But this is just a buzzword for product-market fit. Are there people who would like to purchase your product? You?
You won't run a profitable business if you don't.
Dropshipping a product will be most successful if it has a market interested in it but doesn't have easy access to it. This is where you come in.
You can find your niche by brainstorming fan groups with similar interests (e.g., dog lovers, anime enthusiasts, parents who love to dress their children in matching outfits), sailors, tall people, and people who are passionate about 90s throwback T-shirts. These are buy-ready people who want to love and purchase the things they like.
Next, check out what's hot on Facebook.
You can quickly search for phrases like "Get yours now" or "Buy Now" to see videos that feature items gaining popularity. This will give you an idea of the most popular products on Facebook.
You should aim for a lot of views within a short time. Next, search for the item at AliExpress or Oberlo. You should consider the price point of the article and the assets that you can make for it. Is it possible to duplicate or improve the current trending video? Dropshipping is possible if you have a product that's worth selling.
After you have taken care of everything, here are some pieces of advice:
Do not sell anything dangerous or copyrighted
Don't try to put something in someone's body if you are a beginner. Do you have insurance for the liability if you don't know the source and quality of the ingredients?
It could also be a problem if the item features a star or a character from a film franchise. Avoid mice with large round ears.
Take a look at the reviews of sellers and order a product test
What length of time has the seller been selling their products? What kind of feedback has the seller received? Is the product meeting your expectations when you order it as a test product? How can you make sure your customers are happy with the product when they get it?
Dropshipping is an option for some products.
Dropshipping only certain items does not mean that you have to dropship all of them. Dropshipping is a good option for niche products that are large and bulky.
For example, let's say you own an online store selling nautical gear. You might want to store some items and dropship the anchors. Customers might be more flexible to longer shipping times because it is a more significant and more thoughtful purchase.
The same goes for home goods. You might keep small items in stock but dropship the couches. This is a simple way to increase your inventory.
Dropship with a supplier by going directly to them
This is a great plan. There will be less competition. This creates an audience for a product that's not being seen by a ready-to-buy audience. Every subscriber to your database is also using the same database.
2. You must know the basics
A good domain name is something you should invest in. It is a crucial component of any ecommerce business.
Domain.com is where we buy all of our domain names. You can read our complete review of the top domain registrars.
After you have done this, you can create your website.
Shopify will make it easy to get up and run in no time. Dropshippers love the Shopify Brooklyn theme. It has a great font selection. Another ecommerce platform is also available. If you are interested, here's our review of the top ecommerce platforms.
99Designs can provide a professional logo design for your website for a low price and with no design skills. For more information and to enter a contest to design a logo, see my post on how to get your first brand identity for a reasonable price.
For dropshipping, make sure you set up professional email addresses. Your domain name should be a good start (help@ and support@). G Suite is $5 per month for each user. Emailing customer service at yahoo.com and gmail.com is not something to trust.
These are other essential elements that you should consider when planning and setting up your business:
Your customer should have strong trust signals
This can be achieved with high-quality photos and unique item text, an authentic About Us page, and thoughtfully using pop-ups and discounted prices.
Ask yourself this question: Would I purchase from this store? Do I feel confident recommending it to a family member or friend? At the very least, you'll need to have some trust logos and FAQs.
Expectations for shipping time
Dropshipping isn't the fastest way to deliver items to customers. In a world where Amazon Prime sets the standard at two business days, drop shipments of 30 days feel very slow. Customers will be unhappy if you don't prepare them.
Your bank will not cancel multiple orders if you bundle credit card orders. Your bank should know the types of orders you will place and the quantities to not flag as fraud. You can't imagine the pain of reordering orders you have placed. ).
Be prepared for cancellations and returns.
What are your options for dealing with unhappy customers? How will you handle unhappy customers? Are returned items shipped to you or your distributor? How does that work? It's crucial to start it all from the beginning, just like any business.
Save money for taxes.
Shopify is your payment gateway. Once you reach a specific sales threshold, Shopify will report your sales to the government. It is essential to ensure that you have enough money to pay any taxes.
We recommend that you get an accountant and a lawyer. (We've heard great things about LegalZoom and UpCounsel) as well as setting up Quicken.
3. Be different
Make your store listings and ads stand out from the rest.
You can set up drop shipping orders for specific products quickly and easily. The key is to identify a competitive advantage. Why would anyone order from you or have your store sell the product?
To make sales, you will need visitors. Let people know about your store. You can do this through word-of-mouth, social media ads, and viral memes. Influencer programs, SEO, and a newsletter.
Make your photos Your copy. Shoot unique social videos. You should think about conveying the product and why someone would want it. Is it able to make them smile?
AliExpress allows you to import user reviews. Nobody likes to be the first to purchase something.
You might also consider offering free shipping. This can be a great way to attract customers. Are all orders eligible for free shipping? Or only if a certain amount of money is spent? Which threshold or minimum order spend is best?
I don't recommend offering "free products" — you have to pay to ship. Many customers prefer to know the price upfront rather than go through a purchase process that starts at $0 and ends with a $15 shipping fee.
It's 2021, and Prime now offers free 2-day shipping. People are starting to notice, and they are not happy about it. Continue reading from The Daily Beast: Instagram Influencers Trick Their Fans with 'Free' Products
4. Try Things and If they Work, Repeat and Repeat
To gather data and test strategies, you can use ads. Assume that you will be purchasing ads. Buy the data and test it. What gains traction? Double your efforts. What works? It's best to throw it away.
You may be able to change your products, your advertising style, or your audience. You should follow the early traction to move toward what is working and away from things that are not.
Be analytical about your sales trends. What is selling well? What isn't selling? Are there any common themes in the items? Do what you can. Stop doing what isn't working.
Summary of the Top Dropshipping Businesses
Dropshipping is a profitable e-commerce strategy. It all begins with the right partner.
The type of products you are looking to sell, the quality of the supplier, and how seamlessly the service fits into your business process will all play a role in choosing the right dropshipping company.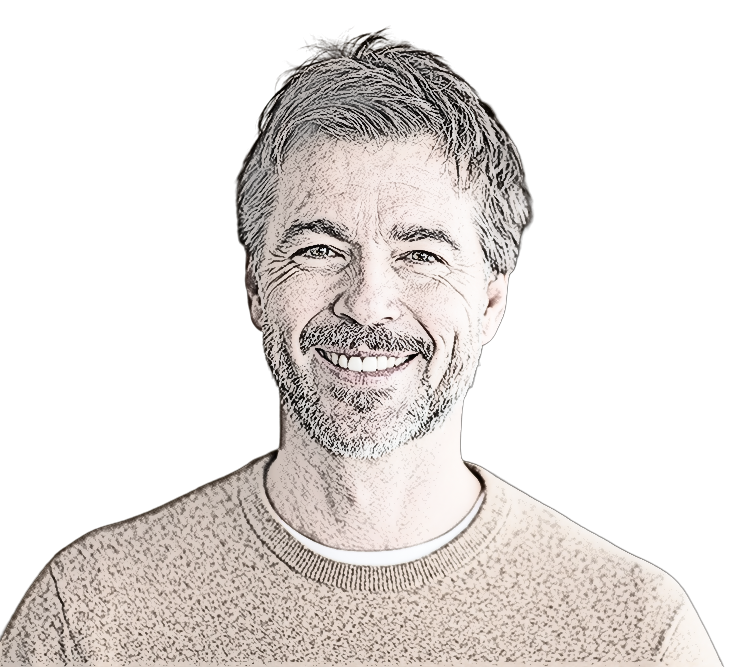 Brian Wilson is the content manager and founder of LLC Radar.
Brian grew up in North Texas, just outside of Dallas, and has a bachelor's degree in business journalism from Southern Methodist University. Since graduating from SMU, Brian has gained over 10 years of experience in business writing for several online publications.
Brian resides in Plano, Texas and he can be reached by email:   info@llcradar.com
Phone: 972-776-4050