16 Best Registered Agent Services (October 2023)
Our top recommendation for best registered agent, is Northwest Registered Agent.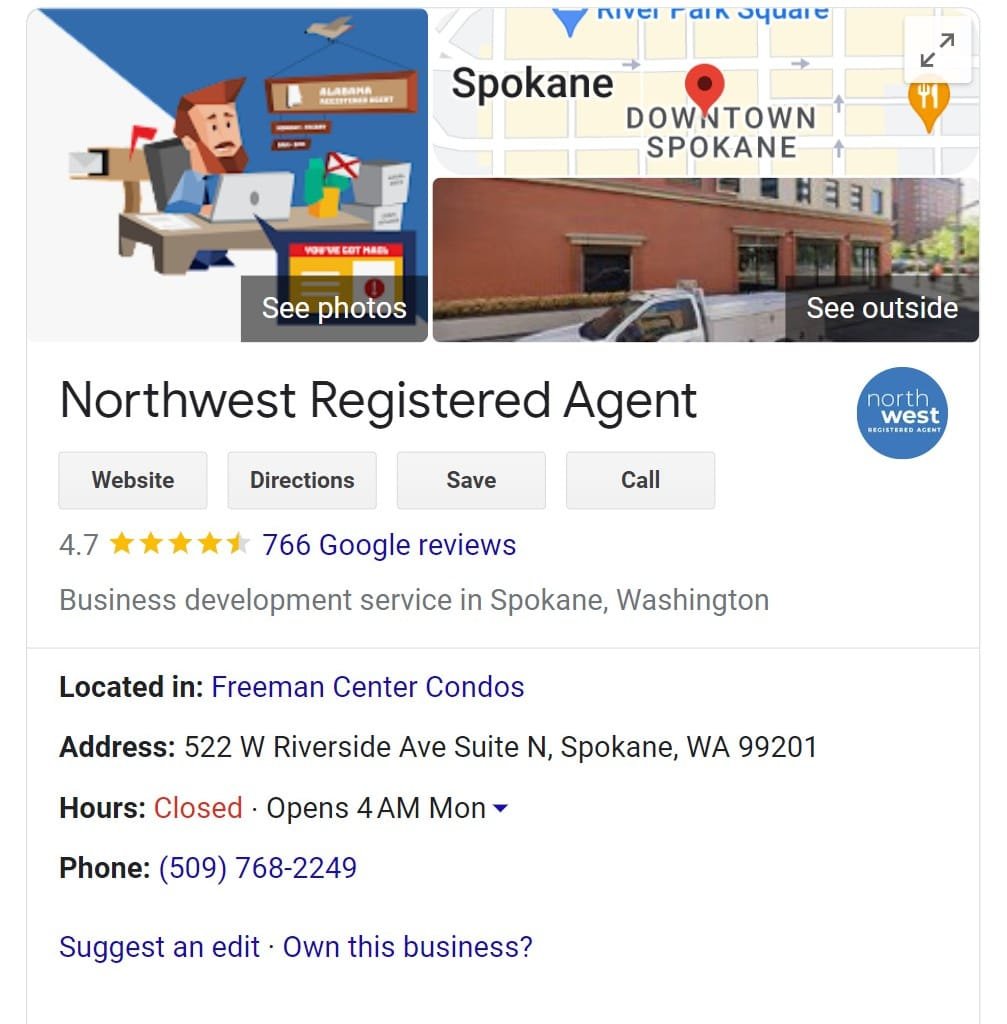 What is a Registered Agent
?
A Registered Agent (also known as a Resident Agent, Statutory Agent, or Agent for Service of Process) for a Limited Liability Company (LLC) is a person or business entity designated by the LLC to receive legal documents and official government communications on behalf of the LLC.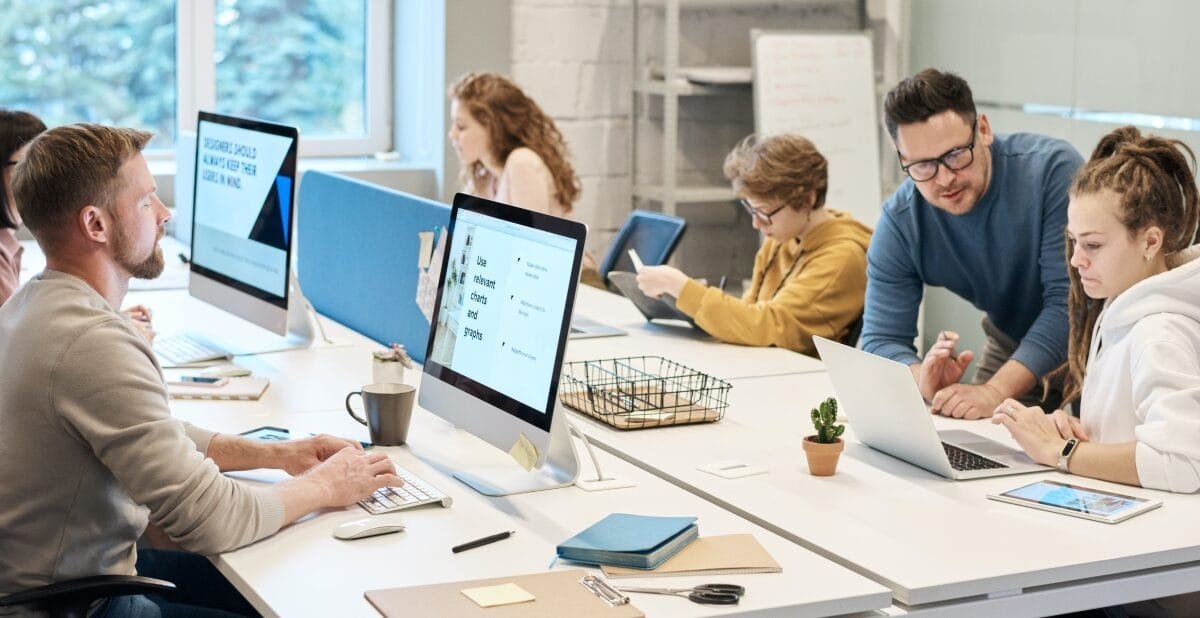 What Do They Do?
The main functions of a Registered Agent include:
Receiving Service of Process: This is the primary function of a Registered Agent. Service of process is the delivery of legal paperwork such as a lawsuit, summons, subpoena, or other formal documents. If the LLC is sued, the Registered Agent receives the lawsuit, ensuring that the right people within the LLC are notified.

Receiving Official Documents: The Registered Agent receives other official documents on behalf of the LLC, such as tax forms and annual report forms. These are usually sent by the state's secretary of state office or equivalent business agency.

Being a Point of Contact: The Registered Agent serves as a consistent point of contact between the state and the LLC. This means that the state always knows how to contact the LLC about important legal and tax matters.
Most entrepreneurs find that hiring a professional registered agent service is the best way to obtain a reliable agent. These professionals can handle all these duties and save you the hassle.
Note that a Registered Agent must have a physical address (not a P.O. Box) in the state where the LLC is registered. They must also be available during regular business hours.
The agent can be a member of the LLC, an outside individual, or a professional service.
Some LLCs hire professional Registered Agent services, particularly if they operate in multiple states, to ensure all legal documents are received and handled promptly and properly.
The requirements and responsibilities of Registered Agents can vary slightly by state, so it's always a good idea to check specific state laws.
Failure to maintain a Registered Agent can lead to penalties and possibly dissolution of the LLC by the state.
Northwest Registered Agent maintains and services over 3 million businesses across 50 states
 Top 8 Best Registered Agent (2023)
Additional Registered Agents: 
LegalZoom $299 per year
Nolo $150 per year
Incorporate.com $235 per year
---
We compared more than a dozen of the best registered agent services to determine the providers offering the most value. 
Northwest Registered Agent

Northwest Registered Agent offers a professional, reliable service free from upselling and hidden fees. They operate under the slogan "We are just not annoying" and have been experts in the registered agent service industry for many decades. They are also known for their excellent track record and a solid commitment to privacy.
Harbor Compliance

Harbor Compliance is a trusted specialist company in the area of corporate compliance. Enterprise clients are best suited to use their services if they wish to buy multiple years of registered agent services at once. They provide discounted rates for customers who need registered agent service in multiple states.
Incfile

Pricing: $119/yr
Incfile is most well-known for its free business entity formation service. Although they provide a one-year free registered agent service with the LLC formation packages, it is also available to already established businesses for just $119 per year.
What we like:
Incfile's services are very affordable, and the company is well-known in the business, with over 500,000+ formations in the past 20 years. Free is a reasonable price for one year of registered agent services.
---
Our 8 Picks for Best Registered Agent  in 2023
#1 Northwest Registered Agent – Best Registered Agent Service
Established and Proven
Pricing: $125/yr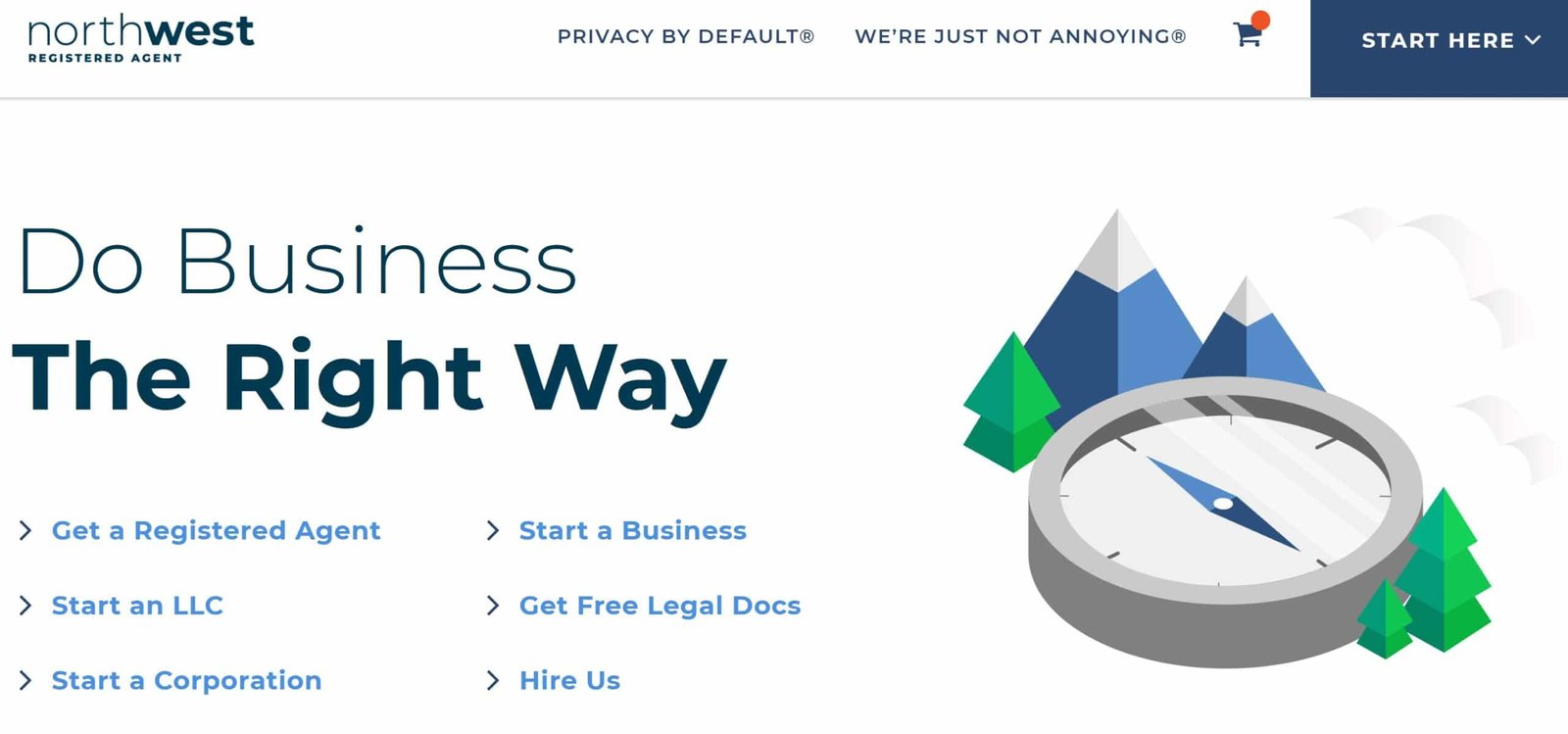 Northwest Pros and Cons
Northwest Pros
The leader in registered agent services
Self-provided service
Mail forwarding
Reliable and trustworthy
Great customer service
Many years of expertise
Refunds are available within 90 days
They handle all RA Change paperwork and fees
Clear terms of usage
Northwest Cons
Other services can be purchased at a lower price.
We believe Northwest Registered Agent provides a fantastic overall package in terms of reliability, features, customer service, and simplicity.
Northwest Registered Agent stands out from other service providers because they own a network of local offices. These offices receive and scan legal mail for their customers. They do not handle customer support. Alternative providers often use third-party services for the heavy lifting.
Northwest Registered Agent stands out from the rest with its complimentary essential mail forwarding services. This service is free for registered agents and scans up to five documents. Additional documents can incur a small charge.
Other services we evaluated did not include non-legal mail processing in their registered agent service.
Northwest Registered Agents has been in operation since 1998. Their service is supported by years of experience and a well-earned reputation for reliability.
A reliable registered agent is essential for any business.
Northwest Registered Agent employs over 200 people. They have a highly-trained team of business experts. These are called "Corporate Guidelines."
They can assist with your registered agent service and corporate compliance, as well as the establishment of new business entity entities. Their customer service representatives are helpful, knowledgeable, and quick to respond.
We reached out to several companies mentioned in this article to inquire about their refund policies. Northwest Registered Agent also scores high in this regard – they let customers cancel their service within 90 days of signing up. If you choose to cancel, you'll receive a prorated refund.
Northwest Registered Agent will help you with all paperwork and pay the filing fee if your RA is switched from another provider.
We want to add a small note: we like that Northwest Registered Agent's Terms of Service are written in clear language, not obscure legalese.
Check out our Northwest Registered Agent review for a more detailed look at the company's services and products.
What we didn't like:
We can't think of anything. Our only complaint is the $125 annual cost. This is slightly more expensive than other competitors.
However, we consider their registered agent service a great value and strongly recommend them!
My First-Hand Experience With Northwest Registered Agent
My wife and I started an online business selling homemade products on Etsy and eBay several years ago. We hired LegalZoom as our registered agent and we were pleased with LegalZoom's service. After a few years, I decided to switch and try Northwest Registered Agent, due to their attractive pricing and positive reviews.
My experience with Northwest Registered Agent has been very positive and I have recommended Northwest to friends and colleagues for many years.
---
#2 Harbor Compliance – Best price on bulk orders
Pricing: $89/yr – $99/yr

 Harbor Compliance Pros:
Multi-year discounts available for registered agent services
Notifications for the annual report
Instant document scanning
Online access to documents
Customer support is very responsive
Harbor Compliance Cons
No delivery of mail by post
There are no refunds for service cancellations

Harbor Compliance was established in 2012 and is a company that provides a range of corporate compliance solutions to both businesses and non-profit organizations. While their services are best suited for larger organizations with more complicated compliance requirements, they can also support small businesses.
Harbor Compliance's registered agent service costs $99 each year. You can get a 5-10% discount when you sign up multiple years. Three years up-front will bring down the cost to $89/year. This price is the lowest for an entire year's service among all we evaluated.
Registered agent services may offer additional bulk discounts for multiple business entities. However, they will need to be contacted directly to confirm the price points.
Harbor Compliance is one company that has its own local office in each of the 50 states. You can even find the exact addresses of all their offices on their website. They don't outsource the entire work to others.
All legal mail received is scanned within 24 hours of receipt and made available to customers. Harbor Compliance does not deliver any correspondence, the representative we spoke to said. Instead, scanned content can be uploaded to customers' online accounts and retrieved electronically.
You will also receive reminders for your annual reports concerning the due dates of essential filings within the state(s) where your company is based.
Harbor Compliance has received fewer reviews online than some of its competitors. The majority of customers seem satisfied with Harbor Compliance's performance. Harbor Compliance is rated 4.5 of 5 by Google.
Check out our Northwest Registered Agent review for a deeper look at the company's services and products.
What we didn't like:
Harbor Compliance's return policy is not as generous as its competitors.
We inquired about their cancellation policy. They told us that prorated refunds are not available for services canceled. Customers are only eligible to receive a refund for services that have been canceled within a few days of order and before they have been registered with the Secretary-of-State office in their state.
---
#3 Incfile – Established and Proven, 500,000+ Formations
Pricing: $119/yr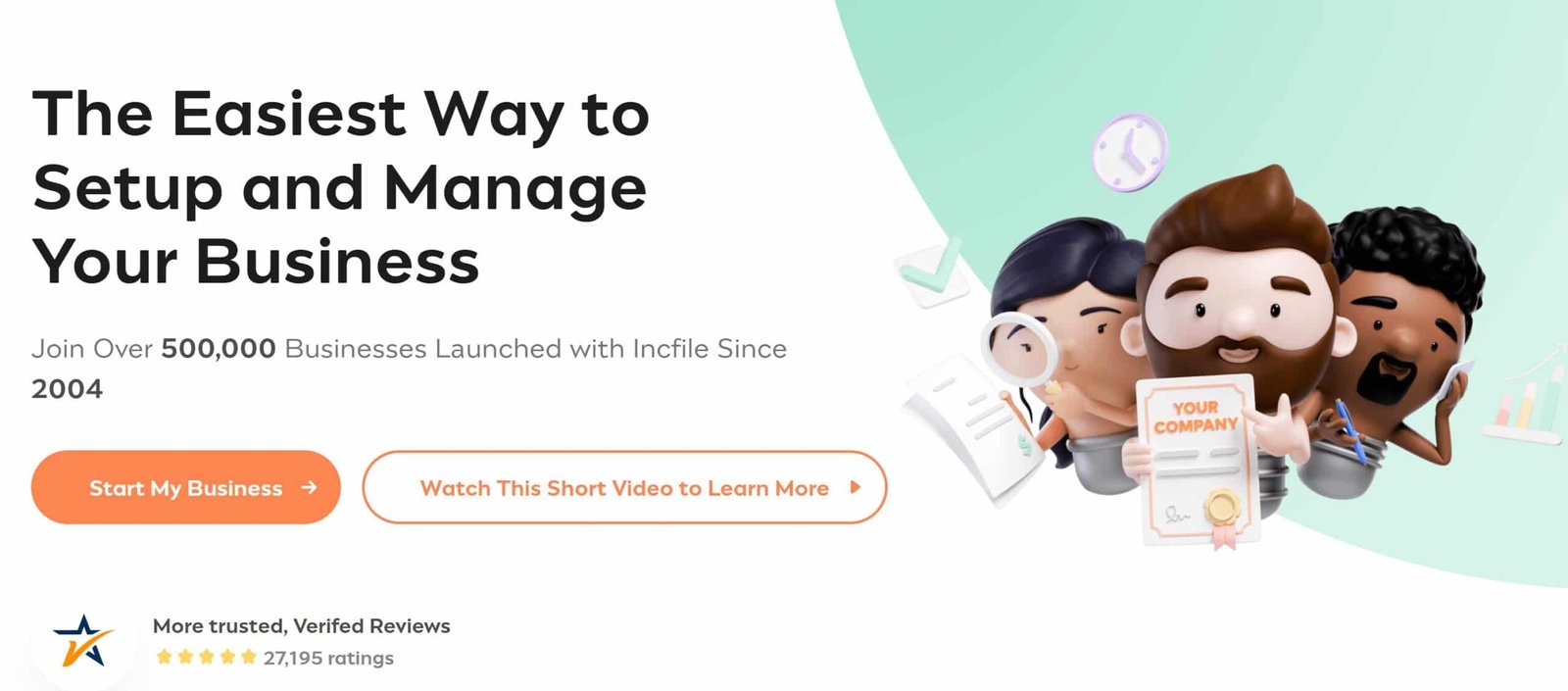 Incfile is most well-known for its free business entity registered agent service. Although they provide a one-year free registered agent service with LLC formation packages, it is also available to established businesses for $119 per year.
Incfile Pros
Incfile's services are very affordable, and the company is well-known in the business.
Over 500,000+ formations in the past 20 years.
Incfile has a customer review rating of 4.8/5 on Approved Shopper 
Based in Texas
Incfile Cons
During Covid-19, Incfile experienced several delays with formations and processing
---
#4 ZenBusiness – Worry-Free Services
Pricing: $99/yr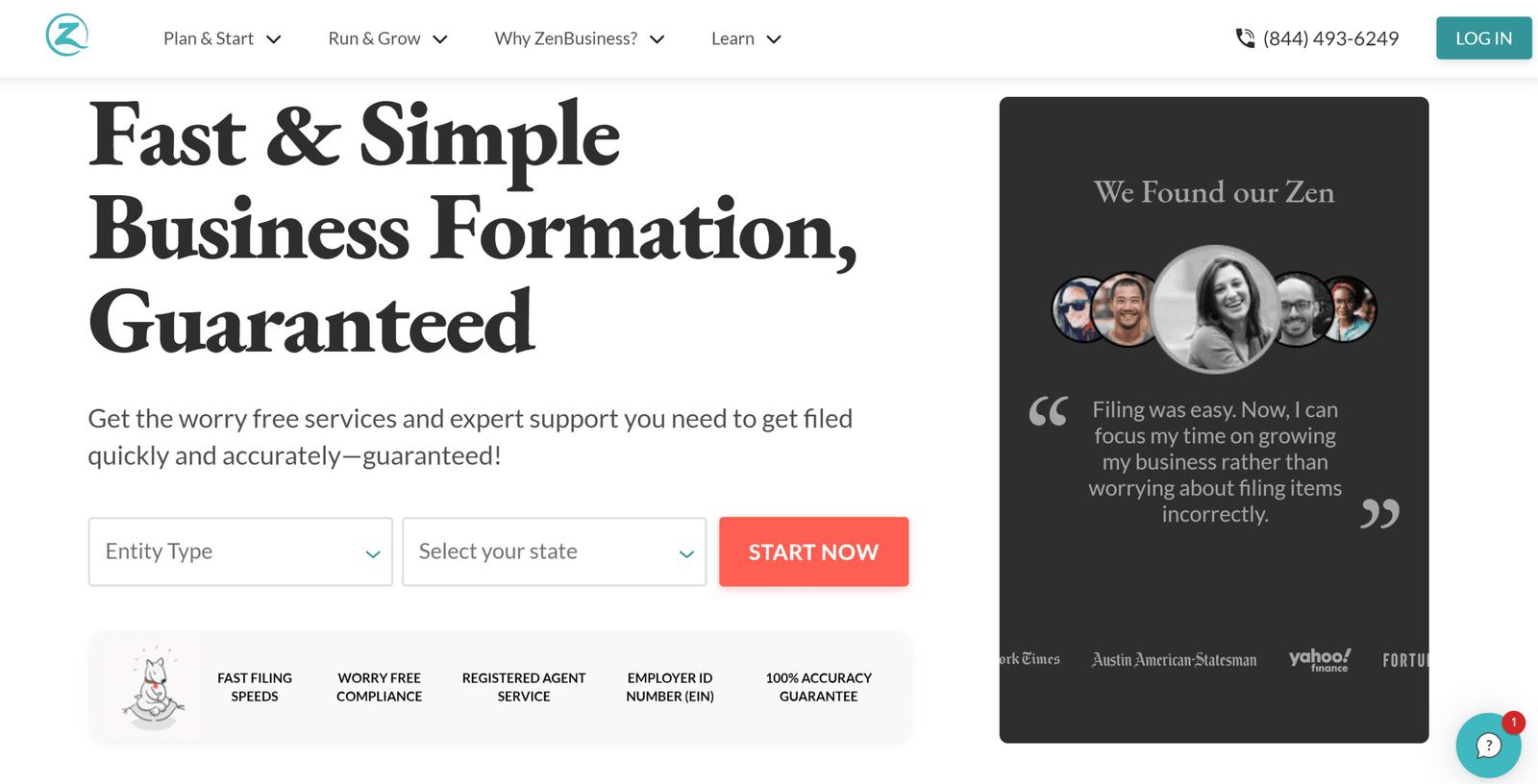 ZenBusiness Pros 
Registered agent service pricing is $99 a year
Site is user-friendly
Online dashboard with email notifications
Highly rated by customers
Great, fast customer support
Option for filing an annual report
ZenBusiness Cons
Prorated refunds are not offered
No mail forwarding
ZenBusiness is currently ranked near the top in our category for business entity formation. We believe they are a good choice if you're looking for a registered agent.
ZenBusiness is a mid-sized formation company with big aspirations. They assist small business owners and entrepreneurs with administrative tasks.
ZenBusiness PBC is a public benefit company is also their goal. ZenBusiness offers loans and grants every year to randomly selected customers.
ZenBusiness offers two pricing options for registered agents. This is in contrast to other providers.
Their standard coverage plan, $99/year, is very affordable and includes access to ZenBusiness' business formation specialists, the registered agent service, and online document access.
Their "Complete coverage" package costs $149 per annum. All of the above is included, along with ZenBusiness's compliance service. The service will remind you to file your annual reports with the state and ensure your company remains in good standing.
Customers who have received service or process receive electronic notification. You can find the notification's content in the documents tab on ZenBusiness's dashboard.
ZenBusiness provides good customer support, especially for registered agents.
We were able to verify their claims when we reached out to them with some questions. Our message was answered within one hour. We were also provided with answers to all of the questions. ZenBusiness was among the first to respond to our messages.
ZenBusiness' customers appear to agree with our sentiments on the subject. The company received a 4.8 out of 5 rating from Trustpilot, with over 7,000 reviews, and ZenBusiness has a BBB rating of A 
Most reviewers across the board praised ZenBusiness. However, they were particularly impressed with their intuitive website and the knowledge and helpfulness of their staff.
What we didn't like:
ZenBusiness seems to have everything you would need in a registered agent service. ZenBusiness offers a reliable, trustworthy registered agent service at an affordable price. The only thing we would suggest is the addition of essential mail forwarding services to their higher-priced plans.
---
#5 Swyft Filings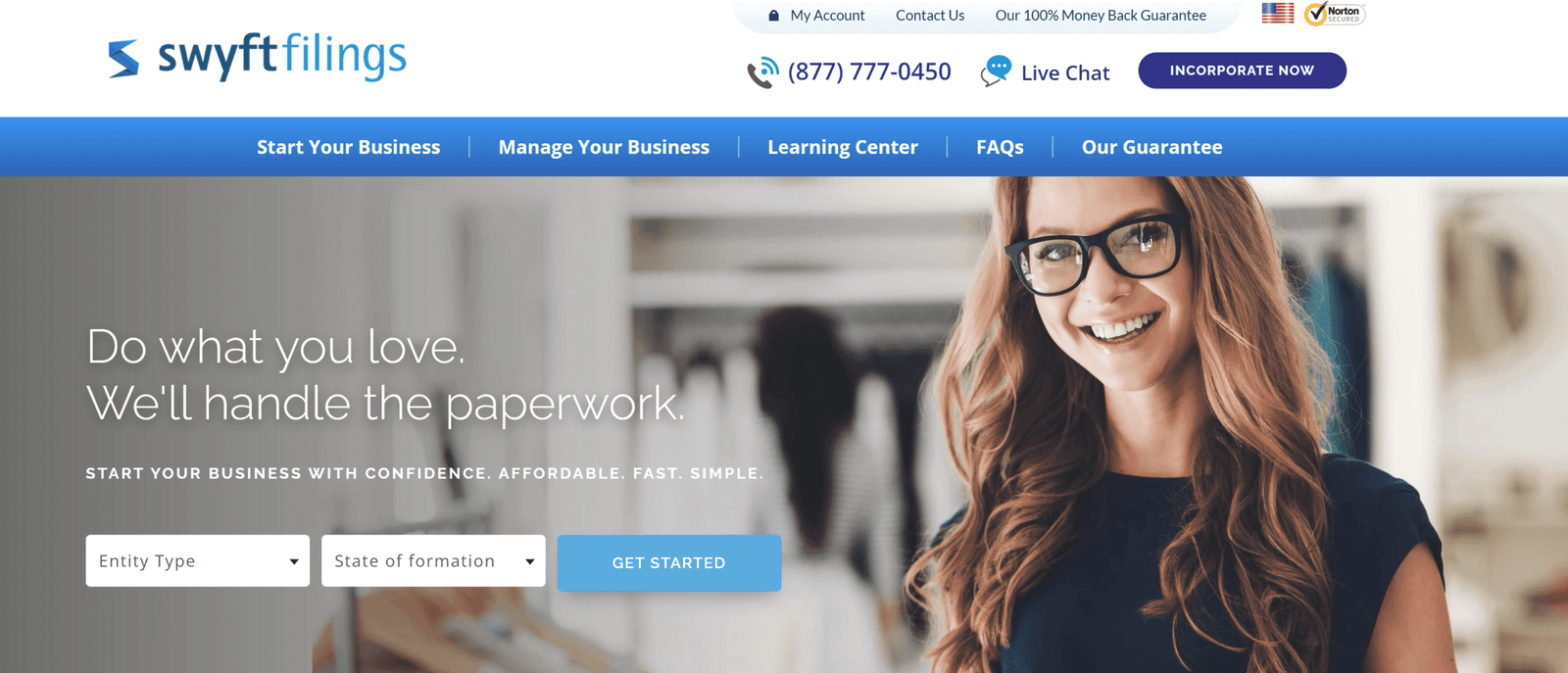 Swyft Filings Pros
Registered agent service with an online dashboard for customers
Access to your scanned documents immediately
Compliance assistance
Many positive reviews
Refunds are possible for cancellations made within 60 days.

Swyft Filings Cons
High costs
It may not be available in every state

Swyft Filings, a Houston-based private company, was established in 2015. They specialize in various business services. Their registered agent service costs $149/year.
Swyft Filings has a high rating among customers for reliability and customer satisfaction. Swyft Filings has received over 35,000 customer reviews on major review sites. They are rated 4.6 out of 5 on Trustpilot.
Swyft Filings offers their registered agent services in partnership with third parties and many other services, such as LegalCorp Solutions.
Swyft Filings, to their credit, makes it very clear who they have partnered up with within their terms and service. They don't force customers to do their research.
Swyft Filings provides access to an online dashboard that is secure and private. They will scan all new legal mail and service of process received and make it instantly available through your online dashboard.
Your legal mail is protected in the cloud and will be available 24 hours a day.
We appreciate that Swyft Filings registered agent service can be canceled at any time for whatever reason.
A customer service representative informed us that if the service was canceled within 30 calendar days, customers could receive a full refund of the cost for the first year. Customers who cancel within 60 days will get a prorated refund.
Swyft Filings can also monitor essential filing deadlines in your state. They will periodically remind you of essential items, such as your annual reporting obligations.
What we didn't like:
Swyft Filings offers a reliable registered agent service, but their price is too high. The annual cost of $149 is 50% higher than the top-rated competitors.
Swyft Filings surprised us when we asked a few questions about the service. They told us that LegalCorp was only available in 47 states, but they didn't specify where.
This was surprising, given that LegalCorps states they operate in all 50 US states.
---
#6 Rocket Lawyer
Pricing: $149/yr for non-members; $111.99/yr for members

Rocket Lawyer Pros
Positive customer reviews
Reliable company
Additional features available with a paid membership

Rocket Lawyer Cons
Poor web presentation
If canceled, there are no full or prorated returns
Not the cheapest.

RocketLawyer ranks among the most well-known names in online legal assistance. Their online legal services include a registered agent service that is open to all members.
RocketLawyer's registered agent service costs 149.99 USD per year to non-members. This cost is $111.99/year if you are a paid member. The membership costs $39.99/month.
RocketLawyer is not a good choice for your registered agent.
If you don't have a membership, this service is too expensive. Instead, consider our top-rated services.
RocketLawyer's rating is 4.6 out of 5, and there are more than 3,000 Trustpilot reviews, which shows it is well-liked. RocketLawyer's registered agent service has not been mentioned in any customer feedback.
RocketLawyer does not provide registered agent services. Although they mention in their terms of usage that they work with third-party suppliers, names are not mentioned.
RocketLawyer's website doesn't provide a contact email address to make it easy to get in touch with them. Prospective customers are instead limited to a 250-character message form. They could do better.
What we didn't like:
RocketLawyer's registered agent's service advertises a "100% Satisfaction Guarantee" and offers customers the chance to get a full refund if they cancel.
However, the terms of service state that RocketLawyer will not issue full or prorated refunds for cancellations.
So which one is it?
We were also disappointed in the lack of information Rocket Lawyer provides about their registered agent service.
The registered agent service page does not provide information about the cost of the service. Customers will need to provide their contact information to get more information. We would love to see more transparency.
---
#7 BizFilings
Pricing: $199/yr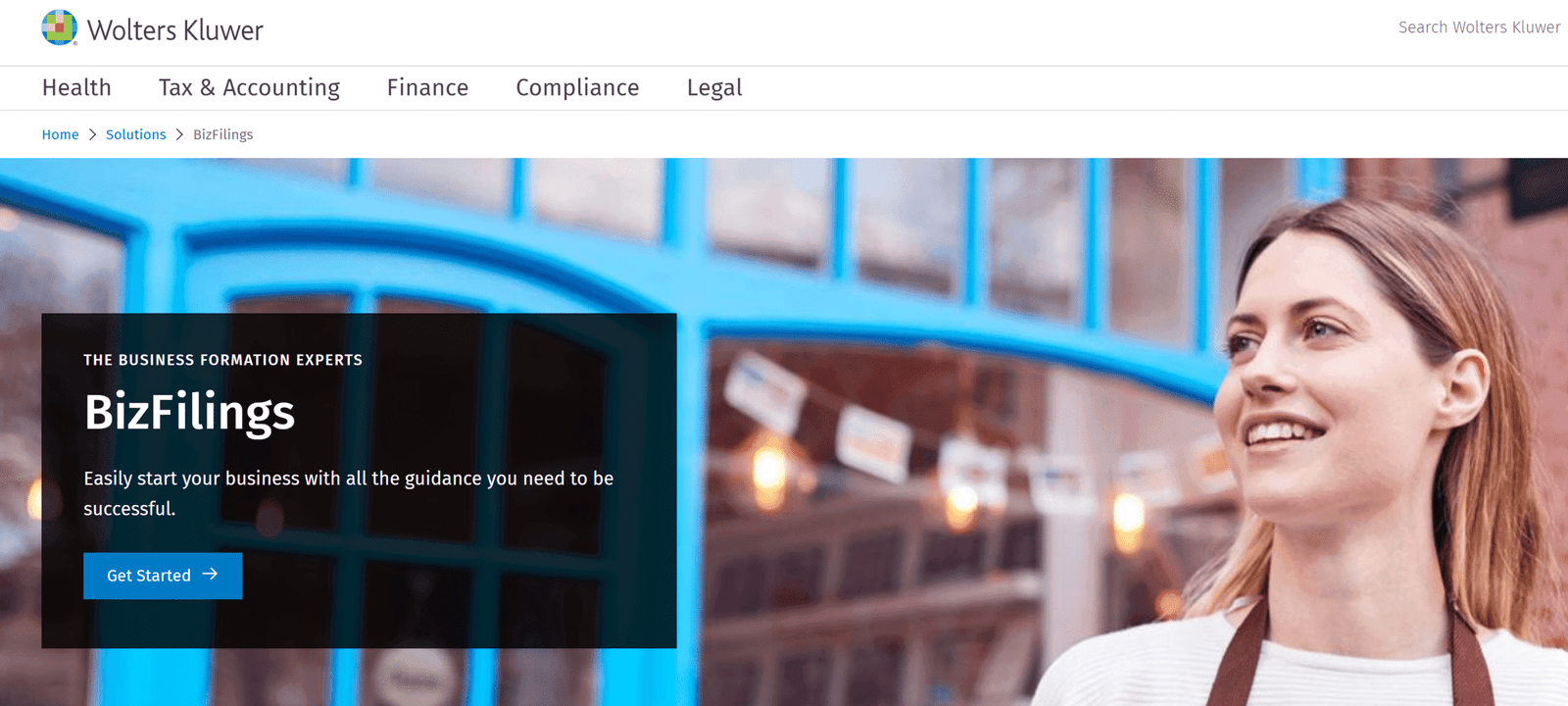 BizFilings Pros
Self-provided service
Access to online compliance tool is included free of charge
Support is available quickly to answer any questions
Service of process can be done within one working day
Free delivery of required documents by post
It can be canceled at any time. Prorated refunds available

BizFilings Cons
Expensive
No standard mail forwarding

Business Filings is a Wisconsin-based compliance and business formation company that caters mainly to small businesses. Wolters Kluwer is the owner of the company.
BizFilings is unique because they provide registered agent services directly to their customers instead of third parties.
BizFilings registered agent services cost $199/year. This is definitely at the higher end.
BizComply is their own online business compliance management software. This service is provided to registered agents at no extra cost. This service costs $75 annually as an individual.
BizComply tracks compliance tasks based on a company's home state (and any other states where the company qualifies, if applicable). BizComply offers a dashboard for companies and a collection of state forms.
BizFilings responded quickly to our inquiries and provided us with an answer within hours. Their customer service was fast, and they provided detailed answers to all of our questions.
Some registered agent services in our ranking are only available electronically. BizFilings provides scanned copies via an online system. The service does not include the delivery or service of process documents.
BizFilings claims to have a customer-friendly refund and cancellation policy. Their registered agent services can be canceled at any time provided you have updated your records or your company has been dissolved.
BizFilings may issue a prorated reimbursement for any portion of the service you have not used.
BizFilings offers the opportunity to switch your registered agent service for free – they will cover the state's address change fee.
What we didn't like:
Although we appreciate in-house services, BizFilings is still significantly more expensive than our top-rated counterparts. BizComply and other freebies are great. Other companies also offer similar services.
BizFilings doesn't offer a standard mail-forwarding service with its registered agent service.
---
#8 BetterLegal
Pricing: $90/yr

BetterLegal Pros
Good pricing
Customer reviews are solid

BetterLegal Cons
This is not a business address.
Nearly no information is available on company websites
Not able to respond to an inquiry

BetterLegal has been one of our smaller selections. In addition to business entity formations, compliance services, and a low-cost registered agents service, they also offer that.
BetterLegal's registered agent's service has the distinction of being one of our most affordable services.
BetterLegal charges $90 each year. Most registered agent services cost more than $100 per annum. BetterLegal could be the right choice for you if your business is looking for the most affordable option among professional registered agent service providers.
BetterLegal is also a popular choice among customers. Trustpilot currently rates them at 4.8 out of 5 with over 200 customer reviews.
Overall, BetterLegal's service was well received by most reviewers. Most reviews focus on their business entity registration service. However, some customers report using their registered agent services without any problems.
BetterLegal's terms and conditions state that the registered agent service is not a mail service. However, if you receive unauthorized mail from their third-party provider, they may reimburse you.
What we didn't like:
BetterLegal uses partners to provide their service, but they don't say who they are. This is not a good sign for their customer support. We reached out to them to clarify this and other aspects of the service. Unfortunately, we didn't receive any reply from them.
---
Additional Registered Agent Services
This section will briefly discuss some of the other services that did not make our list of best registered agent.
Nolo Registered Agent Service
Pricing: $150/yr
Nolo started publishing legal self-help guides long before the internet was invented. Today, they offer a range of law-related publications and services online. They connect customers with lawyers and provide LLC formation services.
If you have an LLC formed with them, they can offer you registered agent services through their partner.
What we didn't like:
We do not recommend this service as Nolo appears significantly to increase the cost of their partnership service. Nolo will charge $150 per annum if you buy registered agent services via their website. However, the same service can be found on Vcorp's website. It costs only $115 annually.
Incorporate.com Registered Agent Service
Pricing: $235/yr
Incorporate.com is a subsidiary company under the Corporation Services Company.
Incorporate.com's primary business is to assist customers in forming new business entities.
They also offer registered agent services for established businesses. They do not provide registered agent services through third-party providers like most competitors. However, they are provided by their parent company, CSC.
What we didn't like:
Incorporate.com is just $235/year.
Other companies offer similar services at a fraction of the cost. Incorporate.com may charge additional fees for new customers who request a change of registered agents.
The fees can reach more than $120 depending upon the state. Other services may cover these fees entirely on the customer's behalf.
LegalZoom Registered Agent Service
Pricing: $249/yr
LegalZoom is an online legal aid company that has a considerable following. They are most famous for their online legal document library, business creation services, and lawyer consultation services.
What we didn't like:
LegalZoom's registered agent services are the most expensive on the market, at $299 per annual.
We couldn't find anything to justify such a high price for the service. When we sent a few queries to the company, we were not answered and directed to their sales department by phone.
What you should look for when looking for a registered agent service
Below are some characteristics we consider necessary for good registered agent services. We also discuss how these qualities impact our rankings.
---
Additional Registered Agents to Consider
____________________________________________________________
Shopping Tips
Pricing
It is not surprising that the service's cost is the main factor we considered when comparing services. A registered agent is required but doesn't directly affect business operations, so business owners will probably choose the most affordable option.
You might end up paying more for the best service if you choose the cheapest. A wrong registered agent may fail to notify you about a court summons.
Some higher-priced services for registered agents include helpful additional features, such as mail forwarding and compliance reminders each year.
Instead of choosing a low price, we consider the reliability of any service and the overall value they provide.
Help and Support
For any online service, it is essential to have a knowledgeable and responsive customer support team. This is especially true for registered agent services.
High-quality customer service should be more than just providing standard customer service. It should also be proactive and look out for customers' interests.
Accessibility refers to how the service provider makes all documents received available to the customer. You should, for example, contact your registered agent if you get service of process. They should also try to reach you by phone, email, or postal mail to let you know the situation.
All legal correspondence must be accessible quickly to customers to take appropriate actions.
All of the services that we examined used some type of electronic document delivery. Most commonly, it was an online portal through which scanned mail could be uploaded and stored.
Good services will make sure that your mail remains available at all times, even if they are not your registered agent. They will make sure you are promptly and correctly notified. If necessary, some services include the physical delivery of original documents.
Additional features

We evaluated many services that offer additional features as part of their registered agent service to increase your business's value.
These tools, such as compliance calendars, which include personalized reminders about your company's filing deadlines for items like annual reports, are ubiquitous.
An additional service that you can add is basic mail forwarding. This allows someone to contact your company by sending mail at the registered agent address in the public record.
These features are not essential but can make a service stand out in our rankings.
You should consider some things when choosing a registered agent's service.

We have compiled a list of tips based on our research that might be helpful when searching for a Registered agent service provider.
It is not easy to cancel registered agent services.

In the ideal world, you should only hire a registered representative once. However, if you choose to switch to another registered agent provider in the future and want to cancel your existing subscription, it is essential to know one limitation.
Most registered agent service providers have a clause that says you cannot cancel the service while they're still listed on the official state record.
If you cancel the service but have not appointed a new registered agent or dissolved your company, your old service provider might continue charging your fee.
This could prove costly as most registered agent services require a single annual payment. Not all providers offer prorated refunds if you cancel your service.
The hassle of asking for $30 back is not to be overlooked.
You should carefully read the terms and conditions to avoid any unnecessary charges. Before canceling, ensure that you have appointed a new registered agent in good time.
Many services offer registered agent services in-house, but not all.
All the companies in this article offer registered agent service to customers. However, not all of them provide the service. Many of these services use third-party service companies to receive your service or other legal notices.
In such cases, your relationship will remain with the company you signed up with. They are the ones who will provide customer support and receive payments. You can still choose the reliable and more affordable option by learning how the registered agent service works on the back-end.
Do they offer mail forwarding services?
Are you unsure what a registered agent service includes? It seems to be one of those concepts everyone is familiar with, even you.
Can your registered agent also receive legal correspondence from the state? A mail forwarding service is often a helpful tool for small digital start-ups.
Many registered agents do not forward general mail.
You should verify that your registered agent offers a mail forwarding option if you wish to use their address as your business address.
We were told by several of the companies we spoke to that they do NOT offer a mail forwarding option. It is common for them to charge additional fees.
Are there multiple states where you may need registered agents?
Consider that your business may require registered agents in several states when choosing a provider of registered agents.
You will need a registered agent if you are qualified to work in a country other than your home state. This is true even if you own multiple businesses.
If you have registered agents that you require in multiple states, be sure to check the cost and whether they offer bulk discounts.
Frequently Asked Questions on Registered Agent Services
What is a Registered Agent?
A registered agent can be a person or company designated to receive legal correspondence (such as court summons) on behalf of an LLC or corporation. Every business entity that operates in the United States requires a registered representative.
What is the Best Registered Agent Service?
Northwest Registered Agent is our top-ranked registered agent service. They offer a professional and reliable service at an exceptional price with a strong emphasis on customer privacy. You can read more about our top registered agent services in our article.
Do I need a Registered Agent to do business?
Yes, all businesses that operate in the United States need to have a registered representative listed with their state's government records. The registered agent must always be available during office hours at their address. You could lose the excellent standing of your LLC or corporation with the authorities if you fail to appoint one.
Who can become a Registered Agent?
Any person, company, or organization over 18 years old can be designated as a registered agent. They must be residents of the state in which the business is located (or qualified from abroad) and be available during business hours at a physical location to receive service of legal documents.
Can I be my Registered Agent?
Yes, you can become the company's registered agent. Your address will be publicly available and become part of the public records. No exceptions. You must also be available during regular business hours at the address. If you have multiple states, you will not be allowed to act as your registered agents in each of them. Many businesses prefer to have a professional registered agent provider handle this task instead of doing it themselves.
How can I change my Registered Agent?
The procedure for changing your registered agent depends on which state you live in. The general approach is to file a document with the state's secretary of state. The state will charge a small processing fee. Some services even cover the state processing fee. It is worth checking with a professional to ensure they can take care of the paperwork.
How much does a Registered Agent cost?
Most registered agent services can be paid annually and range from $90 to $200. Some additional features, such as business mailing forwarding, can be purchased for an additional fee. 
If you require registered agents in multiple states, you will have to pay each state separately. If multiple states or entities need your services, you may be eligible for bulk discounts. To change your registered agents, you might have to pay a tax.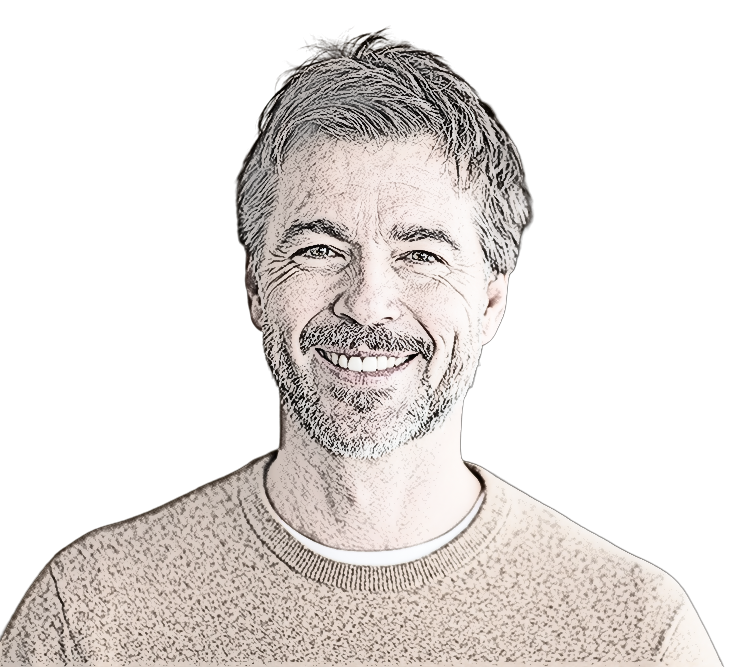 Brian Wilson is the content manager and founder of LLC Radar.
Brian grew up in North Texas, just outside of Dallas, and has a bachelor's degree in business journalism from Southern Methodist University. Since graduating from SMU, Brian has gained over 10 years of experience in business writing for several online publications.
Brian resides in Plano, Texas and he can be reached by email:   info@llcradar.com
Phone: 972-776-4050