LLC Radar – Resource Guides for Entrepreneurs
If you plan to start a new business soon or if you are shopping for an LLC service to assist you, this website is for you.
4 Reasons to Hire a Good LLC Service:
They can save you time
They know the formation process and compliance requirements in your state
Most are affordable
By hiring a good LLC service, you can reduce the chance that your LLC filing will be rejected because it is incomplete or incorrectly submitted
Our Top 4 Picks for Best LLC Services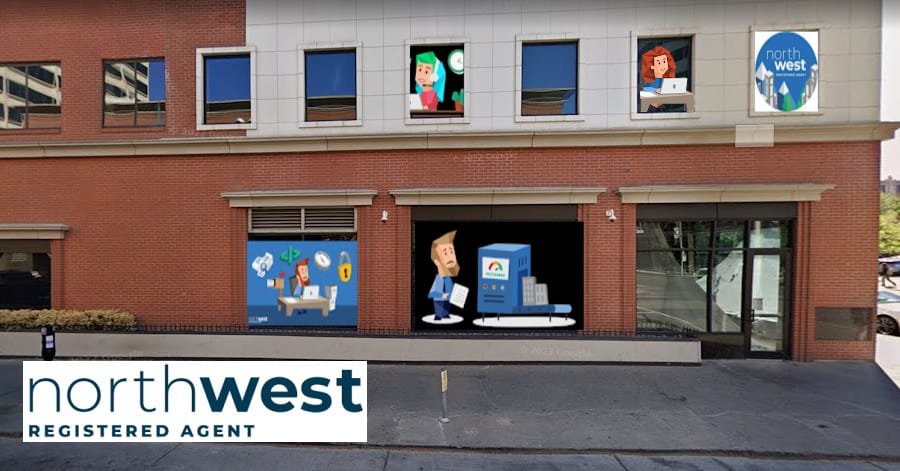 ---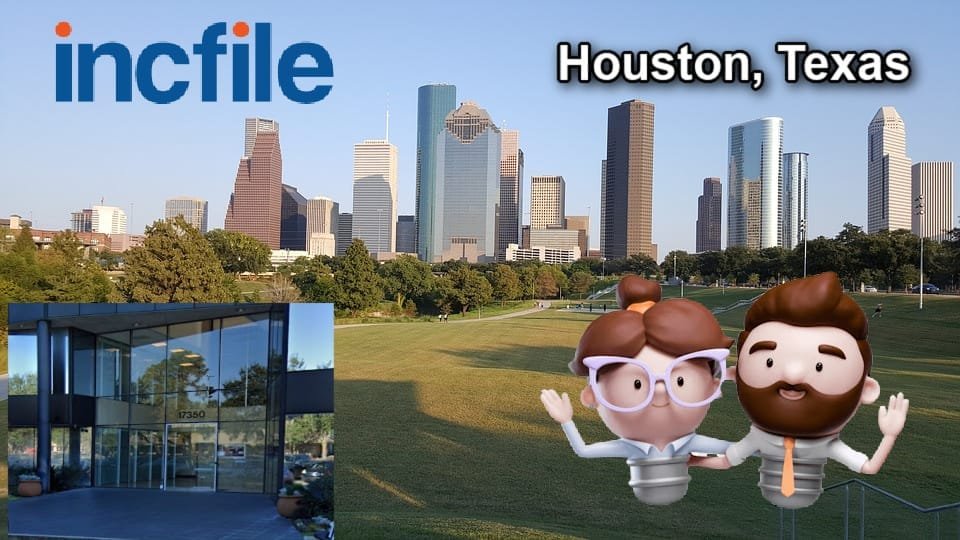 ---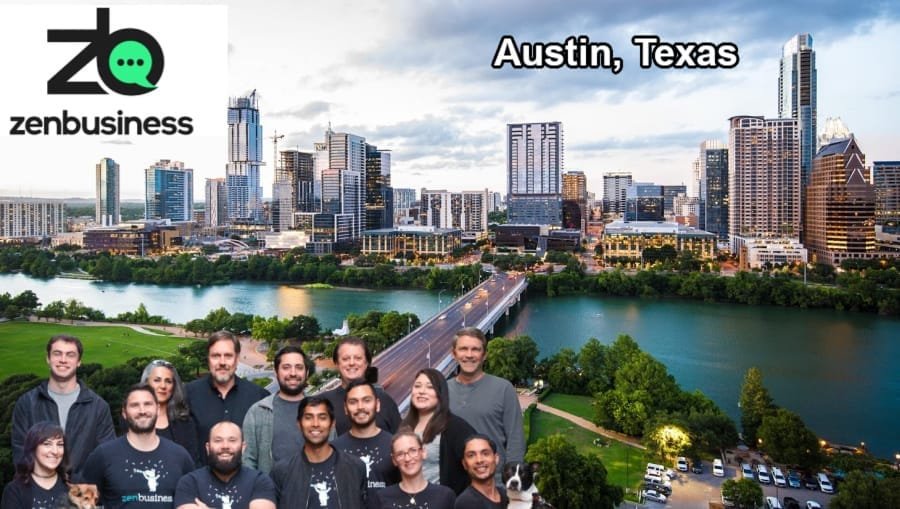 ---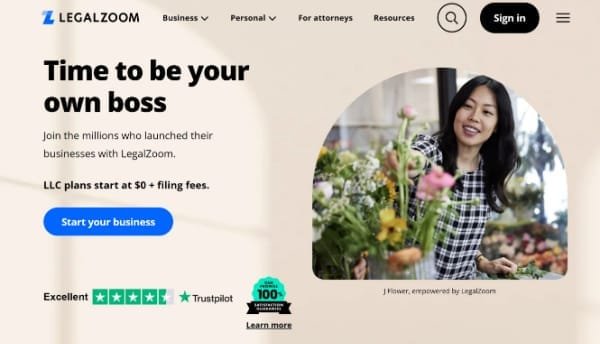 ---
Pricing
|   | LLC Formation and Registered Agent Service |
| --- | --- |
| Northwest Registered Agent | $225 $39 |
| Incfile | $0 |
| ZenBusiness | $199 |
| LegalZoom | $299 |
Northwest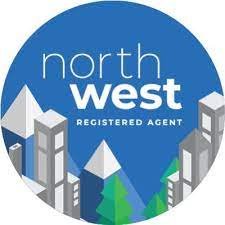 Northwest R.A.
Maintaining 3,000,000 Clients
Registered Agent Service (Included)
Incfile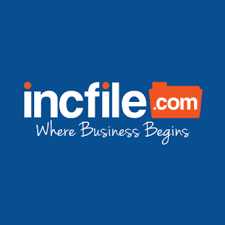 Incfile
1 Million+ Businesses Formed
Registered Agent Free 1/yr
No Hidden Fees, Just the State Fee
ZenBusiness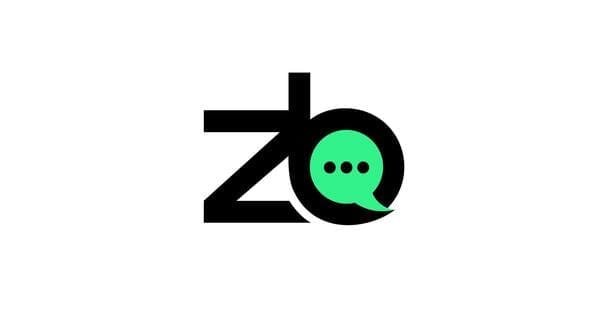 ZenBusiness
300,000+ Businesses Formed
Registered Agent Extra $199/yr
How

to Create an LLC in 9 Steps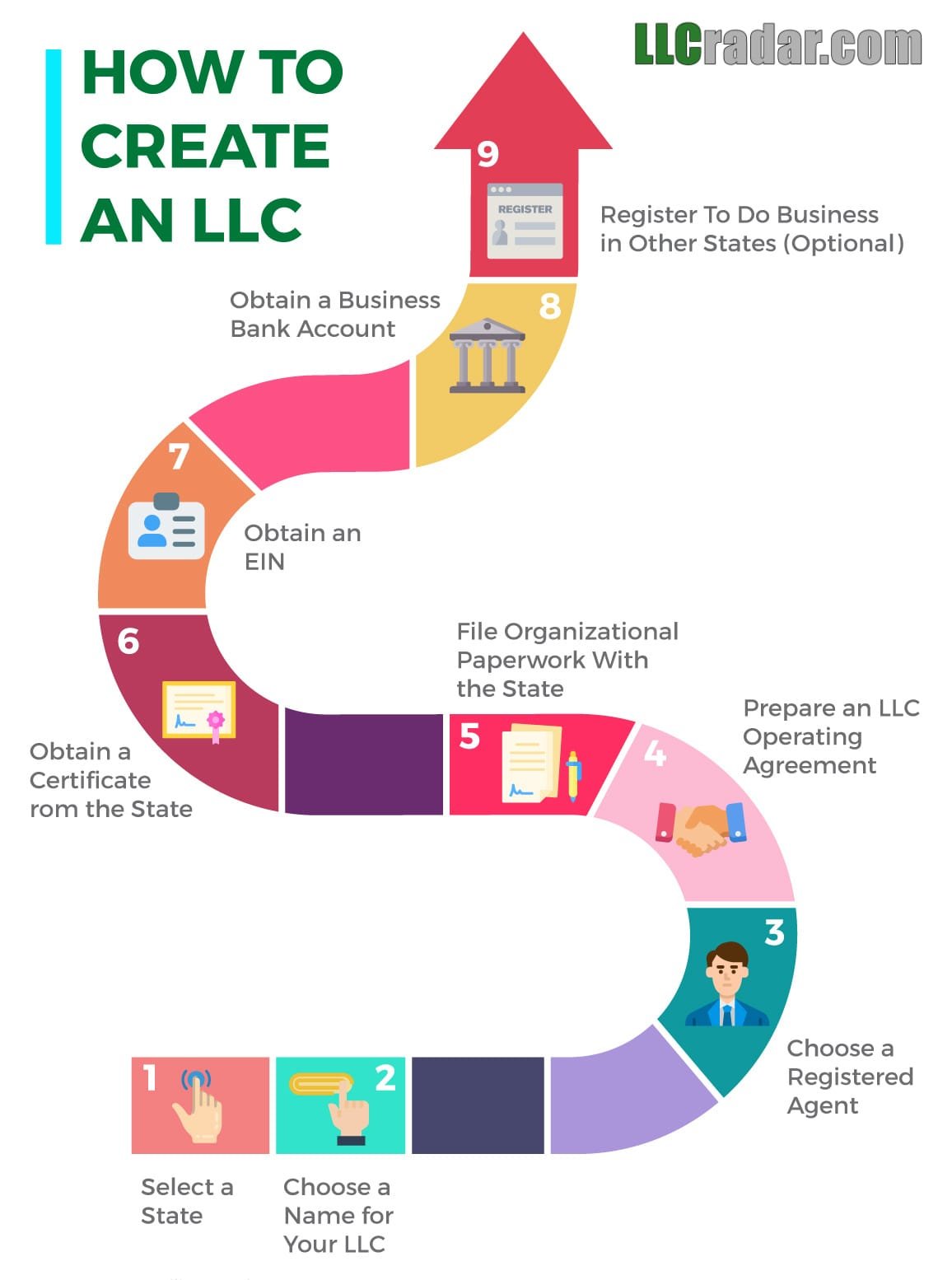 _______________________________________
9 Steps to Create an LLC
Step 1: Select a State
Step 2: Choose a Name for Your LLC
Step 3: Choose a Registered Agent
Step 4: Prepare an LLC Operating Agreement
Step 5: File the Organizational Paperwork with the State
Step 6: Obtain a Certificate from the State
Step 7: Obtain an EIN (Employer ID Number)
Step 8: Open a Business Bank Account
Step 9: Register to Do Business in Another State (Optional)
 ______________________________
LLC vs Corporation vs Sole Proprietorship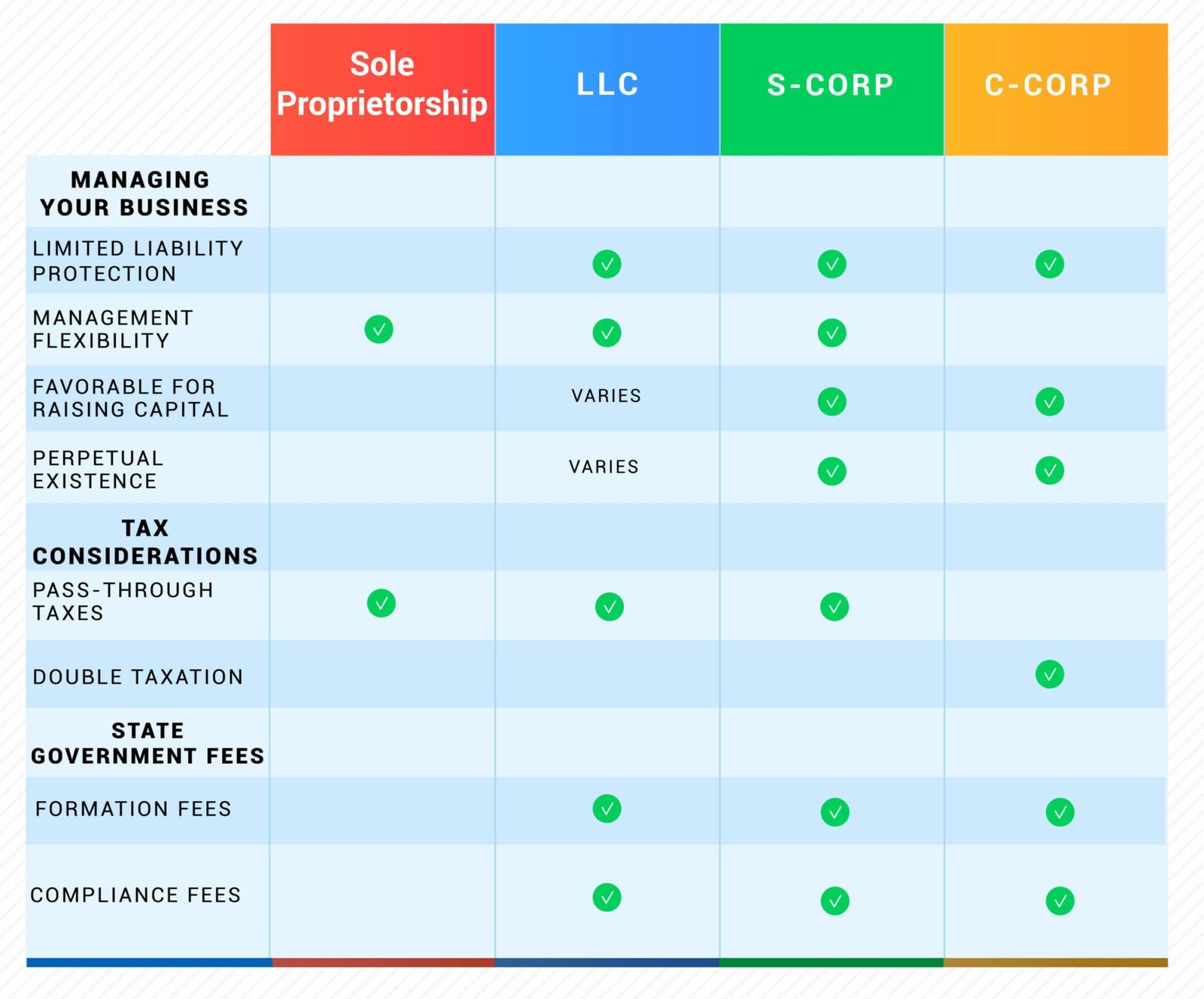 Corporation vs. LLC
A corporation, like an LLC, has liability protection but does not protect its owners against double taxation. C corporation owners are subject to both corporate income tax and personal income tax. 
S Corporation vs. LLC
An S corp is not a business entity but a federal tax choice. A C corp or LLC can apply for an S-Corp. This federal tax election protects the owners' personal assets and avoids double taxes. 
Sole Proprietorship vs. LLC
Although it is easy and cost-effective to run a business as a sole proprietor, there is no protection for liability like an LLC. Compare sole proprietorships.
There is a major difference between operating as a sole proprietorship and an LLC. This is because personal assets are kept separate from business. An LLC keeps personal assets separate, while sole proprietors have the same expenses. Your personal assets and property can be taken after a business is sued.
General Partnership vs. LLC
You will be dealing with formalities here. The process of forming an LLC involves many details, including preparing and filing paperwork with the Secretary. It is not necessary to enter into a formal agreement when forming a partnership.
Limited Liability Partnership (LLP vs. LLC)
An LLP is similar to an LLC in that it offers limited liability. However, an LLP gives it more. An LLC protects all members from personal liability for business debts and lawsuits.
An LLP, on the other hand, provides only liability protection for each partner's direct investment. 
______________________________
LegalZoom
Strong brand, but a bit pricey!
$0 filing + $299 reg.agent = $299  
Extra $50: You get to talk to a lawyer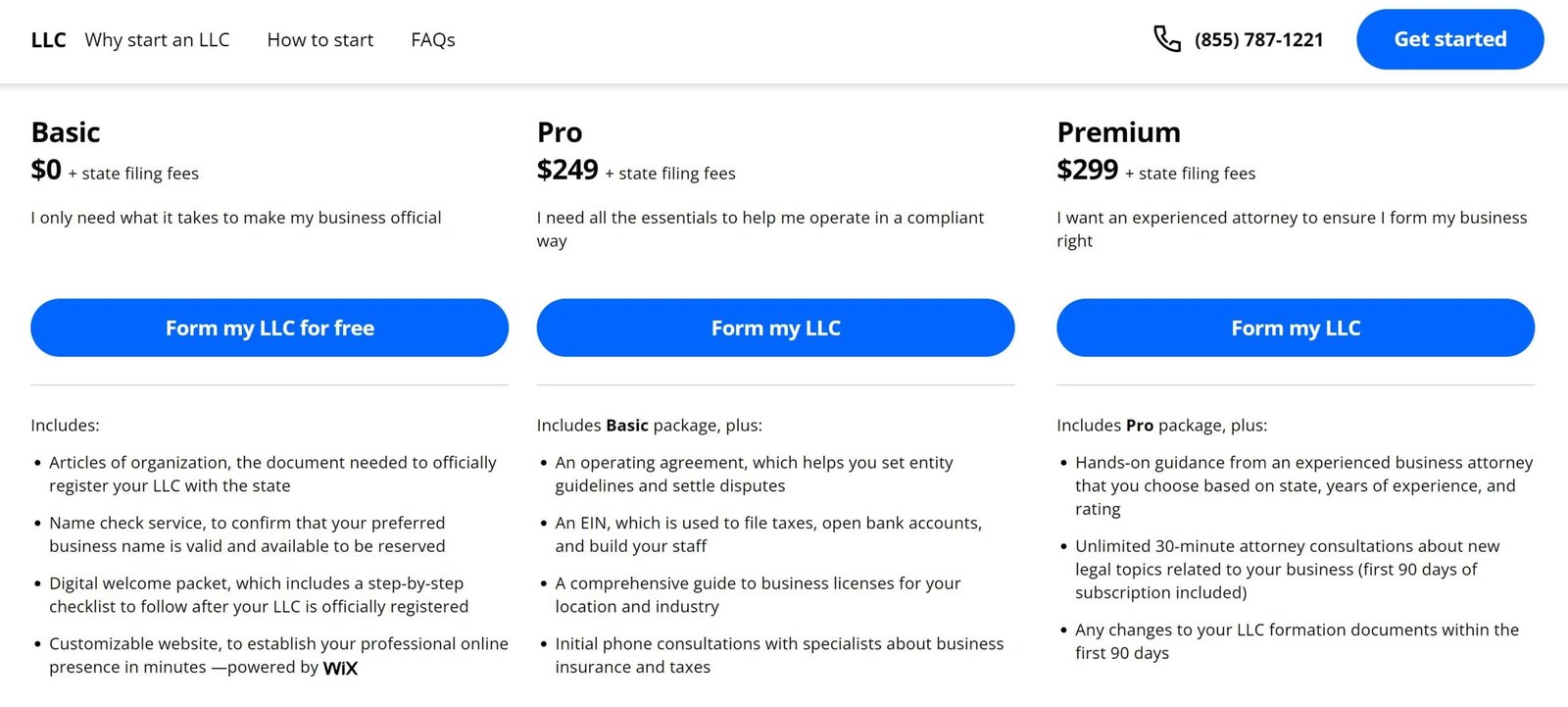 ____________
Registered Agent Service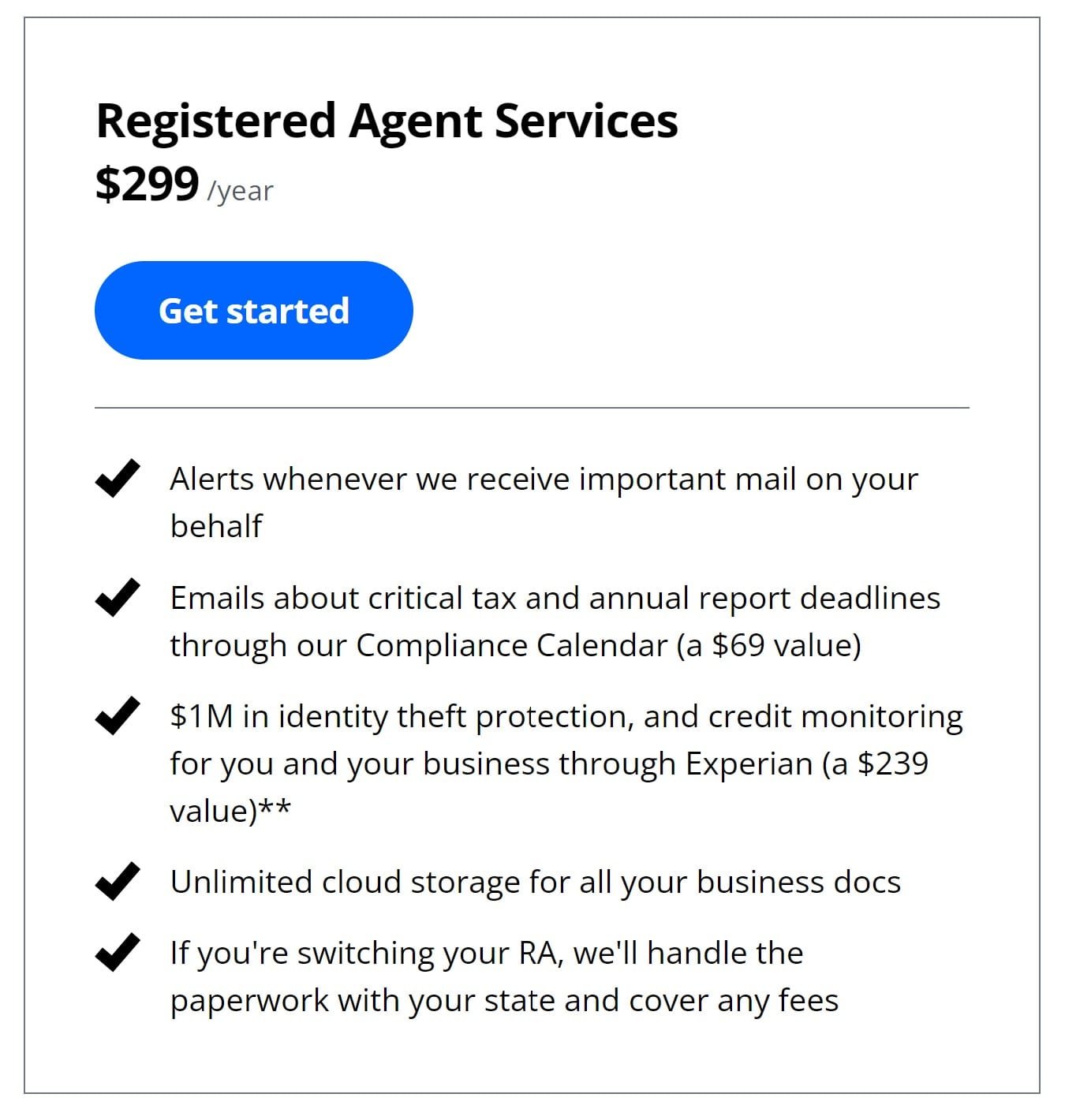 ____________________________
Northwest Registered Agent
Editor's Choice! 
Best LLC Service 2023
$39 LLC Filing, Formation, Registered Agent 😀
900+ Employees, 3 Million Customers
https://www.northwestregisteredagent.com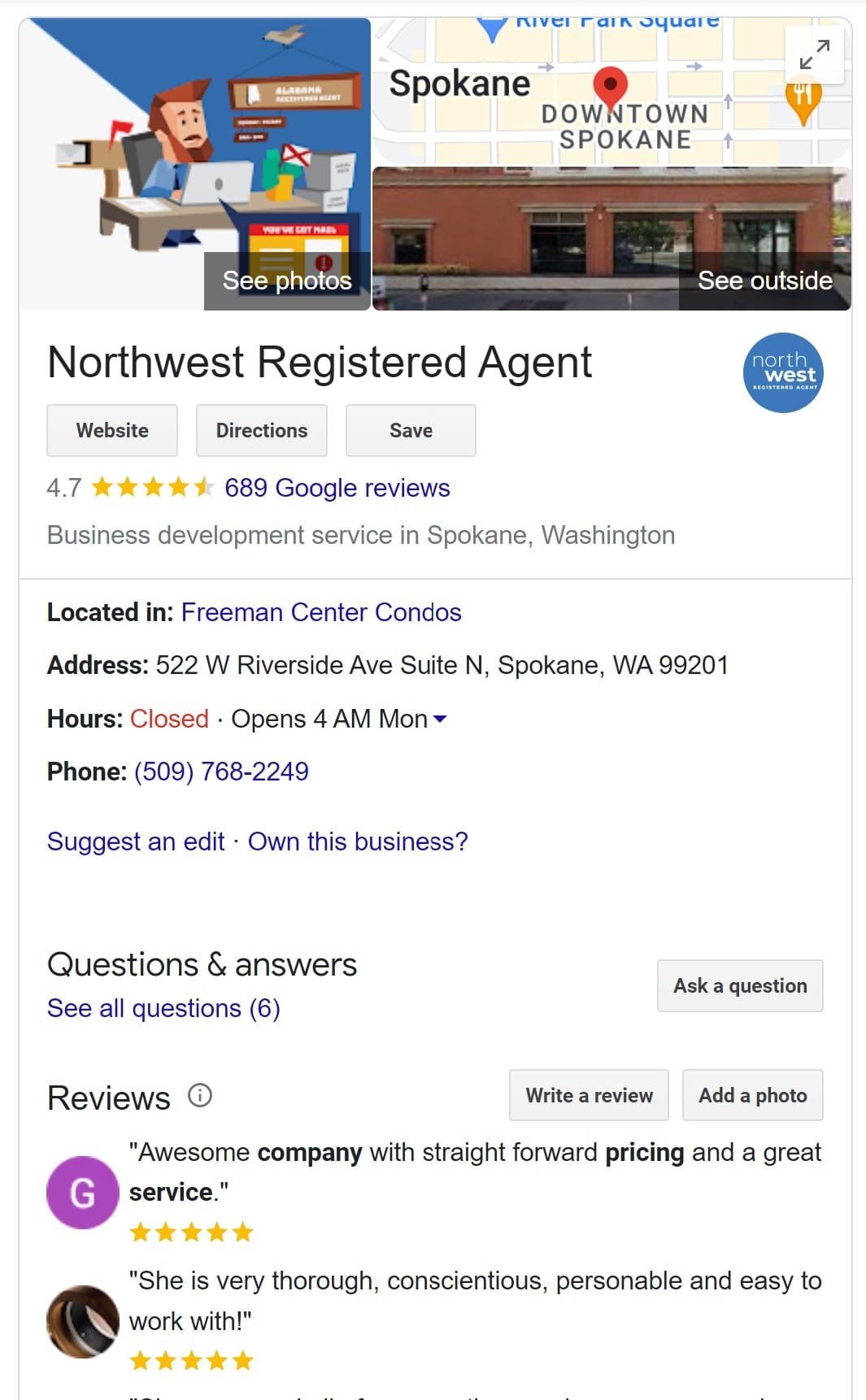 LLC Formation
Registered Agent 1/yr
$225  $39 
Visit Northwest
____________
Start a Limited Liability Company With ZenBusiness
Check Your Business Name Availability
Check the Price in Your State
ZenBusiness LLC Formation Pricing for 2023
Visit ZenBusiness
_________________________
LLC Formation Guide: 50 States
This table has links to our LLC formation guides and business name search info for each state.
How to Form an LLC – Business Name Search by State
* State fees are subject to change.
---
Our Top 4 Picks for LLC Formations 
If you are starting a new business, finding the right service to organize and file all the necessary documents to create a limited liability company can be difficult.
I think the best approach for most people is to learn the basic guidelines for your state and then find a trusted LLC service that can help you get through the formation process.
A professional and affordable LLC service will save you time and money. The service already knows and understands the LLC formation process in your state.
They can help you fill in the forms, provide guidance, and ensure everything is correct before filing. 
By hiring a good LLC service, you can reduce the chance that your LLC filing will be rejected because it is incomplete or incorrectly submitted.
Cost to Form an LLC by State
This table lists the filing fees and the annual fees for each state. Fees are subject to change.
State
Filing Fee
Recurring State Fees
Alabama
$200
$10 Annual Report
$100 Annual Privilege Tax (minimum)
Alaska
$250
$100 (every two years)
Arizona
$50 (plus publishing costs)
$0 (report due annually)
Arkansas
$45 online, $50 by mail
$150 Franchise Tax Report (annually)
California
$70
$800 – Franchise Tax (annually)
(Exemptions are available)
$20 – Statement of Information (annually)
Colorado
$50
$10 (annually)
Connecticut
$120
$80 (annually)
Delaware
$90
$300 Franchise Tax (annually)
Florida
$125
$138.75 (annually)
Georgia
$100 online, $110 by mail
$50 (annually)
Hawaii
$50
$15 (annually)
Idaho
$100 online, $120 by mail
$0 (report due annually)
Illinois
$150
$75 (annually)
Indiana
$95 online, $100 by mail
Biennial report – $32 online, $50 by mail
Iowa
$50
$60 (biennial report)
Kansas
$160 online, $165 by mail
$55 (annually)
Kentucky
$40
$15 (annually)
Louisiana
$100
$30 (annually)
Maine
$175
$85 (annually)
Maryland
$100
$300 (annually)
Massachusetts
$500
$500 (annually)
Michigan
$50
$25 (annually)
Minnesota
$155 online, $135 by mail
$0 (report due annually)
Mississippi
$50
$0 (report due annually)
Missouri
$50 online, $105 by mail
$0
Montana
$70
$20 (annually)
Nebraska
$100 online, $110 by mail
$10 (biennial report)
Nevada
$75, plus $150 for the initial list of officers
$150 Annual List of Members & Managers
New Hampshire
$100
$100 (annually)
New Jersey
$125
$75 (annually)
New Mexico
$50
$0
New York
$200 (plus publishing costs)
$9 (biennially)
North Carolina
$125
$200 (annually)
North Dakota
$135
$50 (annually)
Ohio
$99
$0
Oklahoma
$100
$25 (annually)
Oregon
$100
$100 (annually)
Pennsylvania
$125 (plus publishing costs)
$70 (decennial report)
Rhode Island
$150
$50 (annually)
South Carolina
$110
$0
South Dakota
$150 online, $165 by mail
$50 (annually)
Tennessee
$300 (minimum)
$300 (minimum)
Texas
$300
$0 report
Franchise Tax
Utah
$70
$20
Vermont
$125
$35 (annually)
Virginia
$100
$50 (annually)
Washington
$200
$60 (annually)
West Virginia
$100
$25 (annually)
Wisconsin
$130 online, $170 by mail
$25 (annually)
Wyoming
$102 online, $100 by mail
$50 minimum (annually)
* State fees are subject to change.
_______________________________
FAQs 
How Do I Apply for an EIN (Employer ID Number)?
Once you have officially formed your LLC with the state, it is time to register it with the federal government. You can apply for an employer identification number from the IRS.
If your LLC has more than one partner or employee, an EIN is required. You can easily apply online for a federal tax ID number (or EIN ) from the IRS website. The EIN can be obtained immediately if you apply online.
What is the cost of forming an LLC?
State by state, the filing fees for an LLC can vary. The filing fees range from $40 to $400. You can file an LLC online with a credit card, debit card, or mail order along with a check or money order.
Some states require publication fees, business license fees, name reservation fees, or publication fees in addition to the filing fee. You will also need to pay recurring fees in order to keep your LLC active.
These include filing annual reports or biennial reports, renewal of licenses and permits, and taxes. The biggest expense in starting an LLC is likely to be time and energy.
A service that is familiar with the details of starting and running a business will not only save you time but also removes the frustration and stress of dealing with government bureaucracy and red tape.
LLC services can file all your paperwork, act as a registered agent, and provide an Operating Agreement template at a low price.
How long does it take to create my LLC?
The time frame varies from one state to another, but it is usually two to three weeks after the state receives the documents of your limited liability company. However, expedited service can be arranged for an additional fee.
What is the best state to form an LLC?
It is best to create an LLC in your business's state.
Can I form an LLC without a lawyer?
Yes, you can create an LLC on your own. You don't need to hire a lawyer. The best LLC formation services provide guidance and support throughout the entire process.
Are LLCs eligible for 1099?
You don't need a 1099 if your LLC is filed as a corporation. However, if your LLC has independent contractors, you will need 1099 forms.
How do I dissolve my LLC?
These steps can vary from one state to the next, so check your state's LLC dissolution procedures.
The process is generally the same. First, you must file the Articles of Dissolution to your Secretary of State. Then, cancel in any other state where your LLC is active.
The final step is to file your tax return and pay the final payroll taxes. Finally, close your EIN. The process involves a lot of paperwork. Most LLC services can assist you in ensuring that your LLC dissolves without any problems.
Is it possible for an S corporation to own an LLC?
Yes. An S corporation can be the owner or a member of an LLC. However, an LLC cannot own an S-Corp. Only individuals can own an S-Corp. An LLC can still be taxed like an S corporation, provided it meets the eligibility criteria, which includes having a restricted number of shareholders who are U.S. citizens.
Can an LLC become a nonprofit?
It's possible, but not always. Certain requirements must be met and it can be confusing to grasp all the legalities. When considering these questions, consulting a financial and/or legal professional is always a good idea.
Is forming an LLC a good idea?
There are many business models that you should consider when setting up an LLC. How can you determine if an LLC is right for you? Let's look at the different options available to you, and how to set up an LLC to serve your best interests.