ZenBusiness Review New Prices (November 2023)
ZenBusiness review: I give an honest assessment of the business formation service ZenBusiness. My review covers the topics that you need to know, including these 3 points.
ZenBusiness' costs and pricing are in the average among LLC services
Expect a quick turnaround for LLC formations and incorporations
Zenbusiness' reliability, customer reviews, and support get good marks.
Tip: One thing that I don't like about ZenBusiness, they are known to outsource their registered agent service to a third-party provider. ZenBusiness is new and a small company. They do not have 700+ registered agents with offices in 50 states like Northwest Registered Agent.
I'll also provide clear explanations about the various other services ZenBusiness offers relevant to formation.
Here is a summary of my findings. You'll find my comprehensive review further down. It details my findings and explains everything about their services in my review of the LLC formation service ZenBusiness.
ZenBusiness Review: Pros and Cons
ZenBusiness
Pros

ZenBusiness




Cons

Good Pricing
Quick Turnaround Time
Rated.8/5 by Trustpilot
Extended Support Hours
It is straightforward to use

In business for only six years
Limited Website Templates
Mark Cuban endorsed
Registered Agent Service is an addon
Might outsource their registered agent service to 3rd party
Price Comparison Table: ZenBusiness vs. Competitors
| Service | Basic Formation | Formation with Registered Agent |
| --- | --- | --- |
| ZenBusiness | $0 | $148 |
| Northwest Registered Agent | $39 | $39 |
| Rocket Lawyer | $140 | $290 |
| Incfile | $0 | $0 |
| LegalZoom | $79 | $328 |
---
ZenBusiness Review: Quick Analysis 
ZenBusiness offers a service that can help you form an LLC or corporation for as low as $0 and provides an Operating Agreement, but a registered agent costs an additional $99/year. Higher tiers offer more services and compliance.
ZenBusiness offers quick turnaround times and excellent customer service.
ZenBusiness is a good choice for business owners who want to create an LLC or corporation.
ZenBusiness Brief Assessment
Zenbusiness, a venture-funded public benefits company based in Austin, Texas, is funded by venture capital. Ross Buhrdorf was the former Chief Technology Officer of HomeAway.
On its website, ZenBusiness states that its mission is to help every American realize their entrepreneurial dreams. ZenBusiness provides affordable LLC formations, incorporation, and many other necessary services to launch a successful startup.
ZenBusiness says that its core values include:
Transparency: Working with honesty, integrity, and without hidden costs
Protection: We help you to remain in good standing with the government.
ZenBusiness provides a wide range of services for those looking to start a company. ZenBusiness offers:
Services for forming a business entity: Available in all 50 states. This includes verifying that your business name is available and dealing with any additional formalities (such as New York publication requirements).
Services as a registered agent: Every business must have a registered agent. ZenBusiness can assist you in fulfilling this requirement by acting as your registered agent.
ZenBusiness offers compliance services. ZenBusiness can ensure that your company is in good standing with government agencies by handling your annual reporting requirements.
ZenBusiness can help you with IRS paperwork.
ZenBusiness can set up a website to promote your company or LLC.
ZenBusiness provides templates for commonly used legal documents. ZenBusiness can help you create operating agreements, corporate bylaws, and banking resolutions.
ZenBusiness is listed on my Best LegalZoom Alternatives for 2023
ZenBusiness Review: Pricing & Plans
ZenBusiness Pricing Tiers
|   | Starter $0 | Pro $199 | Premium $299 |
| --- | --- | --- | --- |
| LLC Filing | Included | Included | Included |
| Registered Agent Service | $99 | $99 | $99 |
| Obtain an EIN | $70 | Included | Included |
| Operating Agreement | Included | Included | Included |
| Expedited Filing | $50 | Included | Included |
| Rush Filing | $100 | $100 | Included |
| Worry-Free Compliance | $119/yr | Included | Included |
| Business Website | $100/yr | $100/yr | Included |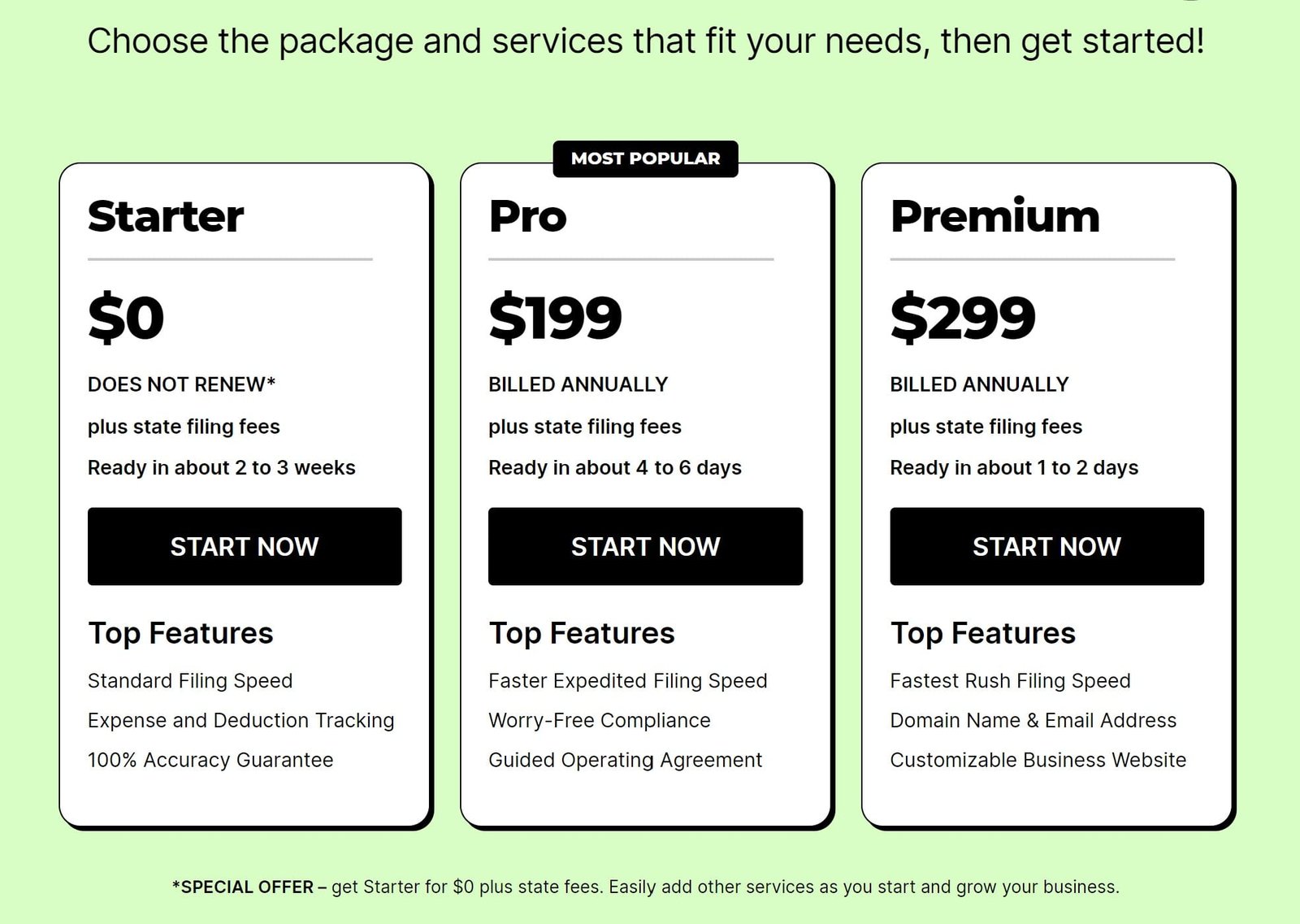 Visit ZenBusiness
ZenBusiness offers three types of formation plans: the Starter plan (Pro plan), the Pro plan, and the premium plan. All three plans include all the essentials of the Starter plan including,
Service for Business Formation (preparation & filing of Articles of Organization).
Operating Agreements for LLCs or Corporate Bylaws for corporations
The ZenBusiness Pro plan and the ZenBusiness Premium plan offer additional services and the basic LLC filing.
The ZenBusiness Pro plan offers expedited filing, obtaining an IRS Employer Identification Number, and worry-free compliance services.
The ZenBusiness Premium plan offers a faster turnaround time and basic web services to your company.
All ZenBusiness plans offer registered agent services as an add-on. ZenBusiness registered agent services can be purchased separately if you already have an LLC, corporation, or other entity.
ZenBusiness's standalone registered agent service starts at $99/year, or $149 if compliance services are desired.
In my ZenBusiness pricing review section, you will find details and prices for each service. You can add many services to any plan.
ZenBusiness's formation plans are not like those of other companies. ZenBusiness uses a subscription pricing model. After your business has been formed, you can cancel your subscription without penalty or additional fees.
ZenBusiness Starter Package: $0 + state fees
ZenBusiness' bare-bones starter plan serves your basic formation needs. This plan is recommended if you want your LLC to be formed as quickly as possible and are able to handle compliance.
These are the main features of the ZenBusiness Starter plan:
Basic Business Filing Service: File articles of organization with the Secretary of State. Unlimited name searches for any business name. This package does not include expedited filing, but this can be added separately.
Operating Agreement Template: This is the most important document you will ever need for your LLC. It protects all of your assets against potential lawsuits and defines the nature, operation, and rules for your LLC.
Registered Agent Service: All LLCs and corporations must appoint an agent immediately after they are formed. The role of the registered agent is to obtain specific legal documents for the business.
ZenBusiness' online dashboard allows you to track the status of your order and receive electronic copies of finalized formation documents as soon they become available.
You may also find the ZenBusiness Starter a valuable plan by including a few other services.
ZenBusiness offers a free consultation on accounting. ZenBusiness will conduct a quick assessment of your company's accounting needs and then recommend additional steps that are appropriate for your specific needs.
Annual report service: ZenBusiness, like many other service providers for formations, can help you comply with your state's annual reporting requirements. 
Google Ads credits worth $150: This is useful for entrepreneurs already planning to use Google Ads. Google will match advertising expenses up to $150 if you apply to an eligible Ads account. ZenBusiness will give you a promo code.
The turnaround time for orders can vary greatly depending on where the LLC was formed. It could take anywhere from a few days up to several weeks. The Starter plan does, by default, not include any order expediting.
Visit the ZenBusiness website to learn more and select the state where you want to form your LLC.
The default renewal price for ZenBusiness' Starter Plan is $119/year. This includes their annual report filing service. You can cancel your plan before it renews if you do not want to use these services.

ZenBusiness Pro Plan $199 + state fees
This ZenBusiness plan is their most popular and offers many additional features over the ZenBusiness Starter plan. Mainly, ZenBusiness offers compliance and expedited formation.
ZenBusiness Pro includes everything you would get with the standard plan plus:
The expedited filing service allows you to skip the line and speed up processing. It varies from one state to another but generally takes between four and two weeks for the low end and up to two weeks for the high end.
Employer Identification Number (EIN): your business's federal tax ID issued by IRS. It is your company's social security number. It is required to open a bank account for your business, hire employees, and file tax returns.
ZenBusiness provides worry-free compliance: ZenBusiness will take care of all ongoing compliance filings with the state and ensure that your company is in good standing. This service allows for up to two amendments each year.
ZenBusiness will also supply you with a Banking Resolution Template, which you will use to open a bank account for your LLC.
This ZenBusiness plan is renewed at $199/year. It covers the annual filings of your LLC and compliance monitoring service.
ZenBusiness Premium Plan $299 + state fees
The ZenBusiness Premium plan provides the fastest turnaround possible and includes many essential web-related services. If you need a basic website and want your LLC to be formed quickly, the ZenBusiness Premium plan is an excellent option.
Suggestion: The business websites that ZenBusiness offers are nice and simple, but I recommend Shopify or Wix for e-commerce businesses that require a customized website.
ZenBusiness Premium includes everything Pro has plus more
Rush Filing Service: You will get the fastest turnaround times with rush filing. The exact timeframe depends on the state. It is usually only a few days. In some states, ZenBusiness Premium plan customers may receive a response within one day.
Domain name: ZenBusiness can secure your domain name along with your chosen LLC name if it's available.
Website: ZenBusiness will quickly build a website for your business using your domain name and business information.
Business email: ZenBusiness will create a business email address using your domain name. For professional correspondence, you will have access to up to 5GB of storage.
This ZenBusiness plan is renewed at $299/year. It includes Pro + all of your website services.
For most businesses, I recommend the Pro plan. This ZenBusiness plan meets all administrative requirements so that you can start immediately.
If you are looking for a simple online presence, Zenbusiness' Premium plan might be the right fit.
I recommend Shopify and Wix for website building if your business is primarily online.
Any ZenBusiness Hidden or Additional Fees?
ZenBusiness' services have no hidden fees. ZenBusiness' services are transparent, and you only pay what you see at the checkout.
ZenBusiness is a subscription-based business model. ZenBusiness offers customers the ability to cancel automatic subscription renewals at any time. A separate option for business formation orders would have been ideal.
ZenBusiness BBB Reviews
Visit the ZenBusiness page on the Better Business Bureau website
---
ZenBusiness Review: Customer Support
But, ZenBusiness provides extended customer support hours:
ZenBusiness Extended Customer Support Phone Number Email Chat
Monday to Friday 8 am until 8 pm central time + Sundays, 10 am to 7 midnight central time.
Chat: Chat with zenbusiness.com during extended support hours.
Phone Contact: Call ZenBusiness at 1-844-493-6249 during ZenBusiness's extended hours of support.
Email: Get in touch at support@zenbusiness.com and expect a reply within one business day.
Cancellation of ZenBusiness Services
In their cancellation policy, ZenBusiness states that you have the right to "discontinue some or all of your paid services at any time by contacting support@zenbusiness.com."
You can cancel your annual subscription at any time, as I have mentioned. Send a message to ZenBusiness support. You may be charged a $25 cancellation fee in some instances.
A significant distinction applies to cancellations of registered agent services. If they act as your Registered Agent, ZenBusiness will require you to appoint another registered agent.
---
ZenBusiness Customer Reviews: Google Reviews, BBB and Trustpilot
ZenBusiness vs Competitors and Other LLC Services
ZenBusiness vs LegalZoom
|   | ZenBusiness | LegalZoom |
| --- | --- | --- |
| Basic Formation | $0 | $0 |
| Registered Agent (standalone) | $99/yr | $249/yr |
| Formation and 1/yr Registered Agent | $99 | $249 |
ZenBusiness scores better than LegalZoom. LegalZoom was lacking in many categories compared to ZenBusiness.
LegalZoom's fees for formation are excessive. It's one of the most expensive services we've ever encountered. But, it provides little value contrasted with other options.
ZenBusiness is a practical and cost-effective option that provides the highest customer satisfaction.
ZenBusiness vs Swyft Filings
Swyft Filings is a good alternative for those seeking an affordable service with a quicker turnaround time than the majority. ZenBusiness is more affordable than Swyft Filings and offers similar or superior performance.
|   | ZenBusiness | Swyft Filings |
| --- | --- | --- |
| Basic Formation | $0 | $84 |
| Registered Agent  | $99/yr | $149/yr |
| Formation and 1/yr Registered Agent | $99 | $233 |
Swyft Filings also offers many services via third-party vendors and upsells many unnecessary add-ons. ZenBusiness's more straightforward method is more effective.
ZenBusiness vs Incfile
In almost every field, ZenBusiness is significantly more efficient than Incfile. ZenBusiness is more pleased with its clients than Incfile despite providing simple online forms.
|   | ZenBusiness | Incfile |
| --- | --- | --- |
| Basic Formation | $0 | $0 |
| Registered Agent  | $99/yr | $0 (1st Year Free With Formation) |
| Formation and 1/yr Registered Agent | $99 | $0 Silver Package |
ZenBusiness provides quicker turnaround times, lower prices, and more efficient customer service. There is no reason not to pick ZenBusiness over Incfile.
---
ZenBusiness Pros
Here are the things that make ZenBusiness stand apart from other competitors like LegalZoom, Inc Authority, and RocketLawyer.
1. Good Pricing + $299
While starting a new LLC or business is not cheap, spending too much on the essentials will only make it more expensive. Startups don't need to spend money on legal and administrative requirements.
ZenBusiness offers everything you need with its Pro plan. This is at one of the most affordable prices in the market. While ZenBusiness competitors might advertise lower prices for their services, ZenBusiness doesn't provide essential services and have incomplete packages.
ZenBusiness: $299
Competitors: $150-$500+
Lawyer: $500+
This is a great way to validate your company, find customers online, and reduce acquisition costs. 
ZenBusiness Accountant Assessment
To help you get started in your entrepreneurial venture, you will be provided with valuable resources and advice. CPAs are licensed to help you assess your accounting, bookkeeping, and tax requirements. CPA assessments are not free, so this is a bonus!
Virtual Business Guide $50 Value
This guide contains a checklist that will help you run your online business. You will be able to save hours researching the best online tools, productivity, and communication methods.
2. ZenBusiness Has Quick Turnaround Times
Customers report that the formation of their business entity through ZenBusiness took just a few days, even during peak season.
You can find more reviews about turnaround times on ZenBusiness' Trustpilot page by entering "days" into the search box. This is how I found these reviews.
It is challenging to predict turnaround times. The state where you file, the year, and luck will all affect how long it takes to register your LLC. These reviews are not intended to be bombproof.
3. For the first-time business owner, ZenBusiness is a good choice
It can be both thrilling and overwhelming to create your first LLC. ZenBusiness makes it so easy. They carefully guide the entire process. You can complete the entire process online in just minutes. ZenBusiness takes care of everything else.
ZenBusiness's dashboard allows you to track the formation of your LLC in real-time, even after you have placed your order. All stages of the formation process will be notified, and you will be updated with any developments.
You will never feel lost, confused, or unable to make decisions for yourself. That's what I like.
4. Professional service
ZenBusiness has filed documents on behalf of thousands of corporations, LLCs, DBAs, and business name registrations. ZenBusiness is a trusted filing service.
Many law firms outsource LLC formations to companies like ZenBusiness. Although many people offer LLC filing services, such as lawyers, CPAs, and advisors, ZenBusiness is the only company that focuses exclusively on LLC filings. I recommend that you only work with experts in a single area.
ZenBusiness professionals are specialists in business formation. It will be challenging to find more than ZenBusiness pros.
5. ZenBusiness Has Good Customer Reviews
Trustpilot has over 7,800 ZenBusiness customer reviews. The ZenBusiness reviews are primarily positive by the majority of LLC owners.
You can check out the  7,800+  ZenBusiness reviews on Trustpilot.
ZenBusiness is a highly-reviewed service. Significant review sites like Trustpilot have an average rating of 4.8/5.0. ZenBusiness was founded in 2015. This is why ZenBusiness has so many positive reviews.
Reddit doesn't have many ZenBusiness customer reviews, but the ZenBusiness reviews are primarily favorable.
Most customers seem to like the service's simplicity and quick turnaround times. 
6. Extended Customer Support Hours via Chat and Phone for ZenBusiness Customers
You will soon realize the importance of 24-hour and weekend service once you are in business.
ZenBusiness offers extended support hours for customers:
ZenBusiness Extended Customer Support Telephone Email Chat
Monday through Friday, 8 am – 8 pm central. Sunday, 10 am – 7 pm central.
Chat: You can chat at zenbusiness.com during extended support hours.
Phone: ZenBusiness can be reached at 1-844 493-6249 during extended support hours.
Email: Get in touch at support@zenbusiness.com and expect a reply within one business day.
Extended customer support hours can be beneficial when you need to contact the registered agent department for legal documents. ZenBusiness is the only company that offers similar support hours to ZenBusiness customers. I consider this a strength.
---
ZenBusiness Cons
1. The ZenBusiness company is less than six years old
2. The functionality of the business website is limited
ZenBusiness ranks high in my list of top recommendations for business formation services. However, ZenBusiness is not a web builder or domain provider competing with the more well-known specialized online service providers.
I recommend Shopify for ecommerce websites or Wix for other service websites if you're looking to start an online business. Access to proven and trusted website builders, tools, and services will be available.
ZenBusiness's total website cost (Website and Domain, Privacy, Email, and Email) is $110. This is a very affordable price compared to other website builders. ZenBusiness may still be a good fit for you if your website isn't a key component of your business.
3. ZenBusiness Has a Yearly Subscription Cost
A yearly subscription to the ZenBusiness Starter plan includes:
The Starter plan offers significant savings on first-year costs. The ZenBusiness Starter plan renews at $119. All other packages are renewed at the first-year price.
A yearly subscription to the ZenBusiness Pro plan includes:
You can be worry-free about ongoing compliance and dates
Our service section provides more information about each of these services. Both of these services are highly beneficial to most people.
The ZenBusiness Premium plan includes:
Hosting Website
Register Domain Name (URL).
Domain Privacy
Email for Business
ZenBusiness does not lock you into long-term contracts. You can cancel your ZenBusiness services at any time without penalty.
ZenBusiness Services
I have provided additional information and listed all ZenBusiness services you might be interested in.
For your convenience, I have provided pricing information for each service. ZenBusiness offers discounts on most services when you purchase any ZenBusiness business formation plans.
ZenBusiness Business Formation
When starting a new venture, the first thing to do is to form a separate legal entity. A separate business entity can provide several benefits and protect you against liability.
For small and mid-sized businesses, the best option is the limited liability company. Three important characteristics that make LLCs attractive to entrepreneurs are:
Limited Liability: This is perhaps the most important aspect of an LLC. Your assets are protected if your company is sued or goes bankrupt. An LLC protects you against economic loss and allows you to take on risks while running a business.
Pass-through taxation. LLCs do not pay any separate taxes by default. Instead, incomes or losses are reported on the individual tax returns of LLC members. The IRS considers single-member LLCs sole proprietorships and multi-member LLCs partnerships.
Administrative flexibility: LLCs are more flexible than corporations in how they operate and have fewer reporting requirements.
New LLC formation is done at the state level. The process involves filing Articles of Organization with the Office of the Secretary of State (the name of the LLC may differ in certain states) and paying a small processing charge.
ZenBusiness' primary service to potential business owners is business formation. Websites for state agencies are often poorly designed, difficult to use, and slow, if at all possible, to complete online paperwork.
ZenBusiness will take the hassle out of dealing with government bureaucracies, and make sure everything is filed correctly.
Your future LLC will require you to select a business name. ZenBusiness will perform a search for your business name to confirm that it is available. ZenBusiness will contact the owner if it isn't before proceeding with your formation.
Suggestion: I recommend checking your chosen name's availability before placing an order with ZenBusiness or any other business formation service.
This will help avoid any delays in forming your company. You can search the state's business registers online. A name search can be done with the federal trademark registry.
ZenBusiness will free mail your documents to the Secretary of State once your order has been processed. Each state charges a fee to file and process your documents. The fee for filing and processing documents varies by state, but it can range from $40 to $500.
ZenBusiness will collect the state fees on behalf of you and forward them to the Secretary for State. This service is free of hidden fees.
There are differences in the time it takes to receive your final documents. You can pay an additional fee to have your LLC formed quickly. Before your order is processed, ZenBusiness will provide you with a time frame estimate.
Template for Operating Agreement
Included in Starter, Pro, and Premium. $35 otherwise.
ZenBusiness Operating Agreement
Your LLC's operating agreement is a vital document. It is a contract that all LLC members sign to outline the nature, structure, operation, and future plans for your business.
Your LLC could look like a sole proprietorship without an operating agreement. This could lead to your limited liability as a member being questioned. Your assets, including your money and real estate, could be put at risk if someone files a suit against your LLC.
Your LLC will behave more like a sole proprietorship without an operating agreement, defeating its purpose.
ZenBusiness can help you address this risk by providing an operating agreement that thousands use every day.
Operating agreements are, among other things, formalized via contract.
How ownership interests are divided among members of the LLC
What happens if one member of an LLC decides to leave the business?
Who manages the LLC? Are they members-managed or managers-managed?
What are the major business decisions?
How the LLC will get funded
How should profits be divided between members
An operating agreement is required for LLCs established in California, Delaware, and Maine or Missouri.
New business owners are strongly encouraged to sign an operating agreement in other states.
Registered Agent Service
All plans include this option. Other plans are available at $99/year
ZenBusiness Registered Agent Service
Every state requires that corporations and LLCs appoint and keep a registered agent. Your company's registered agent is the official contact point for certain legal correspondence, such as court summons. Although some service providers may offer virtual offices or business mail addresses, a registered agent is not an address for your company.
Your registered agent will receive correspondence from the Secretary of State, IRS, law offices, and other government agencies. The registered agent must receive these legal documents on behalf of your LLC/corporation.
Registered agents must be accessible during regular business hours. It is possible to act as the registered agent for your LLC, but it is discouraged. You are responsible for missing any legal notices because you are sick, on vacation, or out of the office.
A professional registered agent can help protect your privacy. The registered agent's contact information is part of the public record, and anyone can access them.
A registered agent must have a physical address in every state where their business is located. If you plan to work in multiple states, you will need a registered agent service.
Many LLC formation companies offer registered agent services, such as ZenBusiness. This service allows you to:
Make sure your company is compliant with federal and state agencies
All critical documents are available online and organized.
Protect your storefront from tax or legal notices
Do not get the spam mail that all newly registered businesses receive
Many people wonder how to contact their registered Agent after ZenBusiness has formed an LLC or corporation with ZenBusiness. ZenBusiness is your registered representative; you can reach them directly.
Employer Identification Number (EIN).
Includes Pro and Premium. Otherwise, $70
ZenBusiness EIN Filing Service
Your LLC's federal tax ID of nine digits is called an Employer Identification Number (or EIN). It is your business's social insurance number.
An EIN is required to open a bank account for your business, hire employees, file tax returns, and make payments. This IRS website has more information on Employer ID numbers.
Most US businesses are required to obtain an EIN from IRS. If any of these apply to your business, you will need an EIN.
Your LLC will require excess tax returns
Your LLC will have employees
Your LLC will be treated as an S-Corp.
There will be more members in your LLC than one.
After your LLC has been registered, ZenBusiness will digitally file your IRS EIN.
Banking Resolution Template
Includes Pro and Premium. $30 alternatively
ZenBusiness Banking Resolution Template Service
The banking resolution is a document that identifies who is authorized to open a bank account and sign documents for banking within an LLC or corporation.
This document is required by many banks when you open a bank account for a business.
ZenBusiness offers a template that can be used with both the ZenBusiness Premium and Pro plans. This will help you save time and avoid legal fees.
Business Templates Library
Includes Pro and Premium $50 for all other options
ZenBusiness Business Template Library
You can access a growing library with 25+ business documents when you subscribe to Pro or Premium.
Contractors and service-related
Waiver of individual liability
Waiver of liability for company
Waiver – Release of Liability
Waiver – Release of Liability (minor).
Agreement for website maintenance
Agreement with a Freelancer
Service agreement
Marketing agreement
Consulting agreement
Graphic design agreement
Business and Intellectual Property
Non-compete agreement
Confidentiality agreement
Letter of offer for employment
Termination of employment
Employment agreement
Agreement on employee compensation
Non-compete agreement
Confidentiality agreement
A loan agreement
Agreement for purchase
Employment agreement
Termination of an agreement and release
Breach of contract notice
Agreement on the dissolution of a partnership
Modification to an agreement
Transcript of a letter of intent
Agreement for purchase
Agreement for business purchase
Joint venture agreement
Unlimited printing, unlimited use, and endless customization are all included in your access.
Each business has its accounting requirements. ZenBusiness will evaluate your startup's accounting obligations regarding:
Paying invoices and tracking them
How to manage your books
Filing taxes and more
After your LLC has been formed, ZenBusiness offers an accounting assessment through the ZenBusiness online dashboard.
This service is ideal for new business owners as it will allow you to spend your time on the most important things to grow your business. You'll also save at least an hour on accounting consultation fees.
Rush and Expedited Filing
Standard: Usually, up to three weeks. Free
Expedite: Usually, up to 10 Days, $50
Rush: Usually takes 1-6 days and costs $100
ZenBusiness expedites California rush filing
ZenBusiness works on a first-come, first-served basis. You can skip the queue by paying for expedited or rush filing. This is especially useful during tax season, which can be busy.
Upgrades are not recommended unless you require speedy filing. ZenBusiness is efficient enough to file documents in a matter of days.
You can be compliant worry-free with ZenBusiness.
Includes Pro and Premium. Otherwise, $119 per annum
ZenBusiness Worry-Free Compliance Service
The majority of US states require that you submit an annual report. Missed deadlines could result in severe penalties. ZenBusiness will audit your company and file all required documents for you. Two free amendment filings are available each year.
ZenBusiness will monitor your state status and notify you when to act.
You will still receive free help if you miss the deadlines. A detailed plan will be provided to address the problem. If your business is found negligently by ZenBusiness, ZenBusiness will cover the penalty fees.
You can focus on your business with the ZenBusiness worry-free guarantee.
Website, Domain, and Branded email
ZenBusiness Business Website Service
Nowadays, most businesses cannot do without a website. A website is invaluable for any business, whether it's used to sell products and services, provide contact information, communicate with others, or just boost credibility.
ZenBusiness can help register a domain (URL), protect sensitive data, and build a basic website for your business. You will also receive an email address that's branded with your domain name – e.g., name@YourDomainName.com.
Choose from one of six templates for your business website, which you can customize to suit your needs.
ZenBusiness Add-ons & Offers
ZenBusiness can assist you with many tasks immediately after forming your LLC.
These are some of the offers that you can take advantage of:
Insurance quote for Business Owner's Policy (BOP).
ZenBusines Business Owner Policy: Free Insurance Quote
You can get a free quote from Commercial Insurance Center for an insurance bundle that includes general liability insurance and commercial property insurance.
Online banking for small businesses
$110 per year
ZenBusines Online Business Checking Account Bank Radius
Radius Bank is a partner in your application for a bank account with a discount that includes:
Unlimited transactions
Online Banking
Debit card
Accounting assessment
You can complete the formation process online. It is quick and straightforward from start to finish, and you will receive all the necessary information. ZenBusiness' CPAs will evaluate your accounting needs and provide you with access to library business documents right away.
ZenBusiness will help you remain in compliance and good standing with the government after your formation. You can ask them any questions at no cost, six days per week.
Notice: ZenBusiness is a service that assists in the formation of LLCs. They can assist you with all aspects of the business establishment process. ZenBusiness is not an accounting firm or law firm. ZenBusiness cannot provide legal or tax advice, and ZenBusiness does not represent you in such matters.
Conclusion:
I recommend ZenBusiness. ZenBusiness offers hassle-free LLC incorporation and formation at a very affordable price. It also has quick turnaround times.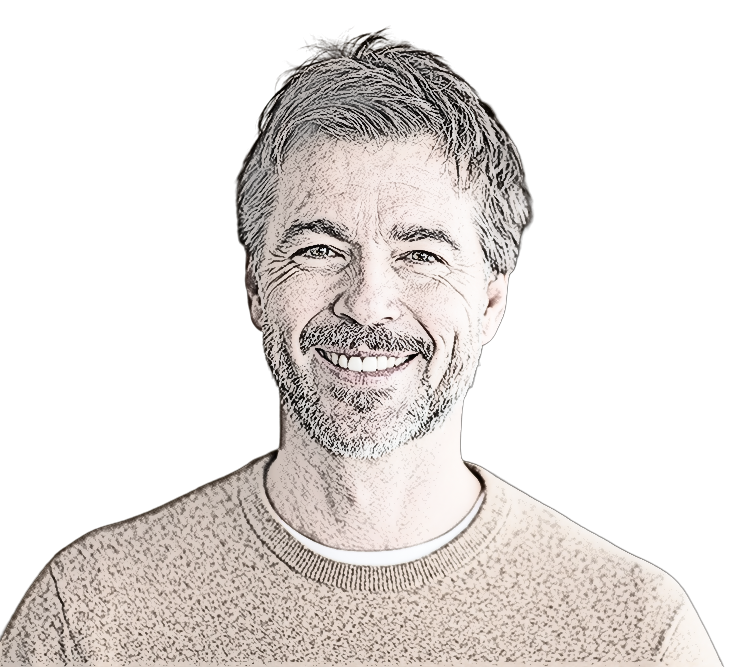 Brian Wilson is the content manager and founder of LLC Radar.
Brian grew up in North Texas, just outside of Dallas, and has a bachelor's degree in business journalism from Southern Methodist University. Since graduating from SMU, Brian has gained over 10 years of experience in business writing for several online publications.
Brian resides in Plano, Texas and he can be reached by email:   info@llcradar.com
Phone: 972-776-4050