19 Best LLC Services in New York (October 2023)
Selecting the optimal LLC service in New York for your limited liability company is crucial.
A proper LLC service can have your business up and running in a matter of days, submitting your articles of organization to the New York Secretary of State and securing the required business licenses from local authorities.
In contrast, an inadequate LLC service might overlook proper paperwork filing with the appropriate agencies, leading to operational disruptions and considerable delays in launching your LLC, potentially spanning weeks or even months.
To ensure you pinpoint the premier LLC service for New York businesses, I've exhaustively analyzed and rated the top 19 LLC services in New York through a rigorous four-stage evaluation process and a four-factor rating system.
Herein are the outcomes of my comprehensive analysis of New York's best LLC services.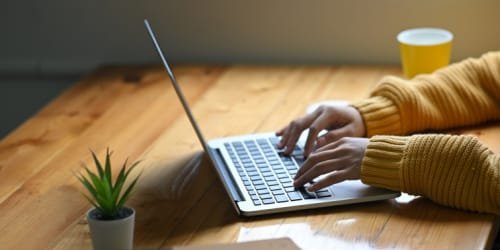 Best LLC Services
Northwest Registered Agent (Best Overall)
New York Business Tips
When it comes to forming an LLC in New York, it's essential to consider the best LLC services and registered agents in New York. A good LLC service may prevent delays and effect the length of time to form your New York LLC due to filing errors from diy entreprenuers.
To begin, conduct a New York LLC name search to ensure the availability of your desired business name.
Once you've confirmed its availability, you can proceed with preparing the essential formation documents, including registering your New York business name and drafting a New York LLC operating agreement, which outlines the internal structure and management of your LLC.
It's advisable to gather all required information and submit your filings promptly. Furthermore, applying for a business licenses in New York if you are required is something to consider and obtaining a New York Employer Identification Number (EIN) from the IRS is essential for tax purposes if you plan to have employees.
You may want to be your own registered agent in New York, or if you ever want to change your New York registered agent, the options are available for a smooth transition.
In the event that you decide to dissolve an LLC in New York, ensure compliance with the state's dissolution procedures to avoid any potential legal or financial complications.
Consulting with professional dissolution services like Incfile can provide valuable guidance and assistance throughout the dissolution process, ensuring a smooth conclusion to your LLC's operations in New York.
The Best LLC Service in New York
We recommend Northwest Registered Agent.
Northwest is Best-In-Class: Some other LLC services maybe cheaper but those other LLC services may also sell your private data. Northwest is a professional firm with top-quality customer support and a client policy of 'Privacy by Default'.
1. Northwest Registered Agent
(Best LLC Service for Privacy)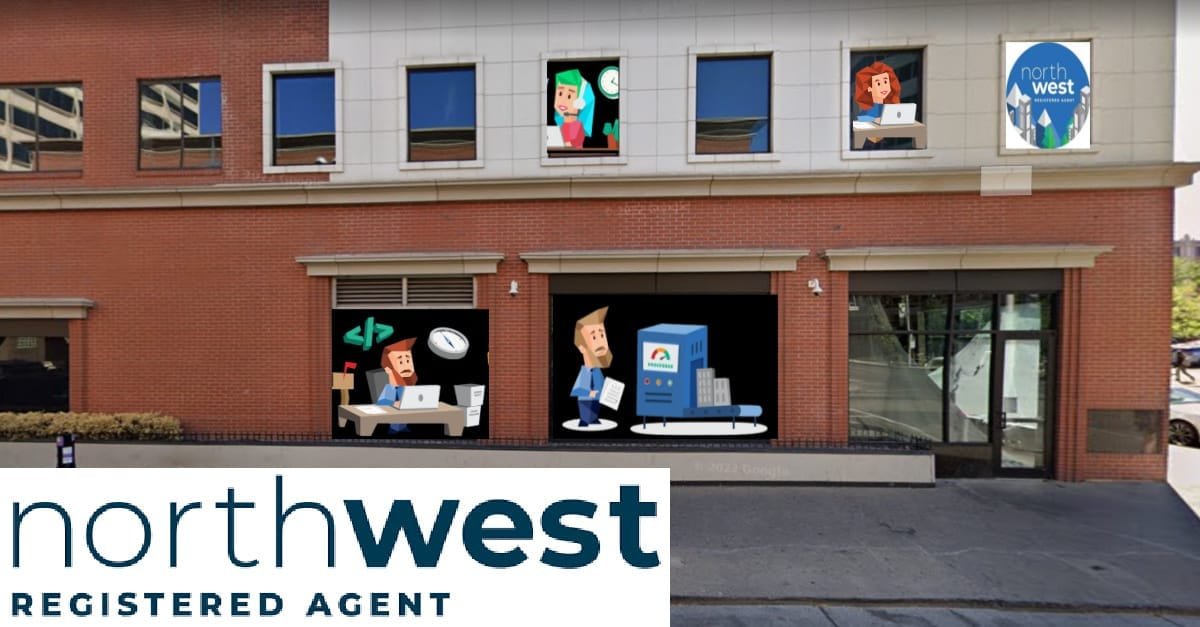 Price: $225  $39
Based: Spokane, Washington
Experience: 20 Years
Size: 3 million clients, 900+ employees
50 Offices in 50 States
My top pick for LLC formation service in New York is Northwest Registered Agent.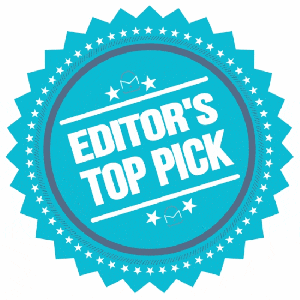 Northwest provides business formations and registered agent services. Northwest has been providing LLC formation services for over 20 years.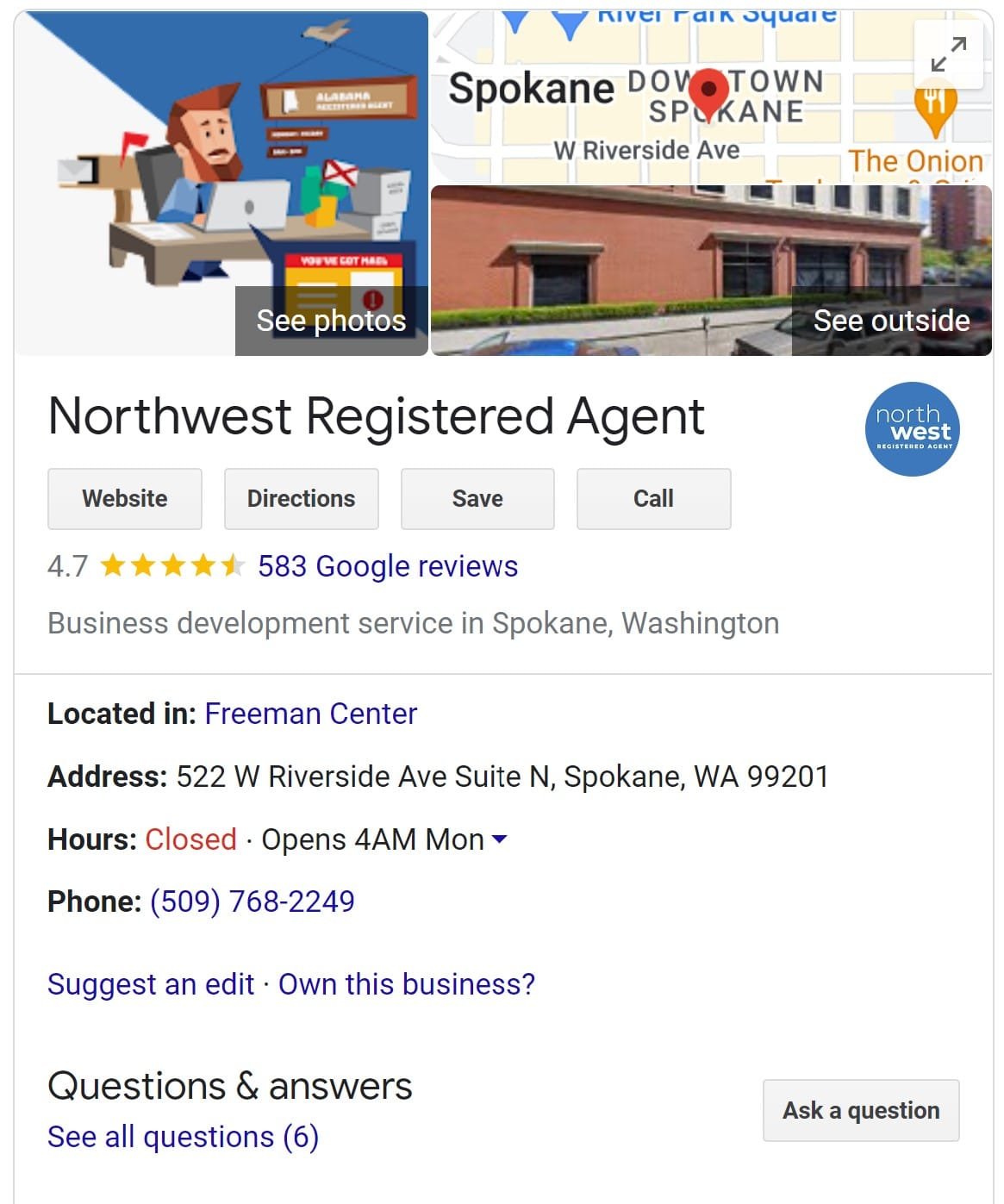 They are known for exceptional customer service and are the industry leader in registered agent services.
New York LLC formations with Northwest are discounted for our readers, just $39, and you also get a year of free registered agent service.
This keeps your start-up costs low. Northwest is our top choice, and it's an LLC service that puts customer service above all else.
LLC Formation Plan: $225  $39
Registered agent service: $125 per year, but the first is completely free
Customer Support: Northwest assigns an account representative to each New York customer, ensuring they receive prompt and personalized service.
LLC Services: Northwest keeps the order form simple – no upsells clutter the process.
User Reviews: Google reviews are great. Reviews on 3rd-party review websites are mostly positive.
Northwest RA Pros and Cons
Pros
Industry-best customer support
Discounted pricing
Northwest has 50 offices in 50 states
US-based customer service
Registered Agent 1st year free with the business formation
Google reviews are a very positive 4.7/5
900 employees, maintaining 3 million clients
Cons
I honestly haven't found any yet
#2 Incfile

(Best Budget LLC Service)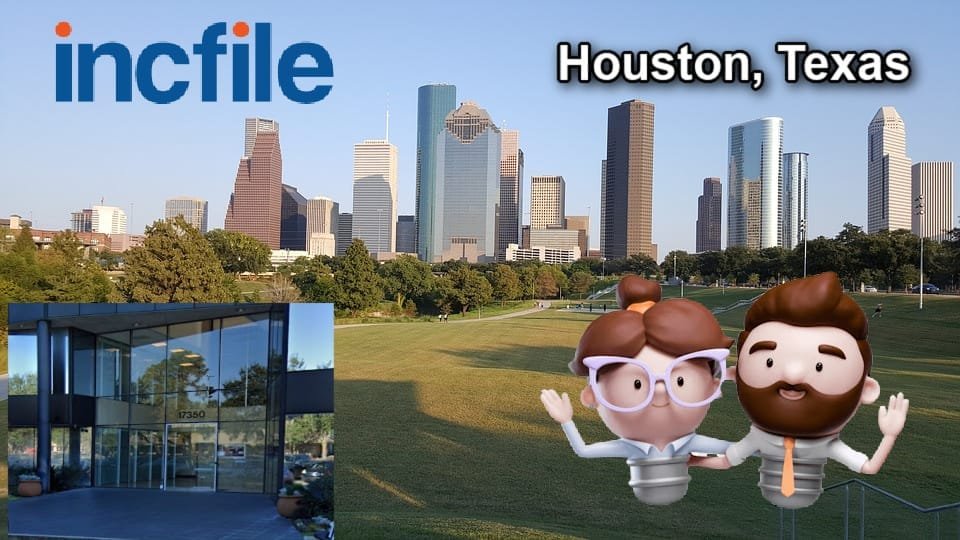 Based: Houston, Texas
Experience: 20 Years
1,000,000,000+ formations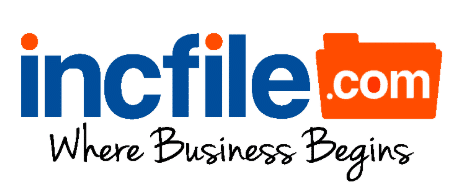 Incfile is another LLC service that has been in business for nearly 20 years. can be a great choice if you are concerned about start-up costs.
They offer free New York LLC filing and registered agent services for the first year. A "free LLC" may be good for some, but Incfile needs to make money somehow.
This can be done by upselling needed features at a lofty price.
If privacy is important to you, Northwest emphasizes customer privacy more than any other LLC service I know.
Incfile may not have as many bonus features as its competitors. Still, they offer all the essentials for an additional fee: filing an EIN and registering a DBA, filing annual reports, and others.
LLC Formation plans: $0, $199, $299
Registered agent service: First Year Free, then $119/year
Customer Support: Incfile recently increased its customer service team, which improved its response times. This is a significant improvement in their previous performance.
LLC Service: Everything is straightforward when ordering a package through Incfile. There are not a lot of pricey and confusing add-ons.
Customer Reviews: Mostly positive. Incfile has over 5,000. reviews on Trustpilot. More than 98% of 21,000+ Shopper Approved reviews are positive.
Incfile Pros and Cons
Pros
Register agent for free business formation
I like their prices and a 20-year history of experience
Excellent customer feedback
Cons
I don't like that they are known for many upsells. It starts cheap but can add up.
#3 ZenBusiness
(Best New LLC Service)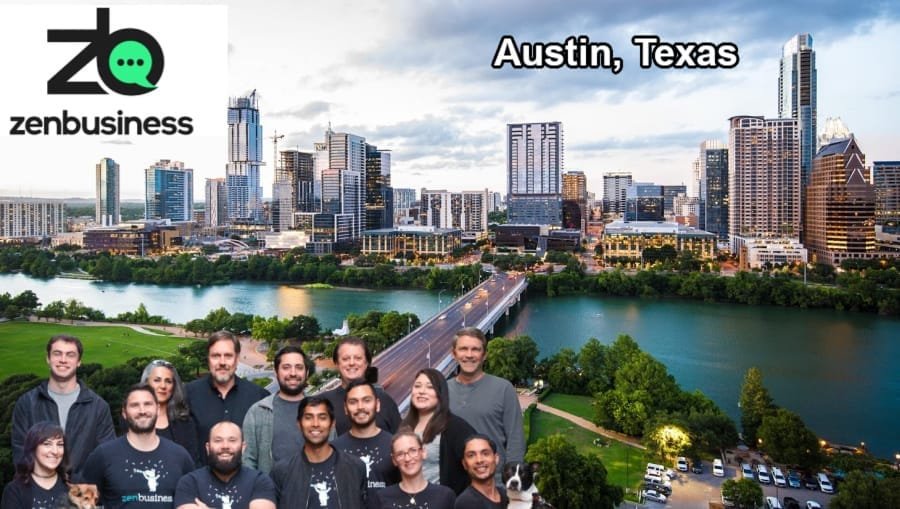 Based: Austin, Texas
Experience: 6 years
'Worry-free guarantee'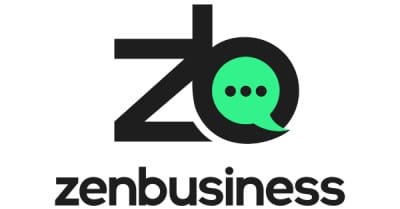 Thanks to competitive technology and a dedication to affordability, ZenBusiness has one of the most affordable LLC services available.
Formations start at $0 plus the state fee. ZenBusiness provides New York registered agent services at an additional cost of $199/yr.
You can choose the Pro package ($199 annually) for a flat annual fee to get business formation, and an operating agreement template.
LLC Formation plan: Starting from $0
Registered agent service  $199 annually
Customer Support: ZenBusiness provides good customer service due to its smaller customer base and individual attention.
LLC services: ZenBusiness provides useful tools to track annual reports. However, the ordering process can be confusing.
ZenBusiness Pros and Cons
Pros
The 'worry-free guarantee' compliance feature
Great customer feedback and reviews on Trustpilot
Customer service 6 days a week
Cons
Mark Cuban is a spokesperson
ZenBusiness might outsource their registered agent service
Registered agent service is a $199 add-on with LLC formations
Only 6 years in business. Several competitors have more experience.
#4 LegalZoom
(Best for Ongoing Legal Services)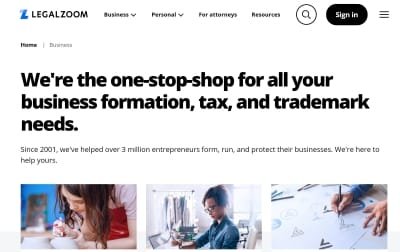 Based: Glendale, California
Experience: 20+ years

LegalZoom is a great way to get involved with a well-known brand.
LegalZoom was founded in 2001 and has grown to offer hundreds of services. LegalZoom is more expensive than the other New York LLC services listed in this guide.
LegalZoom is not the only option if you need a complete legal service. Rocket Lawyer is another option for LLC services and online legal services.
LegalZoom gets pricey after the add-ons.
LLC Formation plans: Starting at $0 plus state fee
Registered agent service $299/year.
Customer Support: LegalZoom is a large company, so its customer service may not be as personal as the other listed companies.
Easy of use: Many customers have complained that LegalZoom's ordering process is confusing and lengthy. Numerous upsells are offered before you can choose your package.
User Reviews: Mixed. Most negative reviews are due to a misunderstanding of the ongoing fees and package offerings. Reviews have been improving though.
LegalZoom Pros and Cons
Pros
Millions of customers served
Support is available 7 days a week
100% satisfaction guaranteed
Cons
Customer reviews are often negative but improving recently
LegalZoom is a premium brand, and they charge a little more than others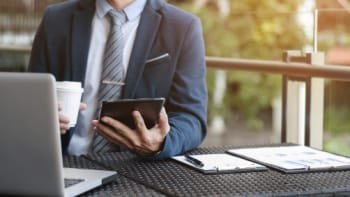 I have a personal story to tell
In 2008 I started a business and hired an attorney to do the LLC formation paperwork. I thought it would be complicated.
I paid $600 plus a $50 state fee to the lawyer in his office. The lawyer got on his computer, entered my name, and some basic information, and then printed out several pieces of paper and said "sign here and here".
The whole process took about 10 minutes for $600. That same lawyer today probably charges $900 for these 10 minutes of work.
After that, I have only worked with online services.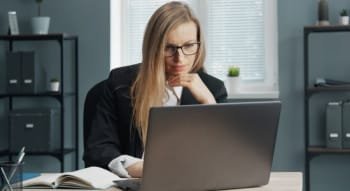 LLC Formation Lawyers in New York
If your business is particularly complex, or if you don't mind spending $100s of dollars more and want the peace of mind that comes with having an experienced business attorney to form your business entity, you could hire a lawyer instead of a formation service.
Business Attorneys in New York
As I just mentioned, hiring an attorney is more expensive than using an online LLC service, but you will obtain a level of competence and experience that can only be provided by an attorney.
I evaluated a long list of New York business attorneys on AVVO's website to find the most qualified LLC formation lawyers.
From Avvo's list of "best reviewed" business attorneys in New York, these are my top five picks.
---
Tier 2 – Other New York LLC Services
Swyft Filings

Swyft Filings was launched in 2012 and are one of the latest services for LLC formation.
Prices start at $0 + state fee. If you need an EIN and LLC operating agreement, the price is $199 + state fee. Swyft Filings charges $199/year for registered agent services.
MyCompanyWorks

MyCompanyWorks has a basic LLC service package that costs $79 and includes assistance with Articles of Organization, Operating Agreement assistance, an online portal to store legal documents, compliance alerts, and assistance with registering with the New York Secretary of State.
They have maintained mostly positive reviews online. You will need to buy their premium package for $279 if you want a New York registered agent.
Inc Authority

Inc Authority, like Incfile, allows you to file your company formation paperwork free of charge, but each offer comes at an additional cost.
Ask the "free LLC" if they plan to sell your private information. I believe the "Free LLC" is a gimmick just to get you in the door. Yes, their filing service is "free" plus the state fee.
You will need to buy their $399 basic package if you require assistance drafting an Operating Agreement or accessing an EIN.
You will also need to buy their premium $799 package if you want to receive express processing.
Tailor Brands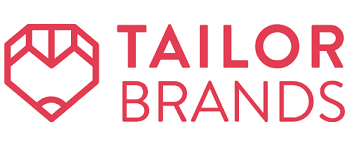 Tailor Brands is a bit different than the others on my list.
Like their name says, they build brands. Tailor Brands promotes itself as a comprehensive business formation service that provides a complete list of services to entrepreneurs, including compliance and LLC formation, logo design, and branding features.
Tailor Brands offers three formation plans.
Incorporate.com

Incorporate.com offers a $99 base package that includes very few services, similar to Rocket Lawyer or LegalZoom. They offer an online account and assistance in filing your Articles of Organization, and that's nothing else.
CorpNet

CorpNet has been in business for over 20 years. They will file the initial LLC documents and provide compliance alerts to maintain good standing with the Secretary of State. All for $79.
MyCorporation

MyCorporation is owned and operated by the check printing company Deluxe Corp. Their LLC formation services are like many others on our list.
They charge $133 to prepare your Operating Agreement and process your Articles of Organization. Each additional, comprehensive service comes at an additional cost.
Incorporate Fast

Incorporate Fast offers New York LLC formation services at a low $99 price. This includes assistance with filing documents, assistance with filing them, and an Operating Agreement template.
They offer "same-day" filings. They will process and file your documents within 24 hours of receipt.
If you can upgrade to their $199 package, you get an EIN.
BizFilings

BizFilings, another New York LLC service provider, charges $99 for the basic package. This includes assistance in filing your limited liability company formation documents and a year of their registered agent services.
Like each of the LLC services, they have additional features for additional fees.
Rocket Lawyer

Similar to LegalZoom, Rocket Lawyer offers online legal services. They also offer LLC services such as registering an agent, filing your formation documents, and an online document storage portal.
If you like having access to ongoing legal assistance for a fee, Rocket Lawyer might be a good fit for you.
Active Filings

Active Filings is another LLC formation service, they are based in Dania Beach, Florida. Active Filings has been in business since 2001 but is still a small player in this industry.
According to the company website, they have only four employees.
Direct Incorporation

Direct Incorporation offers the same LLC services that MyCorporation but includes a banking resolution as well as an Employer Identification number. They charge $174 for these services.
If you need an LLC operating agreement, you need to get the next package at $297. They also offer logo design, trademarks, a business website, and email.
InCorp

InCorp costs $99. plus state fees to file your Articles of Organization. Registered agent services are $129 per year.
National Incorporations

Nationwide Incorporators offers basic LLC filing services for $200, and for $475, you get an LLC operating agreement. You get to talk to an attorney.  Pricey!
SunDoc Filings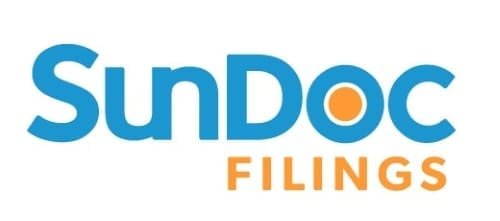 SunDoc Filings has a $79 base package for filing your Articles of Organization. $70 for an EIN and $69 for an LLC operating agreement.
---
What is a New York LLC?
A New York LLC, short for limited liability company, is an entity type that combines the flexibility of a sole proprietorship with the financial protection of personal assets.
That's not a bad thing. Let's find out what this means.
You would operate as a sole proprietorship if you started selling handcrafted apparel out of your home. Sole proprietorships are legal entities.
This means that everything the business owns, from fabrics to sewing machines, is owned solely by the proprietor. The proprietor pays all taxes.
If the business is sued or taken to court by a third party, the owner may lose all of his or her personal property to pay the damages.
Business entities, such as LLCs, have personal asset protection. This is because the business itself is considered an independent legal entity.
The business can have assets, open a bank account, and be sued. If the business goes under, members of the company cannot lose their assets.
LLCs aren't subject to a lot of complex requirements, unlike corporations. This makes it an attractive choice for entrepreneurs who want to keep their filings simple and still protect their assets.
Pros and cons of starting a limited liability company in New York
An LLC is one of the most common types of entity in America. However, it's not the right type of entity for everyone.
Only you know your business best and can choose the entity type most appropriate for you. Your vision is clear for the future and your products.
It's important to understand the pros and cons of LLCs to decide if an LLC is right for your needs.
Pros
It is easier to create and manage than a corporation
Protection of personal assets
A flexible tax structure can be paid as a partnership (or a corporation)
Exclusive use of a business name within a state is prohibited
Cons
No authority can issue stock. Therefore, capital-raising opportunities are limited.
Some states have higher annual fees and taxes than sole proprietorships or partnerships.
Some entrepreneurs may not be comfortable with the extra paperwork.
How to set up a New York LLC on your own
You don't need to use an LLC formation service such as LegalZoom or ZenBusiness. While these services can be very helpful, you can save money by doing it yourself.
1. Choose a company name
New York LLCs need a memorable name that can give potential clients an idea of the products or services available. Names should be unique for both legal and business reasons.
2. Appoint a Registered Agent in New York
As we have mentioned, every LLC requires an agent to accept service of process on its behalf. You can be your own registered agent in most states as long as there is a physical address.
However, we recommend that you appoint another person (an online service) as your agent.
3. File the Articles for Organization
Once completed and filed, this document officially forms your New York business. Some important information will be required, such as your contact information, business address, signatures of your LLC members, and other details. New York charges a $45 filing fee.
It's easy to set up an LLC. However, it is the maintenance requirements that can be a little more difficult.
4. Register and pay taxes

You will need an IRS Employer Identification Number if you have employees. There are also state-specific taxes. New York has graduated income taxes. Individual rates are between 5% to 6.9%, and corporate rates are between 1% to 6.5%. The Franchise Tax is the largest tax burden. Other taxes, such as sales taxes (6.5%) or miscellaneous taxes, will need to be included.

5. Get permits and licenses

New York does not have a general business license, but many cities and counties do require one. You might also need to apply in order for an industry license.

6. Create a New York LLC Operating Agreement

Even single-member LLCs need to create a master document that outlines how the business will function in the future.

7. Get your annual report.

New York' annual report is a companion to the annual franchise tax. You will file your New York annual report with the Department of Finance and Administration and not with the Secretary of State. A minimum tax is $150 per year.

8. Get business insurance

All businesses with employees need to have workers' compensation insurance. A general business liability policy may be an option.

9. Open a bank account for your business

Register for a bank account in your business name to write checks and make business purchases
---
Our Selection Process for Choosing the Best New York LLC Services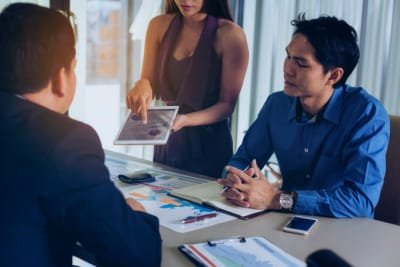 This is how I found the best LLC service in New York.
I formed an LLC a few years ago and did a lot of research before doing so. Because I have spent so much time on this subject, I believe I am very capable of finding and recommending the best LLC formation services. I also recommend using a registered agent service rather than being your own.
How did I research and choose the best LLC service in New York?
My research approach included these four steps to select the best New York LLC formation service.
Step 1: Reviews
I began by analyzing the reviews of online customers for the top 19 LLC services in New York.
I spent many nights scrolling through the customer feedback on Trustpilot and Google Business Profiles (among other review websites) to discover which LLC services were new, which seemed questionable, and which were legitimate.
Step 2: Website Analysis
Once I had a good idea of who I could trust, I could go to their websites and see exactly what they offered.
To find out who offered what products or business services, I looked through pricing pages and looked at detailed breakdowns.
Step 3: Talking with real customers
Online customer reviews are only one way to learn. To truly understand the experience of using a service, it is important to talk to the people who use it.
I sought out the opinions of customers who I had recommended to me over the years in order to get a clear understanding of New York LLC services. I wanted to know how easy the system was, how helpful and polite their support staff is, and how fast they process applications.
This direct feedback from customers helped me to see which promises were fakes and which were legitimate.
Step 4: Talking with their Sales Team
The last step was to talk to their sales team to find out how difficult they were with upsells.
I asked several questions that a first-timer would. Then I waited to see how many times I was encouraged to get additional services.
My Testing and Rating Criteria for New York LLC Services
While I was completing my investigative analysis, I was constantly evaluating these LLC formation services on the basis of these four aspects.
1: Features and Services
There are many steps involved in starting an LLC. If you have read at least half of the above, you will know this. Fill out and file your Articles of Organization. You will need an EIN to open bank accounts. Choose a premium registered agent in  to get an address in New York. And a lot more.
To ensure you get as many completed projects as possible when you invest your money, I first assessed each LLC formation company on the business and product services they offer.
2: Pricing
I checked if they charge extra for a lot of pricey add-ons that are not mentioned at first. I liked the very clear services and upfront with everything. The best value LLC formation services rose to the top.
3: Ease of use
It's a good idea to sign up for a business formation service that offers a variety of products at a reasonable price without any trouble navigating their system.
I created an account with each New York LLC formation service and attempted to register my fictional LLC. This was to ensure that all the systems were easy to use and simple to navigate.
4: Customer service
I was not satisfied with my customer service experiences after the recent corporate trend to outsource customer support to unaffiliated phone centers.
These representatives know little about the service they are supporting and the laws and regulations that it is subject to.
I did my best to test their customer service teams to determine the quality of their business formation services. I sent them polite questions, called them to inquire about obvious information, and jumped onto their online chat portals.
I also complained about inappropriate things. I wanted to know how they dealt with my comments and requests and how fast it took for them to reply.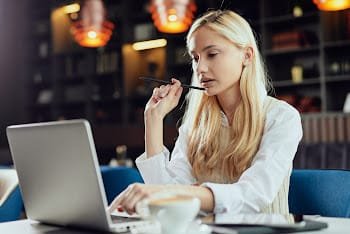 Conclusion: My Findings for the Best New York LLC Service
My investigative analysis resulted in my picking Northwest Registered Agent as the best LLC service for New York.
FAQ
What are the distinctive features that set the best LLC formation services apart in New York, especially for small business owners looking to make an informed decision on their business structure?
When selecting the best LLC formation service in New York, small business owners should consider a multitude of factors to ensure they're making the right choice for their desired business structure. The top-rated LLC service will offer a complete set of professional services specifically designed to help you start a business efficiently.
A good place to begin is by examining customer reviews. These reviews provide invaluable insights into how well the service performs, including its effectiveness in providing legal services and business startup advice tailored to small businesses.
Different pricing plans are offered by each service, so make sure you fully understand what each LLC package covers. A reputable service should include basics such as business registration, Articles of Organization, and company filings, as these are state requirements for forming a Limited Liability Company in New York.
Given that New York has specific regulations, it's crucial to have a Registered Agent to maintain compliance. Top services usually include this in their formation package. Additionally, they will assist you in acquiring necessary business licenses and will provide an Operating Agreement, which is key for establishing your corporate governance.
Legal obligations can be complex, so it's essential that the service you choose helps you with legal compliance. This should include obtaining a Business Tax ID (EIN) or Employer Identification Number, which you'll need for federal taxation and to open a business bank account.
If you're debating between a Sole Proprietorship vs LLC, your chosen service should provide business consulting to help make that decision easier. They may also provide access to business advisors who can assist with business planning and strategy.
Look for a service that offers online formation to simplify the process. This will also likely speed up the turnaround time, streamline document filing, and handle all state filings. Some services even offer a company seal as part of their package.
Finally, always ask about filing fees, as these are usually not included in the advertised price and can add to the overall cost.
In summary, a one-stop solution for forming an LLC in New York should cover everything from entity type selection to annual reports, making the process seamless and efficient for small business owners.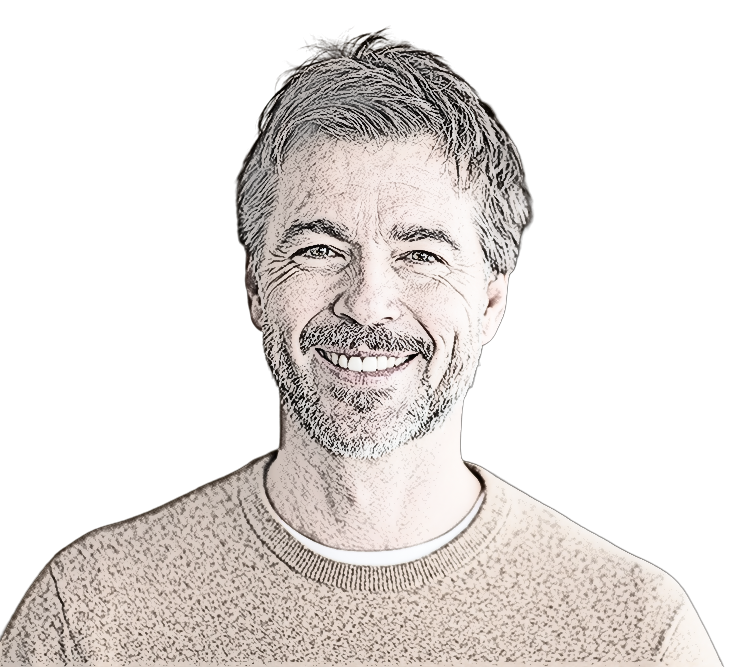 Brian Wilson is the content manager and founder of LLC Radar.
Brian grew up in North Texas, just outside of Dallas, and has a bachelor's degree in business journalism from Southern Methodist University. Since graduating from SMU, Brian has gained over 10 years of experience in business writing for several online publications.
Brian resides in Plano, Texas and he can be reached by email:   info@llcradar.com
Phone: 972-776-4050