Swyft Filings Review (November 2023)
What is Swyft Filings
Swyft Filings provides business formation services and compliance solutions. They specialize in helping entrepreneurs and businesses with the process of forming a legal entity, such as an LLC (Limited Liability Company), corporation, or nonprofit organization.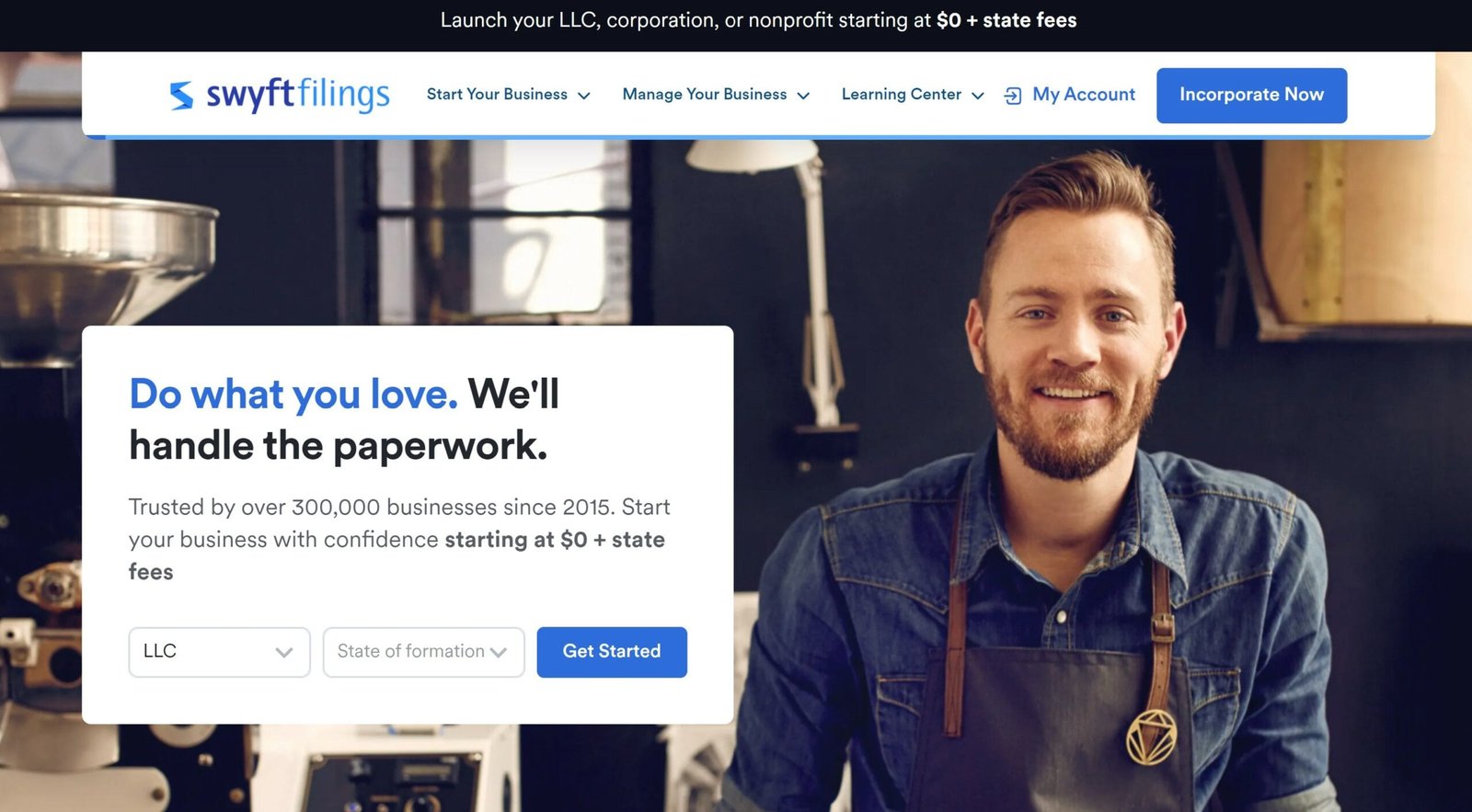 Their services include preparing and filing the necessary documents with the appropriate state authorities, registered agent services, obtaining an Employer Identification Number (EIN) from the Internal Revenue Service (IRS), and providing ongoing compliance support to ensure businesses meet their legal obligations.
Swyft Filings Pros and Cons
Here are some pros and cons of using Swyft Filings for business formation and compliance services:
Pros:
Professional expertise: Swyft Filings specializes in business formation services, so they have expertise in the process and can guide you through it efficiently.

Time-saving: By outsourcing the business formation process to Swyft Filings, you can save time and focus on other aspects of your business.

Compliance assistance: Swyft Filings can help ensure your business remains compliant with legal and regulatory requirements by providing ongoing support and filing necessary reports.

Convenience: Their online platform allows for easy access and management of your business formation and compliance needs.

Cost-effective: Swyft Filings' services are generally more affordable compared to hiring an attorney or accountant to handle the formation process.
Cons:
Limited customization: Swyft Filings provides standardized services, so if you have specific or complex business requirements, they may not be able to accommodate them as effectively as a personalized legal service.

Lack of direct legal advice: While Swyft Filings can provide guidance on the formation process, they are not a law firm and cannot offer legal advice. For complex legal matters, it may be necessary to consult with an attorney.

Additional fees: While Swyft Filings' basic services may be reasonably priced, additional fees may apply for certain services or add-ons. It's important to review their fee structure and understand what is included in the package you choose.

Customer support limitations: Depending on their workload and resources, there may be limitations to the level of customer support available, which could potentially impact responsiveness or assistance.

Potential for errors: Although Swyft Filings strives for accuracy, there is still a possibility of errors during the filing or compliance process. It's crucial to review all documents and information carefully to ensure accuracy.

Registered agent service is an addon: Registered agent service is not included with any of the packages, it is an extra $199/year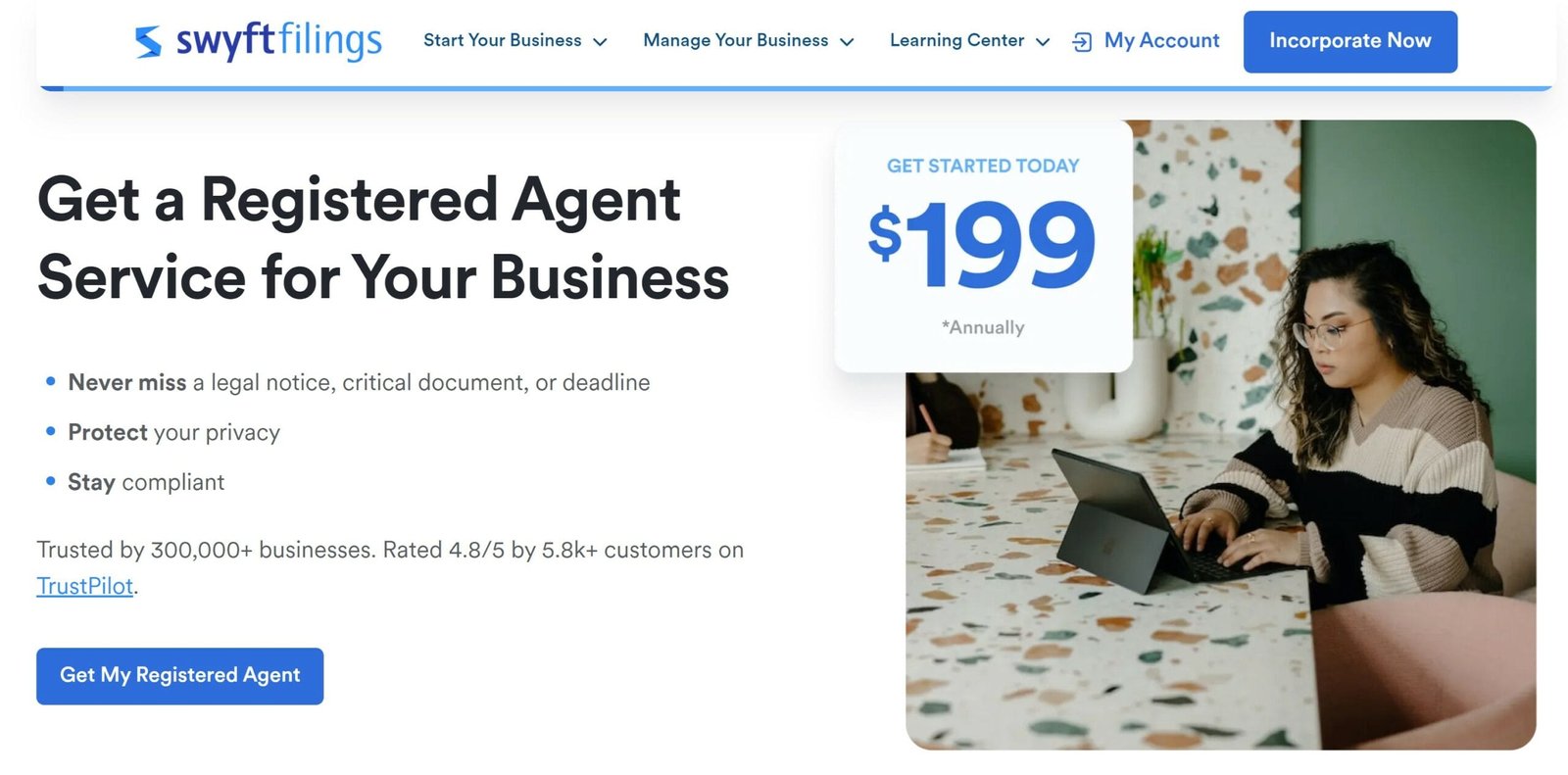 ---
LegalZoom vs Swyft Filings
LegalZoom and Swyft Filings are both reputable companies that offer business formation and compliance services. Here's a comparison of the two to help you understand their similarities and differences:
LegalZoom:
Expertise and reputation: LegalZoom is a well-known and established company in the industry, with a strong reputation for providing legal document preparation and business services.

Wide range of services: In addition to business formation, LegalZoom offers a variety of legal services, including trademark registration, wills, contracts, and more.

Customization options: LegalZoom provides more customization options, allowing you to tailor your formation package to your specific needs and requirements.

Additional legal services: LegalZoom offers access to attorneys for legal advice and consultations, which can be beneficial if you require more personalized assistance.

Higher price point: LegalZoom's services are generally more expensive compared to Swyft Filings, particularly when additional services and add-ons are considered.
Swyft Filings:
Specialization and efficiency: Swyft Filings specializes in business formation and compliance services, which means they have a focused expertise and can efficiently handle the formation process.

Cost-effective: Swyft Filings generally offers more affordable pricing options, making them a suitable choice for individuals and small businesses on a budget.

Compliance support: Swyft Filings provides ongoing compliance support to help businesses stay compliant with legal requirements, including filing annual reports and managing other compliance obligations.

Streamlined online platform: Swyft Filings offers a user-friendly online platform that simplifies the process of submitting information and managing your business formation documents.

Limited legal advice: While Swyft Filings can provide guidance on the formation process, they do not offer direct legal advice like LegalZoom's attorney consultations.
Ultimately, the choice between LegalZoom and Swyft Filings depends on your specific needs, budget, and preferences. If you require a wider range of legal services and more customization options, LegalZoom might be a better fit.
On the other hand, if you're primarily focused on business formation and compliance at an affordable price, Swyft Filings could be a suitable choice.
Swyft Filings Trustpilot Reviews
Swyft Filings has over 6100 user reviews on Trustpilot.
Swyft Filings New Pricing for 2023
---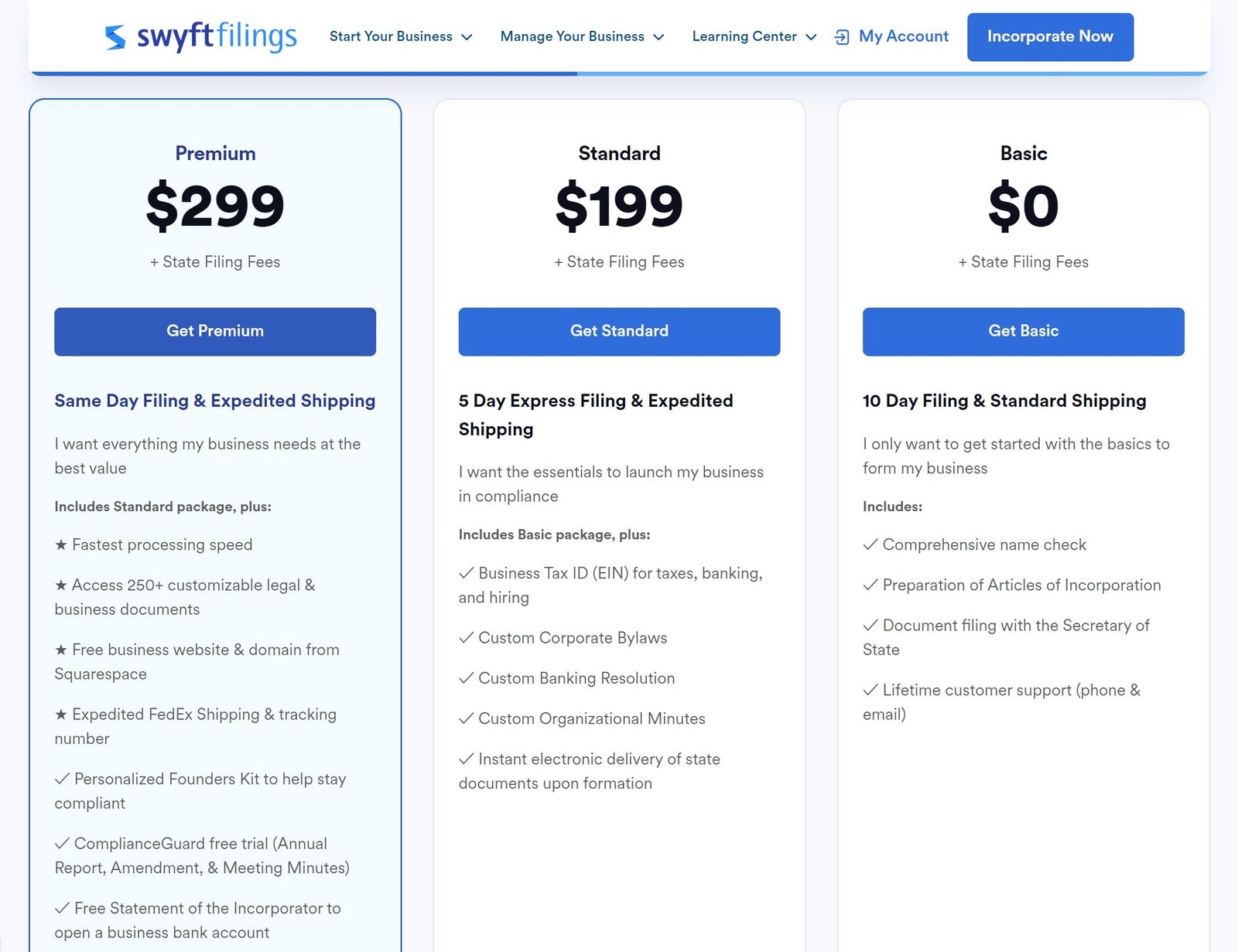 Swyft Filings has adjusted their pricing in order to better compete with ZenBusiness, LegalZoom and Incfile, who each have starting price of $0 plus state fee for basic LLC filing.
Swyft Filings, like many other competitors, allows customers to choose from three different pricing tiers: Basic, Standard, or Premium. You can also add products to any tiers without needing to purchase into a higher-priced tier.
Swyft Filings Basic: $0 + state fees
Swyft Filings offers an affordable $0 LLC-formation package. This package includes a basic LLC formation service and a check for the availability of business names to ensure that your LLC formation is smooth.
The following services are also included in this tier:
Swyft Filings and an accounting firm offer a 30-minute consultation on tax optimization.
Swyft Filings does not mention their partner, but some digging by our side revealed that they had partnered 1-800 Accountant. This virtual accounting firm is headquartered in New York. If you do not wish to participate in the consultation, you are free to opt-out.
ComplianceGuard Company alerts: This tool is provided by Swyft Filings to its customers to help them ensure compliance with all state filing requirements.
A Free domain name (URL) for your company.
A domain name is necessary if you want to create a web presence. Swyft Filings offers a one-year free registration of any domain name you choose. You will need to pay an ongoing domain registration fee after the one-year term ends. Otherwise, you will be denied access.
Once your LLC is formed, you can access your incorporation and formation documents via your account dashboard on Swyft Filing.
This package will include a regular filing for LLCs in the state by default. This The state determines the exact filing time and other costs. means that the processing time for most conditions is one to two weeks. You can pay an additional fee to expedite your LLC's formation. The ou choose the Basic package, you can always add products and services from higher tiers.
Swyft Filings Standard: $199 + state fees
Swyft Filings Standard is a comprehensive package that includes all the necessary features for business owners when forming an LLC. The notable exception is a registered agent service.
This package includes all the services of the Basic package plus the following:
Swyft Filings can help you file your federal tax identification number (EIN).
A majority of US LLCs must have an EIN. Further down, we will discuss an EIN and why you may not need it.
You can customize legal documents: LLCs need to have certain documents as soon as they are created. These documents include an Operating Agreement and a Banking Resolution. These documents are included in the Standard pricing tier of Swyft Filings. These documents can be customized and downloaded through Swyft Filings.
The processing time for most states is the same as the Basic package. It takes between one and two days. For expedited filing, you can pay an additional fee.
Swyft Filings Premium: $299 + state fees
Swyft Filings Premium is the best option for LLC formation. It is also the most costly.
The Premium package includes expedited LLC filing for many states (but not all). Your LLC can be formed within one to five working days in most states. For the fastest filing option, an additional fee will be required in some states like Florida.
The Premium package also includes the services of the two previous tiers.
The customized digital LLC kit includes a seal, 20 stock certificates, and an ownership ledger. These products do not need to be purchased to form a new LLC.
Swyft Filings and a web developer have partnered to offer customers a website builder to quickly create a website or e-commerce store.
Although Swyft Filings does not have a website that clearly states its partner is, our research has shown that Rocketbuildr provides this service. After three months, you'll have to pay the web hosting fees.
Rocketbuildr lists a $25/mo monthly cost on their website. This service is not offered as an add-on to the lower-tier packages.
---
Canceling Swyft Filings
Swyft Filings offers a registered agent service through their partner company LegalCorp Solutions. If you wish to cancel this service, you will need to appoint another registered agent at the appropriate state government authority.
After you have established proof of your appointment, Swyft Filings can be contacted to notify them that you wish to cancel your registered agent services.
LegalCorp can charge you the total amount for renewal if you fail to prove that you have appointed a new registered agent. So make sure you cancel your appointment well in advance.
Swyft Filings partners with other companies to provide many of their services. You may have to contact the third-party company directly to cancel your subscription.
Swyft Filings refund policy
Swyft Filings proudly displays its 100% money-back guarantee. This refund policy applies only if Swyft Filings commits an error in completing your LLC registration order, as per their terms of service.
You can request a refund by contacting them via email or phone. This must be done within 60 days after your purchase.
Swyft Filings does not refund state fees or fees paid to third parties. Only fees paid to Swyft Filings are refundable.
Swyft Filings Review: Customer Service
For any LLC service to be successful, the customer service team must be knowledgeable and responsive. Customers often require accurate and timely information from company representatives. Swyft Filings is a leader in this area.
Swyft Filings assigns an expert business representative to each customer who creates an LLC. For any questions, concerns, or problems regarding your LLC formation, you will be able to reach them directly via email and phone. Swyft Filings will ensure that you don't have to wait long to speak to a natural person.
We didn't like that Swyft Filings advertised a chat support option, but in reality, their tool allows you to leave a message with your email for customer service. Extended support would have been a plus outside of regular business hours.
Swyft Filings Pros
We will be discussing some of the strengths of Swyft Filings, including its pricing, turnaround times, and customer service.
#1. Many happy customer reviews
Swyft Filings, despite being in business only for a few years, has received a remarkable number of positive customer reviews via sites like Sitejabber and Trustpilot.
They have over 2,900 Trustpilot reviews. The overwhelming majority of these reviews are positive.
We appreciate that Swyft Filings representatives respond to almost every negative review with meaningful explanations and suggestions to improve their service. They respond thoughtfully and are always personal.
The overwhelming majority of customers are satisfied with the speed and simplicity of the service and the helpfulness and quality of the customer service staff. Customers often mention the name of the agent who helped them.
We could not find any evidence that the service had changed in quality. Swyft Filings has received excellent reviews all through its history.
#2. Low base cost and flexible pricing
Swyft Filings doesn't force customers to purchase more expensive service plans to get a particular service or product. It is easy to add any product to lower-tier packages via their website.
You can choose to purchase the cheapest package but add expedited filing or an operating agreement.
Swyft Filings' most economical service package was very affordable. We enjoyed it. It is an affordable option for anyone looking for an easy online LLC formation process without additional fees. The cost is $49 plus any applicable state fees.
Swyft Filings lets you choose whether to pay the total cost or in two installments. This is something that not all competitors offer.
Swyft Filings offers three minor services free of charge with all its pricing packages. These services are free:
For any LLC service to succeed, the customer service team must be knowledgeable and responsive. Customers often require accurate and timely information from company representatives. Swyft Filings is a leader in this area.
Swyft Filing's Negatives
#1. Limited customer support
We didn't like that Swyft Filings advertised a chat support option, but their tool actually allows you to leave a message with your email for customer service. Extended support would have been a plus outside of regular business hours.
Customer service is available between 9 a.m. and 6 p.m. CST Monday through Friday.
#3. Formation Completion Times
Swyft Filings turnaround times are not the fastest, but they are faster than average. In most states, your business can be formed in 5-10 business days.
You can cut the time by selecting the Premium package and paying an additional fee for express filing. This will reduce it to one to three business days in most states.
Swyft Filings Premium Package includes the Express option for most US states at no additional cost.
If your priority is to get your business started quickly and choose the Premium package, check out the expediting options. Some states offer an additional level of rush filing. This service is not part of the Premium package.
However, if your LLC must be filed by the deadline, you may want to look into an alternative service, such as Northwest Registered Agent, which offers same-day filing by default.
#4. Too many upsell and add-ons.
Many Formation services must be clear and transparent about who they provide and what they offer. LLC formation companies try to sell additional services. Except for cases where it is done in excess or if the services are not directly relevant to customers, we usually hold them responsible. The main pricing page does not include certain offers, such as the partner offer for registered agents. The essential services are also broken into multiple items, confusing potential customers.
Swyft Filings basic LLC formation is broken down into three items. Lifetime customer support is unnecessary and should be included by default.
Third-party upsells and offers are still hidden behind multiple pages. Many of these offers from third-party vendors look more like ads than helpful, meaningful services.
A quality, affordable registered agent service is considered the second most crucial aspect of a business's formation. Only the actual formation is more important. This service should be offered by the same company you have formed your LLC. This will ensure your privacy and make your experience easier.
While some competitors offer discounts and bundle their registered agent services, Swyft Filings doesn't. Instead, they only present a partner offer to you during your signup process.
LegalCorp Solutions' offer is $149/year, higher than the combined registered agent services offered by competitors like ZenBusiness or Northwest Registered Agent. ZenBusiness offers a similar service for $199/yr while Northwest Registered Agent charges $125/yr. This is still a substantial discount compared to LegalCorp Solutions.
We were particularly offended that Swyft Filings and their partner can increase the annual cost for registered agent services without you being notified.
#5. Reliance on third-party providers heavily
Swyft Filings depends heavily on partners companies for many services and offers. However, the service documentation of Swyft Filings often doesn't mention which partner company they are partnering with.
We don't like to make customers do extensive research to determine which "national accounting firm" or who will handle their mail forwarding.
We prefer to work with formation companies that offer most of their services in-house. This ensures that customers receive high-quality service and privacy.
Swyft Filings offers many services and products related to LLC formation and incorporation. Some of these services are not self-explanatory or even necessary. 
Swyft Filings LLC formation service 
The most common type of business entity in America is the limited liability company. There are many benefits to forming a limited liability corporation when you start or convert an existing business to an LLC.
Limited liability protection: An LLC is used to manage your business. It acts as an independent entity from you. This means, among other things, that your assets and liabilities are not affected by the business's assets and liabilities. If your business fails or becomes indebted, creditors can collect the outstanding debts from the LLC but not your assets.
Flexible management of your business: LLCs are more flexible than corporations because they have fewer structure requirements and have fewer reporting obligations. Your LLC can be run in any way you like.
Pass-through taxation: LLCs generally don't have to pay taxes directly. Instead, your LLC will file income and losses on the personal tax returns of each individual, thereby avoiding double taxation.
LLCs can be formed at the state level: You will need to file an Articles of Organization with the Secretary of State of your state and pay a fee to form an LLC. There may be additional requirements depending on where your LLC is filed. New York, for example, requires you to publish a notice about the new LLC in a local paper.
Many people hire an attorney to help them form their LLC. This is not a requirement. It is almost always cheaper to hire someone to do the job or save the hassle. They also have the necessary knowledge to navigate through the various state bureaucracies.
Swyft Filings' primary product is limited liability company formations. They will organize your LLC documents for a fee and ensure that the filing process goes smoothly without any delays.
Your LLC will need to be given a business name. Swyft filing your documents, they will run a search for business names to confirm that the title you have chosen is available.
Swyf Swyft Filings allows you to designate two names online – one primary and one alternate if your first choice is unavailable.t Filings offers business name verification at all pricing levels. However, we recommend that you do a business name search before you order a formation. You can search the registers of most states on their websites. Also, you should search the federal trademark registry. This will ensure that your LLC has the name you have chosen.
Each state charges a fee to file a new LLC. The fee can vary from $40 to $500, depending on where you live. Swyft Filings collects this fee from you and forwards it to the Secretary of State in your state. This fee cannot be refunded. This fee is separate from the annual fees LLCs must pay.
It is essential to consider the time required to create your LLC. The state in which you file, the year you file, and whether you choose expedited filing will affect the length of time it takes to form your LLC.
Swyft Filings allows you to choose between Standard or Express processing. This option is available in the Swyft Filings Premium package. It is available for most states, but not all. You can add it to any of the other tiers at an additional cost. Standard filing in most states will allow you to form your LLC within 7 to 20 working days.
Express processing will reduce the time it takes to form your order. It can take between one and two business days.
After your LLC has been formed, you will be emailed or FedEx your approval documents from the state. This usually takes a few days. You will also receive your Premium package documents electronically if you purchase them.
Registered Agent Service
Each business in the United States must appoint an individual or company as its registered agent. The registered agent is the government's point of contact for specific legal issues, including delivery of service of process. You are notified about lawsuits by service of process.
It is crucial to have a trustworthy and reliable registered agent. Essential and potentially urgent legal notices are not something you want to miss. Although you are permitted to be appointed as a registered agent by law, many businesses prefer to have this responsibility entrusted to a professional service provider or law firm.
After you have designated a registered agent, the contact information of that person or company will be part of the public record. Anyone can access it.
Here are some reasons you might not be able or want to act as your registered agents:
You want to keep your personal information private and do not wish your address and name made public.
Your business can operate in multiple states
Your business does not have a physical address
You can't always be there during business hours.
You are not a citizen of the United States.
Swyft Filings offers the possibility to have them appoint a registered agent on your behalf for your LLC during your order process. Swyft Filings' terms of service revealed that LegalCorp Solutions is the leading partner company to provide registered agent services. This Wilmington-based company provides only registered agent services.
Swyft Filings, once appointed, will collect the annual fee on behalf of their partner company. They may also select another company to act as your registered agent under the terms of service.
Swyft Filings doesn't mark up the cost for third-party registered agents, unlike other competitors. It costs $199/year, whether purchased directly from LegalCorp or secondhand through Swyft Filings. But, different companies offer similar services at a lower cost.
It is essential to know that you must appoint another registered agent in the state you are operating in before canceling your registered agent service.
Your engagement can be canceled after you have evidence that a new agent was appointed. LegalCorp could continue to charge an annual fee if you do not nominate another registered agent.
Legal documents customized
Standard and Premium Packages include this feature, otherwise $25-$35 for each document.
Swyft Filings LLC Operating Agreement Offer
You will need specific legal documents soon after you have formed your LLC. These documents include operating agreements and banking resolutions. Swyft Filings offers customizable forms documents at no additional cost if you select their Standard or Premium service packages.
An operating agreement is a contract between members of a limited liability firm that outlines critical details like:
How members are divided on the share of the interest in the company
How is profit shared among members of an LLC
How to manage the company
What happens if a member leaves the company?
What happens if a family member becomes unable to perform their duties?
In what circumstances could the company be dissolution?
Operating agreements can help protect your limited liability protection if they are challenged in court. Your LLC may be considered a partnership or sole proprietorship if it does not have an operating agreement.
California, Delaware and Maine, Missouri, New York require an operating agreement. Keep it with all company records if you create a limited liability company. While operating agreements are not needed in all states, it is good to have one.
A banking resolution is also required. This document is required to open a bank account for your LLC.
A custom organizational minutes document is the third document. LLCs do not have to keep minutes of meetings like corporations. This document is up to you.
These documents are included with the Premium and Standard packages. You will have to pay separately for the documents if you select the Basic package.
Assistance with getting an IRS identification number (EIN).
Form package free or $70 (depending on package); otherwise, $79
Most American businesses will need a taxpayer identification number (TIN) from the Internal Revenue Service. The federal employer identification number (EIN) is the tax ID number for corporations and LLCs. The IRS uses this 9-digit number to track companies for tax purposes in the same way that an SSN is used to track individuals.
Most businesses require an EIN. If:
It employs or will hire employees
It will file excise taxes returns
It will include more than one member
You want your LLC to be treated by the IRS as an S-Corporation
Your state requires an EIN
An EIN may be required to open a bank account for a business. Click here (PDF) to find out more about the EIN directly from IRS.
Swyft Filings will obtain an EIN for you from the IRS. This is done at a cost. After completing a brief questionnaire, they will file the required paperwork and handle it.
To obtain an EIN, we do not recommend using any paid services. This number can be obtained online for free and takes only minutes. You will get your EIN as soon as you submit an online application. You can also submit form SS-4 by mail, fax, or in person at an IRS office.
You can still get an EIN for your company even if you're not a US citizen and do not have a social insurance number. However, the process might be more complicated. Swyft Filings FAQ states that you should contact them before placing an order if this applies.
Hosting and website building
Website building is included only in Premium. The domain name is included with all packages.
All Swyft Filings packages come with a free domain registration for your company for a 1-year term. Your company's URL is the domain name. The TLD you choose (e.g., com, .net, etc. ?.
You can only use the free domain name for one year. To keep the domain name registered to your company for a more extended period, you'll need to pay an annual fee. If you plan to use your name, make sure it is registered. You could lose your registration if you do not renew it.
Swyft Filings can also help you create a website for your business. You can create a website free of charge if you choose the Swyft Filings premium package. If you do not want to use this service, it is unnecessary.
Swyft Filings offers this product in partnership, as with other services. Swyft Filings doesn't mention their partner's name on their website. Rocketbuildr is the website hosting and building provider.
This service allows you to create a website and personalize it with various templates. Then, it will be hosted. Your website will be responsive so that it can be accessed on both desktop and mobile devices. Your website can be set up as an online shop.
The service comes with three months of free website hosting. After three months, your website hosting costs will increase. Rocketbuildr states that their website hosting packages cost $25 per month.
Swyft Filings also offers additional services that are worth mentioning.
Package for Business License ($99)
Swyft Filings Business License Offer
This package will simplify the process of forming an LLC by bringing together all licenses and permits you might need in one location.
Swyft Filings uses information about your company's location, size, industry, and other relevant details to determine which permits and licenses will be applicable. Click here to view a sample package (PDF).
Address for business street ($29/mo with a first month free)
Swyft Filings Mail Forwarding service
This offer, which is not displayed on the main pricing page of this package, provides you with a physical address for your business. This address can be used to forward mail to the actual address of your LLC.
If your business does not have a physical address, a mail forwarding email address can be helpful. This can help you protect your privacy, mainly if your LLC is being run from your home.
Swyft Filings does not clearly state that third parties provide the mail forwarding service. This service is available through a partnership between snapmailbox and Swyft Filings.
Conclusion
Swyft Filings might be a good choice for your LLC formation. Their basic package starts at $49, and you have many options when it comes time to add-ons. Their turnaround times are comparable to other formation services, and they can assist you with many additional formation-related tasks.
You can rest assured that you will receive what you pay for, thanks to the thousands of positive reviews from satisfied customers. We were not happy with Swyft Filings' heavy upselling at signup and partner offers that weren't included in their primary pricing.
Swyft Filings might be the right fit for you if you do not require a registered agent and just need a specialist to form your LLC. You might want to look at other options for LLC formation if you're looking for a longer-term relationship with ongoing services.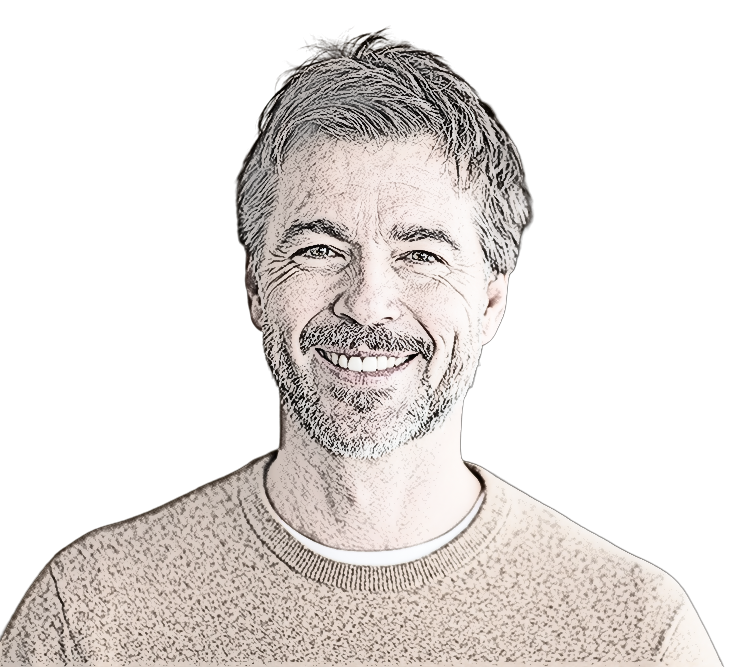 Brian Wilson is the content manager and founder of LLC Radar.
Brian grew up in North Texas, just outside of Dallas, and has a bachelor's degree in business journalism from Southern Methodist University. Since graduating from SMU, Brian has gained over 10 years of experience in business writing for several online publications.
Brian resides in Plano, Texas and he can be reached by email:   info@llcradar.com
Phone: 972-776-4050