Incfile Review: The Good & Bad in 2023
Incfile Review: Overview
In my Incfile review for 2022, I will critique the most important aspects of Incfile's formation services. My Incfile review factors include:
Incfile's Pricing

The time frame for formation

Incfile's reliability and customer reviews, as well as support offerings, are all important.

We'll also provide clear explanations about the various other services Incfile offers relevant to formation.
Incfile Review: Pros and Cons
Incfile Pros

Incfile Cons

Excellent Formation Pricing

It is straightforward to use

20 Years of Experience

500,000+ Formations

Helpful Online Dashboard

Cancellation and refund policies are not easy to access

There are limited support options

Customer reviews are often negative
Visit Incfile
Incfile has some issues with customer service, but Incfile has very positive reviews on both BBB and Shopper Approved websites.
The company's customer service options are less extensive than larger companies. Incfile has average to poor reviews on several review sites. Many reviewers complain about the difficulty of getting through to someone honest.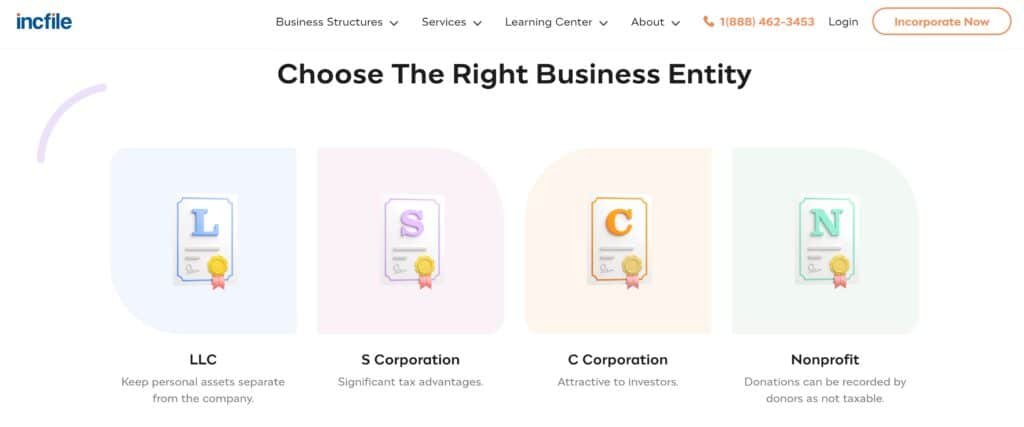 Incfile Reviews
Reddit Reviews: The Incfile reviews posted on Reddit have a variety of opinions and vary by the reviewer, but many are positive.
Incfile Reviews on BBB
In early 2022, Incfile has 933 customer reviews on the Better Business Bureau website with a total rating of 4.5/5. 
Incfile Reviews on Shopper Approved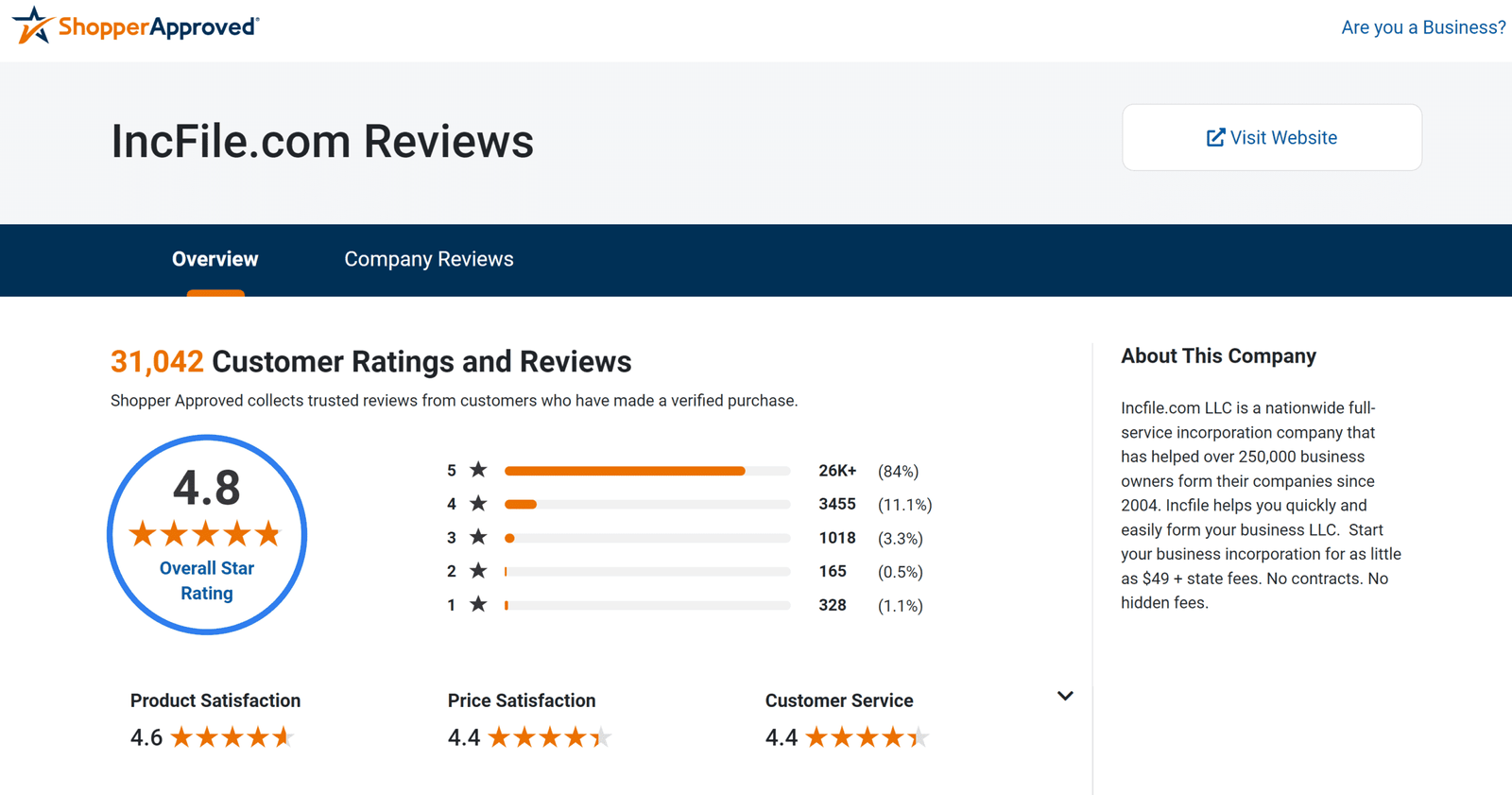 Review of Incfile Business Formation
Incfile is a registered agent and business formation company located in Houston, Texas. Incfile provides a wide range of compliance and filing services.

Incfile was founded in 2004 and has always been focused on efficiency. Incfile's website explains that the company "used technology to streamline business formation processes" since its inception.
Incfile provides many services that can be used to start an LLC or run a business.
 Incfile's core services include:
A simple-to-use service for forming LLCs in all 50 States

Registered agent service for businesses in all 50 States

Compliance services include the submission of annual reports

Bookkeeping and Accounting Services
Notice: Incfile can help you launch your business by handling all aspects of creating a business entity. Incfile is not an accounting or law firm. Incfile cannot provide legal advice or other legal services.
An attorney is the best option if you require legal advice regarding your LLC formation or if you have a complex business formation.


Incfile Review: Pricing 
Incfile Pricing vs. Other LLC Services
Business Filing, One Year of Registered Agent Service, and EIN

Incfile's Formation Plans and Prices for 2022
Silver $0 + state fee
Gold $149 + state fee
Platinum $299 + state fee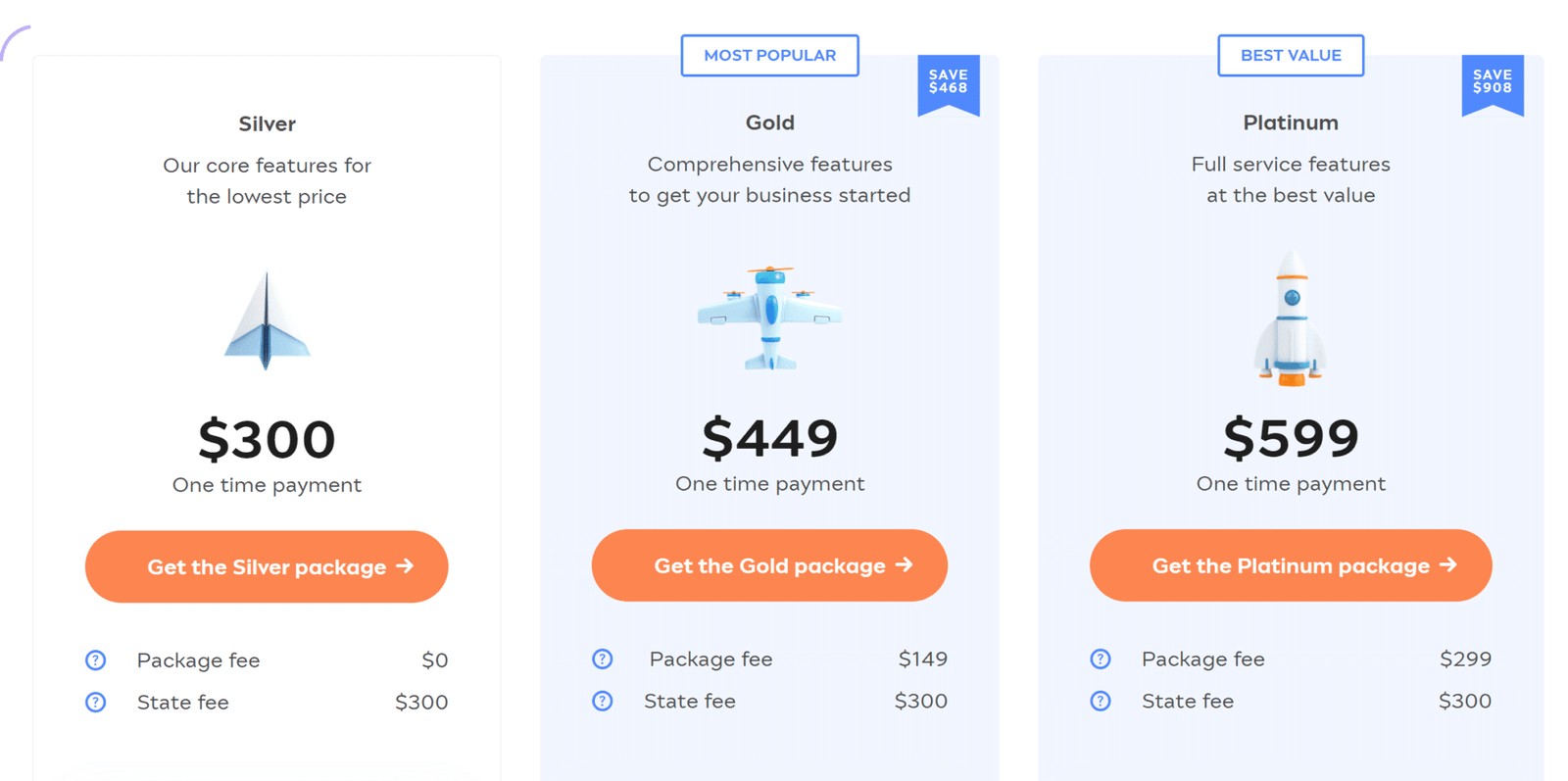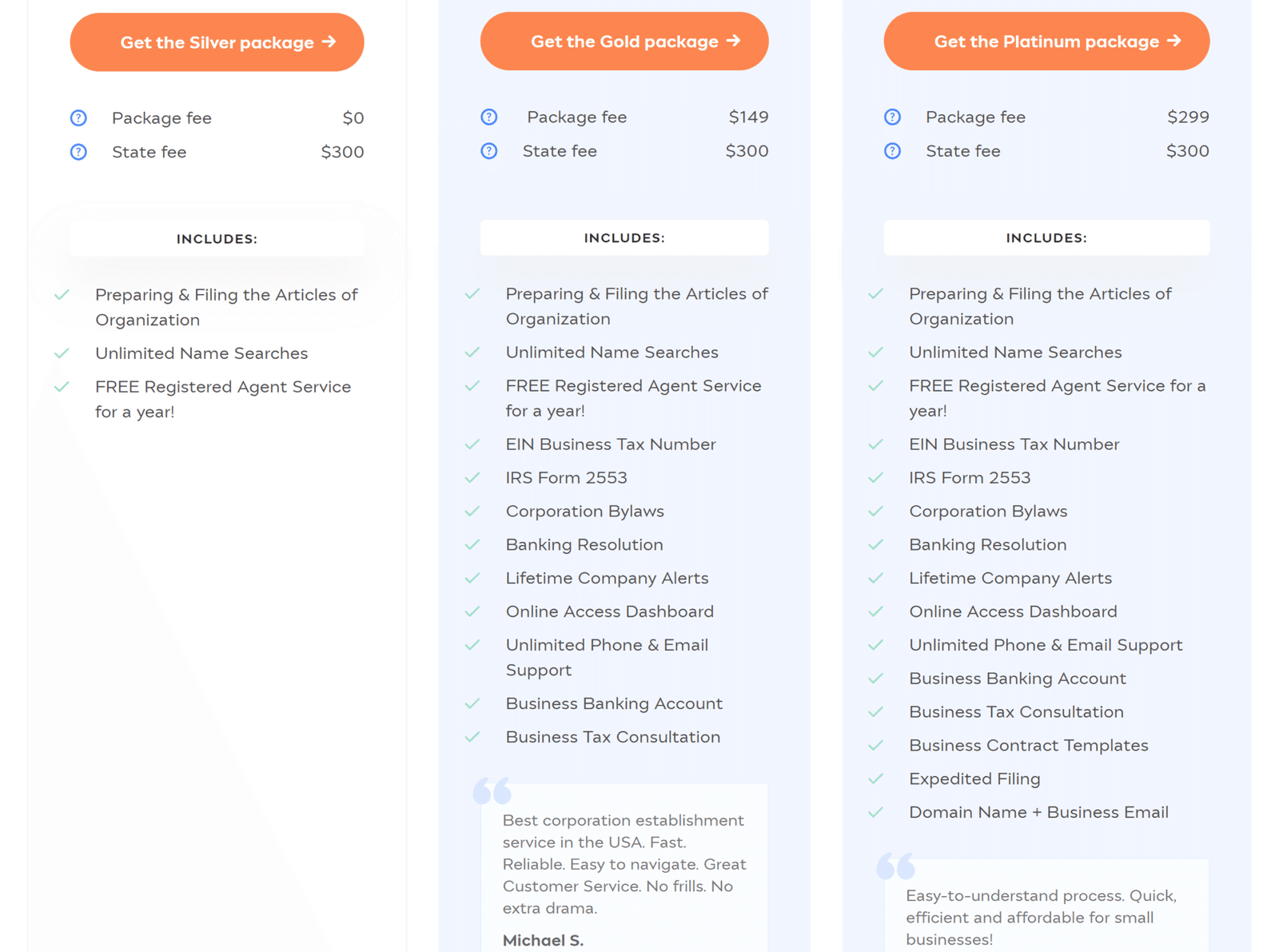 Incfile 2022 Pricing Packages
Incfile offers services through a three-tiered system of packages.
Incfile's package fee is $0 for Silver and $149 for Gold, respectively. The prices shown below do not include state filing fees.
Incfile's Silver Plan: $0 + State Fees

Incfile's Silver Plan has as little as possible.

I recommend this one if you want an organization service to help you with your articles. The $0 price is incredible, and you get a free year of registered agent services.

You get the following benefits with Incfile's Silver Plan:

Prepare and file your articles of organization for your business with the secretary of state of your state

Incfile's Registered Agent Service is Free for a Year

This package does not include an Operating Agreement, which I consider essential for any business to function.
Incfile's Gold Plan $149 + State Fees
Incfile's Gold Plan, an upgrade to its Silver plan, offers many additional services. While some of these services will be extremely helpful for new business owners, others won't.
Incfile's Gold Plan gives you everything except Silver plus:

Writing an Operating Agreement: An Operating Agreement is a document that outlines the basic structure and functions. It includes who the members are, what they do, how profits are divided, and its purpose. Many states require an Operating Agreement. This is an important document.

Filing of the Business Tax Number (EIN). An EIN is a business's social security number. Most businesses require one.

Banking Resolution drafting: These resolutions allow for opening a company account authorization. You will need one to open an account for your business.

Incfile provides lifetime company alerts. This will notify you about upcoming filing dates and update you on the status documents that have been sent to federal and state authorities.

Online Access Dashboard: Incfile's online dashboard allows you to view alerts and check Incfile order statuses. You can also review documents that have been created.

Unlimited Phone and Email Support: The gold package includes unlimited phone and email support, but it is unclear how it differs from Incfile's customer support.

IRS Form 2553 filing, also known as a Scorp election. Although this service is not available to all, it can be useful for creating a Scorp rather than an LLC. S-corps can provide tax benefits to certain small businesses, but not all.

Incfile can help you open a business banking account by partnering with one of their banks.

Incfile provides a business tax consultation. This is done through a third party. Incfile can answer basic tax questions that you may have about starting a business.

Most new business owners should consider Incfile's gold plan. This plan includes everything you need for a professional LLC formation.
Incfile's Platinum Plan: $299 + State Fees
Incfile's Platinum plan offers everything in Incfile's gold plan plus a few more.

You can buy the contract templates, domain names, and business email service at a much lower price elsewhere.

Incfile offers a variety of templates to help you create business contracts faster.

Expedited Filing – Expedited filing at a state's secretary of state office will allow you to jump the queue and get your business started faster.

Incfile provides a domain name and a business email to Incfile's platinum package. However, this does not include the actual setting up of a business site.
Incfile's primary packages have a fixed price, unlike some competitors. You only need to pay once. Some services are only available once (e.g., setting up an EIN or opening a bank account for your business), while others are ongoing (e.g., lifetime company alerts).
Incfile's registered agent's service is one potential recurring expense. All packages include a free year of this service. We'll discuss what a registered agent is and why you might want it later.
Incfile's registered agent service is $119/year after the first year. 
The price is comparable to Incfile's competitors. However, I would prefer that the price be clearly stated here as it's one of the most frequently used recurring services for those who start LLCs.
Incfile Review: Customer Support
Incfile's customer care seems to be a source of concern for many customers.
Incfile claims that they offer phone support Monday through Friday between 9 and 6 CST. In ideal cases, I would like to see weekend phone support hours.
Incfile points out that it recently made efforts to improve its customer service options. Incfile mentions the fact that they've increased their customer support staff by two and added an interactive assistance service, as well as a live-chat option.
---
IncFile vs. Competitors
Competitor Pricing With and Without Registered Agent Service
| Service | Basic Formation | With Registered Agent |
| --- | --- | --- |
| Incfile | $0 | $0 |
| ZenBusiness | $49 | $148 |
| LegalZoom | $178 | $427 |
| Northwest Registered Agent | $39 | $39 |
| Swyft Filings | $49 | $199 |
There are several LLC formation service providers available today. If you do not like IncFile's offerings, you can choose one of these options as well:
Incfile vs. LegalZoom 
| Incfile's Cheapest Plans | Incfile | LegalZoom |
| --- | --- | --- |
| Basic Formation | $0 | $79 |
| Registered Agent  | $0 1st year | $249/yr |
| Formation and 1/yr Registered Agent | $0 + state fee | $328 |
Bigger Package with add-ons: LLC Filing, Formation, EIN (Tax ID), Operating Agreement, One-Year Registered Agent, Compliance Reminders, Express Shipping
Incfile $149 vs LegalZoom $556
LegalZoom Economy Package
$79.  LLC Filing
$249.  One-Year Registered Agent
$159.  Operating Agreement, EIN
$69.    Compliance Calendar
= $556 + state fee
LegalZoom is preferred by people looking for brand recognition and a long history of LLC formations. They've served millions over the last few years. While they are more expensive than many others, with prices starting at $79 (but with add-on charges like registered agent services and an operating agreement with EIN), and while they do provide many of the same types of features and services as Incfile
Both Incfile and LegalZoom's customer reviews need improvements.
Incfile vs. Northwest Registered Agent
|   | Incfile | Northwest Registered Agent |
| --- | --- | --- |
| Basic Formation | $0 | $39 |
| Registered Agent  | $1st year free | Included |
| Formation and 1/yr Registered Agent | $0 | $39 |
Looking for another LLC formation service that is entirely worth every penny? Check out Northwest Registered Agent, which is a highly-rated LLC service. Although Incfile primarily deals with registered agent services, they've also branched out into other services over the course of the last twenty years to put together a team of competent business formation services.
ZenBusiness vs Incfile
|   | ZenBusiness | Incfile |
| --- | --- | --- |
| Basic Formation | $49 | $0 |
| Registered Agent  | $99/yr | $1st year free |
| Formation and 1/yr Registered Agent | $148 | $0 + state fee |
ZenBusiness is the closest alternative to IncFile and provides budget-friendly service packages. They provide 12 months of registered agent services, customizable agreements, and many other features, all for $99. Additionally, 95% of the 7000+ online customer service reviews on Trustpilot are also positive.
ZenBusiness does not offer a free LLC, and ZenBusiness does not include registered agent service with their formation packages; it can be purchased as an add-on for $99 extra.
---
Cancellation of Incfile services
Incfile's cancellation policies don't appear to be listed alongside their services. They are instead hidden under a lot more legalese on another page.
Incfile's policy on past and add-on services that involve filing/submission forms to federal or state agencies states, "An Order is generally Refundable until Payment is Forwarded to Any Government Entity, Such as a State or the U.S. Federal Government (typically within twenty-four hours after placing an order), less a $30.00 cancellation Fee."
If you cancel your LLC or incorporation service quickly, you will only take $30. This is not ideal, especially if your LLC or incorporation fee was $0 plus fees.
It also says that most services are automatically renewed, so canceling is a good idea.
If you cancel before the end of the year, there is no prorated refund. Even if the service was not used, your money could not be refunded once you have paid for the year.
I like it when companies' cancellation and refund policies are more easily understood and found.
Incfile For and Against
Reasons For
We'll be discussing Incfile's main pros and cons below. This list may not be comprehensive, but it will help you determine if Incfile is the right choice for you.
1. Pricing for LLC formations is unbeatable
It is tough to beat a zero-dollar filing. Even though they are bare-bones, operating agreement templates are available online for free.
This ultra-light package is excellent if you intend to use other services in your operating agreement.
Incfile Free LLC 
Incfile's Gold plan is the best on the market and comparable to ZenBusiness.
Incfile claims that documents are typically sent to the state authorities within one business day. This is a great turnaround time considering the price.
After the first year, Incfile charges $119/year for its registered agent service. This price is comparable to other competitors. Incfile also offers solid prices across the board for many of its basic services.
Incfile's DBA/Fictitious business name, Certificate of Authority, and business license search services all come at or below the average prices of Incfile's competitors.
You may prefer specialist companies for other services such as trademark registration. They offer lower prices.
2. Incfile's Quick Turnaround Time
Incfile guarantees that all LLC documents will be delivered to the state authorities within one working day, regardless of whether you choose the cheapest or most expensive bundle. I like that Incfile doesn't charge extra for priority within its internal system.
Incfile is no longer responsible for the Articles of Organization once sent. Incfile has a handy tool on its website that will show you the processing time of each state for your LLC application. The average time for most states is between 2 and 3 weeks.
This tool will also show you the cost of expedited filing times in each state and how fast an expedited application can be approved. This period is usually between 2-5 business days for most states.
3. Helpful online dashboard
The formation of an LLC can involve many moving parts. Many forms must be filled out, each with a different agency and time frame.
It can be challenging to keep up with all the start-up work, especially when setting up your business.
Incfile Online Dashboard
Customers of Incfile will be able to access an online dashboard that provides concise information about order statuses, deadlines, and stores that have previously submitted and drafted documents.
You'll also receive text and email notifications. Additionally, you will be sent "order updates" and compliance alerts via your custom business management dashboard.
Incfile's online dashboard is an excellent tool for helping you to establish and maintain compliance.
4. It is simple to use
Incfile's interface is solid and should be easy to use by most users. It takes just a few steps to file for an LLC or another type of business.
Incfile's pages will automatically populate prices based upon the state where you are filing. This means that you won't get a surprise price bump when you checkout.
Similar procedures can be used to order additional services, such as a name modification/amendment or a license search. Incfile provides easy-to-read writing guides for these services.
The website Incfile (Incfile.com) is easy to navigate. You don't need to scroll through pages to find the information you are looking for.
Reasons Against
These are the areas that Incfile should improve, in my opinion.
1. Mixed customer reviews
Incfile's Reviews & Customer Services Page highlights the 4 out of 5-star ratings that Incfile received on their Facebook page.
Incfile is comparable to other sites, but Incfile has one of the most extended histories of service.
Their average Trustpilot rating for the company is 3/5 
2. Cancellation and refund policies are not easy to access
Incfile's cancellation and refund policies, as mentioned previously, are not as accessible as I would prefer.
You will need to dig a little deeper to find out the refund policy window. You'll discover that most services have a $30 cancellation fee.
It is impossible to access language regarding the renewal terms for annual services immediately. These services are generally renewed automatically, except registered agent services after the first year. You can opt-in or out of this service.
Although cancellation and refund policies do not apply to all customers, I would still like to see more explicit language.
3. Average customer service
Incfile's customer service (or lack thereof) seems to be a problem, as mentioned in the "mixed Customer Reviews" con.
According to the company, it provides phone support between Monday and Friday from 9 – 6 CST. I think they should provide weekend support hours.
Incfile mentions that they have recently increased their customer support options. Incfile mentions that they have doubled the customer support staff and added an interactive help service and a live chat option.
Incfile Customer Support Improvements
These moves could improve Incfile's customer service moving forward, if true. However, a "doubling" of customer support staff is still ambiguous – technically, going from one support representative to two is a doubling!
Incfile Services
Incfile offers various services, including LLC formation and related services (e.g., Incfile provides several services, including registered agent service and LLC formation. We'll be looking at some of Incfile's most popular services in more detail below.
I will explain which services are available and when you might need them. Incfile's price range for each service will be in parentheses, excluding state fees.
Business Formation
From free to $299
It can be hard to understand the regulations for something as simple as forming an LLC. It can be challenging to navigate the process by yourself. This could cost you valuable time.
You can also file through Incfile, an LLC formation company. Incfile has the experience and expertise to make sure your filing goes smoothly.
Check the Secretary of State website to see if your business name is still available. Many of these websites offer a free search tool and compare feature. Check out the U.S. Patent and Trademark Office's database TESS, available here.
It is easy to file your LLC online with Incfile. Name, address, and member details of your business. A series of questions about your future business will be asked.
Incfile will ensure that your paperwork is filed within the next business day.
Although Incfile's basic package is free, each state charges a filing fee to form an LLC. The cost can vary from $40 to $500, depending on where you live. Incfile automatically populates the checkout price tab when entering your desired filing status. This is the first step, so you will immediately know the final amount.
Once all necessary documents are sent, the state will process them. The processing time depends on the state and the year.
Incfile also allows you to file articles of incorporation as an S-Corporation or C-Corporation. Each of these is very similar to filing an LLC.
Incfile EIN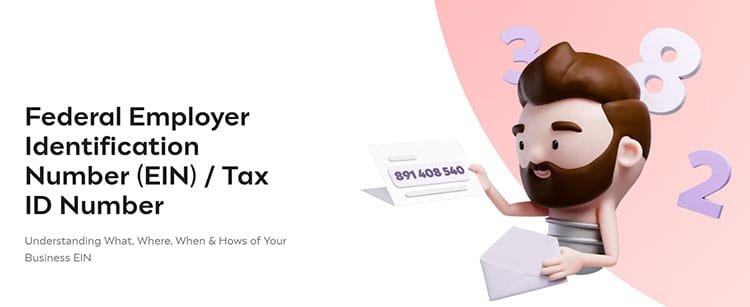 The Gold and Platinum Packages
A federal tax I.D. number is required for all US-based businesses. Also known as an employer identification (EIN), it is called an employer identification number (EIN). The IRS uses this number to track and identify business entities.
Your EIN can be thought of as your company's social security number.
An EIN is required for several situations. If your company will employ employees, pay excise taxes, or if you have to comply with state laws, an EIN will be required. Most banks require EINs to open business bank accounts.
Incfile can obtain your EIN as part of their Gold Package.
You can get an EIN online in just a few seconds through the IRS Website. It is generally best to apply for an EIN yourself. Incfile's Gold package doesn't offer any additional value.
Incfile's Registered Agent Service
One year free, $119 after that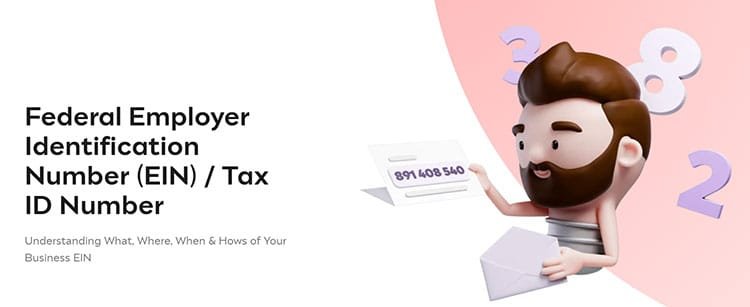 Every LLC and corporation must designate a registered representative when they are formed. A registered agent is a point-of-contact for the service of the process. This includes any official legal notices such as court summons that you must respond quickly to.
You could lose your certificate or face other consequences if you fail to appoint a registered representative.
The registered agent must reside in the state where your LLC is located. To receive any critical documents, they will need to be available during regular business hours. Publicly available are the addresses and names of registered agents.
You have the option to act as your registered agent or hire a professional service. If you have the following reasons, you may want to use a registered agent service:
You frequently travel, and you may not be at one address.

You are not a citizen of the United States

Your business may be located in several states

Your name and address are not to be made public.
Incfile provides a registered agent service that includes a year of free registration with any purchase of Silver, Gold, and Platinum packages.
Incfile will act as your registered agent and receive all business mail for you. You will also receive notifications about documents obtained. Important information can be accessed through the digital dashboard.
Incfile's registered agent services cost $119/year after the first year of free.
Operating Agreement
Included with Platinum and Gold packages
An operating agreement is an essential document. It is the agreement that the LLC member(s), or any other entity, agrees to the LLC members' operating rules and rights. It might include:
How to manage the LLC

How ownership is split among members

How are profits paid out

What happens if one of the LLC members wants to leave or dies?

…and many more important questions
Every state does not require operating agreements. Even if you don't need one, it is a good idea to have an operating agreement.
A basic operating agreement can help protect your LLC's limited liability status. It provides clear guidelines for what to do in an unexpected event.
If you plan to establish a business in California, Delaware or Maine, Missouri, New York, you must sign an operating agreement and keep it with all company records.
Your operating agreement does not have to be filed with the state. It should simply be kept in your possession.
Annual Reports
Cost $99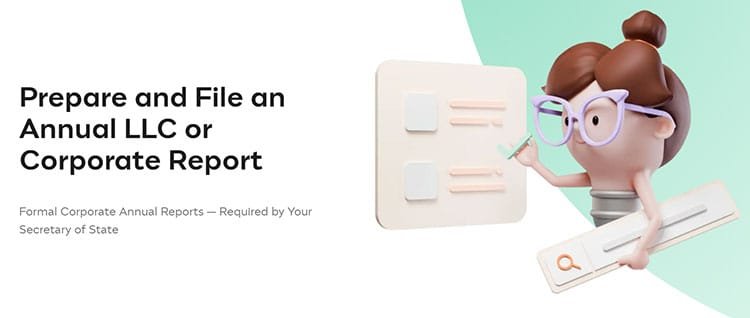 Many businesses are legally required to file reports with their Secretary-of-State offices, typically annually.
These reports usually include basic information about the LLC, such as its address and the names of the managers or members. These reports are used to assist state authorities in keeping track of businesses operating under their jurisdiction.
Although it can be tedious, filing an annual report will help avoid penalties and keep you in good standing with the state.
Some states have a deadline for annual reports. Some states require that you submit your annual reports by the anniversary of the date you established your business. For example, if your company was formed in November, your first annual report is due next November. Some states only require that you file a report once every two years.
Most states charge an annual filing fee. This fee will be charged regardless of whether your LLC has earned any revenue in the previous year. Most fees are under $100, and they tend to be very modest.
Although annual reports don't seem to be very important, failure to file or pay the fees on time could result in your company being liquidated. It is crucial to make sure that you pay your filing and payment on time.
Incfile can help you fill out your annual reports. Incfile will transmit your report to the appropriate state authorities once you have entered all the information. You will also be notified when your report is received and accepted by the state authorities.
S-Corp Tax Election
Cost $50

S-corp is short for "small business corporation." S-corp can be thought of as a small business corporation. However, it is not the same as an LLC.
Some businesses find it beneficial to be treated as an S-Corp, while others may not. To determine if filing as an S-Corp is helpful for your business, consult a tax expert.
It is important to remember that you can always choose to be treated later as an S-Corp – your status of an LLC doesn't have to be fixed.
Incfile will handle all paperwork necessary to file an S-Corp Election with the IRS for $50
Assistance With Requesting a Business License
Cost $99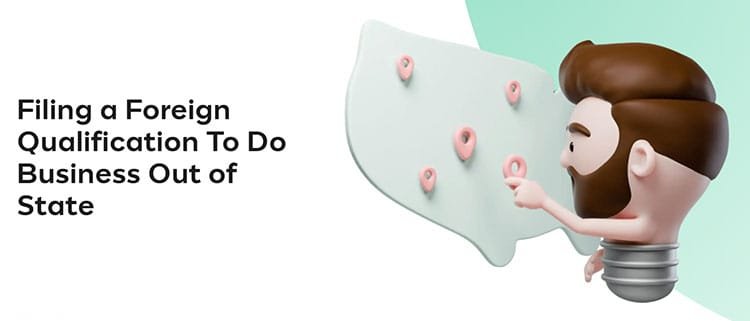 You may need to comply with various regulations depending on the size and industry of your business. Permits and licenses may be required at local, state, and federal levels.
It can be challenging to keep up with all the regulations, but it is necessary. It is not a good idea to run the law afoul and put your business's future in danger.
Incfile provides a "Business License Search" service for a set fee. This service compiles a list of applicable permits, licenses, and tax registrations after giving information about your business.
Incfile claims that the research package for their state-approved research will be sent to you within five days of filing by your company with the state.
It is important to remember that Incfile's business license search will not provide you with the documents you need or information on how you can fill them out. You still have to complete them yourself. This service is good for people who don't want to spend too much time researching.
Qualified Foreign Workers
Cost $149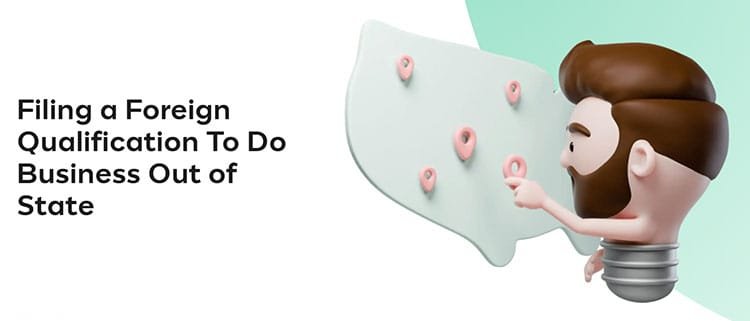 "Foreign Qualification" does not mean that you are internationally qualified. A Foreign Qualification is required when you do business in a country that you are not a member of.
You can apply for a Foreign Qualification to receive a Certificate of Authority, which gives you the right to operate in "foreign" states (i.e., one other than where your business was founded).
Expansions may require multiple Foreign Qualifications. Each state requires a Certificate of Authority. Incfile will file your Foreign Qualification in one state for a once-off fee. Incfile's pricing is comparable to its competitors.
Name changes and amendments.
Cost $99
Sometimes amendments to the Articles of Incorporation may be necessary. Perhaps your business wants to change its name or address or add new members.
You will need to amend your Articles of Incorporation to reflect these significant changes.
Incfile can file this amendment on your behalf. Once you have entered the information required to amend, Incfile will send the appropriate documentation to the state authority. It is often slower to process amendments than Articles of Incorporation. This means that even though Incfile may send your forms quickly, it could take several weeks before you receive confirmation of your alterations.
Certificates of good standing
Cost $49
A Certificate of Good Standing, issued at the state level, is a document that certifies that your company is current with all filings, fees, or other requirements.
This document is not required to continue operating your businesses. However, it is essential if your business is expanding to other states or looking to liquidate your company. Clients may request a Certificate to Good Standing to verify that you are up and running.
Incfile will file a Certificate for Good Standing in the state you choose (must be the same state where your LLC is registered). Incfile's pricing for this service is reasonable, and it costs less than its competitors.
DBA/Fictitious Business Name
Cost $99
A Fictitious Business name – also known as a "Doing Business As" (DBA), Trade Name, or Assumed Business name – allows you and your business to operate under a different name than the one listed on your articles.
Fictitious business names can be used to protect your privacy, increase name recognition, or account for a shift in or expansion of your business.
Imagine, for example, that you start a custom cabinet-building company under the name Superb Cabinets LLC. You may also take on additional carpentry jobs as your business grows. You may file for a fictitious business name to reflect the expanded offerings, such as Superb Home Carpentry LLC.
Incfile will file your DBA/Fictitious business name request with the appropriate state authority for a flat fee. The price Incfile charges for this service is comparable to other companies.
Note: Fictitious business names are not allowed in all states. Incfile's DBA/Fictitious Name Page lists states that will enable them.
Incfile's trademark registration
Cost $199
Trademarks are a way to protect intellectual property that distinguishes your company from others. Trademarks can be used to trademark taglines, symbols, designs, and even single words.
Incfile will file your trademark for a nominal fee (limited to one series or one class) and provide you with a certificate of compliance. Incfile states that filing takes between 3-7 days, and federal approval takes about 3-4 months.
Although you might find Incfile convenient if you already use their services, Incfile's $199 plus federal fees price point is not very competitive.
Specialist companies may be more suitable if you are serious about filing trademarks.
Incfile's bookkeeping, accounting, and business taxes
Cost: Check with Incfile for prices
Incfile offers bookkeeping and business accounting services. Although Incfile claims to have a range of packages available, prices are not easily accessible on their website. Instead, the primary call to action is a "Get A Free Tax Consultation."
Incfile claims that its packages include quarterly bookkeeping and unlimited tax consultations with tax experts. Incfile also offers the ability to file at least one tax return.
Bookkeeping is essential if you want to maintain your company's finances in order. A well-filed tax return will allow you to keep your best gains and not be hassled by IRS. An audit can quickly become a time sink.
Incfile is a small company focused on business formations and related services. Incfile almost certainly outsources its bookkeeping and tax offerings to a third party. It is a common practice to use specialists wherever possible.
A certified small business accountant experienced in bookkeeping, account management, and taxation is your best option.
Incfile's dissolution service
Cost $149
A dissolution is exactly what it sounds like: The dissolution of a company. The first step in closing down your LLC's operations is to file Articles of Dissolution with the state. These articles let the state know that your LLC is no longer in business.
Notice: Your company may be in "Good Standing" if it has outstanding taxes or fails to file annual reports. This could prevent your company from being dissolution. Before you file your Articles of Dissolution, make sure that these issues are resolved.
These forms must be filed with the IRS.
Wrapping Up
Incfile has been in business for almost two decades. Their biggest draw is their low prices on many services. The Silver package LLC formation is free and offers bare-bones services at unbeatable prices. Their registered agent service is also free for an entire year.
Incfile's Gold Package provides everything you need for your business at a low price of $149. This is best-in-class pricing.
Incfile also offers several other one-off services that are related to formation. Incfile also provides a user-friendly website and a beneficial online dashboard.
Incfile's customer reviews and customer service offerings raise some red flags.
Incfile has a section in their customer review outlining their improvements to their customer support services. These statements can be taken at face value if you're willing to overlook their less than stellar review history.
Incfile offers many other services in addition to its primary offerings. However, such services as accounting and bookkeeping are best left to professionals.
Incfile may be a good choice for you if you're looking for an easy way to create LLCs or for a related service (e.g., DBA registration, Foreign Qualification Filing, Annual Report filing); Incfile is a great fit.
Customers should check out the track record of the company before they commit. While a cheaper service may seem appealing, the hassles associated with a delayed or incorrect filing could quickly outweigh any price points savings.

---
What is Incfile?
Incfile offers business formation services and compliance and legal filing services. Incfile users also have an online dashboard that keeps track of the statuses, due dates, and submissions for important forms.
What does it cost to create an LLC using Incfile?
Incfile offers several packages for business formation, but the cheapest package is completely free (excl. state fees). Incfile's Silver package includes a year of free registered agent service. The other two LLC formation packages available to the company are $149 or $299.
Is Incfile truly free?
Incfile will not charge you anything to create your LLC if you choose the Silver package. However, you will still need to pay the state's fees. Incfile's basic service is not included in the free service.
Is Incfile legit?
Incfile was founded in 2004. Incfile has served thousands of customers. Customers should know that Incfile has only average reviews and are not BBB-accredited.
Can Incfile be used to form an LLC?
If you are looking for a low-cost, bare-bones foundation, Incfile might be the right choice. If you are looking for more or more complicated services, it is worth checking out reviews for the formation company.
Who should buy Incfile's Platinum Package?
I don't recommend Incfile's Platinum package. Additional services, such as contract templates, email domain hosting, and web domain hosting, are not worth the additional cost.
Who is Incfile most suitable for?
Incfile is the best option for business owners who need a simple, low-cost formation. You might consider other options if you feel you will need more services.
What are the benefits of using Incfile?
Incfile's strengths are its simplicity of use and its pricing. Incfile's website is very user-friendly. The prices of Incfile's business formation and registered agent services, and other related services are very affordable.
How does Incfile compare with other formation services?
Incfile is a solid service for formation, but not the best. Incfile's pricing is excellent for the most part. Incfile has mixed customer reviews and a poor customer service record.
How is Incfile rated?
Incfile's rating on Facebook is 4 out of 5, but their average rating with other services like Trustpilot or Yelp is lower. Many of the negative reviews focus on Incfile's customer support.
Which states is Incfile available?
Incfile offers services to all 50 US states.
How do I cancel Incfile?
To cancel an order, you will need to contact Incfile customer support. You cannot cancel your order directly via the website or online dashboard.
Is Incfile able to issue a refund?
Incfile will reimburse certain one-time purchases provided you notify them before the documents are sent to the state. However, there will be a $30 cancellation charge.
Is Incfile available?
Incfile is based in Houston, Texas, but Incfile serves all 50 states.
Who is Incfile?
Incfile is an independent company and is not part of any conglomerate.
Brian Wilson is the content manager and founder of LLC Radar.
Brian grew up in North Texas, just outside of Dallas, and has a bachelor's degree in business journalism from Southern Methodist University. Since graduating from SMU, Brian has gained over 10 years of experience in business writing for several online publications.
Brian resides in Plano, Texas and he can be reached by email:   info@llcradar.com
Phone: 972-776-4050