LegalZoom vs Incfile: I Tried Both Services and I Prefer Incfile
I'll compare two of the top business formation services, LegalZoom and Incfile.
Both offer online LLC services, but LegalZoom offers a variety of online legal services and advice.
We all know that lawyers cost money. Your funds may be tight if you are a startup or an entrepreneur looking to start a company (forming a limited-liability corporation or an S or S corporation).
You might consider an online legal service if you need ongoing legal services for your business.
I will be comparing both providers and giving you an overview to help you choose the best one for your needs.
Summary:
LegalZoom: If you like a strong brand name and don't mind paying a lot extra for the service, LegalZoom is the better option. LegalZoom has formed over 2 million businesses.
Incfile: If you want to save money and work with an established company, Incfile might be a better option for you. Incfile has formed over 600,000 businesses in the past 19 years.
The Major Contrasts Between LegalZoom and Incfile
LegalZoom offers a variety of legal services

Incfile offers business formation and registered agent services only, no legal services
LegalZoom now offers a free plan
Incfile offers a free LLC service.
LegalZoom does not include registered agent
service with their formation packages.
This is an add-on for an extra $249.
Incfile provides the first year free and then $119/yr for registered agent service.
Cheapest Price:
Formation and one year of registered agent service: $249
Cheapest Price:
Formation and one year of registered agent service: $0.00
The prices above do not include state fee
Both offer customer support and information similar to many other online formation services. This is without paying an enormous amount of money or incurring a sizeable hourly fee.
LegalZoom vs. Incfile Overview
These sites can help you establish your company, whether it is a corporation or a non-profit. They also assist with compliance, such as filing and submitting annual reports.
LegalZoom can file for patents, trademarks, and copyrights. LegalZoom also provides more than 100 legal forms that can be customized and allow you to talk with an attorney if you need further legal assistance.
They can also assist you with living trusts, estate planning, and wills. They stress that they can provide all-around legal advice, both at work and at home.
Incfile allows you to prepare and file tax returns. LegalZoom connects you with a tax professional who will advise you on what to do. LegalZoom's monthly subscription includes access to 30-minute consultations and legal reviews.
They will also conduct a "look over" of your company every year to ensure it isn't violating any laws. LegalZoom offers independent attorneys in all 50 states.
Each site charges a flat fee and not an hourly rate.
So far, so cheaper.
However, neither website can replace an actual attorney. This is especially important if your business is facing a lawsuit.
LegalZoom BBB Reviews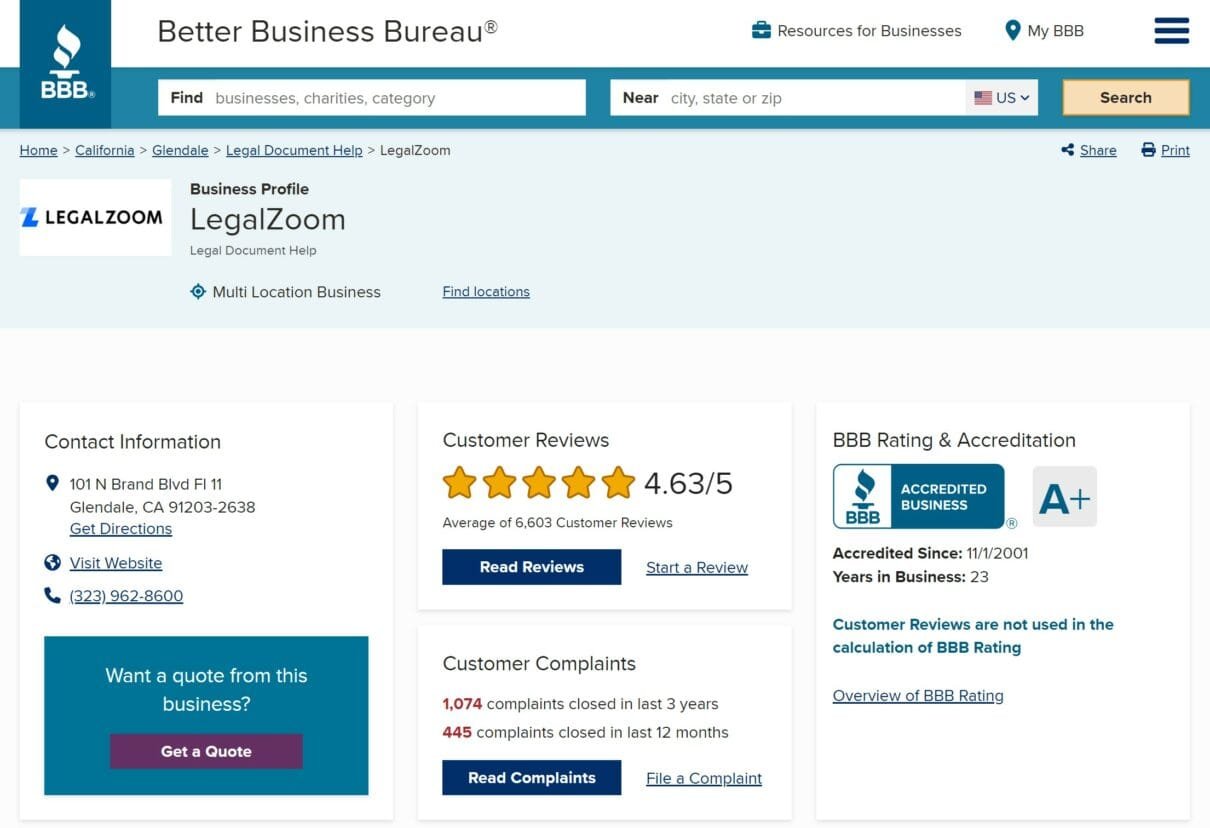 Visit the LegalZoom page on the BBB website
LegalZoom has 6,603 BBB reviews with a total rating of 4.6/5
---
Incfile BBB Reviews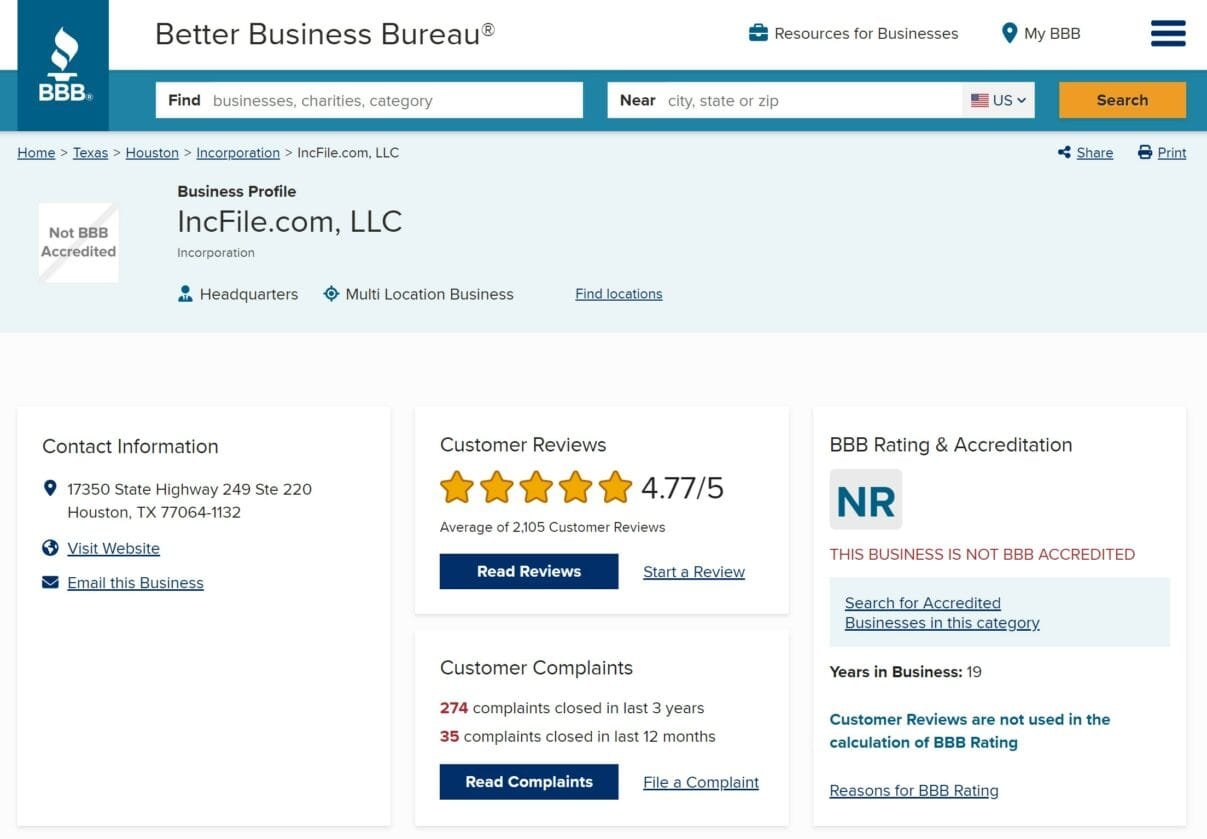 Incfile has 2100 BBB reviews with a total rating of 4.7/5
Visit the Incfile page on the BBB website
---
Incfile vs. LegalZoom Pricing & Features
Incfile is generally cheaper than LegalZoom for forming an LLC or corporation. It also offers a more comprehensive pricing structure. LegalZoom is often criticized online for upselling and opaque pricing. Side note: I agree. In 2015, I was a new owner of a business and was offered many services I didn't want.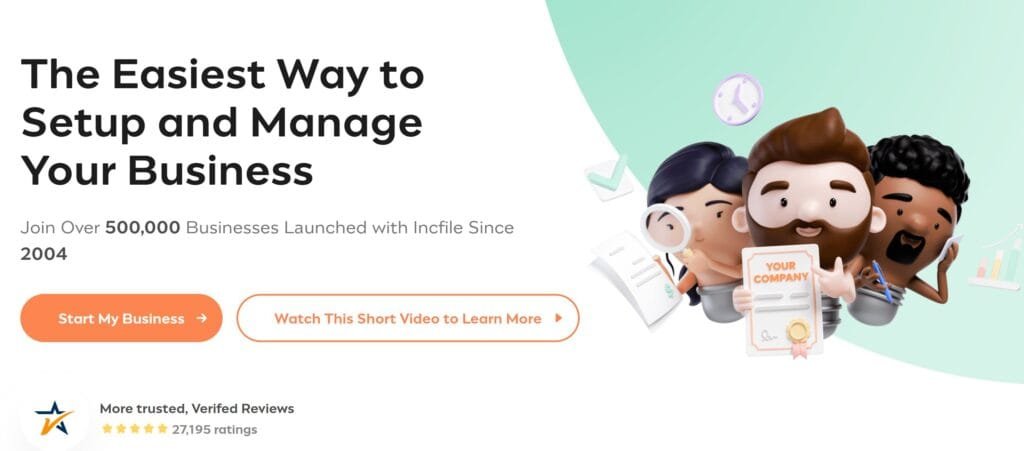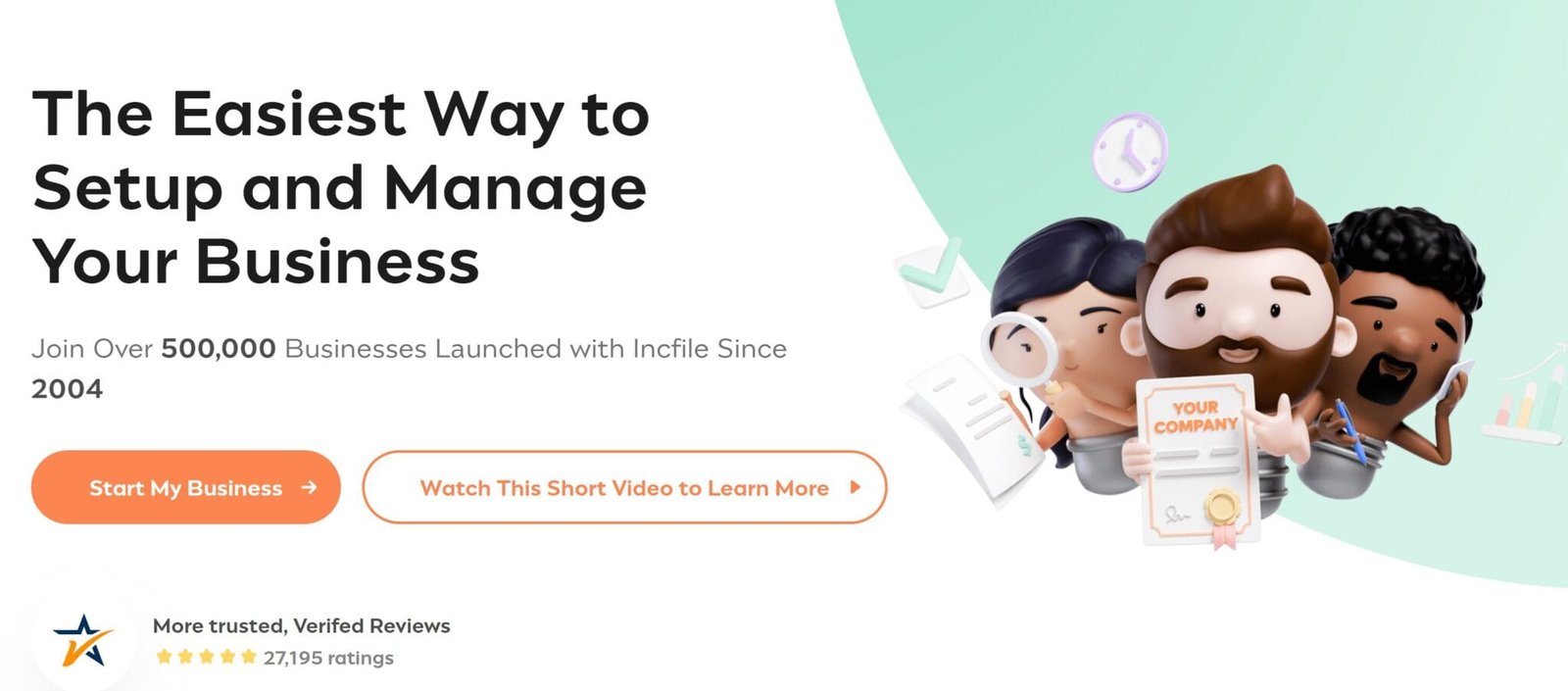 Incfile pricing plans
No matter what package you choose, these are always included:
Verify that your company name is available
Preparation and filing of articles
Next business day processing
Register agent service for one year
Lifetime company alerts
Track your online order status
Consultation on taxation for businesses is free
Support for customers for life
Online access to incorporation documents
You have three options to choose from
Silver ($0 plus state fee)
Gold ($149 plus state fee)
Platinum ($299 plus state fee)
The Silver Package: Includes next-day filing of company formation papers with the state, company name availability search, and phone and email support.
The Gold Package: Allows you to provide advice on corporate bylaws and an operating agreement. It also includes preparing and filing IRS Form 2553, employer ID/tax ID, company minutes, and bank resolution. Express shipping is available for any incorporation documents.
The Platinum Package: Includes all of the above-expedited documents and a domain name. However, there may be discounts if you choose one of their lower packages. You will also be able to file with the state faster.
Incfile Pricing With the Texas Filing Fee of $300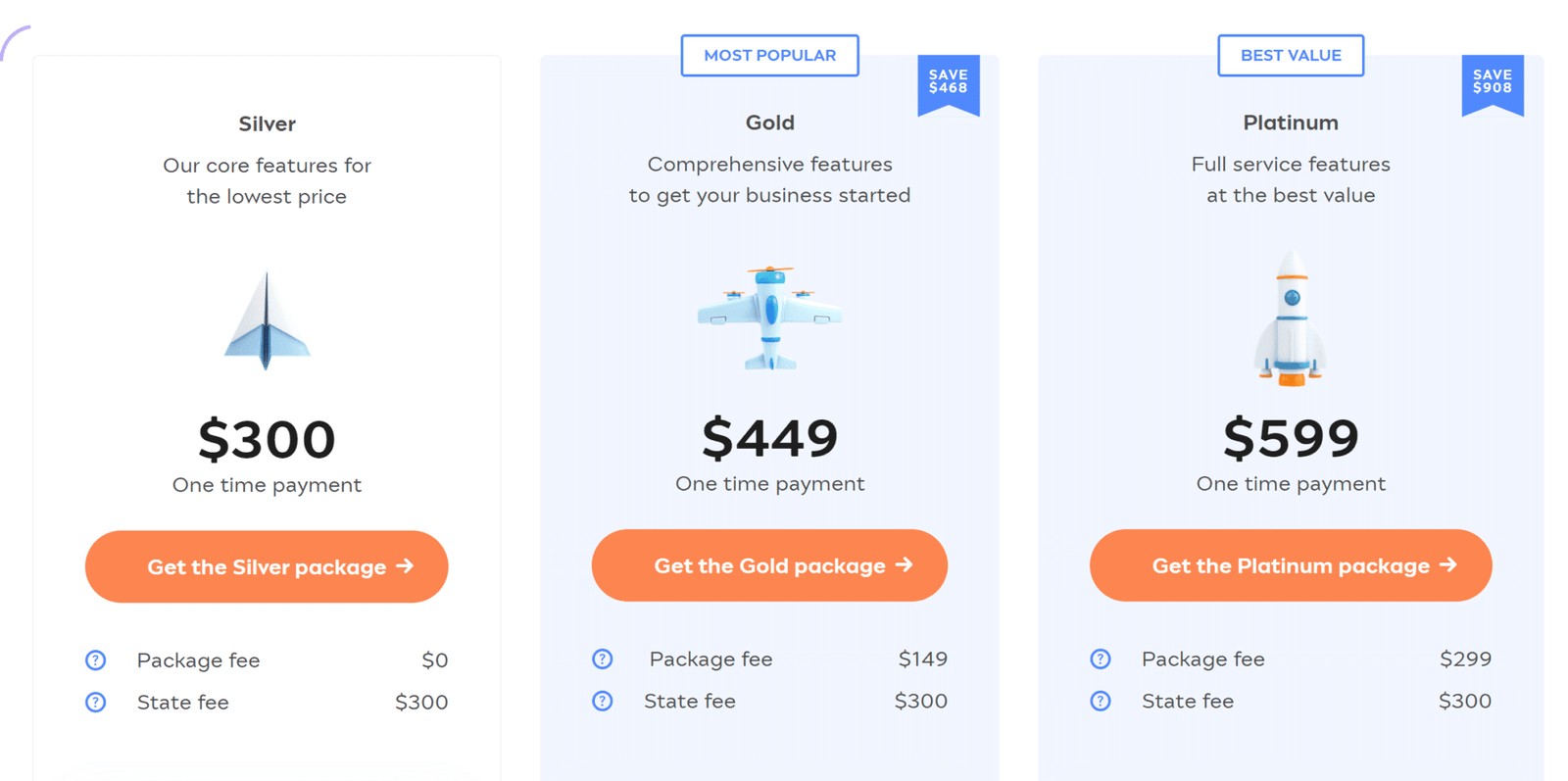 ---
LegalZoom Prices
LegalZoom offers three pricing levels.
Basic $0
Pro $249
Premium $299
*Plus state filing fees
LegalZoom's LLC Formation Pricing for 2023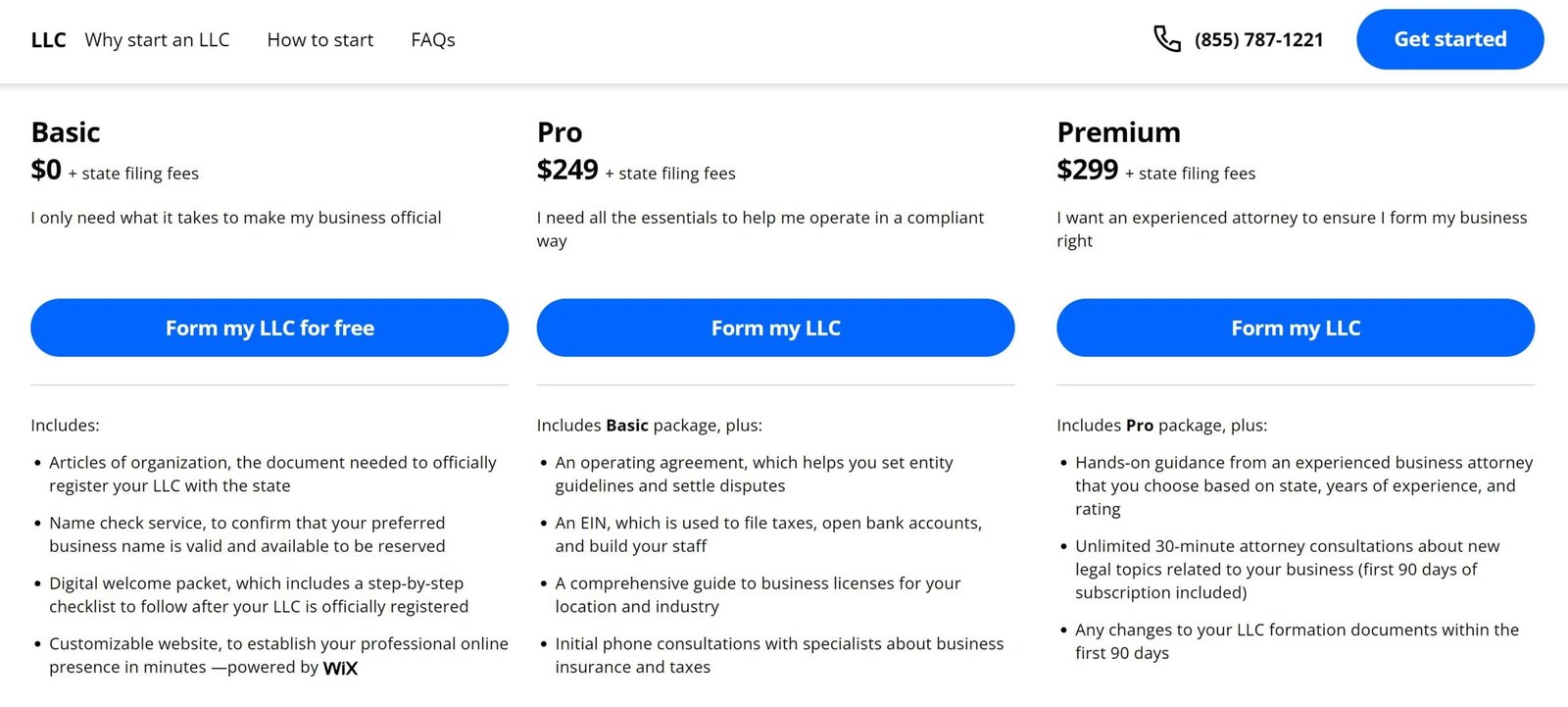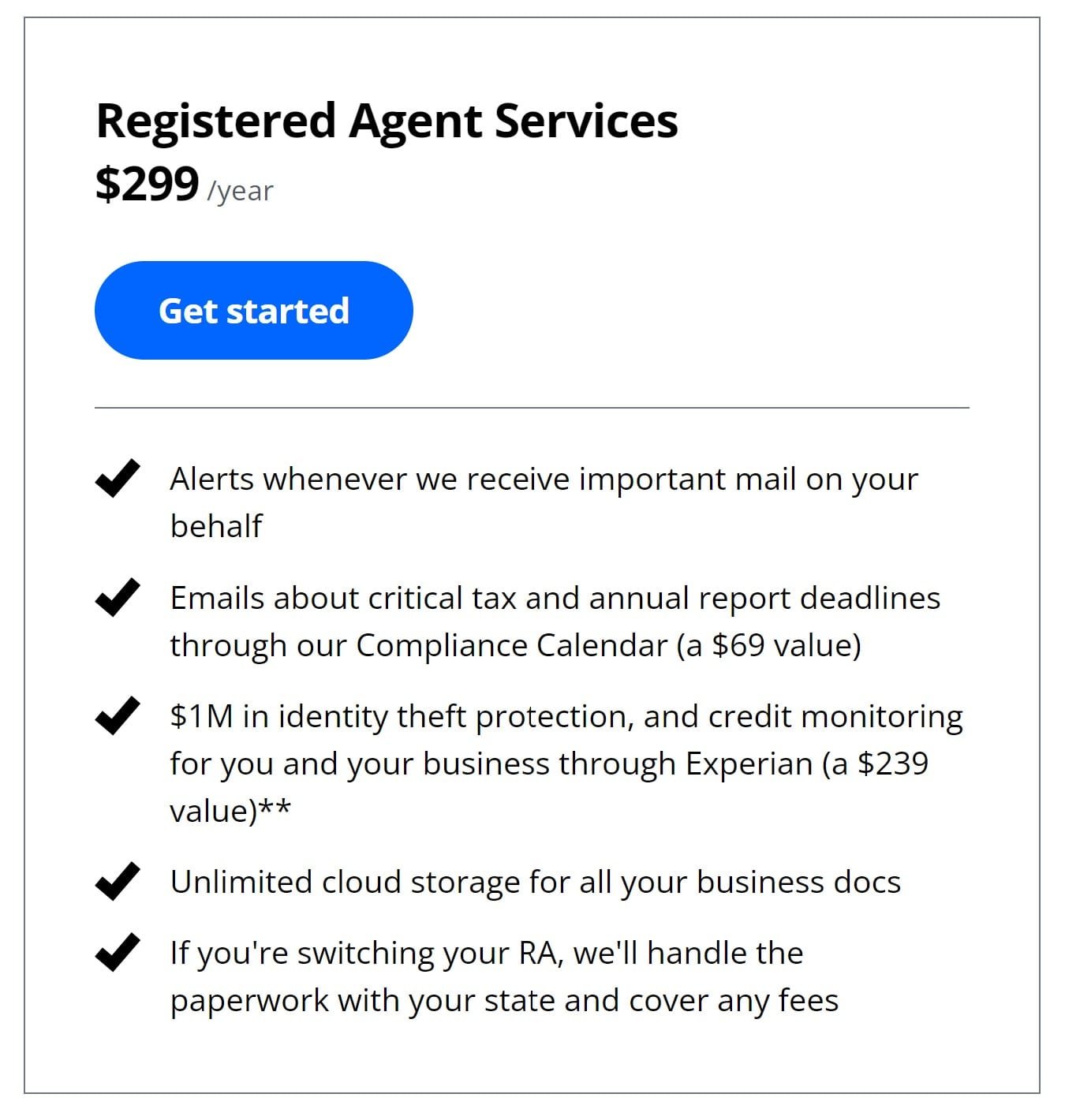 Keep in mind, however, that every state has its own filing fees. LegalZoom allows you to find your state and provides the price for filing.
Incfile promises next-day business filing. However, depending on the package, filing can take between 20 and 35 business days.
All packages include the following:
A company name check and business filing
Articles of organization
Next steps for LLC formation
Guaranteed peace of mind and review
Support for life (seven days per week)
A financial account authorization letter
It is important to note that the Standard and Express Gold Packages include a deluxe organizer with your company name, 20 personalized company membership certificates, an official company seal, and LegalZoom VIP processing.
Only the Express Gold package offers faster company filing (from seven to ten days) as well as express mailing. LegalZoom Express Gold packages include a short-term subscription for QuickBooks Online. This is particularly useful for solopreneurs or small business owners who need assistance with their accounts.
Its website lets you check if your proposed company name is available (and the state in which you plan to file).
You can request a full refund for money paid directly to LegalZoom within 60 days if you are unhappy with the company. This does not include any fees you have paid for third-party or government services.
You can choose other optional services regardless of the package you select. In particular, you will be offered 30-day trials of Legal Protect and Total Compliance for no cost. These extras will be available to you after your 30-day trial.
Customer Service and Support
Incfile offers a help center that you can email or call to ask any questions. Startups may find it difficult to get weekend support. You can also access a messaging tool at the bottom of every page.
LegalZoom can be reached by email or phone at 5 am and 7 pm Monday through Friday and at 7 am and 4 pm Saturday. Both sites have a FAQ section.
Entrepreneur Magazine named Incfile one of the top 360 best entrepreneurial companies. Incfile has received over 38,000 customer reviews on Shopper Approved.
I talked directly with Incfile representatives about their BBB rating. Incfile said after 16 straight years of maintaining an A+ rating with the Business Bureau (BBB), delays, and issues during closures related to Covid disrupted processing and Incfile lost its A+ BBB rating for now.
Incfile is smaller than LegalZoom and may be why users rate it higher, including for its customer service.
Reviews report that they were able to get through to a customer service agent immediately after calling, while LegalZoom calls can sometimes take much longer.
Incfile is better than LegalZoom if speed is a concern. Even with the most expensive LegalZoom package you can still file in seven to ten business days. This is a good option if you are in a hurry.
LegalZoom is used by over four million people. Over two million have used it to help them start a business. 650,000+ have used one-on-one legal consultations. It has an average rating of four stars from Trustpilot reviews. You will find plenty of positive testimonials on their website, both from business owners as well as people who use their services to buy a house or for other legal matters.
There are mixed reviews overall, with many complaining about customer service and cost issues. Incfile responds quickly to emails, but reviewers complain about the time it takes to receive a response.
LegalZoom receives a 1.5 rating from the BBB. It's important to note that LegalZoom customers enjoy the wider range of legal services it offers.
Notice: You will need to apply separately for your Employer Identification Number (EIN) for both these services. This can be done with the IRS directly here. It's quite easy to obtain an EIN, many times instantly.
FAQs
What's Incfile?
Answer: Incfile is an all-encompassing legal service company that helps users from businesses register for state filings and manage legal filings throughout a calendar year based on the entity type.
Should I become my own Registered Agent?
Answer: Although anyone can legally act as an agent, it is necessary to have a physical address within the state or jurisdiction. The Registered Agent service allows you to register in any state and guides users through the process. It automates many of the tedious but legally required steps.
What is the cost of a registered agent?
Answer: Prices vary by service provider. However, a registered agent service usually costs between $100-$400 per year. You are likely overpaying if you pay more for an agent.
Over the years, I have tried many registered agent services… But I found Incfile to be the fastest, most affordable, and easiest to use.
Both companies are well-known and popular. Incfile was founded in 2004, LegalZoom is a company that has been around since 1999 and has a greater customer base.
LegalZoom is larger and more comprehensive and offers more services. However, before you commit, you should really think about why and how you will use their services in the future.
Not recommended if you plan to become a sole proprietorship.
Get a sense of how many businesses they have helped in your niche before you spend your hard-earned money. What reputation do they have with entrepreneurs and small businesses?
Incfile is the best option for those just starting out. Their website even has a learning center with tips and tricks on topics like business license requirements, filing times for annual reports, and research tools. LegalZoom's pricing information is not as clear and transparent.
LegalZoom requires you to first enter your information. Then, their website takes you through many upsells and attempts at upsells, before you get a costing. It can be confusing, which is not what you want when you are already stressed about your legal problems.
LegalZoom is a great option if you feel you will need support and help for your business. Incfile, on the other hand, is more affordable and quicker if you are starting a company. Both are cheaper than hourly rates for an attorney.
Do you have any experience with Incfile or LegalZoom? We'd love to know your thoughts and experiences. Please use the comments box below. Let's start the conversation — let's talk soon!
Verdict:
I have used both of these registered agent services over the years to form an LLC and handle the paperwork. However, Incfile is the preferred service for all of my businesses. Incfile is quicker, more affordable, and offers a better user dashboard.
---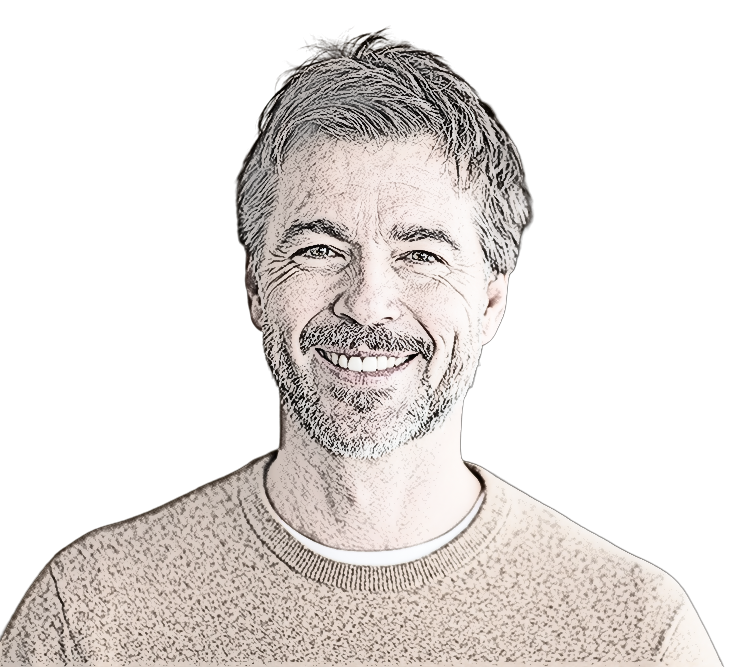 Brian Wilson is the content manager and founder of LLC Radar.
Brian grew up in North Texas, just outside of Dallas, and has a bachelor's degree in business journalism from Southern Methodist University. Since graduating from SMU, Brian has gained over 10 years of experience in business writing for several online publications.
Brian resides in Plano, Texas and he can be reached by email:   info@llcradar.com
Phone: 972-776-4050