Northwest Registered Agent Review (December 2023)
My Northwest Registered Agent Review for 2023
In this Northwest Registered Agent review, I will discuss Northwest Registered Agent's business formation service. I also explain the various other services offered by Northwest Registered Agent relevant to formations. I will give details of my findings and explain everything about Northwest Registered Agent for those planning to form a new LLC in 2023.
"Free LLC" companies are known to sell your private information to third parties. That's how they provide "free LLC formations".
Northwest does not sell its client's data.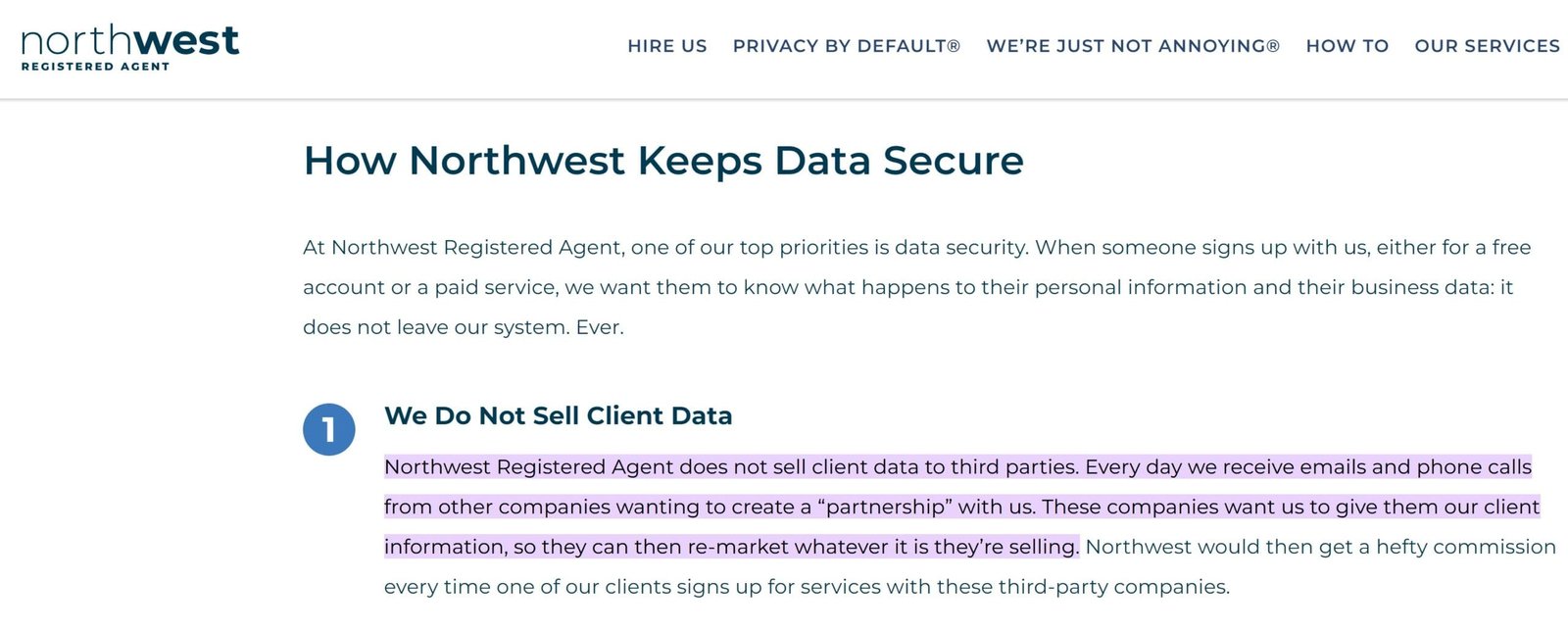 ---
Is Northwest Registered Agent a Good Fit for Your Business?
Business Formation + Registered Agent Service $225 $39
My Readers Get the Discount Price of $39

Largest Registered Agent Service in the U.S.

Northwest Registered Agent offers a simple-to-use online interface, and excellent customer service and can help you ensure that your LLC is formed or incorporated quickly and professionally.

You will receive same-day LLC filings and excellent privacy protections. Additionally, you can work with a company with many years of experience in this field.
---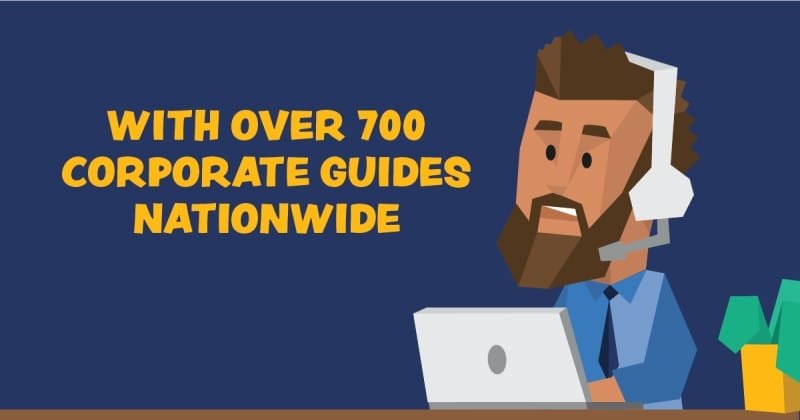 Northwest Registered Agent Review Summary
Northwest Registered Agent LLC is a Registered Agent and LLC Service Based in Spokane, WA
Offices in each of the 50 states
Their website states they are a medium-sized family-owned business with approximately 200 employees. 
Northwest Registered Agent provides a variety of services that are geared toward entrepreneurs and business owners. The company uses the slogan "We're just not annoying" to stand out from the rest.
It focuses on customer service, communication, privacy protection, and data security, emphasizing customer support. They have been in business since 1998 and have over 20 years of experience in the creation of LLCs.
Northwest's $39 Discounted LLC Formation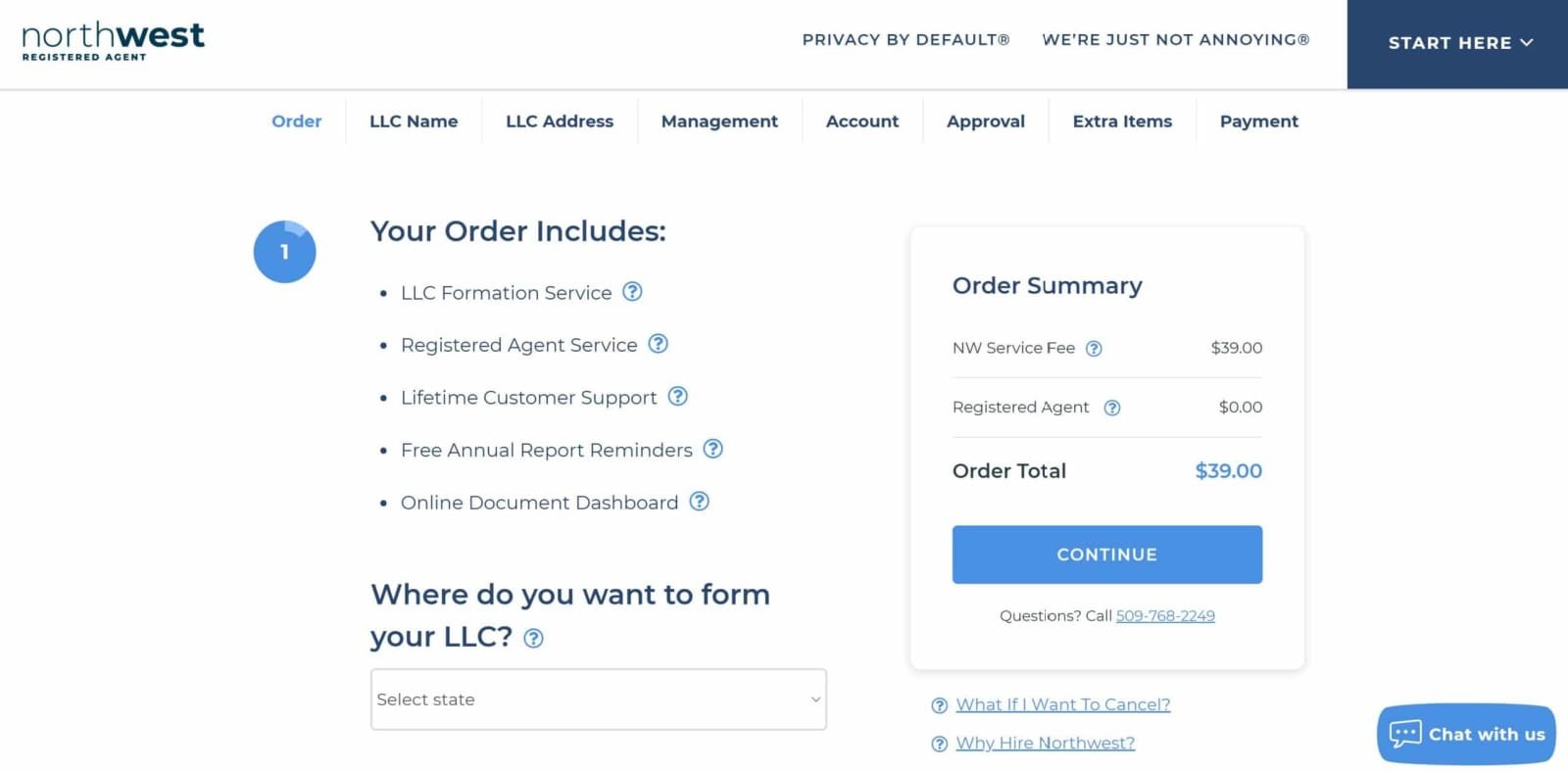 ---
Northwest Registered Agent Review: Pros and Cons
Northwest Registered Agent
Pros

Northwest Registered Agent
Cons

$39 Business Formation with 1/yr of Registered Agent Service 
Same-day business formation and filing
It is extremely simple to use.
Strong Data and Privacy Protection
Reliable and well-liked
Exceptional Customer Service

You must request a refund by phone

Northwest Registered Agent Reviews
Reddit Reviews: The Northwest Registered Agent reviews posted on Reddit have a variety of opinions and vary by the reviewer, but many are positive.
Northwest Registered Agent provides many services that can be used to start and run a business. It offers the following core services:
Easy and quick online service for LLC formation and incorporation Service of a registered agent in all 50 StatesVirtual office and mail forwardingAnnual compliance filing for businesses…plus many other things

Northwest Registered Agent can assist you with the legal requirements of forming LLCs, but they are not lawyers and cannot provide legal advice. An attorney is the best choice if you require legal advice or have any questions about company formation.
Northwest Registered Agent BBB Reviews
Northwest has an average review score on the BBB of 4.4/5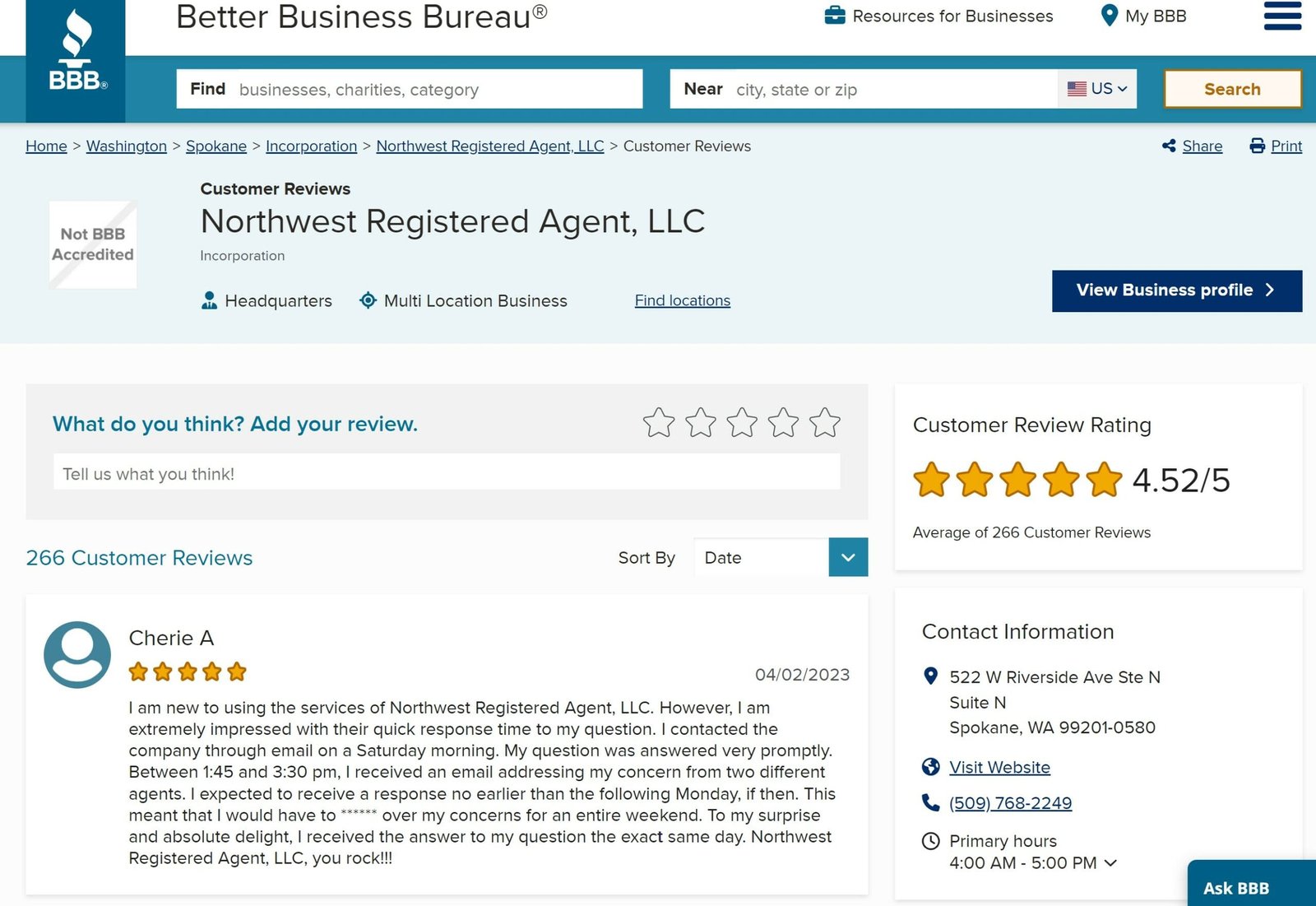 ---
Northwest Registered Agent Review: Pricing
LLC filing $100 Reg Agent Service $125/yr = $225   $39 (Our readers get the discounted price)
Two Payment Options
Monthly Payment Which Includes the State Fee (California $37/mo)
or
Paid Up-Front
| Northwest's Service | Paid Up-Front | Monthly Payment Option |
| --- | --- | --- |
| Basic filing service | $100  $39 plus state fee | Included |
| Registered agent service | $125/year Included  | Included |
| Operating Agreement and other documents | Free | Free |
| Federal Tax ID (EIN) | $50 | Included |
| Annual business compliance filings | $100 | Not included |
Northwest Registered Agent also offered us a special offer to form LLCs for my readers. This offer is $39 + state fees instead of the $225 + state fee standard. It also includes:

Basic LLC formation includes a name availability check, document filing, and document filing. You can expedite your LLC creation for $20 or $40 if you need it quickly and get approval faster.

Register agent services: No charge for the first year. After that, $125/year.

Reminders for annual reports: Northwest Registered Agent will email you reminders before your annual report is due.

You can add optional services to this offer:

Annual Report Compliance Service – No up-front fee; $100 plus state fees are required five days before the due date. Northwest Registered Agent can help you reduce administrative burden and protect privacy by filing your annual report on behalf of your LLC.

EIN service – $50: This involves obtaining an EIN (a tax ID number) from IRS.

Operating Agreement – $50: Northwest Register Agent will give you a customized Operating Agreement that you can immediately use.

Certificate of good standing: This document is required when you apply for foreign certification for your LLC to conduct business in another country.

The Certified Copy will verify the authenticity of your final approval paperwork. This document is required if you apply for a foreign qualification in another state.

Phone service – First 60 days free, then $9/month. Northwest Registered Agent will give you a separate telephone line for your business that you can use online from any computer or mobile phone.

Consultation on credit cards – Free: A Northwest Registered Agent can help you get a credit card that suits your needs with more favorable terms.

Service up-front payment Monthly payment

Basic filing service $100 plus state fee

Service by a registered agent $125/year

Our readers get the filing service and one year of registered agent service for just $39

Free Operating Agreement and Other Documents

Federal Tax ID (EIN), $50

Filing annual business compliance reports $100 not included
Two Payment Options: Pay Upfront or Monthly Payments That Include the State Fee


Northwest Registered Agent offers two pricing options for LLC formation and incorporation. One-time upfront payment with optional add-ons customized or a fixed package rate paid in twelve monthly installments.
These packages include everything you need to start your LLC.

Basic LLC formation and incorporation service

Register agent service

Important legal documents such as the operating agreement and member resolutions are essential.

You may want to add additional services depending on the needs of your business. We'll explain and break down Northwest Registered Agent's other services later in this article.

Payment in advance

$225, plus state fees

This pricing option includes the filing and registration of your LLC at $100, as well as a full year's service of a registered agent for $125. All legal documents are included free of charge

You can also choose from various add-ons that range from certified copies to virtual office services or corporate supplies.

Northwest Registered Agent offers a 1-year service, which is not available with other services.

Annual compliance filings will be checked automatically and are included in your order summary as a free item. The service is free to enroll in, but you must pay $100 for the state fee three months before the due date.

You can opt to do the filings yourself by unchecking this option in the optional items section.
Northwest Registered Agent offers a monthly VIP package as an alternative to the one-time payment. This includes their LLC filing service and their registered agent service. It also includes obtaining your Tax ID number (EIN) from the IRS.
The cost of this package will depend on your state fees. Instead of paying upfront for the services, the cost will be spread over twelve equal monthly payments. This monthly cost also includes state fees specific to your state.
You will be notified about the renewal of VIP service packages and any changes to the terms or cost of the package according to the company's terms.
Note:
The annual renewal can be canceled at any time. You cannot cancel every month. If you wish to cancel your service, you will need to do this.
If you select the monthly payment plan, Northwest Registered Agent does not allow you to choose any additional items.
Alternatives to Northwest Registered Agent
Alternatives to Northwest Registered Agent are:
Pricing of Northwest Registered Agents vs. Competitors
Pricing: Business Formation With One Year of Registered Agent Service 
| Service | Basic Plan | Next Level Up |
| --- | --- | --- |
| Northwest Registered Agent | $39 | $39 |
| Incfile | $0 | $199 |
| Swyft Filings | $199 | $299 |
| ZenBusiness | $99 | $299 |
Attorneys: $200 – $300+ an hour for just filing the paperwork
Online Legal Services like LegalZoom and Rocket Lawyer
LegalZoom $328

Rocket Lawyer $290 
Northwest Registered Agent cannot offer incorporation or formation services without their registered agent service.
LegalZoom vs. Northwest Registered Agent
 

LegalZoom

Northwest
Registered Agent

Notes

LLC Price
$149 + state fee
$39 + state fee
Northwest's filing fees cost $110 less

Registered Agent 
Price

$249
For the first year, it's free. Then, $125 per year
Many LegalZoom clients say that it is difficult to cancel.
Approval Time
30 Business days unless otherwise agreed
3-5 business days (in most states)
Northwest is, on average, three weeks quicker
Google Reviews
LegalZoom is rated 3.7 stars
Northwest gets 4.5 stars
Northwest receives better reviews
Customer Support

They can be challenging to reach.

 

Sometimes, they will try to sell you more products.

Industry experts who are willing to share their expertise.

 

Friendly.

 

No sales pitches.

Northwest provides better customer service.

 

And no "pushy" salespeople.

Data Privacy
LegalZoom sells customer data.
Northwest never sells customer data.
 
Does Northwest offer formation packages or bundles?
Northwest Registered Agent doesn't offer bundles or tiers like many competitors. You can choose between a customizable upfront payment or non-customizable VIP services, paid in twelve installments.
We recommend the upfront payment option if you want to set up your LLC at the best possible price.
Contrary to the other options, you can pay upfront and customize the services that you receive. You can opt out of the EIN application services, which we do not consider necessary. You can also add any other services that you may need.
The monthly VIP service costs more than the initial payment.
In Texas, for example, the cost of forming an LLC with an EIN application costs $310 if you pay up-front. However, for a total of $535, VIP service requires you to pay 12 $54 installments.
Optional add-ons
You can order additional services if you have paid upfront for the LLC creation service. These other products are available in addition to the ones listed below.
Annual compliance filing – Free to enroll, $100 before the due date

Tax ID/EIN: $50 with SSN or $200 without SSN

Elect to be treated like an S-Corp – $50

Premium mail forwarding – $40/month

Virtual Office – $49/month

Certificate of Good Standing – $50

$50  Certified copy of approval document Articles of Organization (or similar)

Apostille – $400

(Used to verify that a government document is valid in other countries.

Second phone number – $9/month

Corporate seals and book – $30 to 100

FMOC-3 filing – $125/year

(Required by trucking and transport companies

CFC 499-A registration $125/year (Required by telecommunications companies).
Canceling Northwest Agent Services and Refunds
The terms of service for Northwest Registered Agents state that you can cancel your monthly VIP Services at any time. You can cancel your account via your online dashboard.
You will need to pay the remaining months on your annual contract to cancel your monthly service.
You should also be aware that your monthly service will be renewed each year, and you must opt-out before the new term.
It may be difficult to cancel orders that have been paid upfront. You may not have enough time to cancel if you change your mind after filing your LLC.
Northwest Registered Agent suggests that you wait until you're sure if you want to file the LLC.
Refund policy for Northwest Registered Agents
You will be refunded your entire payment if you cancel your order to form an LLC or corporation. Northwest Registered Agent will refund the service fee prorated if they have already filed documents with the state. All state fees paid for your account are non-refundable.
If you cancel registered agent services within 90 days of signing up, you will receive a prorated refund. To request a refund, however, you will need a phone call.
Northwest Registered Agent will not refund any payments received for its VIP service package. These fees, once paid, are not refundable or creditable in any way, even if you cancel your VIP package.
Northwest Registered Agent Advantages
Continue reading to learn more about Northwest Registered Agents' strengths and main selling points.
1. Same-day filing
Northwest Registered Agent will file your LLC within one business day of receiving your order. Northwest Registered Agent is a good option if you want your LLC formed quickly.
You will need to wait for your state authorities to process the articles of organization, even though you can file the documents the same day. This process can take several business days, depending on where your LLC is formed. You may be able to expedite the process in some states for an additional fee.
2. Excellent customer reviews
Although Northwest Registered Agent does not have as many online reviews as its competitors, most reviews are positive.
Google, Yelp, and the Better Business Bureau have rated the company highly. Customers love the ease of service and the fast turnaround times. They also praise the friendliness and professionalism of the customer service staff.
A rating of 4.51/5.00 is also available on the BBB site.
3. Great customer support
Northwest Registered Agent is proud of its ability to provide prompt, competent, and hassle-free customer service through its in-house support team.
Northwest Registered Agent will respond to your inquiries by phone or email. You'll speak directly to one representative and not be made to wait or pass from rep to rep.
Any questions about business formation, or the specifics of your business formation, can be answered by a Northwest Registered Agent. Their team of Corporate Advisors is an expert in the construction and administration of business entities. They can assist you with your LLC filing.
There are many ways to reach Northwest Agents:
Online: Fill out the Contact Us form.
Telephone: They can be reached at 509-768-2249
Email: Send your message to support@northwestregisteredagent.com.
4. Clear communication and simple to use.
It's easy to form an LLC with Northwest Registered Agent. It is necessary to give basic information about your business. This includes the name you would like for your LLC, the address where it should be registered, the state it will be registered in, and whether or not members will manage it.
Northwest Registered Agent will handle everything after you have placed your order. If there are any missing details, you may be contacted by Northwest Registered Agent. Other than that, there is no need for you to do anything.
The company's website also has a wide variety of legal explanation articles. There will likely be an article that answers all your questions about the business formation process in simple language. I liked that.
Northwest Registered Agent, No Upselling Customer Review
Northwest Registered Agent is true to its slogan and won't actively try to sell you services you don't require.
5. Trustworthy and reliable service
Northwest Registered Agent has been involved in the LLC and registered agent industry for over two decades. Their track record of reliability is impressive, as seen in the many reviews.
They serve individuals and law firms that need LLCs filed for their clients. They can guarantee that their services are consistent by keeping their staff within their company.
6. Strong reputation for privacy protection
Northwest Registered Agent is proud of its commitment to privacy protection and strong reputation.
They have designed their business processes to safeguard your privacy and limit exposure to your data to the outside world, adhering to the slogan "Privacy By Default."
Their website states that their privacy commitment includes:
Use the company's information (e.g., When filing documents, use the company's information (e.g., address, IP address) instead.

They never give out your personal information to anyone.

Ensure that your IT infrastructure is secure and robust. An IT security team does this.

Personal information is restricted to employees only. You are not permitted to transfer personal information to anyone without your consent.

If you must fulfill your orders, they will not ask for information.
We appreciate that Northwest Registered Agent recognizes the importance of protecting sensitive data. This is something I don't see from any other competitors.
Northwest Registered Agent Disadvantages
We have listed areas that I feel Northwest Registered Agent could improve upon.
1. Call to request a refund
Northwest Registered Agent will require you to call them for a refund if you change your mind.
It's not a significant problem for most people.
Northwest's VIP Service is not refundable. I asked why and was informed that "we pay the state fees for our VIP service." It seems like a fair deal.
Northwest Registered Agent LLC Formation Services
Northwest Registered Agent is a specialist in the registration of corporations and LLCs. They make it easy and quick to form your business.
We have listed the essential services that Northwest Registered Agent provides for business formation.
Service for Business Formation
Included in VIP Package: $100
Northwest Registered Agent Business Formation Service
A limited liability company is the best way to begin a business. In the United States, LLCs are created at the state level through filing articles with the appropriate state authority.
Navigating the bureaucracies, state-specific rules, and how to navigate them can be difficult. Making a mistake could cost your company valuable time.
You can form an LLC on your own. Northwest Registered Agent can help you with all paperwork to smooth the formation process.
The local team of business experts will deal with all interactions with authorities in the state you are forming your LLC.
You can file your LLC online.
Before placing your order, you will need to answer questions about your future business. These include your preferred business name and how your limited liability business will be managed.
Northwest Registered Agent guarantees that they will start filing documents for your LLC the same day as your order is processed.
To form limited liability companies, all states have to pay a filing fee. The fee can vary from $40 to $500, depending on the state you file. At checkout, you will see the amount.
Once all necessary documents have been received, you will need to wait for the appropriate state authorities to process your LLC formation documents. The processing time will vary from one state to the next.
Note: You may be able to pay an extra fee for expedited filing if you require your LLC to be created as soon as possible. This can help reduce the processing time to as little as one business day. Unfortunately, this is not an option for all states.
Through your online account at Northwest Registered Agent's website, you can monitor and track your order as well as the progress of your LLC incorporation. After your file has been processed, the response paperwork will be sent to you by email.
Northwest Registered Agent Service
$125/year, or included in VIP Package
Northwest Registered Agent Registered Agent Service
Every state in the US requires corporations and limited liability companies to designate an agent as part of their formation. The registered agent is the point of contact for service of process. This includes legal notices such as court summons.
Failure to appoint registered agents can cause a company to lose its good standing and result in penalties.
The registered agent must reside in the state where your LLC is located. Registered agents' names and addresses will be made public and are open to everyone. To receive legal documents, they must be available during regular business hours.
You have the option to act as your registered agent or hire a professional service. If you have the following reasons, you may want to use a registered agent service:
You frequently travel and may not always visit the same address.

You are not a citizen of the United States.

Your business may be active in more than one state

Your name and address are not to be made public.
Northwest Registered Agent provides such a service, as the name implies. They will ensure that all of your important legal notices are received, and you will be promptly notified if they are.
They will receive your documents at one of their branches, then scan them digitally so that you have instant access.
Notice that the up-front and monthly payments at Northwest Registered Agent include a one-year term by default for their registered agent service.
Operating Agreement and other documents
Free of charge
Northwest Registered Agent Legal Documents & Forms
Upon the formation of your LLC, certain legal documents are required immediately. They include operating agreements and banking resolutions, among others. Northwest Registered Agent can help you create templates for such documents.
An operating agreement is a document that outlines the basic rules of how an LLC will operate and the rights it has. It could include:
How to manage the LLC

How ownership interests are divided between members

How are profits paid to members

What happens if one of the LLC members wants to leave?

…and many more important questions
Are operating agreements required? It all depends on where you form your LLC. Some states require that all LLCs have an operating agreement. Even if you don't have to have an operating agreement in your state, it is usually in your best interests.
Note: Operating agreements are required in California, Delaware, and Missouri, as well as New York. While you don't have to file an operating agreement with the state of California, you will need one if your LLC is formed there.
Northwest Registered Agent offers a free library with basic legal documents for LLCs. It contains templates for articles of organization, operating agreements, LLC member resolutions, and many other documents.
Northwest Registered Agent will provide you with a set of pre-filled documents that you can download from their site and use immediately.
These documents are not templates. I recommend you speak with a lawyer if you require customized documents.
Get a federal tax ID (EIN).
$50 for residents and $200 for non-residents
Northwest Registered Agent EIN Service
A majority of US-based businesses must have a federal tax ID number. Also known as employer identification (EIN), it is required for all employees. The IRS uses this number to track and identify business entities for tax purposes.
An EIN is your company's social insurance number.
An EIN has required if your business has employees or will pay excise tax. EINs may be required by law in your state or bank to open a bank account for your business.
For more information about the Employer Identification number, visit the IRS website.
EIN can be obtained by either filing the paperwork yourself or paying a fee to Northwest Registered Agent. It is best to do it yourself. Online, you can get an EIN in a matter of minutes through the IRS Website.
S-Corp Election
$50 for S-Corp Election
The IRS can treat both LLCs and Corporations as S-Corp. The IRS assigns a tax classification to S-Corp. An S-Corp classification can provide tax benefits when you pay out profits to your LLC.
Click here for more information about S-Corporations
Consult with an accountant to determine if being treated as an S-Corps makes business sense.
Northwest Registered Agent will handle all paperwork necessary to file an S-Corp Election with the IRS for a nominal fee.
While you are not required to do so immediately after forming an LLC, you have the option to treat your LLC as an S-Corp later.
Annual Compliance Filing for Business
$100, plus state filing fees
Northwest Registered Agent Annual Filing Service
Many businesses are required to file reports with the state authorities at least once per year.
These reports should usually include basic information about the LLC, such as its address and the names of its members or managers. This report is used to inform the governing authorities about businesses that are operating within their jurisdiction.
To avoid any penalties or other consequences, your annual report must be filed by the due date.
Some states have a set due date, while others require you to file your annual report by your LLC's anniversary date. You may not need to file the report in some states every two years.
For more information, I recommend that you contact your Secretary of State online and by telephone.
When filing your annual report, most states will require that you pay a fee. The fee is different for each state, but it is generally less than $100. This fee will be charged regardless of whether the LLC has made any revenue in the last year.
Failure to pay the fees on time could result in your LLC being dissolution. It is therefore essential to make sure that you file and pay your fee on time.
Northwest Registered Agent will file your annual paperwork on your behalf for $100 plus applicable state fees.
You are guaranteed an adequately prepared report for this price and that you will not miss the due date. Your card will be charged five working days after notification.
Virtual Office, Mail Forwarding, and VoIP
Virtual Office Service for Northwest Registered Agents
All correspondence and phone calls will be sent to your phone number or address. This is useful if your privacy is important to you. However, you can opt-out if you do not need them.
Verdict: Do I recommend Northwest Agent?
Yes!
Northwest Registered Agent has a track record of success that spans two decades. It makes it convenient and straightforward to create a new LLC online. Northwest Registered Agent will start the filing process for your LLC as soon as you submit the required information.
You can be sure that your business will continue to operate in good standing by using their annual business compliance service and registered agent.
Northwest Registered Agent may not be the cheapest of its competitors, but they make up for it by offering professional, knowledgeable staff and strong privacy and data security. Plus, they have several affordable payment options.
You can still compare Northwest Registered Agent to other options by visiting our reviews or our best LLC formation services page.
Frequently Asked Question
Is Northwest Registered Registered Agent legit?
Yes, Northwest Register Agent is legitimate. They are a family business that employs more than 200 people and have been in operation since 1998. They are located in Spokane Washington.
What does a Northwest Registered Agent do?
They can provide services for LLCs and corporations. Northwest Registered Agent will help you to form your LLC and act as your registered agent. They can also help with reporting requirements, assist businesses, and offer other services.
What is the value of Northwest Registered Agent?
Yes, Northwest Registered Agent is a good option. They have a proven track record of offering a reliable and professional LLC formation service.
How much does it cost for an LLC to be formed with Northwest Registered Agent?
It costs $225 plus state fees. For $100, you will need to form an LLC. However, Northwest Registered Agent provides a registered agent service for $125 per year.
What is Northwest Registered Agent?
Their primary products include registered agent service and LLC formation. You can get legal documents, such as operating agreements, free of charge. They can also help you to obtain an EIN and comply with reporting requirements.
Where is the Northwest Registered Agent located?
Spokane, Washington is where Northwest Registered Agent is located. You can reach them online at www.northernregisteredagent.com or by mail at Northwest Registered Agent LLC (522 W. Riverside Ave. Suite N, Spokane, WA 99201).
Is there a policy for refunds at Northwest Registered Agent?
Northwest Registered Agent has no general refund policy. They specifically state that VIP fees are non-refundable in their terms of service. You can cancel any service and receive a refund on a pro-rata scale for other pre-paid fees.
For whom is Northwest Registered Agent the most effective?
Northwest Registered Agent is a great choice for anyone who needs an online LLC creation service. They are a professional, well-established company that has many years of experience.
How do I cancel Northwest Registered Agents?
Through your account dashboard, you can cancel services at any moment. They also offer customer support.
How long does it take for a Northwest Registered Agent to issue an EIN?
In most cases, it doesn't take too long. The process may take up to six weeks if you don't have an Individual Taxpayer Identification Number or a Social Security Number.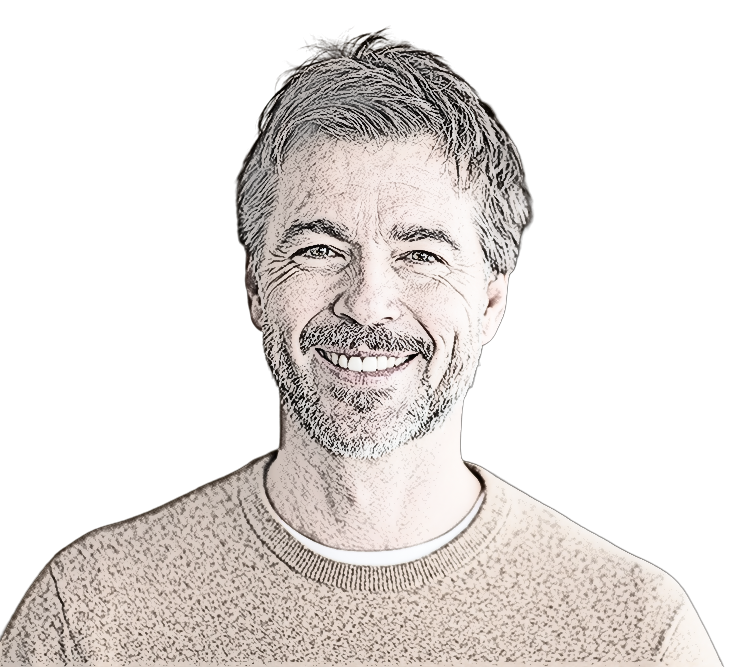 Brian Wilson is the content manager and founder of LLC Radar.
Brian grew up in North Texas, just outside of Dallas, and has a bachelor's degree in business journalism from Southern Methodist University. Since graduating from SMU, Brian has gained over 10 years of experience in business writing for several online publications.
Brian resides in Plano, Texas and he can be reached by email:   info@llcradar.com
Phone: 972-776-4050