LegalZoom vs. ZenBusiness: LLC Service Comparison
LegalZoom vs. ZenBusiness: Suppose you wonder which services to use for your formation. Both LegalZoom and ZenBusiness are two of the top online business formation services today.
I will compare ZenBusiness and LegalZoom today so you can shop the offerings of each online legal service provider and decide which one is best for you and your company.
Summary of my findings: Compared to LegalZoom, I think ZenBusiness is the best choice for anyone looking to start a business or needing reliable, affordable Registered Agent services. ZenBusiness has thousands of satisfied customers. They are known for their outstanding customer service, fast turnaround, and reasonable pricing.
LegalZoom vs. ZenBusiness Comparison Table 
LegalZoom 

ZenBusiness

Strong Brand Recognition and level of trust
Large market share of online formations
Ongoing legal services are Available
Very pricey services compared to all others. Probably the most expensive online formation service.

New kid on the block but already doing record volume of business.
Over 100,000 online formations in the past year!
Better online customer reviews on Trustpilot and Google Reviews.
Pricing is good
LegalZoom vs ZenBusiness: Our Findings
Testing Points

 Winner Results

Compare pricing and features to determine the overall value.
Brand Recognition, Reputation, and Trust
The quality of customer service was evaluated.
I tested their ordering process, as well as the ease of use.
Review the turnaround times to incorporate online.

ZenBusiness
LegalZoom
Tie
ZenBusiness
ZenBusiness
Summary of Findings
Overall Pricing and Features
ZenBusiness: The best thing about ZenBusiness is its incorporation service, which costs only $49. This is not only one of the most affordable prices for nationwide incorporation services but also includes registered agent service and an accounting assessment.
The $199 package adds several value features, including compliance monitoring, a federal tax ID (EIN), and a bank resolution template.
LegalZoom: LegalZoom has a vast customer base and a large advertising budget. This makes them incredibly popular. But that doesn't mean they offer a better service than their competitors. The cheapest package for incorporation is $0 and does not include any notable advanced features. For more information on LegalZoom alternatives for forming an LLC, visit our post on the best LegalZoom alternatives.
A registered agent is not included in any of their packages. They charge an annual variable fee of $249 to add it.
Results: Winner = ZenBusiness
ZenBusiness offers a higher value-per-dollar than LegalZoom. The $0 incorporation package is a decent value offered by both services. ZenBusiness's $99/year registration fee is significantly lower than LegalZoom's $249 yearly.
Brand Recognition, Reputation, and Trust 
ZenBusiness: ZenBusiness is a new business that has been in operation since 2015. They have served thousands of customers. They already have over 7800 Trustpilot reviews, which are primarily favorable.

LegalZoom: LegalZoom was founded in 1999. They have more customers than any other company, with over 4 million clients. Their customer reviews are not strong as they have an equal number of five-star and one-star reviews online.

Results: Winner = LegalZoom
Each company has a unique advantage in this area. ZenBusiness cannot compare LegalZoom's experience record, but ZenBusiness gets excellent customer reviews. LegalZoom is more mixed.

We'll give this category to ZenBusiness as we believe their feedback advantage is more significant than LegalZoom's experience edge. However, this depends on someone's preference based on their value on customer reviews vs. experience.
Customer Service
ZenBusiness: ZenBusiness customers can reach ZenBusiness by phone, email, or via the chat application found on their website. We have found their representatives to be friendly and helpful, and that we don't need to wait long for a reply.

LegalZoom: LegalZoom offers support via email and phone. We've used both options many times. Their emails are often just plain emails and don't address specifics. We've had to wait almost a week for a response from them before.
However, their phone support is very different. Their representatives are highly detailed in answering our questions and are always accessible.

Results: It's a tie!
We prefer ZenBusiness's support over LegalZoom's shorter wait times via chat/email. LegalZoom does have an advantage in terms of availability hours, so we will call this category a tie.
Ease of use
ZenBusiness: It is easy to fill out the order form. The instructions are clear and straightforward. ZenBusiness is easy to use. All you have to do to get started with ZenBusiness is select the package you would like to buy and provide some information about your company and yourself. However, a few third-party upsells and offers are scattered throughout the order form. This can make it a little distracting.

LegalZoom: LegalZoom's ordering process differs from that of most other companies. LegalZoom allows you to start by entering your data. After that, you will be guided through a series of expensive upsells (exceeding $1000) before finally being able to select your formation package. This process can lead to a higher-than-expected cost.

Results: Winner = ZenBusiness
This category has a substantial advantage for ZenBusiness. Both LegalZoom and other companies offer upsells. LegalZoom's ordering process is also strange. You pick your addons before selecting the package you want them added to.
Formation speed
ZenBusiness: ZenBusiness' turnaround times do not depend on the processing speed of each state but on which package you choose. Although they admit that turnaround times can vary by state, the average turnaround time for their Starter package is 3-4 weeks. The Pro package takes 1-2 weeks to complete, while their premium Premium plan takes 3-5 working days.

LegalZoom: LegalZoom structures its turnaround times in the same way ZenBusiness does. They estimate by package and not by the state. LegalZoom's most affordable packages take a minimum of 30 days (6 weeks) to complete, while the most expensive packages can be completed within 7-10 days.

Results: Winner = ZenBusiness
While we prefer companies to base their turnaround times on the state's processing speeds, they also structure turnarounds according to how much they spend on their platforms. ZenBusiness, with their top-tier and lowest-tier packages, has faster turnaround times than ZenBusiness.
In-Depth Analysis of LegalZoom and ZenBusiness
It doesn't matter if you are looking to start your own company or need ongoing legal services to your existing business. It's a good idea to have an easy-to-use place where you can find reliable and affordable online legal services for your business.
It can be challenging to form an LLC (LLC) if you do it yourself. Therefore, it is worth paying a small fee for a professional company to help you with the paperwork.
ZenBusiness and LegalZoom both offer services for company formation and ongoing services like Registered Agent services. This allows you to concentrate on the exciting aspects of your new business.
This comparison review will examine the services offered by each company, their reputation, customer service, pricing, and other factors to help you choose which one is best for your business.
What are the main differences between LegalZoom and ZenBusiness?
Pricing Plan Differences 
LegalZoom vs. ZenBusiness: Comparison Test
LegalZoom
Formation Plans

 ZenBusiness
Formation Plans

Economy: $0
Standard: $249
Gold Express: $299

Registered Agent Service $249/yr

Starter: $0
Pro Plan: $199
Premium: $299

Registered Agent Service $99/yr
ZenBusiness vs LegalZoom – ZenBusiness Review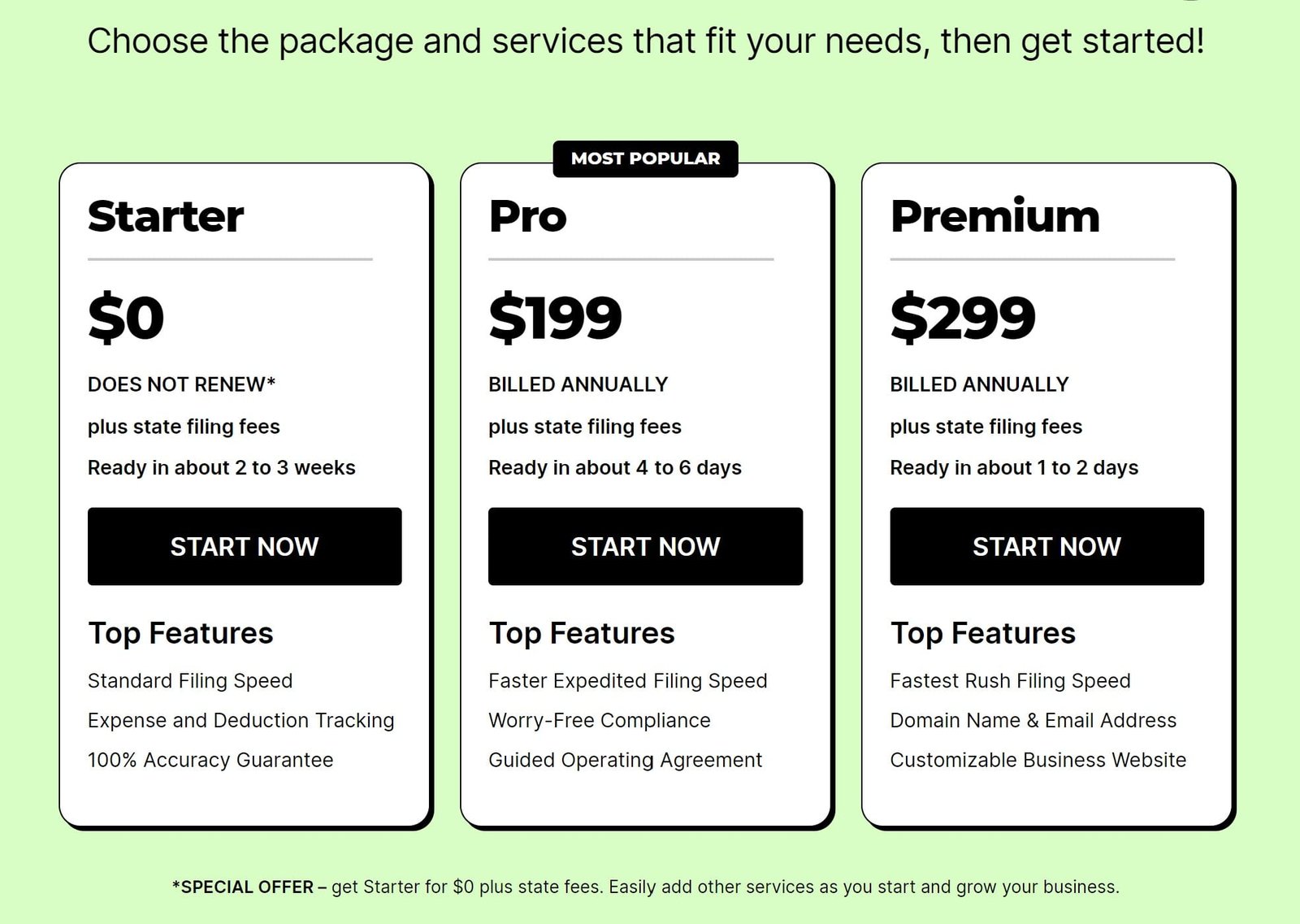 Noted ZenBusiness Feature: A Business Website
Simple but professional website builder with templates to customize
Website hosting
Domain name registration
Domain name privacy
Email address for business
ZenBusiness offers these core incorporation services but has also partnered with other companies they recommend to provide additional services that ZenBusiness can't provide. These include:
Establishment of a Business Bank Account
Bookkeeping and accounting on the go
Business insurance
---
ZenBusiness: How it Works
If you're ready to start your own business, there are two options available. There are two options: either you can choose one of ZenBusiness's pre-made business formation packages that include everything you need to launch your business, or you can create your own LLC (LLC) service from the variety of services they offer depending on your requirements.
After you've decided on the right package for your business, ZenBusiness LLC will send you a form with all the details (entity formation details) to gather the necessary information.
They will then gather all the necessary documents and file them with the state to formalize your business.
Although this process is usually quick and straightforward, there may be some delays due to backlogs with the state. You can pay an additional fee (above state fees) to expedite your application if this happens.
 ZenBusiness will send you your documents and legal forms paperwork. They will then upload them online to view them at any time from your online dashboard. Your business will become official once the state has approved them.
That's it.
ZenBusiness offers various services to help ensure that your business is always compliant after your company has been officially established.
What other services does ZenBusiness offer you?
Zenbusiness provides more than just company formation services. We also offer various other services to help you run your business smoothly.
Registered agent service is an excellent option for your business. Their Registered Agent service is a popular one, and it costs only $119/year. Although you can undoubtedly appoint your registered agent, the annual fee for this service is very affordable.
Your registered agent will accept all legal and professional documents on your behalf and upload them online so that you never miss any important mail. If your business is located at home, you won't need to share your personal information for business purposes.
You can also use a registered agent to ensure that your company never gets late filing penalties or fines. Your registered agent will make sure your business files all paperwork on time and is compliant with all requirements for your state.
ZenBusiness can provide you with an operating agreement. It is a crucial document that must be prepared when a company is formed. It outlines the rules and procedures for the business and identifies who owns it. Also, it explains what happens if an owner leaves.
Operating agreements also have the advantage of separating your assets and your business assets so that if something happens to the business, you won't be personally responsible.
ZenBusiness can help you get an EIN for business. The EIN is the 9-digit number assigned by the IRS to your company. It works as a social security number for your business. You can open a bank account for your business and hire and pay employees for your business.
Your company must be registered in New York state publishes an announcement in at least two newspapers every six weeks for 120 days.
The service is $200 plus publication fees. Although it may seem expensive, it can help you save money. They have relationships with many publications and find the lowest costs and fees. You can rest assured that everything will be published in time to comply with State requirements.
ZenBusiness partners with top business services to provide services they cannot offer. This includes opening a bank account for your business, providing accounting services, and offering business insurance.
ZenBusiness Customer Service and Reviews
ZenBusiness has an extensive FAQ section that quickly answers the most common questions. ZenBusiness' customer service team can help you if you don't find the answer you need in the FAQs.
You can reach them by phone or live chat between 8 am and 7 pm Central Time. You can contact them only during these hours by phone or email. Usually, they will respond within one business day.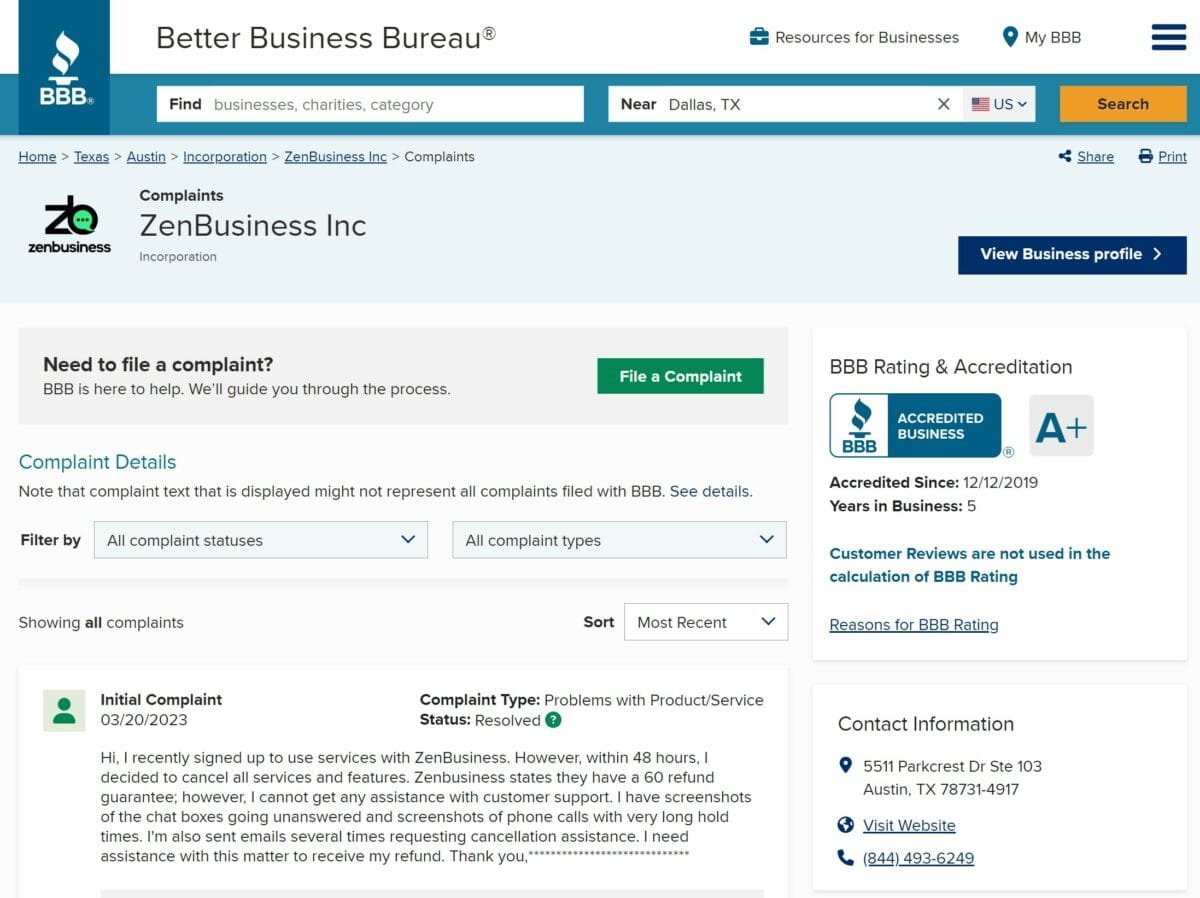 ZenBusiness scores are very high in customer satisfaction. It has over 7000 reviews on Trustpilot and an 'Excellent.' Customers praise the service for being affordable, easy to use, and fast. 
ZenBusiness Customer Reviews on Trustpilot
What is ZenBusiness's refund policy?
ZenBusiness offers a 100% refund guarantee. This includes all expenses incurred in the creation of the client. Once the state receives the payment, refunds are not possible.
ZenBusiness doesn't provide any timelines for the formation of a business. Although this isn't a significant problem, ZenBusiness offers a faster service for a fraction of the cost. They also offer to expedite your filing for $50-100 depending on how urgent you need it to be done.
ZenBusiness Pricing
ZenBusines offers three distinct packages for business formation.
The Starter package is available for $0/year (plus state fees). If you wish to continue using the registered agent service, the renewal fee will be $99/year.
The preparation and filing of your LLC
Operating agreement template
Company name availability check 
Phone and email support
Registered agent is an add-on for an extra $99/yr
The plan comes with a standard filing speed of 2 to 3 weeks. However, you can choose to buy 'expedited filing speed' for $50 or 'rush filing speed' for $100.
The Pro package is $199 per annum and is charged annually. This package includes everything in the Starter package as well as
Expedited filing speed
Banking resolution
Employer ID number
The 'Premium package' costs $299 annually and is billed annually. The premium plan package includes all the Pro and Starter plans, plus the 'rush filing speed' and a business website, domain name privacy, business email address, and domain name privacy.
ZenBusiness vs LegalZoom – LegalZoom Review
LegalZoom, an online legal service provider, offers affordable legal services to small businesses (LLC formation services) and personal use.
LegalZoom is an excellent option for entrepreneurs and small businesses that cannot afford to pay the high fees of a law firm or private lawyer.
They have an excellent reputation and great customer reviews. To date, they have launched more than 4 million businesses worldwide.
LegalZoom's Main Incorporation Services
Companies Formation
Corporate filings and changes
Business Compliance
Business names
Trademark, Patent, & Copyright
Real Estate
Taxes, Business Licenses, and Permits
Legal forms and agreements
Register Agent
LegalZoom offers a variety of business services in addition to personal legal services such as:
Estate Planning, Divorce services, real estate, finance immigration, and work-related accidents and injuries
LegalZoom also offers the ability to provide an attorney to help you with business and personal matters. LegalZoom offers flexible services like contract drafting, international trademark registration, website terms and condition, and any other services that you might need.
LegalZoom Incorporations 
Everything can be done online, and the team of experts will guide you through each step so you are confident that everything was done correctly.
After indicating the state where you would like to register your company, you can check if your business name has already been registered. LegalZoom will automatically check and confirm if your business name is available.
You have the option to add additional services to your packages, such as the registered agent service or any other legal services that you might need. After you've chosen the package that is best for you, confirm your order and pay online.
After you've paid for your package, LegalZoom then personally reviews your documents before they are sent off to the state.
Your business will be officially registered after filing your documents with the state. You will then receive your documents. Remember that processing times can vary depending upon the state where you're registering.
What other services does LegalZoom offer?
LegalZoom provides a wide range of legal services that you can use for your personal and business needs. You can also pay individually as you need them.
The registered agent service can be added to any company formation package. The cost of this service is $249 per year. It gives you the security and comfort of knowing that your personal information will not be used for business purposes.
You will also be able to file on time, which will ensure that your business is not subject to any penalties.
LegalZoom can help you obtain an EIN for your business to open a bank account and hire employees. An EIN protects you, the business owner, from using your social security number for business banking purposes.
LegalZoom can help you set up an operating agreement. They also file annual reports, trademarks, and other corporate filings.
LegalZoom also offers prepaid plans that can be used for legal advice. Prepaid plans allow you to access an attorney at any time for a fixed monthly fee. Small businesses can access an attorney to help them with business matters, such as copyrights, trademarks, and contracts.
The 'legal advantage' program allows you to access personal lawyers for legal advice whenever you need it. This includes matters such as employment, family, and estate planning.
LegalZoom Customer Service & Reviews
The LegalZoom customer support team can be reached by phone from 5 am to 7 pm Monday through Friday and Saturday between 7 am and 4 pm on Saturdays.
LegalZoom's customer reviews are not great, unfortunately. They are rated "A" by the Better Business Bureau, 
The LegalZoom Trustpilot reviews improved dramatically in 2022. 
LegalZoom Trustpilot Reviews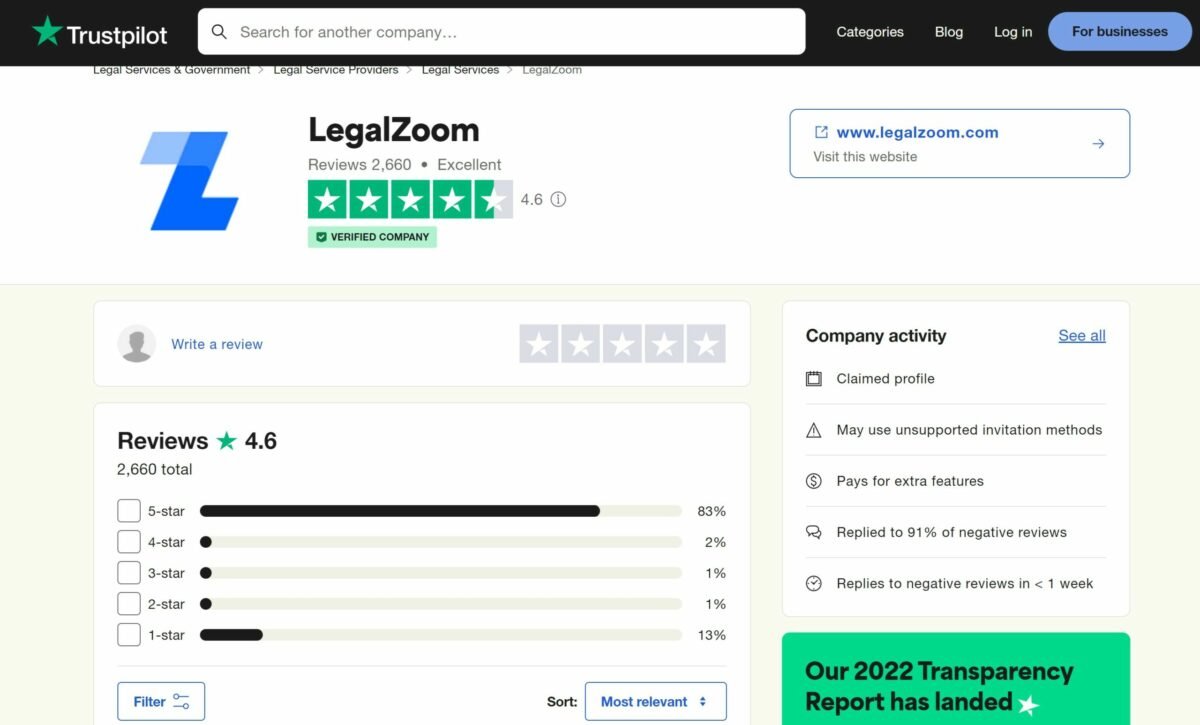 LegalZoom Pricing
LegalZoom offers three types of incorporation packages: Express Gold, Standard, or Economy.
The Economy package is $79 plus state filing fees. This package includes your business name, state filing fees, articles of organization, LLC formation following step guide, personal review of your order, lifetime customer support, and financial account authorization.
Your state fees will be added to the $329 price for the Standard package. The Standard package includes everything in the Economy package plus 20 personalized certificates of company membership, a deluxe organizer with your company name embossed, and LegalZoom VIP processing for fast turnaround.
LegalZoom Registered Agent Service: $249/yr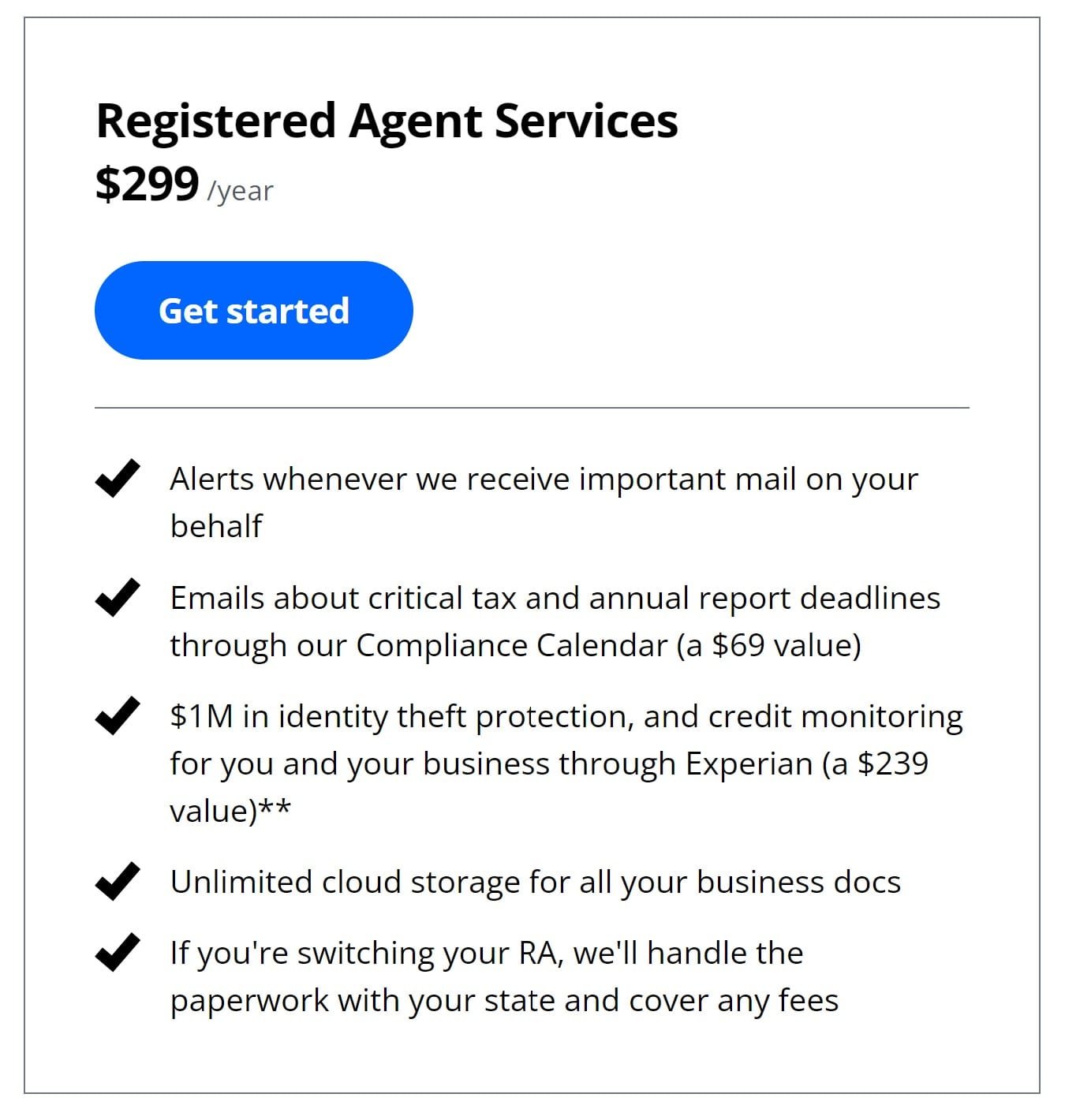 The Express Gold package includes all of the Economy and Standard packages and rush processing with your state (reducing turnaround time to approximately 7-10 days) and express shipping.

Prepaid attorney packages are also available starting at $31.25 per month. This includes 30-minute consultations with an experienced attorney regarding new legal issues, contract and document reviews, annual business evaluations, and more.
Comparing LegalZoom and ZenBusiness: Which one is better?
Our Verdict: In our opinion, ZenBusiness is the best choice for anyone looking to start a business or needs reliable, affordable registered agent services. ZenBusiness has thousands of satisfied customers. They are known for their outstanding customer service, fast turnarounds, and affordable pricing.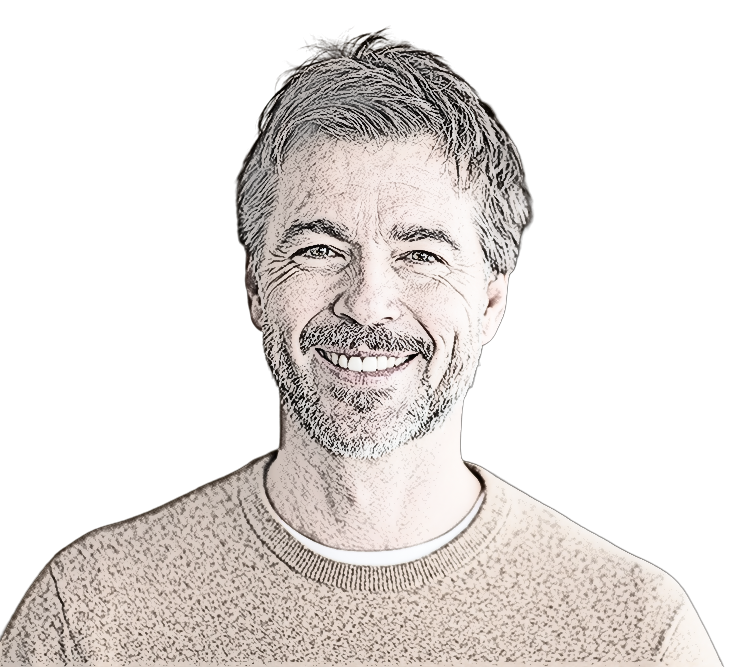 Brian Wilson is the content manager and founder of LLC Radar.
Brian grew up in North Texas, just outside of Dallas, and has a bachelor's degree in business journalism from Southern Methodist University. Since graduating from SMU, Brian has gained over 10 years of experience in business writing for several online publications.
Brian resides in Plano, Texas and he can be reached by email:   info@llcradar.com
Phone: 972-776-4050