Florida Business Name Search: Before you file your paperwork, you must conduct a thorough search to verify the availability of LLC names in Florida. This can be done at the Florida Division of Corporations website.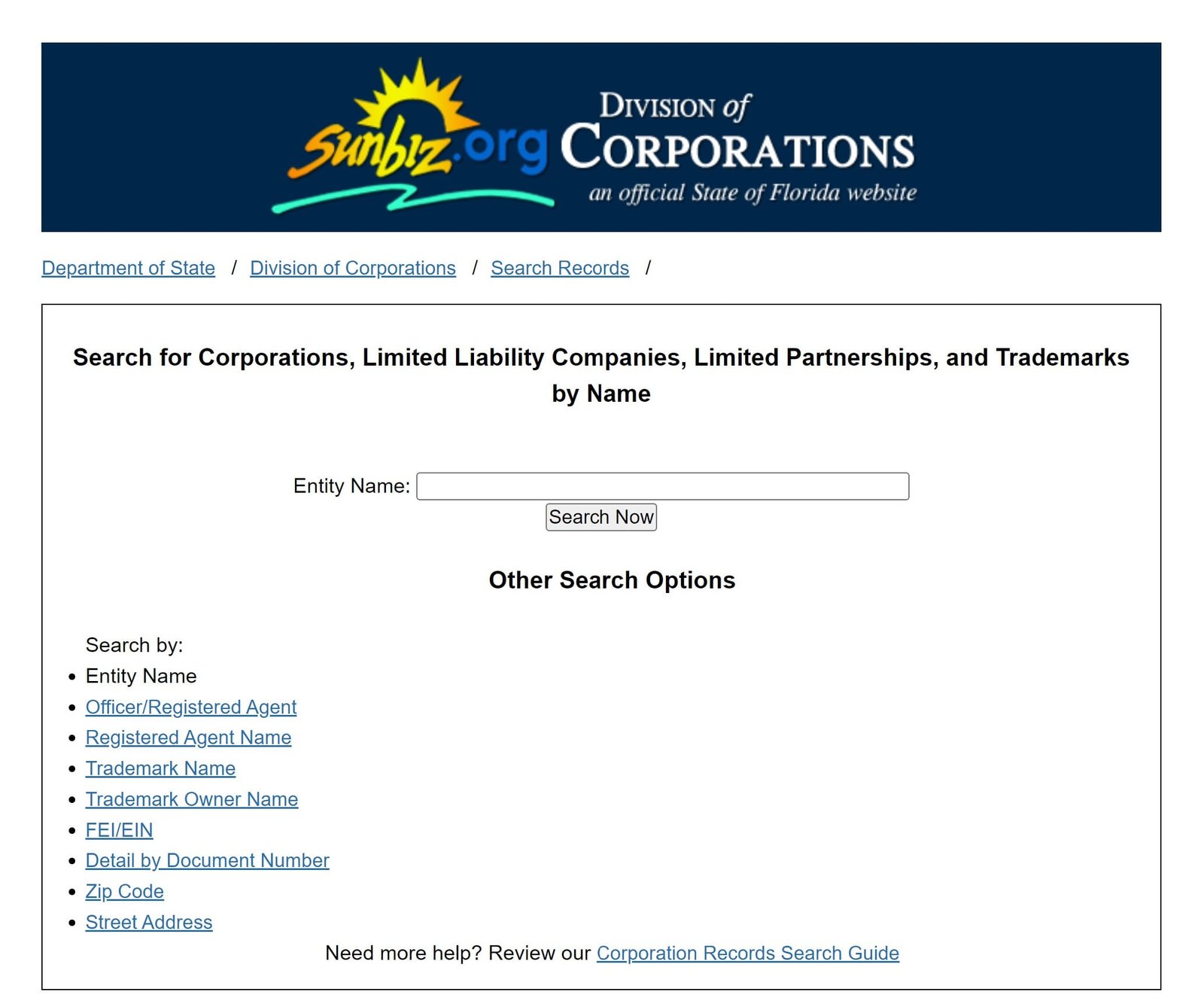 Florida LLC Name Search Guidelines
The first step in forming an LLC in Florida is to choose your name. The name of your LLC must be unique and meet certain criteria.
You can search the Florida Division of Corporations website using:
The name of the entity
The name of the officer
The registered agent is named
The name of the partner
The FEI/EIN is the federal employer identification number.
The document number
You can complete this search for free.
Florida Business Name Database Search
For a start, go to the page "Entity Name Search".
Enter your desired name in the search box. Don't worry about capitalization. Make sure to include at least the first few words of your name in the search box. This will allow you to search for all names similar to yours. To make a more detailed search, you can input just part of the first letter.
If you want to call your business Printing for You, then simply type "print" in its place.
Click "Search Now" to view all Florida-based businesses. This will allow you to determine if your desired name is available. You can file the necessary paperwork with the state if you're unsure. You will be notified if your name is similar to that of another business.
This is why this step must be completed before you invest in any domains or marketing materials.
Florida Entity Name Database Search: Search by Name
You can search by potential names if you want to do so. This search is for all general partnerships and limited liability businesses, as well as all other types of entities. You can choose to enter your full name or a portion of it.
Click on similar entities to learn more. This page will allow you to view information like the EIN of your LLC and the principal address. You can also access annual reports. You also have the option to search by officer/partner/registered agent name or by a federal employer identification number.
Florida LLC Name Requirements
When forming an LLC you must include "limited liability", or "LLC" within the name. You can also use "L.L.C." You cannot use the abbreviations "corporation" and "incorporated" as you are not forming a corporation. Your name must be distinct — grammar differences do not count.
Search Status for Entity Names
If you find names that are "active", they may not be available for your use. The name might not be available even if the company's status reads "INACT/UA". Sometimes, companies may be marked as inactive due to not being in good standing. They may not have filed an annual report. These names generally become available within one year.
Same applies to "inactive" businesses. The company may have been dissolved by its owners, but this does not necessarily mean that the name can be used. These two statuses may also be available:
"NAME HS" – This indicates that a company has changed its name. Their original name may or not be available.
"CROSSRF" – This is an example of a cross-reference name that may not be accessible for use.
Florida: Setting up a DBA
Search the Fictitious name database before you file a DBA (or "doing business under"). You can register if the name you are interested is available. Florida offers an online registration for fictitious names. Before you register, please ensure you are familiar with all the laws in Florida. contains all the general information.
The DBA will remain valid for five year after it is registered. You can apply for renewal after the DBA expires.