How to Conduct a Business Search in California
California Business Name Search: A business name search is the first step in forming an LLC in California or a corporation there. To determine if the name you are interested in is available, this search will check all registered businesses within the state.
Like all other states, California requires that each LLC or corporation registered within the state has a unique business name. Before you start your LLC or Corporation, conduct a search for business entities to confirm that the name is not already registered with the California Secretary-of-State. California business name searches are free.
Business Entity Search
Step #1: Visit California's bizfile Online Page
Visit California's new bizfile Online system for Business Entities and Uniform Commercial Code is now available.
https://bizfileonline.sos.ca.gov/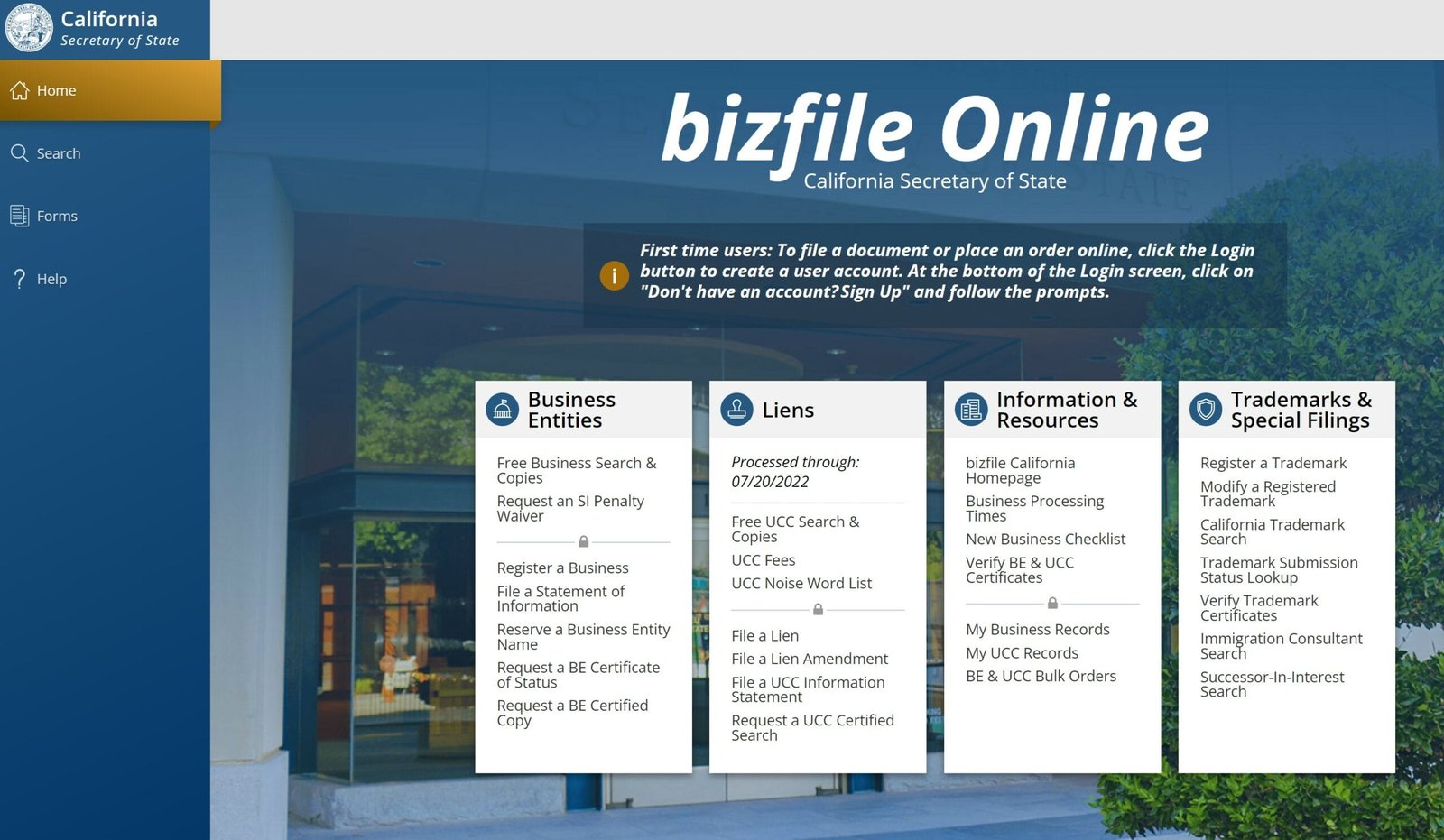 ---
Visit the California business name search page
https://bizfileonline.sos.ca.gov/search/business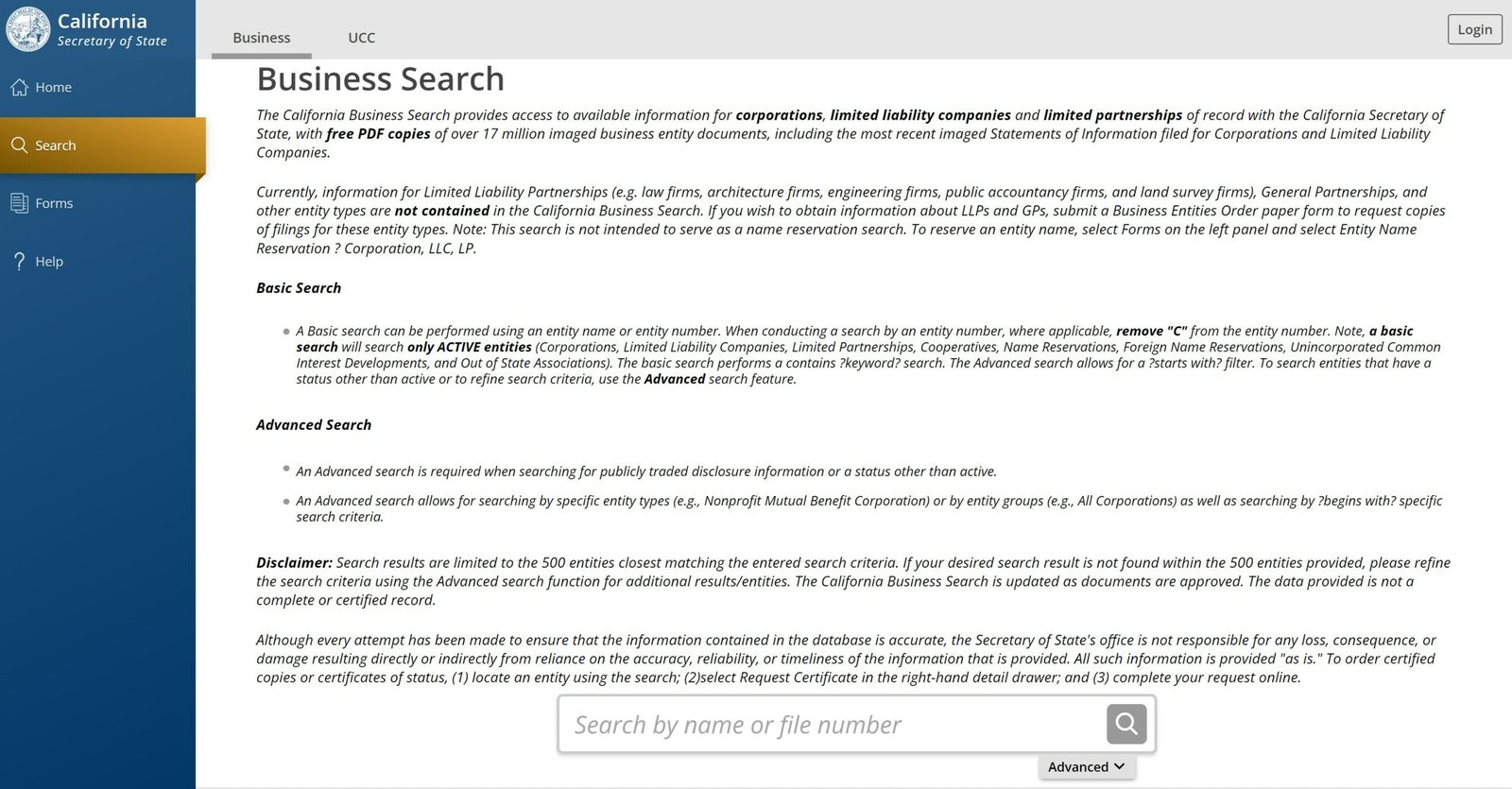 To check the availability of your chosen name, you can use the California Entity Search before you submit your name reservation request. Select the "Search Type" option to perform the best search. Next, type the name you wish to use. To ensure that you find all similar names, you can search only the first two words of your business name if it is more than one word.
To avoid rejection, make sure you do a thorough search of your documents before you submit them.
Follow the California naming guidelines:

Your California entity name must contain the phrase "limited liability company" or one of its abbreviations, L.L.C. or L.L.C. ).
Your name cannot contain words that could cause confusion between your LLC and a government agency (FBI or Treasury, State Department, etc.). ).
Restricted words (e.g. Bank, Attorney, and University may need additional paperwork, as well as the participation of a licensed individual such as a doctor or lawyer to your LLC.
You can find more about Califonia's rules and regulations at California's Code of Regulations
Step #3 Reserve Your California Entity Name (Optional)
From California's bizfile Online website,
Online processing fee: $10. Upon approval, a name can be reserved for a period of 60 days. For faster service, name reservations can be submitted online through our enhanced online services at bizfileOnline.sos.ca.gov.

It is not neccessary to apply for a name reservation if you are concurrently filing a California business entity formation or registration.

California Business Name Reservation Page
https://www.sos.ca.gov/business-programs/business-entities/name-reservations
Additional Search for Name Availability
To find out if your desired California business name is available, you'll need to complete an inquiry letter .
In order to process the name availability letter, there will be several pieces of information. These details include:
The name of the person who requested the determination.
If possible, the name of the business that is requesting the determination.
The name, address, phone number and fax number for the person who is requesting the determination.
The proposed business structure classification (ex. corporation, etc. ).
The name proposed, as well as the second and third options.
You will need to complete the form and send it to California Secretary of State. The address of the California Secretary of State is:
1500 11th Street, 3rd FloorSacramento, CA 95814
After you have sent the letter, you must wait for confirmation from the Secretary of State.
It is important not to send an inquiry letter to Secretary of State without first looking over and following California's procedures and naming rules for LLCs.
California's rules for LLC name are as per Section 17701.08 of California Code of Corporations.
A variant of LLC must be added to the company's name. There are three permissible variants: "LLC", L.L.C., "Limited Liability Company", and "Limited Liability Company". Liability Co., or "Ltd. Liability Company
Ex. bank, corporation, trustee, trust, incorporated, inc., etc. ).
The proposed name cannot give the impression that an LLC is selling insurance or taking on risk for insurance purposes. It cannot have a name that includes the words "insurer", insurance company, or any other words that could give this impression.
Once you have determined that the name is available in California, using a search engine and inquiry letter, you can then reserve it. It will be reserved for 60 days after it is confirmed.
After determining your company's name and reserving it, the next step is to start the incorporation process. You will need documents like articles for incorporation.
Your name will not become permanent and confirmed until your business submits its articles of incorporation.
Before you start your California business name search, and it is confirmed upon company formation, you must ensure that no large expenses are dependent on this name. signs, stationary, etc. These may prove to be ineffective later.
Search by Name
You can search for California business names online through the Secretary Of State's website instead of the inquiry letter.
To search by name, first visit the Secretary of State's website for name searches. Next, choose the type of business entity you want to conduct a name search. Next, enter the name that you wish to search. Finally, click "Search."
The search will end and you will see a list of entities that may be similar to the name you entered. You will see the results with the name of the entity, as well as the California registration number, the date they filed it, current business status and information about the registered agent who received service of process.
Click the name of the business to view more information. Clicking the name will open a new page with all details about the business.
These are the details that will appear on the results page of the business:
The business name.
The registration number of the business.
The date that the business was registered.
Current status.
The jurisdiction of the business.
Their address.
The registered agent.
Address of the registered agent.
To ensure that your search results are accurate, it is important to not include punctuation after the terms. If the name or business you are looking for has punctuation after the initials or periods, don't include these punctuation marks in your search. Instead, put your initials together and leave no spaces.
If the business name that you are looking for is structured such that there are initials followed by a period and then a space, you can delete the periods from the name, but not the spaces.
Name search results will be affected by the way you enter spaces, plurals, or punctuation. For example, if you search for "X Y Z Business", you must keep the spaces in your name search to get the correct results. You will not find the correct results if you search for "XYZ Business", instead.
It is important to use plurals in order to retrieve the results. To retrieve the correct search results, enter "LMN Productions" instead of a plural modified term like "LMN Productions".
Because of their impact on your search for your name, be careful about how plurals, punctuation and spacing are used.
Search by Entity number (8 Digits).
To search for businesses that have a registered number, you will need to first visit the Secretary of State's website and enter the registration number. The registration number should have eight digits and begin with the letter "C". Click on search.
The results will be based on your inputted registration number. Click the business name to view more information about this entity number.
Copies of documents, certificates, and status reports
You might want to get certain legal documents or certificates after you have completed your name search.
You might be interested in the following documents:
Status Certificate
Certificate of all documents filed
No Record Certificate
The certificate of status certifies that the LLC is in good standing at the moment. The Secretary of State does not have any records about the business that is being requested for the No Record Certificate.
There are also other certified/uncertified documents you might desire, which cover:
Formation
Register
Amendment
Termination
Information
You can also get reports about a business's status. These include its entire name, registration number, current status, current address, and jurisdiction.
To request and receive various documents, reports and certificates, you need to contact Sacramento Office of the California Secretary Of State. It can be requested by mail or in person.
You can submit various documents requests using a variety procedural instructions. These instructions can be found on the request form, as well as the fees.
Application for a DBA in LA
Online, by mail or in person, you can search for non-current business names. To search for business names, RR/CC does not allow phone queries.
You can search online for fictitious business names to find out if they are currently being used. There is no cost for the in-person search.
You can pay $2 per business name or company if you want certified results from companies you search for.
A branch office search will not yield the name of the business, document number and filing date. You can request more information at the Norwalk central offices in person or by mail.

The LAX Courthouse allows you to do name searches and file in person. It can be found at:

11701 S. Cienega Boulevard
Floor 6
Los Angeles, CA 90045

Business can be conducted there between 8:30 AM and 4:00 PM on business days.

44509 16th Street West
Suite #101
Lancaster, CA 93534

It is available for filings and searches during normal business hours between 8:30 AM and 4:00 PM. Van Nuys is also available for in-person business during these hours. It can be found at:

14340 W. Sylvan Street
Van Nuys (CA 91401)

You can also conduct business in person at the Norwalk Main Office between 8:30 and 5:45 pm.

12400 Imperial Highway
Room 1201
Norwalk, CA 90650
Frequently Asked Questions
Is a California license required for a business entity?
California permits and licenses are required for most businesses. You can search CalGold to find out if your business requires one. You can also check out our guide to obtaining a California business license.
When I create an LLC in California, do I need to file a DBA?
No. No. No DBA is required if your LLC operates under its LLC's name.
A DBA is required if the LLC wants to operate under a different name. To open Joe's Coffee Stand under the name Joe's Ground Coffee LLC, it would need to file a DBA.
Our 2023 List of the Best LLC Services for Any State
If you need to form a limited liability company in any of the 50 states, visit our page where we list
the 12 best LLC formation services for 2023
. Any of these top services are good choices but we continue to recommend ZenBusiness, Northwest Registered Agent, and Incfile.
References