Delaware Business Name Search: All businesses must complete a Delaware Business Name Search before forming a Delaware LLC.
Below, we'll show how to check the availability of LLC names in our Delaware Secretary of State Business Search guide.
Delaware Business Name Guidelines
Before you begin your search for a business name, we recommend that your business name meet the guidelines.
The first step to starting a Delaware LLC is choosing a company name. You should choose a name that is both compliant with Delaware's naming requirements and that clients can easily find.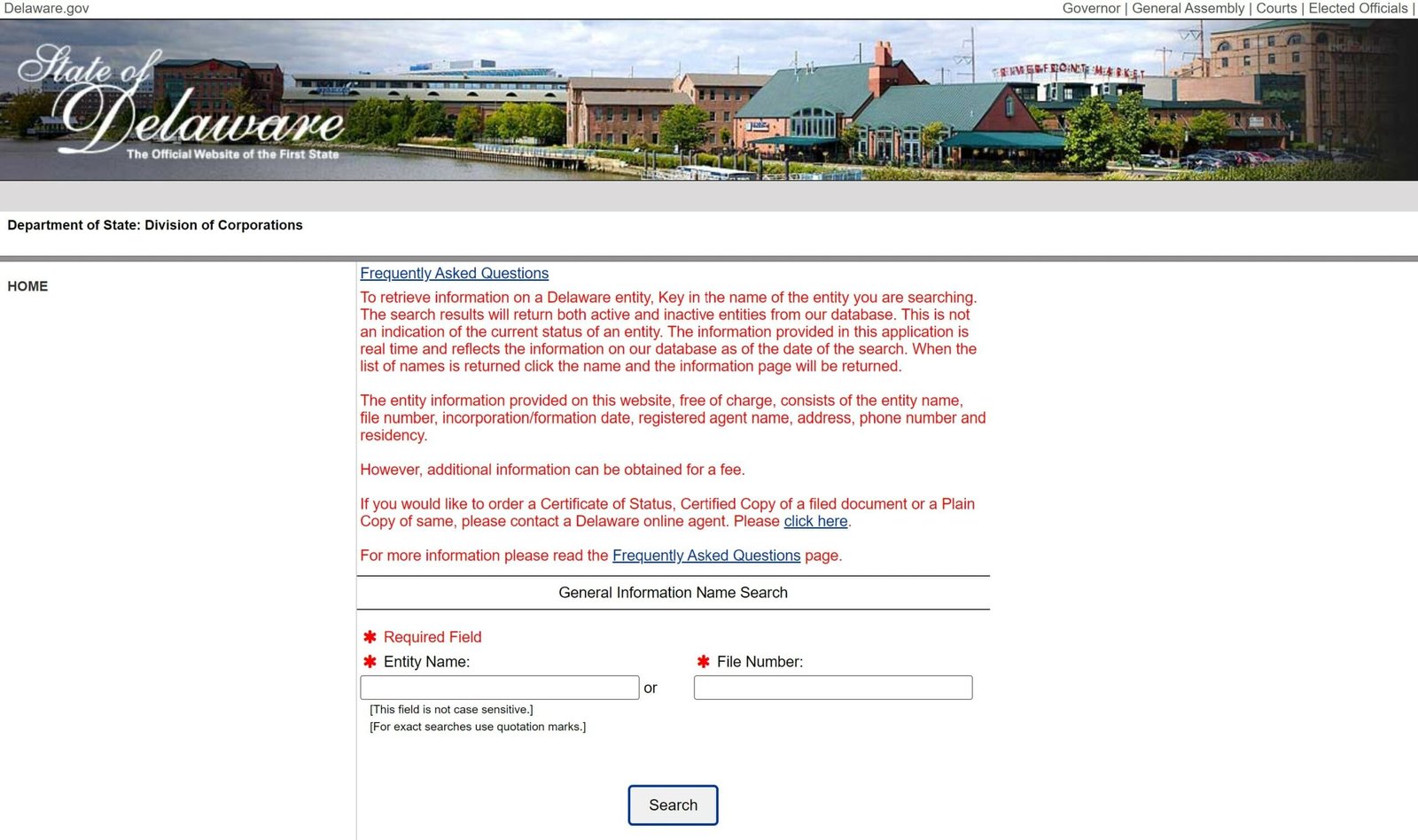 Follow these business entity naming guidelines:

Your name must contain the phrase "limited liability company" or one its abbreviations (LLC, L.L.C. ).
Your name must not contain words. This could cause confusion between your Delaware LLC and a government agency (FBI or Treasury, State Department, etc.). ).
Restricted words (e.g. Bank, Attorney, and University may need additional paperwork, as well as the participation of a licensed individual such a doctor or lawyer to your Delaware LLC.
Step #1: Do a Delaware business name search
To check whether your entity name is available, use the Delaware Secretary of State Business Entity Search before you submit your name reservation request. For the best search results, enter the name you wish to use. This will return all entities with the same or similar name.
You can search for just the first two words of your business name to find all similar names.
Step #2: Find Available Domain Names
Another important consideration when choosing a business name is whether your desired web domain is available. It is crucial to have a URL that matches your business name. Even though it seems small, this can make a huge difference in how potential customers find your business.
Searching online for your desired URL using your preferred domain registry, such as GoDaddy is the best way to find out if it is available.
Step #3: Reserve Your Delaware Business Entity Name
The Delaware Department of State's Section of Corporations handles all questions or requests regarding LLC naming. You can reserve business names for up to 120 days.
You must submit an application online or by post to reserve a business name. You will need to pay a fee for reserving your name. You must make checks payable to the "Secretary for State".
Why is Delaware Popular for Incorporating, and What are the Benefits of Incorporating in Delaware?
Delaware is known around the globe as being the most business-friendly state.
Delaware is home to more than 65 percent of Fortune 500 companies and more than half the U.S. publicly traded companies. More startups are also incorporated in Delaware every single day.
The Delaware Court of Chancery, the oldest American business court, uses judges rather than juries, which speeds up legal proceedings significantly. It also maintains the most up-to-date and advanced case law that corporate lawyers in Delaware can rely on, which decreases liability and litigation between Delaware corporations and LLCs.
Incomparable tax savings are also available to Delaware companies. Delaware corporations doing business outside of Delaware are exempt from state income taxes. There is no inheritance tax on stock that is not owned by Delaware residents. There is no state sales tax on tangible personal property. Shares of stock owned abroad are exempt from Delaware taxes.
Additionally, Delaware corporations that are not located in Delaware don't need to obtain a Delaware business license.
It is no surprise that Delaware ranks high as a state for corporate friendliness. No other American state has a strong, experienced, or respected corporate court system like Delaware's Court of Chancery.
Incomparable privacy is offered to Delaware LLC and corporation owners. You can file your Delaware company without listing names. This protects owners' identities and privacy.
The names and addresses of Delaware LLC owners are not public records. Only two situations would require a Delaware Registered Agent to disclose this information: if there is a legal proceeding or at the request of law enforcement.
While Delaware is attractive for incorporations, many online business formation services recommend forming a new business entity in the state where the business is located.