Michigan Business Name Search:
https://cofs.lara.state.mi.us/SearchApi/Search/Search
Michigan LLC name search is one step to starting an LLC in Michigan.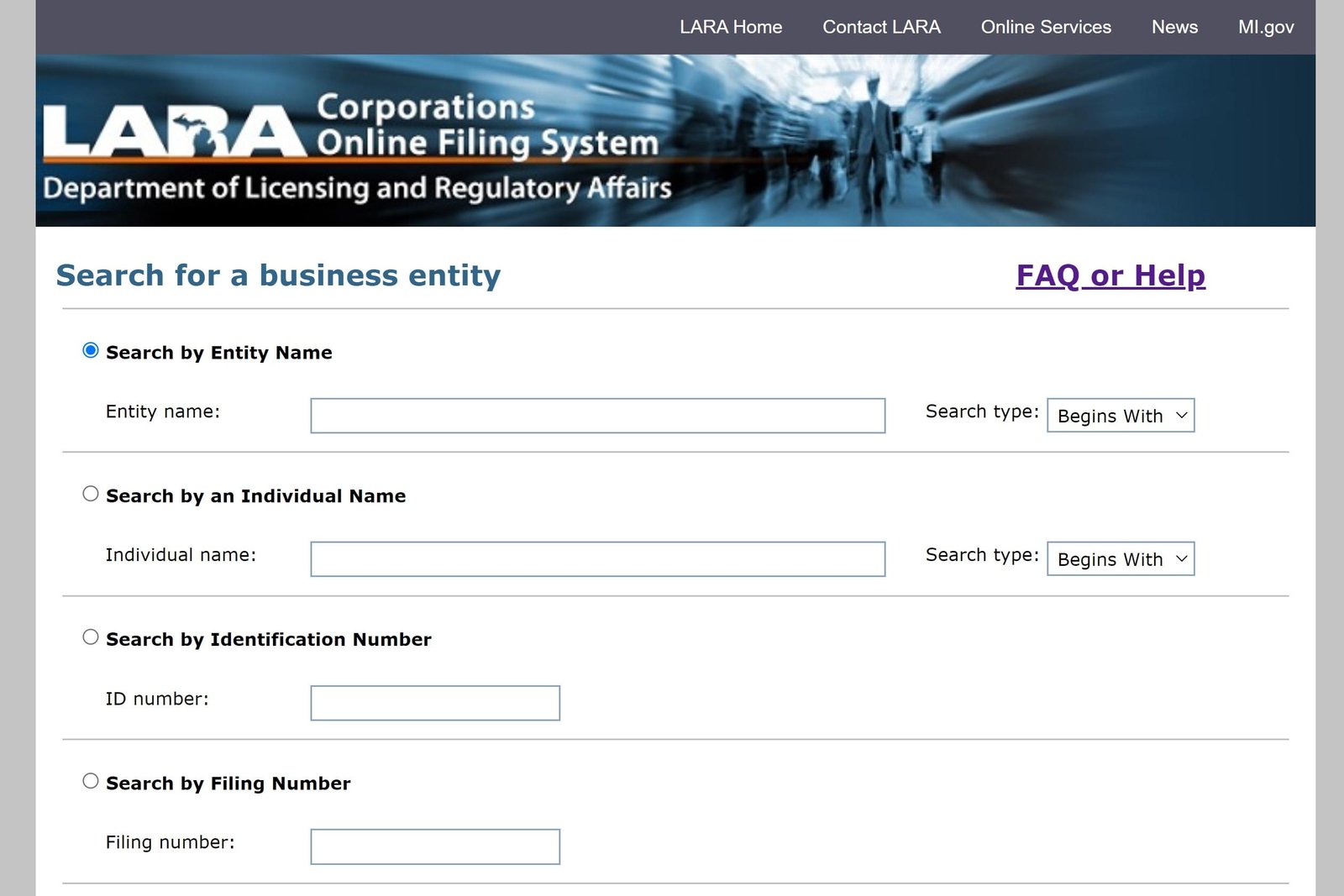 Michigan Reference Links
Michigan LLC Act: Section 450.4204
Michigan LLC Act: Section 450.4205
Michigan LLC Act: Section 450.4206
Michigan Secretary of State: Restricted words
Michigan Secretary of State: Reserving a name
Michigan Secretary of State: Entrepreneurs Guide
Michigan Secretary of State: Reserve a Name Form
Michigan Secretary of State: Business Entity Search FAQ
Michigan Secretary of State: Naming a Limited Liability Company
Michigan LLC Name Guidelines
When you file for an LLC in Michigan, it is important to choose a name. There are many rules in Michigan regarding names. To get a feel for the regulations that you will need to follow when naming your LLC, you can search the Michigan Department of Licensing and Regulatory Affairs database (LARA). These are the most important rules to remember:
Your LLC name must contain the words limited liability company or L.L.C.
Your LLC name cannot be used to refer to any other legal entities. Avoid words such as "Incorporated," or "Corporation" or any abbreviations like "Inc."
Your LLC name must be distinct from other LLCs or corporations.
Without obtaining permissions or licenses, the name of your LLC can't be used to refer to certain services, such as attorneys, medical practices, banks, etc. These license requirements must be met in order to create a Professional LLC (PLLC).
You only need to pay a small fee to reserve a name in an LLC for six months.
Naming a Limited Liability Company in Michigan
You must think carefully about how you name your LLC.
Names should convey the purpose of your business. Plumbing should be included in your business name if you are a plumber. A second strategy is to emphasize the high quality of your company. Your name must be easy to remember and pronounce. If your customers attempt to look you up online, they will be able find you.
These are not the things your last name conveys. If it is difficult to spell, you shouldn't use it. Quality 24-Hour Plumbing will be remembered by more people than a names like Sztruch and Sons.
Business Entity Name Search in Michigan
Sometimes, a name is already registered by another company. You can take steps to ensure the name is not already registered. These steps will help you find a company with the name you want.
Enter the name of the company to search for the identification number. This will give you the best search results.
Search for your ID number and business details to find an active entry.
This data can be used to verify that the business remains in operation and determine what filings were made by it.
You can search Michigan's LARA database for business entities. You should follow these steps if you discover that the name you wish to use is already registered. You may still be allowed to use the name even if the business has ended or no longer exists. This is a complex issue that can be helped by a qualified attorney. Sometimes the owner might be willing to sell the name.
Search the United States Patent and Trademark Office Database
When naming their company, a trademark is something that many people forget to consider. Although searching the Michigan LARA database may give you enough information to determine if the name you want is in use, it's not sufficient to search for trademarked names. Your business name must not be identical or substantially the same as an existing trademark or service mark.
After becoming successful, many companies find themselves in a difficult position when they discover that their company name infringes on another's trademark. To ensure your name is not infringing on an already used name, search the United States Patent and Trademark Office database for trademarks and service marks. To ensure that your search results are organized and accurate, you may need to hire a qualified patent/trademark researcher.
Steps to create an LLC in Michigan
After you have chosen a name and made sure it is available, you need to take a few important steps before starting your business. These are the steps:
Filling out articles of organization using the LARA.
An operating agreement is written.
If the LLC has more than one member, you will need an EIN (Employer Identification number).
Selecting a registered agent.
Michigan LLC Articles of Organization
An LLC article of organization should include basic information such as the name and purpose of the business. The main address of the LLC's registered agent must also be included. Before filing the articles of organization, you will need to make certain decisions, such as how the LLC will operate and the intended duration. These details will also need to be included in the articles.
After you have completed your articles of organization, it is time to file them and pay $50. You can do this online using the LARA Corporations Online Filing System.
The Michigan LLC Act
Thanks to the Michigan LLC Act, it is easy to set up and maintain an LLC within Michigan. Members and owners of LLCs have the freedom to run their businesses however they like. LLCs can distribute rights, duties and profits in a way that is different from other business entities. Michigan LLCs can continue to operate even after members die or leave.
Michigan currently has more than 300,000 LLCs and over 40,000 new ones yearly. This provides great opportunities for job creation in Michigan, which is also one of the most productive states for gross domestic products.
The creators of an LLC can manage their capital contributions and profit sharing with no state intervention. Certain states require that certain types of business entities distribute shares proportional to the shareholder's capital contributions. Different distribution percentages can be granted to members and shareholders of LLCs depending on their managerial duties or based on initial contributions to the business.
Many business owners create classes of members that have certain voting rights and share percentages. This allows some members to be more involved in the business while others can remain distant if they wish.
Michigan LLC Operating Agreement
Michigan requires operating agreements to be created by LLCs established in the state. This requirement is not mandatory in all states. Others have provisions that allow LLCs to form operating agreements without forming their own.
An operating agreement for an LLC should detail the procedures that should be followed to manage different aspects of the business. The agreement should address many issues such as:
Voting
Management structure
Membership benefits
Dissolution
Addition of new members
How can I check if a Michigan business is registered?
The Michigan Department of Licensing and Regulatory Affairs manages the entity search. You can search by business name, ID number, or individual name to determine if a Michigan business is registered.
How can I locate the owner of an LLC within Michigan?
If you know the name of the LLC, you can search for the owner's name. It will display the search results by the business name in Michigan's entity search.