How to Do An Alabama Business Name Search
The Alabama Secretary of State offers a search engine that allows the public to find any type of entity, including corporations and limited liability companies ( LLC), as well as limited partnerships (LP), limited partnership (LLP), and limited liability limited partnerships(LLLP) through the Secretary of State.
You can search for the entity's name and number, registered agents, incorporation, and date.
You will be able to view detailed information on the entity after you receive the search results.
Alabama Entity Search
1. Alabama Naming Guidelines
Before you begin your search for a business name, we recommend that your business name meet the guidelines.
The first step to starting an LLC is choosing a name. You should choose a name that is both compliant with Alabama's naming requirements and that potential customers can find easily.

Follow these naming guidelines:

Your name must contain the phrase "limited liability company" or one its abbreviations (LLC, L.L.C. ).
Your name cannot contain words which could cause confusion between your Alabama LLC and a government agency (FBI or Treasury, State Department, etc.). ).
Restricted words (e.g. Bank, Attorney, and University may need additional paperwork. A licensed individual such as a doctor, lawyer or other professional can also be required to join your Alabama LLC.
2. Search for an Alabama business name
To check the availability of the entity name you are interested in, use the Alabama Business Entity Search before you submit your name reservation request. For the best search, enter the entity name that you want to use. This will return all entities with the same or similar name. If the name you are looking for is not found, it means that the name is not available.
Northwest R.A. is the 2nd largest registered agent service, charging $125/year. CT Corporation aka Wolters Kluwer is the largest, oldest, and one of the most expensive, charging $337/year. CT Corp charges $788 for incorporation with reg. agent service.
When you file online, you will be prompted to conduct a search before you submit your form. To avoid rejection if you file by post, make sure to do a thorough internet search before you submit your paperwork.
3. Register Your Alabama Business Entity Name
Alabama's Secretary of State Business Entities Division deals with all LLC naming queries and requests. To ensure that the name chosen is available for use, all foreign and domestic LLCs must obtain a Certificate Of Name Reservation. You can request this certificate online or by post.
You will need to pay a filing fee when you reserve your name. You must make checks payable to the "Secretary for State". To submit an online request, those who aren't subscribers to Alabama Interactive will need to pay $28 additional. You do not need to pay an additional fee to file a request by mail.
Visit the Alabama Business Entity Records Page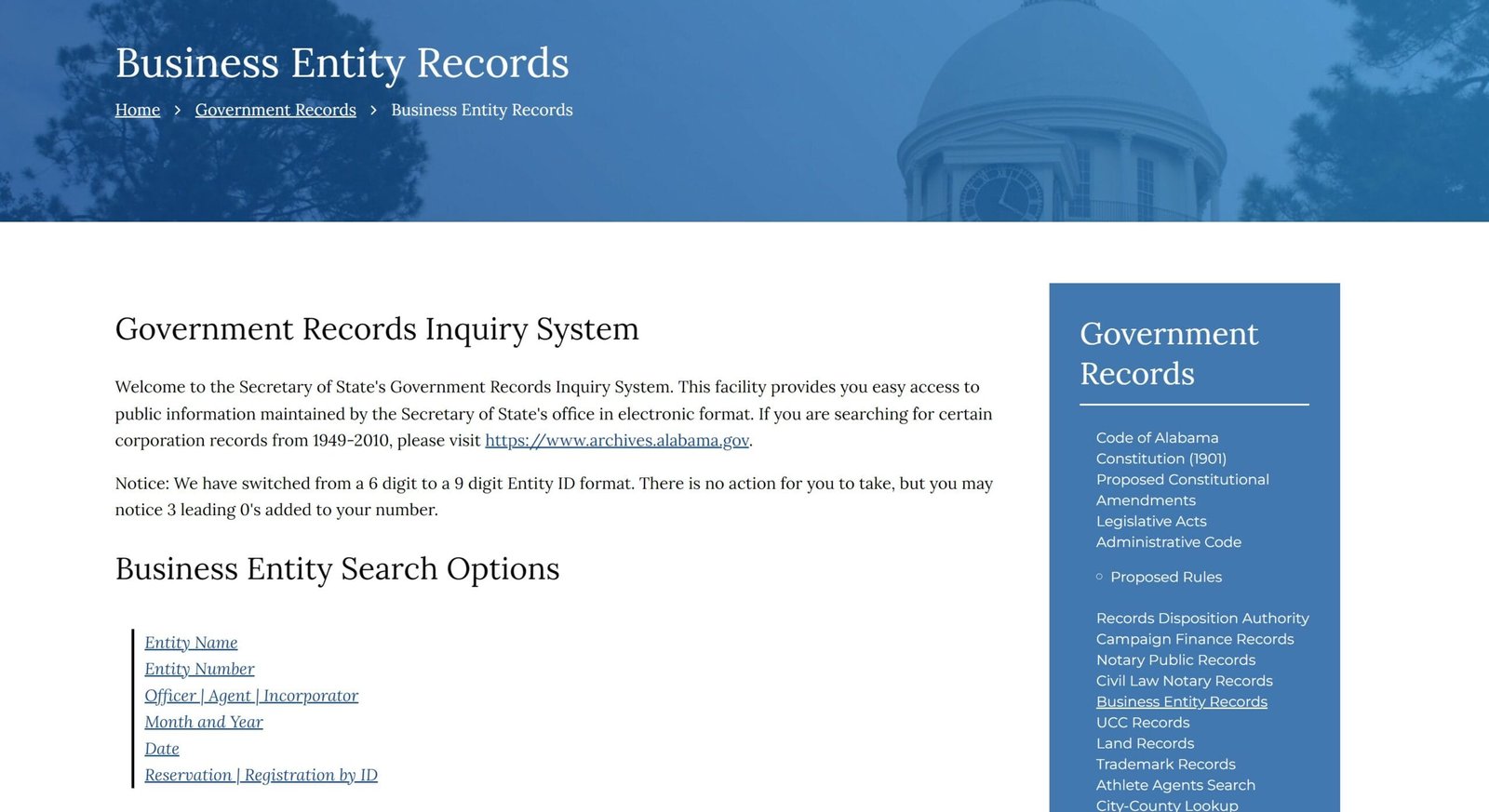 Business Entity Search Options
Entity Name
Entity Number
Officer | Agent | Incorporator
Month and Year
Date
Reservation | Registration by ID
Search by Alabama Entity Name
First, you must navigate to Alabama's Business Entity Search website. Only the name of the entity to search for is required. However, you can refine your search by entering additional information: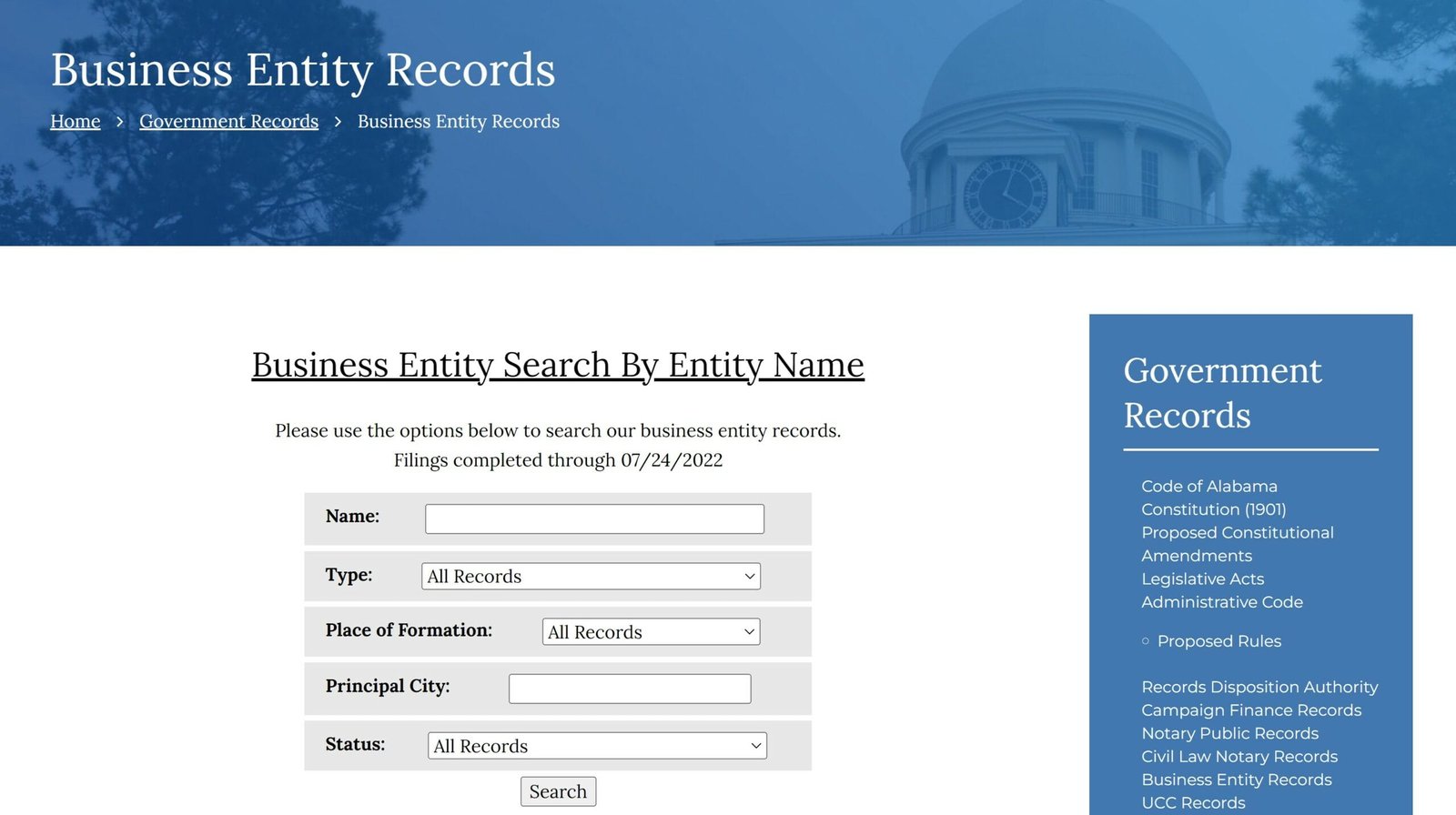 Name
Type of entity
Place of formation
City of principal address
Status
Simply enter the required fields and click search. The Alabama business name search is free.
Brian Wilson is the content manager and founder of LLC Radar.
Brian grew up in North Texas, just outside of Dallas, and has a bachelor's degree in business journalism from Southern Methodist University. Since graduating from SMU, Brian has gained over 10 years of experience in business writing for several online publications.
Brian resides in Plano, Texas and he can be reached at info@llcradar.com