Best Ecommerce Platforms (October 2023)
We list 7 of the best ecommerce platforms for online entrepreneurs to consider. 
Customers are becoming more comfortable purchasing products, services, and memberships online, regardless of whether they're buying physical products or booking appointments at a salon.
Ecommerce is expected to account for over 20% of all retail sales by 2023. However, the majority of small businesses in America don't have websites.
This makes it difficult for customers to shop with them and can lose out to companies that use dedicated ecommerce platforms that offer seamless shopping experiences.
We evaluated over a dozen popular online ecommerce platforms. These are our top 7 choices 
The 7 Best Ecommerce Platforms
Shopify: The Best Overall
BigCommerce: Runner-Up
Volusion: Best Budget Solution
Wix: Best user experience
Weebly: The Best Free Platform
Squarespace: Is the best for creatives
WooCommerce: Is the best for WordPress sites
Shopify
Shopify was started in 2004 by three entrepreneurs who wanted to open an online snowboard equipment shop. It has since grown to more than 5,000 employees and 1,700,000.
Shopify is an all-in-one ecommerce platform. It's easy to set up and manage, making it a great choice if few technical support. Shopify allows users to sell products online, on social media platforms such as Facebook and Instagram, or in-person with Shopify's point of sale (POS) system.
Shopify has some of the best inventory management features among all the tested platforms. Shopify allows users to view inventory levels and orders in one glance. They can also create product pages with custom metadata, images, and pricing rules. Shopify simplifies shipping tasks, including the printing of labels and the sending of tracking information to customers.
Shopify's payment processor works with all major credit cards, debit cards, and Apple Pay. Users can choose third-party payment processors such as PayPal for an additional fee.
Shopify makes it easy to create an ecommerce store. It features a drag-and-drop store builder, more than 100 free themes, and the ability for you to customize everything without any design skills. Shopify also integrates with thousands more marketing, sales, and inventory apps. This allows Shopify to increase its already vast ecommerce capabilities.
Shopify Pricing
Lite Plans
$9 per month
One account for staff
Social media and button sales
POS app
Basic plan
$29 per month
Two accounts for staff
All Lite Plan Features
Online store with a brand
Recovery of abandoned carts
Shopify plan
$79 per month
Accounts for five employees
All Basic Plan Features
Professional reports
Advanced Plan
$299 per month
15 accounts for staff
All Shopify Plan Features
Advanced Report Builder
Shopify plans include a free 90-day trial, 24/7 email, chat, and phone support.
---
BigCommerce
BigCommerce was initially built in 2009 as an online shopping cart. It is now a global company with over 1,000 employees serving over 150 countries.
BigCommerce is different from Shopify in the way it processes payments. BigCommerce allows users to choose from 55 payment processors instead of Shopify's 0.5% to 2.2% transaction fees. This is excellent news for businesses who want to keep their existing merchant accounts.
BigCommerce, like Shopify, makes it simple to create beautiful ecommerce websites and sell on social media platforms such as Facebook and Instagram. You can also find a wide range of apps to help with shipping, marketing, and customer relationship management (CRM).
BigCommerce can compete with Shopify in SEO and analytics. BigCommerce's SEO speeds up page load times to provide better customer experiences. It also allows users to customize page titles, metadata, and product URLs for products to appear higher in Google search results. Shopify is the only place that offers many of these advanced SEO features as an add-on.
BigCommerce offers advanced analytics and reporting with all plans, unlike Shopify, which only offers it on the more expensive plans. Users can drill down to create custom reports about revenue, customer habits, orders details, and other important information.
BigCommerce Pricing
Standard Plan
$29.95 per month
Online sales up to $50,000 per year
Online store with a brand
BigCommerce mobile app
Integrated social and market selling
Reporting tools for professionals
Real-time shipping quotes
Plus Plan
$79.95 per month
Online sales up to $180,000 per year
All Standard Plan Features
Cart saver
Segmentation and customer groups
Pro Plan
$299.95 per month
Online sales up to $400,000 per year*
All Plus Plan features
Google customer reviews
Filtering custom products
Price lists
* Add $200,000 to your online sales and get +$150 per month
All BigCommerce plans include a free 15-day trial and live support 24 hours a day.
---
Volusion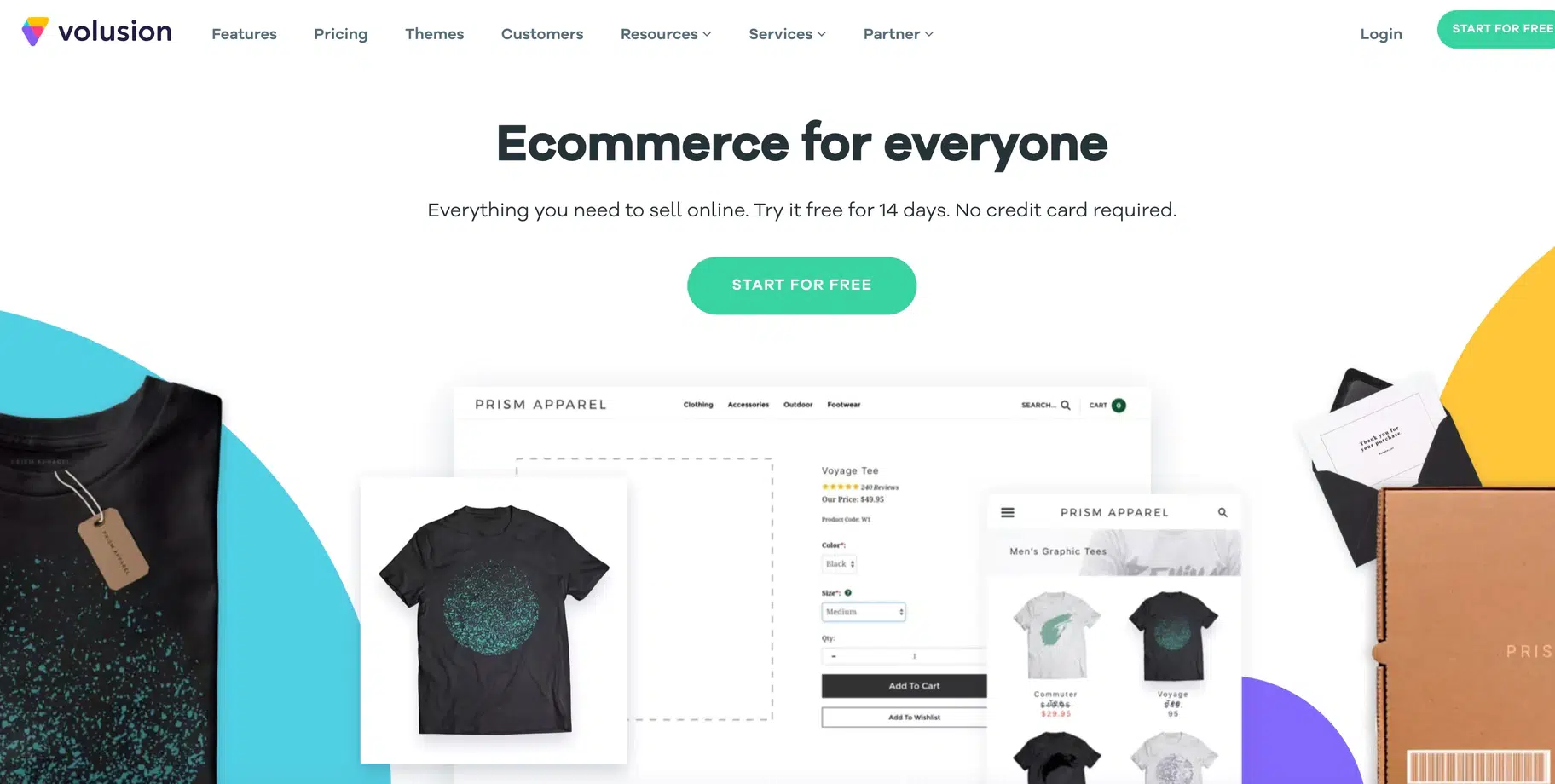 Volusion was founded in 1999 by a 16-year-old programmer who built websites for clients. It has since grown to be a fully-featured ecommerce platform that processes $28 billion through more than 30,000 merchants.5 Volusion is the most affordable solution, as it offers everything businesses need online.
Volusion allows you to easily design an ecommerce website with many themes and a drag-and-drop page editor. For smaller sellers, order and inventory management is simple and easy. Volusion is also very simple when it comes to reporting. Users can check product performance and abandon shopping carts.
Volusion's simplicity has its drawbacks. Volusion doesn't allow you to sell products on social media platforms or marketplaces like Amazon and eBay. Volusion's integrations and add-ons are less extensive than BigCommerce and Shopify. Volusion is an excellent choice for those just starting in ecommerce who don't want to be overwhelmed by complicated platforms and features.
Volusion Pricing
Personal Plan
$29 per month
The volume of gross merchandise equal to $50,000 annually
100 products
One account for staff
There are no transaction fees
Professional Plan
$79 per month
The volume of gross merchandise equal to $100,000 annually
5 000 products
Accounts for five employees
There are no transaction fees
Business Plan
$299 per month
The volume of gross merchandise equal to $500,000 annually
Unlimited products
15 accounts for staff
There are no transaction fees
All Volusion plans include a 14-day trial and 24/7 online support.
---
Wix
Wix was started in 2006 by three developers who were frustrated by the difficulty and cost of building an ecommerce site. Wix has grown to a global company with 5,000 employees and over 200 million users in 190 nations.
Wix allows you to set up and manage a basic website for free. However, upgrading to a paid plan will unlock Wix's full ecommerce capabilities. Wix includes hundreds of professional templates and a drag-and drop editor that makes it simple to build a beautiful ecommerce website in minutes.
Wix, like Volusion, offers three payment options: Alipay, PayPal, and Wix Payments. Wix's simple dashboard makes it easy to manage inventory orders and get revenue and conversion rate reporting.
Wix also offers more integrations and add-ons (including Google Analytics) than Volusion, but less than Shopify or BigCommerce. This allows businesses to grow their ecommerce capabilities. Wix does not allow users to sell on Amazon or eBay but integrates Instagram and Facebook.
Wix is an excellent platform for small-scale online sellers, despite its limitations.
Wix Pricing
Basic Plan
$23 per month
Accept online payments
Unlimited bandwidth
50GB Storage
Connect your domain
Wix ads removed
5 Video Hours
Google Analytics
One year free domain
$300 ad vouchers
Unlimited Business Plan
$27 per month
100GB of storage
Ten video hours
All Business Basic Plan Features
VIP Plan
$49 per month
Unlimited storage
Unlimited video hours
All Business Unlimited Plan features
All Wix paid plans to come with a 14-day free trial and free hosting.
---
Weebly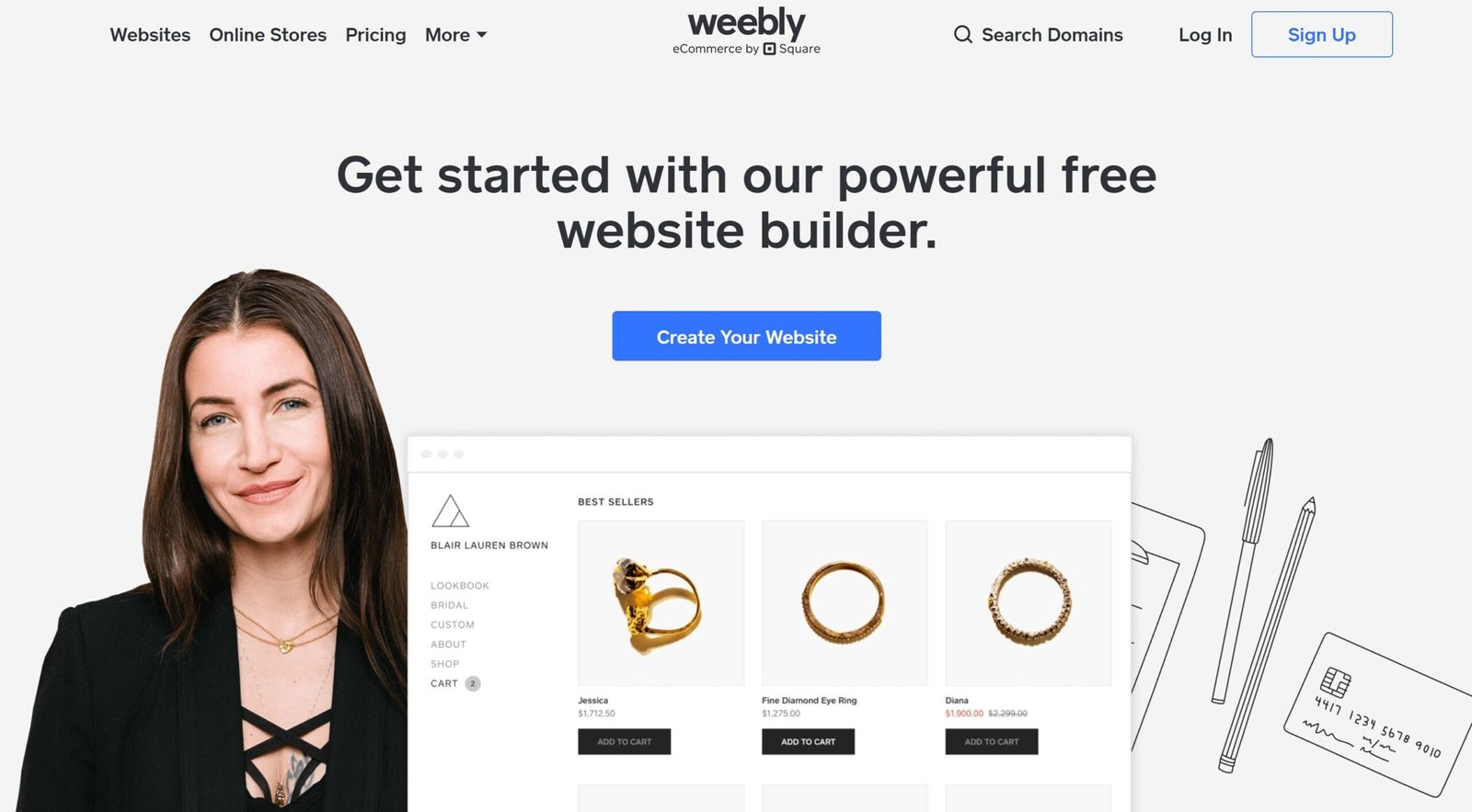 Weebly was founded in 2007 to make it simple for anyone to create a website using a single platform. Square acquired Weebly in 2018, expanding its ecommerce platform capabilities. It powers over 50 million websites around the globe today.7 We chose it to be the best free platform because it allows users to create functional and straightforward ecommerce platform sites for free.
Weebly's drag-and-drop editor is comparable to Wix's. Users can create beautiful online stores in minutes. It guides users through the process of setting up an online store. This includes choosing a layout, choosing fonts and colors, adding pages, and choosing a name. You can add inventory items immediately or after the site is built.
All plans on Weebly include a fully integrated shopping cart with secure checkout. Weebly's Free Plan allows you to use PayPal as your payment processor. Paid accounts have Stripe and Square. Weebly's Professional and Performance Plans allow for customized shipping rates, as well as free shipping on selected orders.
Weebly makes inventory management and reporting easy. It supports bulk import and export, search engine optimization, site performance tracking, and easy bulk importing and exiting. Apps and integrations can be added to any Weebly store, allowing for more sales, marketing, and promotion possibilities.
Weebly Ecommerce Platform Pricing
Free Plan
$0 per month
Advanced site statistics
Shopping cart
Inventory management
Calculator for automatic tax
Coupons
Square gift cards
SEO
Capture of Lead
Instagram feed
Personal Plan
$6.00 per month
All features included in the Free Plan
Connect a custom domain
Professional Plan
$12 per month
All features of the Personal Plan
No cost domain
Unlimited storage
Square ads removed
Password protection
Shipping calculator
Performance Plan
$26 per month
All Professional Plan Features
Review of item
Shipping labels
Shipping discount
Emails from abandoned carts
Advanced ecommerce insights
Priority support
All plans on Weebly offer support via phone, email, or live chat. Although there are no free trials, you can build an entire ecommerce store using the free plan. You also have the option to upgrade later.
---
Squarespace
Squarespace was initially created in a University of Maryland dorm room in 2003 to allow for the building and hosting of blogs. It also added ecommerce features in 2013 and a drag-and-drop interface.
This made it a formidable competitor to Wix and Weebly. It is the best platform for creatives, as it allows you to easily create portfolio-style websites that showcase and sell your creative work.
Squarespace's ecommerce platform allows you to sell products and services and create subscriptions, membership programs, and book appointments online. Email marketing integrations enable users to build loyalty and offer discounts and other deals. Third-party integrations are also possible, such as Printful and ShipStation. Custom products can be created and shipped quickly.
Squarespace makes payment processing easy by allowing customers to pay using Apple Pay, Stripe, Apple Pay, and Venmo. The checkout process is quick and straightforward for fast transactions. Users can also customize it by adding gift messages or surveys, customizing tax rates, and notifying customers when inventory is low. You can easily integrate social media to share products on Facebook, Twitter, and Pinterest.
Squarespace's intuitive dashboard makes it easy to manage and check inventory, ship orders and gain valuable insight on sales trends, customer data, and site traffic. Squarespace is a great ecommerce platform that creatives don't need to deal with complicated data sales tools.
Squarespace Ecommerce Platform Pricing
Personal Plan
$12 per month
Unlimited storage and bandwidth
Site visibility through SEO
Website metrics
Squarespace extensions
Business Plan
$18 per month
All features of the Personal Plan
Account for Professional G Suite
Advanced website analytics
$100 in Google AdWords credit
Banners and promotional pop-ups
Squarespace transaction fees: 3 %
Gift certificates
Basic Commerce Plan
$26 per month
All Business Plan Features
Squarespace transaction fees: 0%
Customers accounts
Analytics for Ecommerce
Integration of social factors
Advanced Commerce Plan
$40 per month
All Basic Commerce Plan Features
Squarespace transaction fees: 0%
Subscriptions can be sold
Recovery of abandoned carts
Priority shipping
Limited availability labels
All Squarespace ecommerce platform plans include a 14-day trial, custom domain, and 24/7 support. Squarespace offers four pricing levels. 
---
WooCommerce
WooThemes created WooCommerce as an extension to the WordPress content management system.9 It is widespread and flexible enough for users who wish to build a fully-featured ecommerce platform website.
WooCommerce is a plugin that adds ecommerce functionality to any WordPress website. WooCommerce is one of the most popular SEO platforms available. It makes it simple to set up an online store that can be scaled to any size.
WooCommerce, like many other platforms that we reviewed, offers its payment processor. With no additional fees, users can add Stripe, Square, Amazon Pay, and Amazon Pay to WooCommerce. WooCommerce offers a variety of templates, backend management tools, and integrated analytics, reporting, and shipping tools.
WooCommerce provides essential inventory management. However, it is not well-suited for high-volume businesses. However, order management is more robust and allows users to drill down to view product sales, billing and shipping addresses, and customer records.
WooCommerce extensions let users sell social media platforms and marketplaces like Facebook, eBay, and Amazon. The vast library of free and paid extensions can help overcome many of WooCommerce's shortcomings.
While WooCommerce is free to use, some more valuable extensions can bring WooCommerce up to the level of BigCommerce or Shopify. These extensions can run upwards of $300.
---
Ecommerce Platforms FAQs
What is an Ecommerce Platform?
Ecommerce platforms are an evolution of the online shopping cart. These platforms provide detailed analytics, reporting, and inventory management that can be used to track, analyze, improve, and improve sales. They can be used as a complete website for a business, allowing vendors both to sell and ship physical goods and digital subscriptions.
The customer experience is just as crucial as the backend. Customers can shop online with the best ecommerce platforms, see all the details of the product they are interested in, select how they want it shipped, and complete their purchase in as few steps as possible.
What is the Work of Ecommerce Platforms?
Ecommerce platforms link a company's inventory (physical or digital) to an online shop that customers can use for the purchase. Ecommerce is incomplete without payment gateways. These payment gateways allow customers to purchase a product online with just a few clicks. They also make tracking and shipping products fast and simple.
Ecommerce platforms provide valuable insight into what products are being sold and how customers shop. Businesses can sell more to existing and new customers by using various marketing tools, including coupons, discounts, limited inventory alerts, email advertising, abandoned cart alerts, and email marketing.
What Does an Ecommerce Platform Cost?
Many ecommerce platforms offer plans that range from $10 to $300 per month. The lowest-priced programs are limited to essential online selling and have few third-party integrations. They also lack reporting and analytics. Plans in the middle- and top-tiers have higher selling limits and website bandwidth, advanced analytics, payment processing options, and shipping options. They also include marketing and sales tools such as abandoned cart recovery.
Are our free ecommerce platforms worth it?
We found that free ecommerce platforms don't make sense for anyone serious about selling online, particularly if they are looking to scale. The majority of free options are shopping carts that can be added to existing websites with sales features already in place.
One problem with free ecommerce platforms is that once a company outgrows them, they will have to start over with another outlet and rebuild their business from scratch. Starting with a low-tier plan on a paid platform is better than upgrading as necessary.
How we chose the best ecommerce platforms
To find our top choices, we looked at more than a dozen ecommerce platforms. Many new entrants have made a big splash and scaled quickly. We focused on software that has been around for at least ten years and has grown along with ecommerce. We also considered cost and scalability. Flexible payment options were available, and the possibility to sell on online marketplaces. Good reporting and analytics were critical.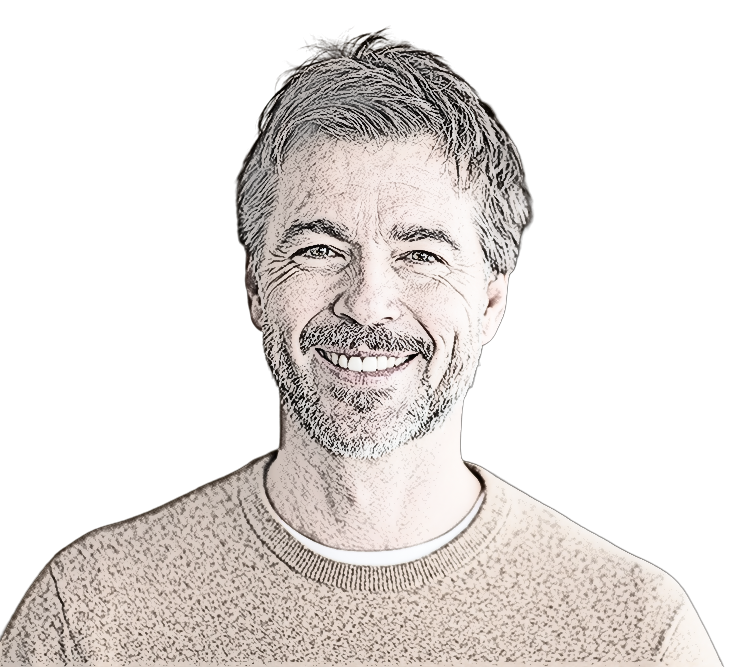 Brian Wilson is the content manager and founder of LLC Radar.
Brian grew up in North Texas, just outside of Dallas, and has a bachelor's degree in business journalism from Southern Methodist University. Since graduating from SMU, Brian has gained over 10 years of experience in business writing for several online publications.
Brian resides in Plano, Texas and he can be reached by email:   info@llcradar.com
Phone: 972-776-4050