10 Best Shopify Alternatives
Summary: Here's a list of 10 Shopify competitors worth your consideration in 2021
Shopify is unbeatable at many levels, such dropshipping, and being an all inclusive ecommerce platform.
Many other companies can present a formidable challenge for your company. The features and complexity of your store, as well the sales and marketing options you choose, will determine which one you choose.
These are the top Shopify competitors that SMBs can use to create enterprise-level Shopify websites.
Wix: Start selling online easily
Squarespace: Create an elegant, beautiful storefront
Big Cartel, Manage a Basic Online Store
Square Online: Connect offline and on-line sales
WooCommerce allows you to add an online store directly to WordPress
Zyro, Create an Ecommerce Site in Minutes
BigCommerce: Manage large product ranges
Volusion: Take a look at store performance
Magento: You can customize your store with a code
OpenCart allows you to integrate ecommerce functionality without any cost
Shopify competitors
1. Wix: simple drag-and-drop website builder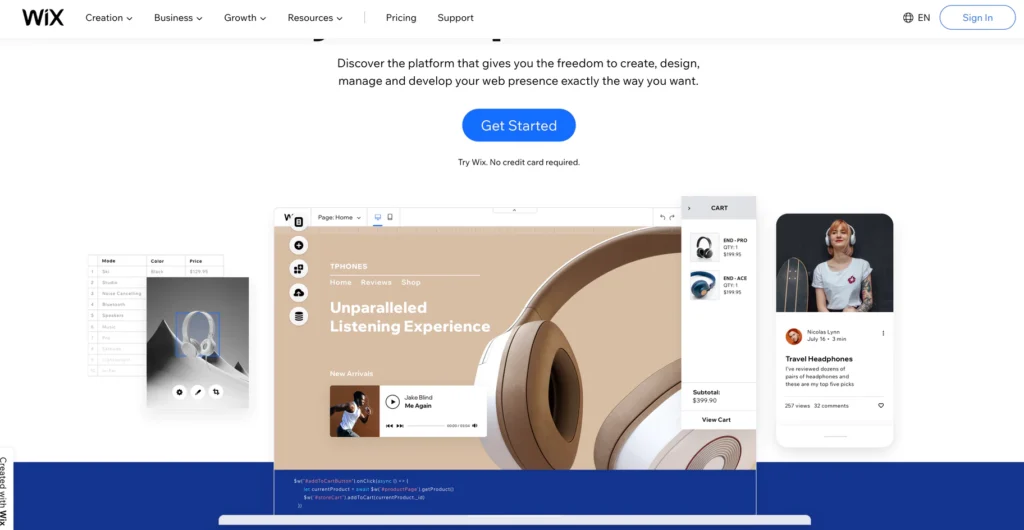 Wix has a solid track record for user-friendliness. This is why it often ranks high on Shopify's top competitors. Its drag and drop website builder allows you to quickly create appealing, customized storefronts.
Wix's dashboard allows you access to over 100 ecommerce templates. It also lets you manage other aspects of the website such as order tracking, shipping labels printing, and order tracking. Wix also boasts a vast App Market where you will find tools to enhance your store's functionality. There are many useful features to choose from, including loyalty programs and flexible payments.
Wix is not without its flaws. It won't allow more than 100 pages to be added to your Wix site. The Wix store is not supported for TikTok sales channels. Therefore, you could miss out on potential sales. 
Pros:
Simple drag-and-drop functionality
Useful ecommerce applications
Regularly updates new features
Cons:
No dropshipping support
Storage limited
Price: $17-$35 per month
2. Squarespace: Beautiful online store templates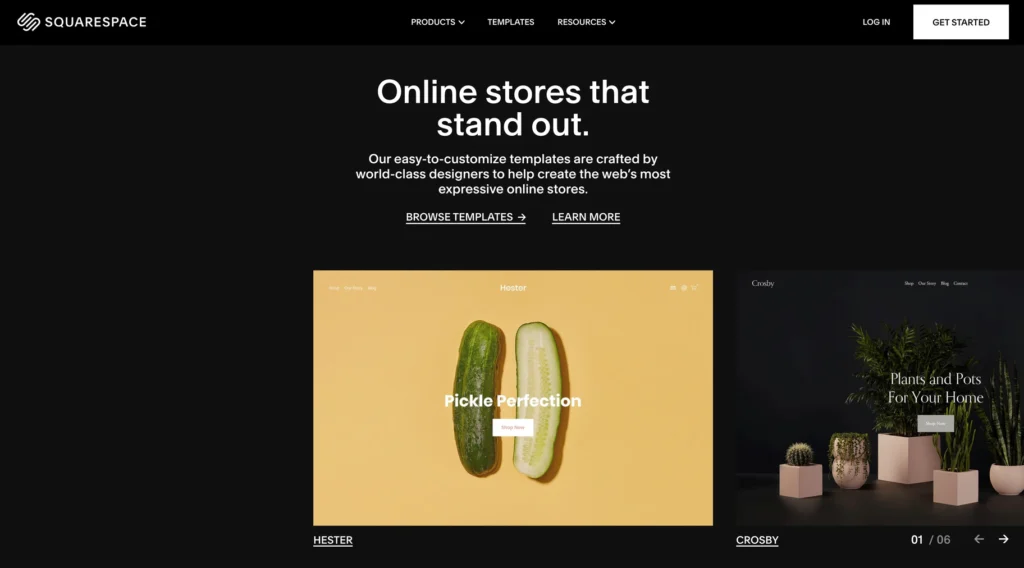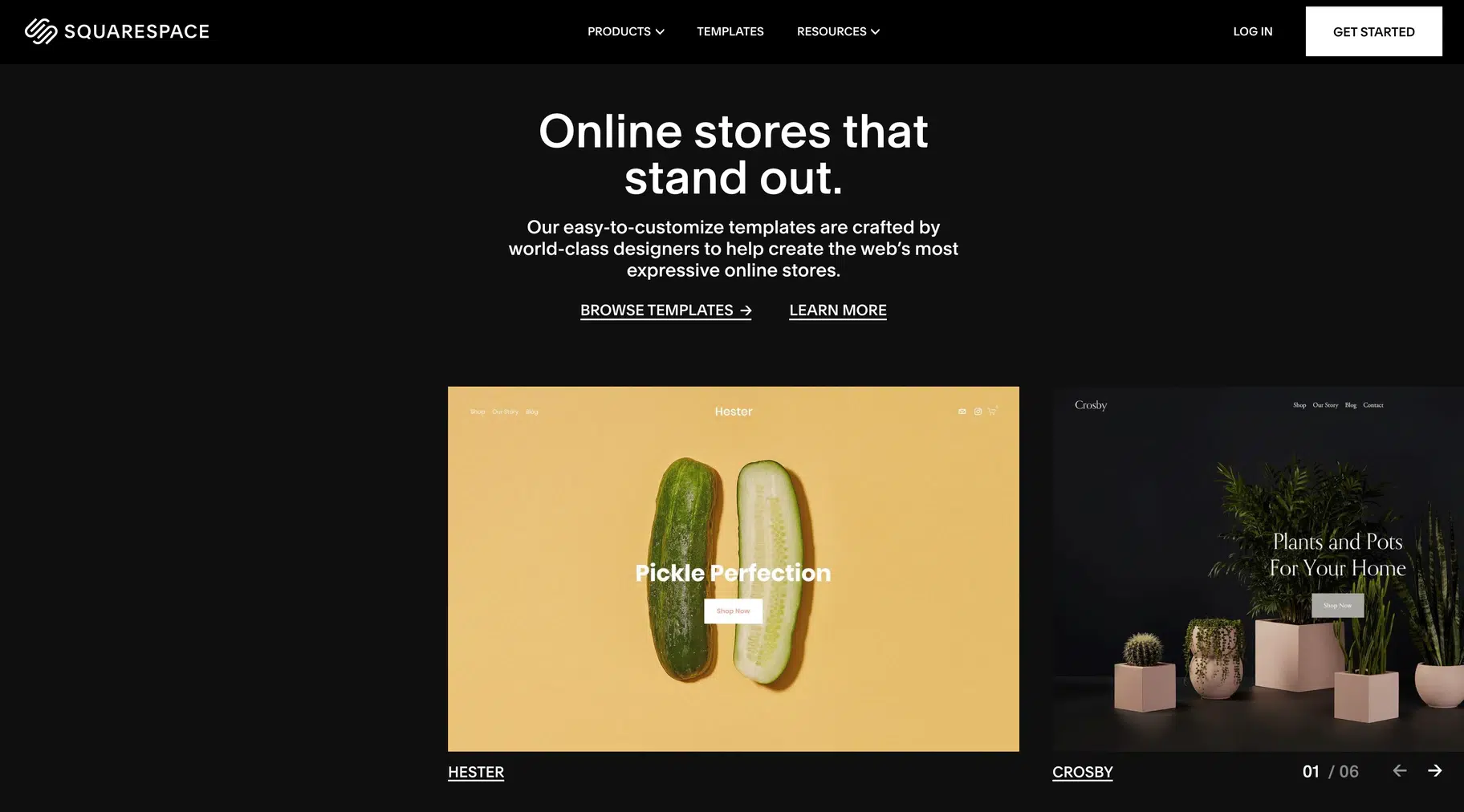 Squarespace places a strong emphasis on modern and attractive store design. This website builder includes over 100 templates for online shops. Most have a clean, minimalistic design that is mobile-responsive.
Squarespace provides a variety of ecommerce features. Squarespace allows you unlimited sales of digital and physical products. It also offers the ability to send abandoned cart recovery emails, establish shipping zones, and receive automatic tax calculations. The website builder itself is easy to use, so it should not take you long to set up your online store.
Squarespace has a few drawbacks. You can't offer your customers multiple payment options. Squarespace accepts payments via Stripe (PayPal), Squarespace (PayPal), and Squarespace (PayPal). If you plan to sell internationally, this could impact negatively on your customer experience.
Pros:
Stunning, responsive templates
Unlimited products on each plan
Native analytics feature
Cons:
Limited payment options
Small app store
Price: $18-$40 per month
3. Big Cartel – an ecommerce solution designed for small, basic retail stores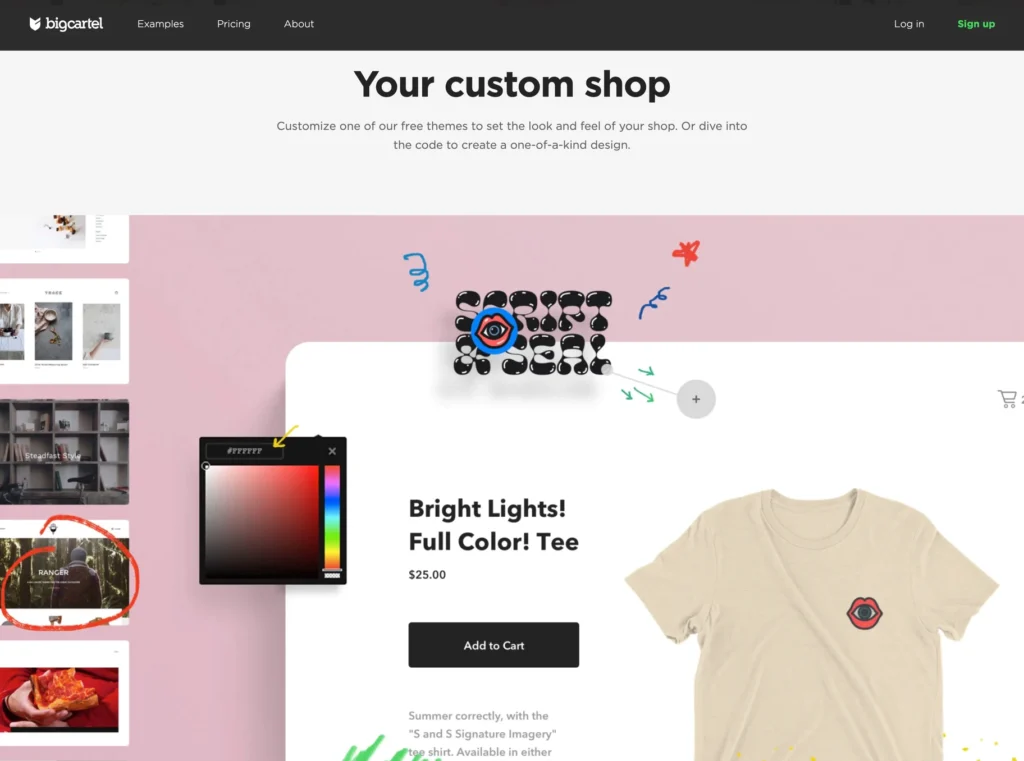 Big Cartel has stated that it was "built in small," and the platform is best suited for beginners looking to start a business or to provide basic sales features. Big Cartel merchants are able to access standard ecommerce tools like discount codes and the possibility to sell on Facebook.
Big Cartel makes setting up an online store easy. It provides prompts and reminders throughout the process. This Shopify competitor has the downside that you will need code knowledge to manage certain elements.
Big Cartel makes it easy to add images to your online shopping cart. Editing images is only possible by using code. HTML/CSS editing are only available to subscribers on a premium plan. Start on the free plan to ensure you can continue customizing the site in the near future.
Pros:
The onboarding process is simple and user-friendly
Clean and responsive themes
Integration into social selling
Cons:
No image editor
Allowed up to 500 items
Price: $0-$19.99 per month
4. Square Online: Sync offline and Online Sales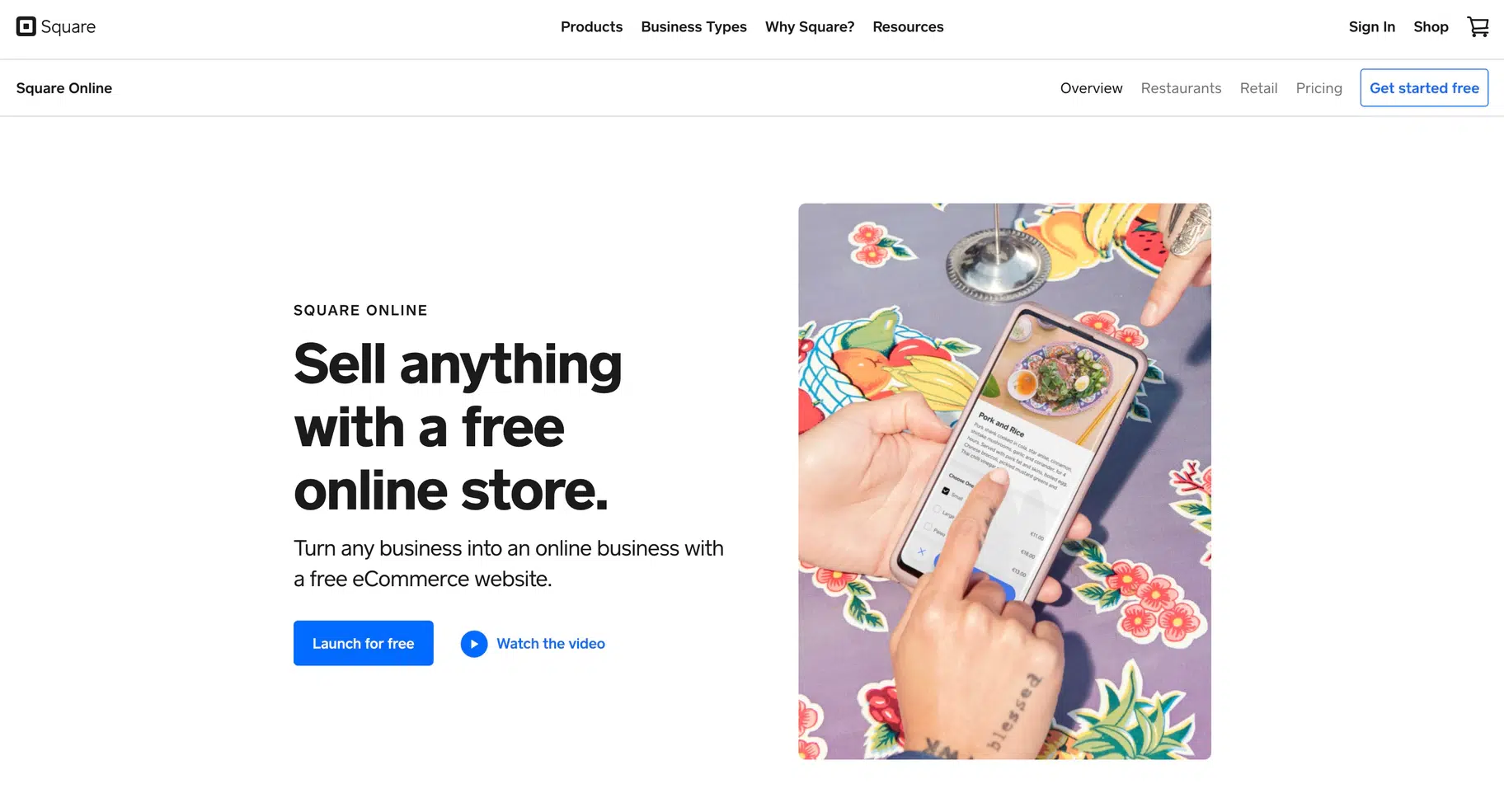 Square Online allows you to easily start your ecommerce business. You can sell unlimited product lines, create gift cards and send abandoned-cart mails.
Square Online excels at combining offline and digital sales. If you have a physical store, you can link your inventory and customer information with your online store. Square Online also offers a free version that can be used by companies who want to get started in digital sales.
All this cross-channel simplicity comes with a price: customization. You can't access a template library. There are five style options and fifteen color palettes. Square Online may be simple but it does limit your creativity.
Pros:
Simple dashboard design
A free plan for newbies
Ideal for combining online and offline sales
Cons:
The customization options are limited
Limited customer support (specific times and days only)
Price: $0-$72 per month
5. WooCommerce: A ecommerce plug-in with endless customization
WooCommerce is an online store built on WordPress with full design freedom

WordPress plugin allows you to add ecommerce functionality on your WordPress site. It allows you to display product variations, ratings, reviews, and provides a wide range extensions to help grow your store.
WooCommerce's ecommerce capabilities are not the only reason it is attractive. WooCommerce has many customization options, much like the core WordPress platform. You can create custom widgets like the share buttons to make pages more interesting and efficient. You can even customize your WooCommerce theme.
WooCommerce makes store creation much more time-consuming because it requires you to set up WordPress hosting. WooCommerce is a learning platform that may make it more difficult for new users to start ecommerce.
Pros:
Multiple themes and plugins
Integrate WordPress easily
Active developer community
Cons:
No built-in hosting
Maintenance of website is up to the user
Price: $0 per month + web hosting cost
6. Zyro is a tool that allows you to create functional stores in minutes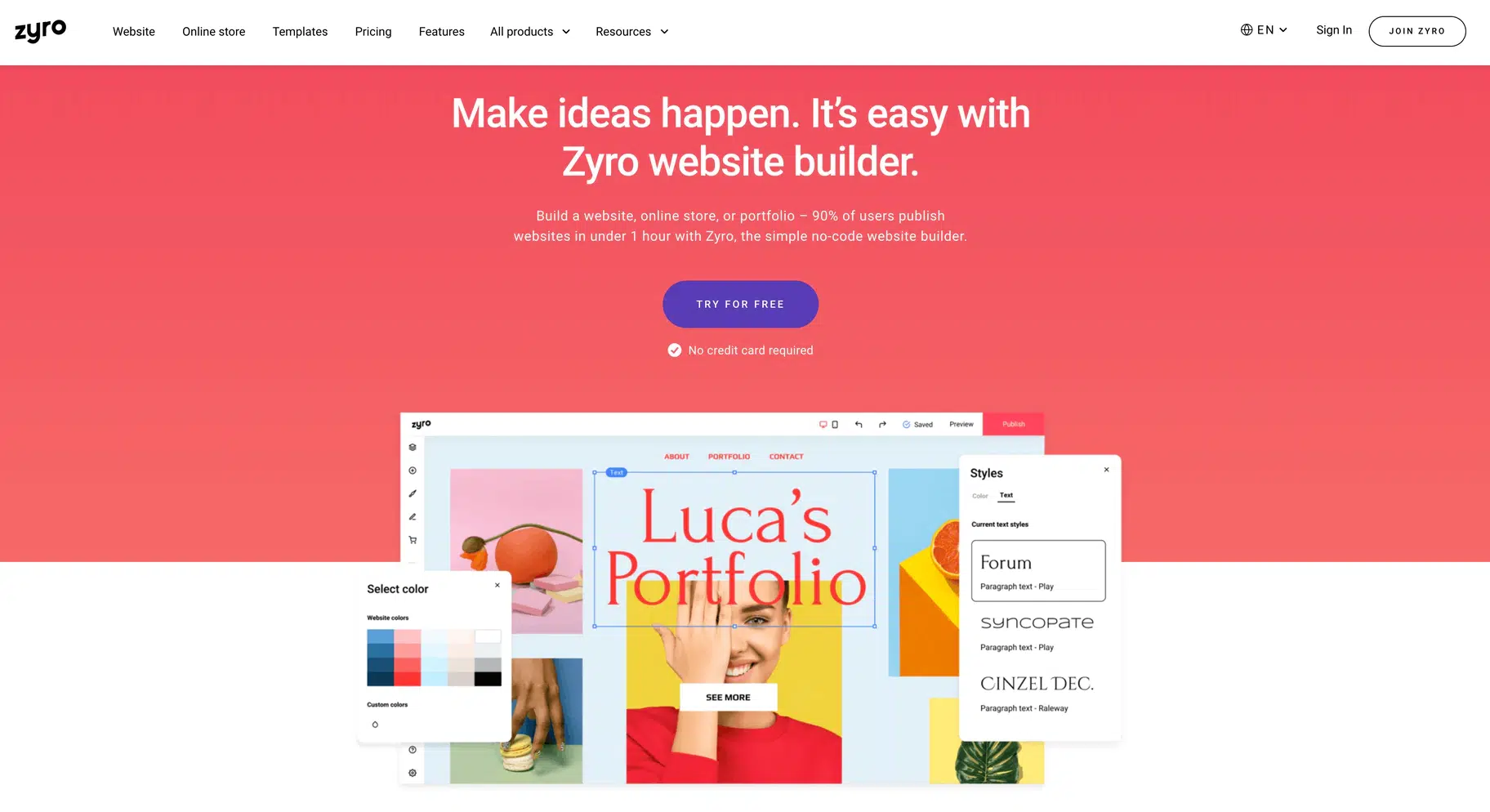 Ziro might be less popular than the other Shopify alternatives, but it's worth looking at. This Lithuanian website builder provides many ecommerce features in its most expensive plans like multilingual setup or abandoned cart recovery.
Zyro has many templates available for creating an online store. Zyro has very few ecommerce themes. They are however modern and stylish. Applying them is easy and in no time you will have a functioning store. Zyro supports integration with Amazon, Facebook, Instagram shops and Instagram to help you improve your sales channels.
What about Zyro's shortcomings? The only problem is that you cannot switch the template after you have chosen it. If you find a template you don't like, you'll need to create a completely new website. Zyro's drag&drop element allows you to choose from five content types: text, image button, map and video. All this and more.
Pros:
Easy-to-use website builder
Use AI to improve content management
Free slogan and logo designer
Cons:
No template switching
Do you need to set up complex domains?
Price: $9.90-$14.90 per month
Shopify competitors
7. BigCommerce: Created to handle high volumes
BigCommerceis designed for large online stores that sell thousands of products. It comes with an impressive suite of features to allow you to manage large product lines, including bulk editing and product category. You can also make product variant changes to multiple products to save time and speed up the rolling out of newer ones.
BigCommerce is not only a great platform for product management, but also provides many tools to increase sales. These include several payment options, abandoned shopping cart emails, and the possibility to divide customers into groups that can be sold to in specific ways.
BigCommerce isn't right for every retailer despite all the features. BigCommerce isn't the right tool for every retailer if you sell products offline or online.
Pros:
Great product management features
Multiple sales channels
Various templates
Cons:
No integrated POS
Limits to online sales
Monthly Price:$29.99-$299.95 Per Month; custom pricing for Enterprise Plan
8. Volusion: Fantastic analytics and data-tools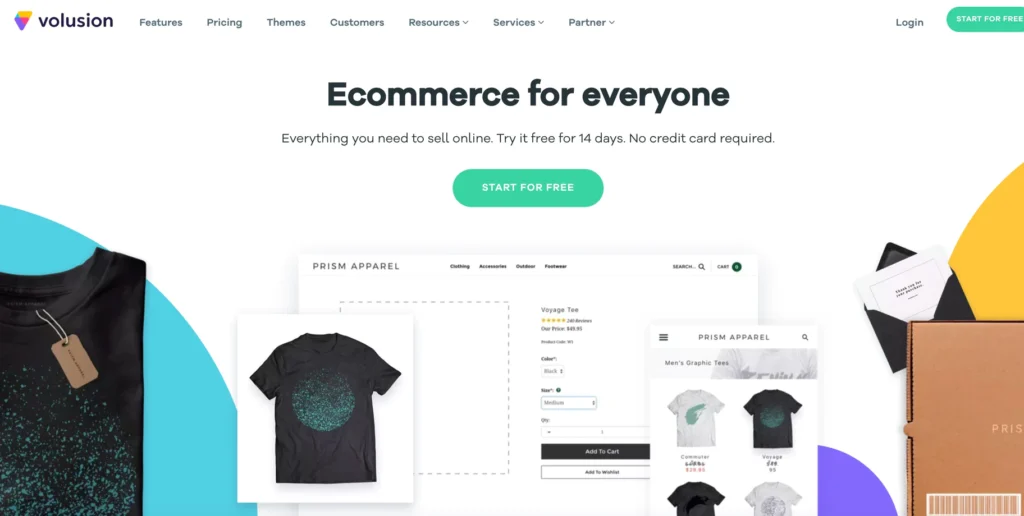 Volusion, a powerful site builder for those who love data, is an outstanding choice. Although the ecommerce platform can be difficult for novices, it has great potential. You can access advanced tools to boost sales like abandoned cart recovery as well as personalized invoices. You also have plenty of branding opportunities that will make your site standout.
Volusion excels at analytics. Volusion's extensive reporting section allows you to see everything you need about customer purchase preferences and behavior. There are many reports you can share with others, as well as practical insight into things like stock levels. Volusion gives you a detailed view of your business and offers suggestions on how to improve it.
Volusion is a great tool for detailed insights, but it's not the most simple product to use. There is a steep learning curve when customizing your website. Additionally, you will miss out on key features like a blogs for content marketing.
Pros:
Fantastic analytics tools
Mobile app
Cons:
It is lacking a blog feature
SSL is not available for free
Cost: $29–$299 per Monat; custom pricing on Prime plan
9. Magento: Design a custom shopfront (with code).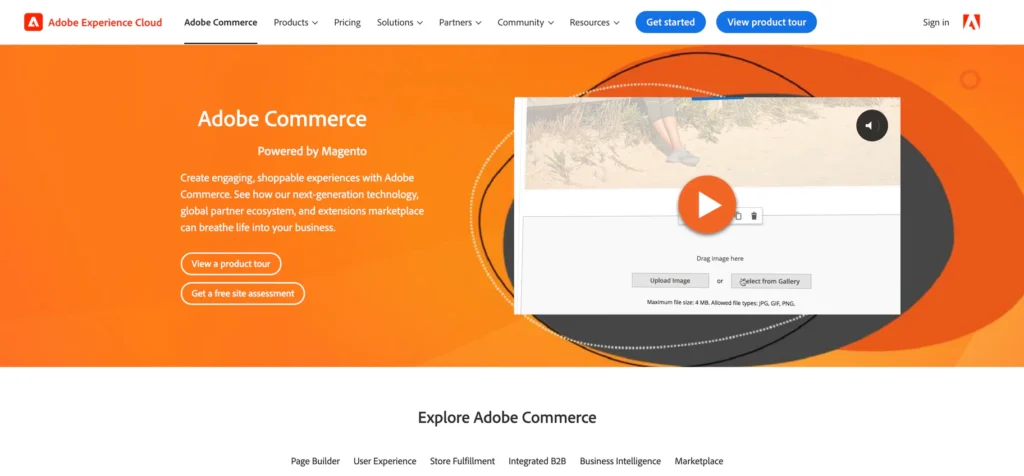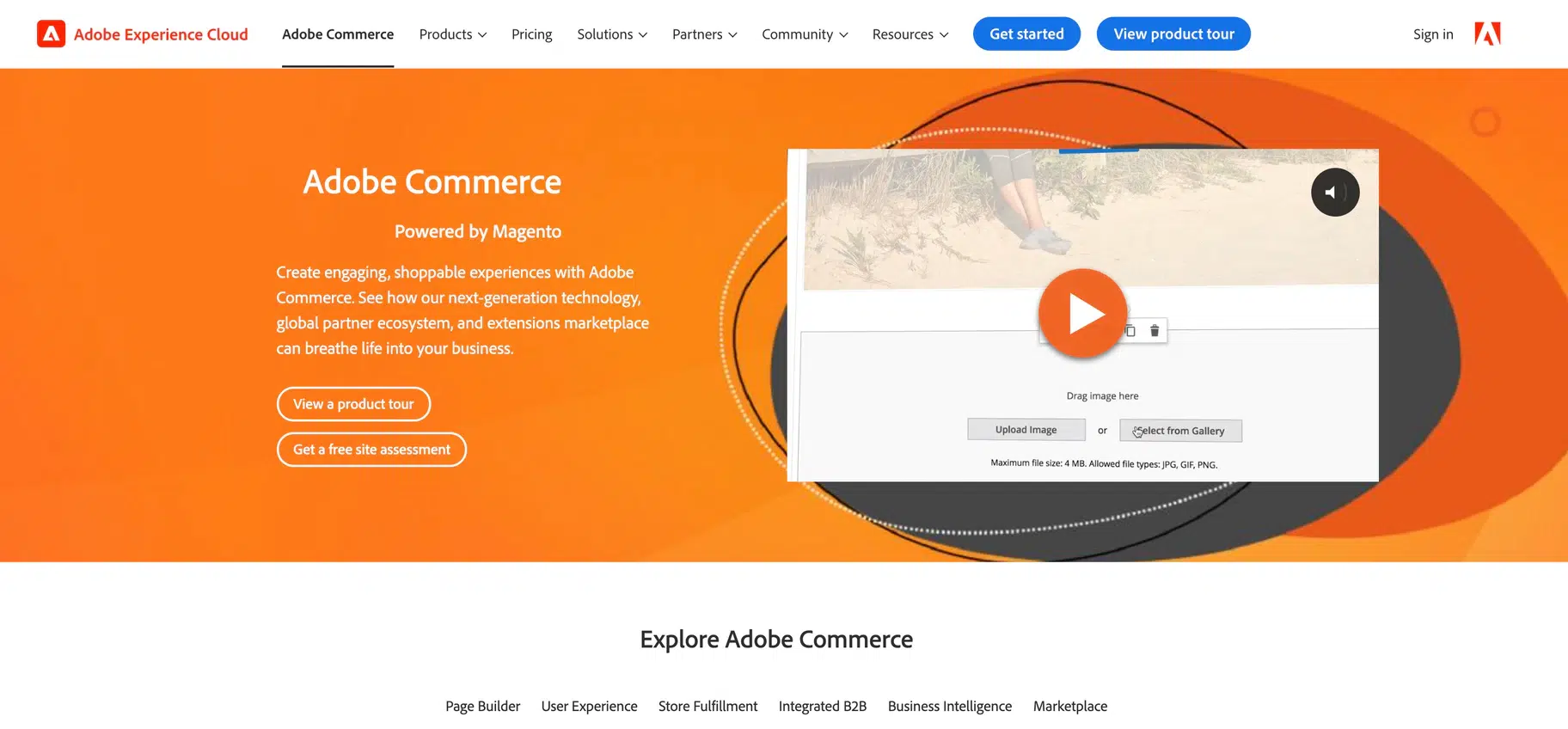 Magneto allows you to build flexible, open source websites for your business. Its ecommerce platform – now part Adobe Commerce Cloud – supports unlimited product uploads. High-level security is also available and speeds up loading times. This makes for an excellent user experience.
Magento makes managing your online store easy for larger businesses with the need for scale. Magento offers business intelligence tools to help you identify your top-selling product lines, order management, and inventory tracking that will keep your day on track.
Magento isn't meant for novice store builders, although it offers great value and flexibility for growing brands. Open-source solutions need some knowledge of programming to enable exceptional customization. Unless you are on the Enterprise plan you won't have support.
Pros:
Highly customizable platform
Excellent community
International selling
Cons:
Not suitable for beginners
High-priced to use
price: Customized annual pricing based off sales volume
10. OpenCart: lightweight ecommerce application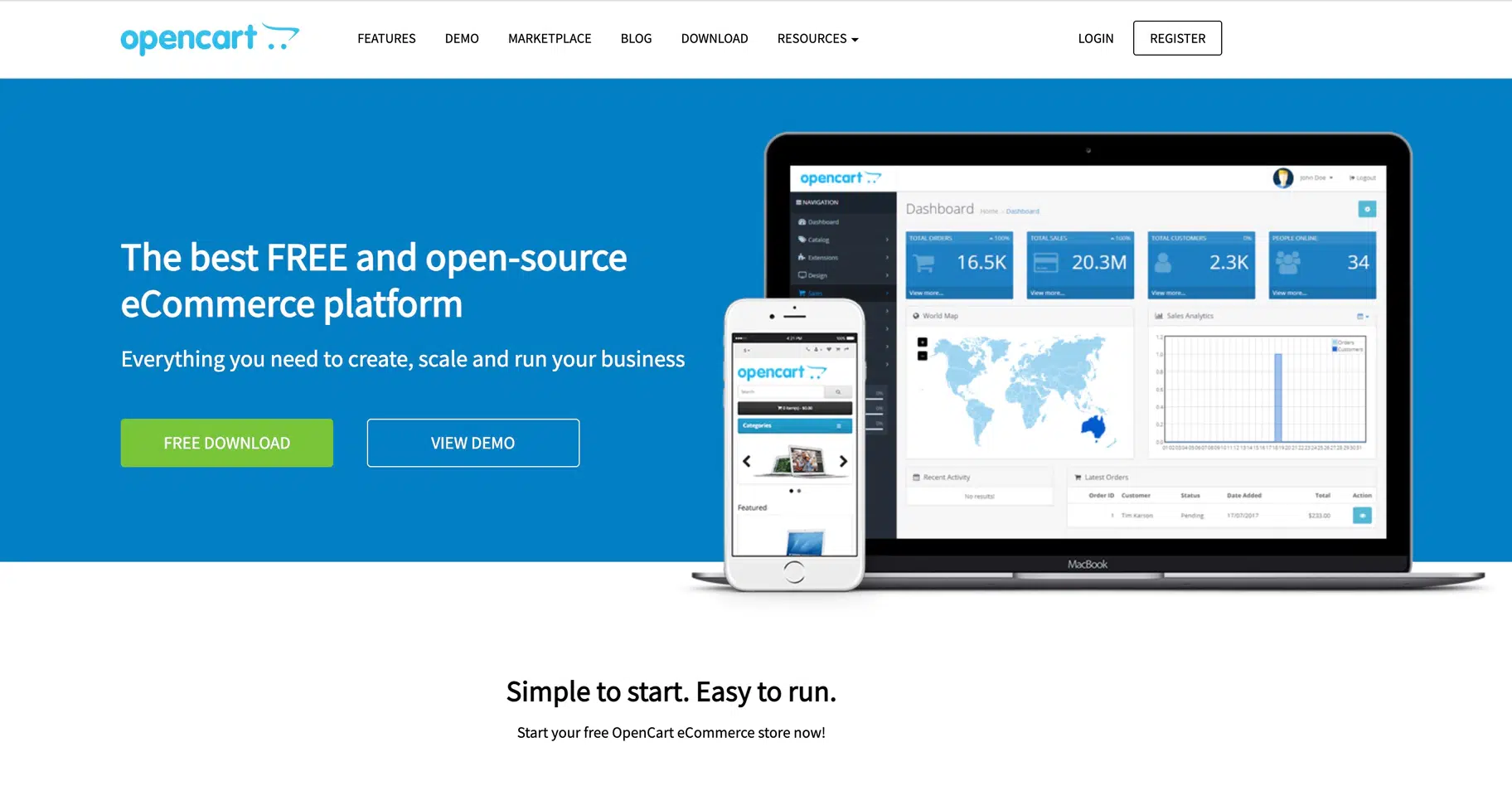 OpenCart has the flexibility and scalability to be an open-source, open-source ecommerce platform. You can easily access sales metrics through the intuitive administrator dashboard. You'll be able increase those sales by listing any product you like in your store and linking to third party sales channels like ebay and social media.
OpenCart can be used for international selling. You have multiple currencies and languages to choose from. To fulfill international orders, there are many shipping companies that can be partnered with you. OpenCart allows you to offer convenience features such membership accounts and guest checkouts that will help keep your customers coming back.
However, it's not always the easiest platform to manage an internet store. OpenCart is missing many important functions. OpenCart does not provide the necessary plug-ins to perform tasks such as ordering fulfillment.
Pros:
Flexible software
Low running cost
International commerce
Cons:
No built-in hosting
Integrations required for most features
Cost: $0/month plus web hosting
Brian Wilson is the content manager and founder of LLC Radar.
Brian grew up in North Texas, just outside of Dallas, and has a bachelor's degree in business journalism from Southern Methodist University. Since graduating from SMU, Brian has gained over 10 years of experience in business writing for several online publications.
Brian resides in Plano, Texas and he can be reached by email:   info@llcradar.com
Phone: 972-776-4050