Best Ecommerce Fulfillment Services (June 2023)
Compare the best ecommerce fulfillment services in the U.S.
Find the Right Fulfillment Service for Your Business 
Fulfillment services can vary widely. We wanted to share the best options for shipping and storing products in the USA. The good news is that many fulfillment centers and services in the USA have warehouses located all across the country. You may also access international warehouses if you need them for products that you are shipping elsewhere.
Find the best fulfillment center for your e-commerce orders in the US.
7 best fulfillment centers for e-commerce orders.
ShipBob: ShipBob is our top choice for fulfillment centers in the USA. It has five warehouses and an attractive online interface. All companies can also get reasonable pricing.
Shopify Fulfillment: An excellent option for businesses that already use Shopify. It provides solid pricing and an easy online interface for managing your orders. It is not designed to integrate with other platforms, and the network of warehouses does not seem to be managed directly by Shopify.
Deliverr: This is our favorite fulfillment center in America for selling on multiple platforms. Customers can get fast shipping through channels such as Etsy, Walmart, and eBay, as well as your online shop. There are also many warehouses across the U.S.
Shipmonk: This is an excellent option for integrating with top ecommerce platforms, searching for lower shipping, and picking prices. You also get the best fulfillment software with your membership.
Red Stag Fulfillment: A smaller company that offers quality customer service and options for all kinds of shipping and packaging. The operations are smooth, and there are not many locations.
Shipbots: This excellent fulfillment center and software in America cover the whole country with three warehouses. It also offers intuitive software for orders, transparent pricing, and unique offerings like temperature-controlled storage.
Fulfillment by Amazon: Fulfillment by Amazon is the best fulfillment option for Amazon sellers. FBA handles customer inquiries, processes refunds, and orders fulfillment. FBA comes with an automatic Prime designation, allowing you to have greater access to Amazon's more than 150 million Prime subscribers.
Top Order Fulfillment Services in the U.S. Compared
Although your web storefront may only exist within your hosting provider's cloud infrastructure and not in the physical world, the products you sell there are most likely in the real world.
This means that you will need to store, inventory, ship, and replenish the products as your business grows. E-commerce fulfillment services are almost mandatory in this situation.
E-commerce fulfillment companies accept product shipments from manufacturers and log them in. They then store, pack, and send them out. They typically send them via FedEx, UPS, or USPS.
Not sure which order fulfillment company is right for your business? Take this four-question quiz.
It doesn't have to be about partnering with a fulfillment company near your business. It all comes down to the customers. It's better to have fulfillment centers located all over the United States. We are also interested in integrating with your online shop.
It is a good idea to connect with ecommerce platforms such as Shopify or WooCommerce. This will make it easy to send orders to fulfillment centers and get products to customers.
This sounds great! Take a look below at the top fulfillment centers in the USA. The top four fulfillment centers are highlighted, and then we will discuss the other four that offer essential elements and low prices for all ecommerce shops.
ShipBob: Best Fulfillment Center in the U.S.
ShipBob is a fulfillment brand that caters to online shops that require shipping, packaging, and storage in one. It offers advantages such as up to 13% cost reductions, the increased average order value of up to 97%, and reduced cart abandonment to 18%.
ShipBob is constantly expanding its fulfillment network. It is the most significant fulfillment center in America, with over 12 warehouses in the USA, plus one in Canada, Ireland, and England. For the most current locations, visit ShipBob.
Video: ShipBob Fulfillment Service
These fulfillment centers are located in the United States and target different regions of the country:
Los Angeles, CA
Carrollton, TX
Woodridge, IL
St. Petersburg, FL
Edison, NJ
ShipBob's featured integrations are also a big draw. These include shopping cart tools and ecommerce platforms that are frequently used. ShipBob can send orders quickly to ShipBob. You can integrate with Square Online, Square Commerce, BigCommerce, and WooCommerce, to name a few. There are many other integrations available, including options for inventory and returns.
ShipBob Key Features
Connect to your online shop and get automatic syncing of inventory and orders. You don't have to do anything except put the packages together and send them out to your customers.
Multiple integrations are available for ecommerce platforms, returns management platforms, and many more.
Distributed inventory allows you to choose from a network of U.S. fulfillment centers from ShipBob. Data can also be used to optimize this over time.
Analytics and data track where orders are shipped and how long it takes.
Two-day express shipping options are available so that you can keep up with the big dogs.
A panel for order management with filters and search tools allows you to find all shipping-related information in just a few clicks quickly.
Inventory management and reporting combination creates an attractive solution that includes visuals and decision-supporting analytics.
ShipBob Locations
ShipBob has an expanding network of top fulfillment centers across the USA. It also boasts a global network of fulfillment centers. These are just a few of the locations:
Kilkenny, IE
Ottawa, CA
Edison, NJ
Bethlehem, PA
Geneva, WI
Cicero (I.L.)
Woodridge, IL
Chattanooga (T.N.)
Louisville, KY
St. Petersburg, FL
Dallas, TX
Grapevine, TX
Carrollton, TX
Phoenix, Arizona
Moreno Valley, CA (right by Los Angeles)
There are many other options.
ShipBob Fees
ShipBob's pricing and fee structure are simple for both new and established ecommerce companies. ShipBob offers transparent and total fulfillment costs pricing so that you can see exactly what you will pay as your business grows.
Although it is still essential to get a quote from ShipBob's salespeople, the pricing usually includes the following:
One-time implementation fee
Receive inventory at a charge
Storage fees in warehouses
Shipping fees for each order
It has fewer fees than other 3PLs and can be quite affordable, mainly because those fees are clearly outlined on the website (no surprise).
Here are some examples of the pricing options for ShipBob services.
Receive a flat rate of $25 per hour for the first two hours. Each hour after that costs $40 per person-hour.
Storage – Monthly fee of $40 per pallet per calendar month. A $10 per shelf fee is also charged per month. A $5 per bin fee is also charged per month. Only pay what you use.
Picking and packing: This cost is included. After the first four picks, a $0.20 per pick fee will be charged.
Standard packing: You get free plain mailers and tape. You will need to charge extra for anything more complicated (like an insert box or custom branded box), but you won't have to pack it.
Shipping costs vary depending on what you order. Pricing varies depending on the items sent, weight, dimensions, destination, and other factors. Shipping costs must also be taken into account. ShipBob offers shipping discounts for significant providers.
ShipBob is our top choice for fulfillment centers in the USA. ShipBob is the best choice for shipping and storing your products.
2. Shopify Fulfillment
https://www.shopify.com/fulfillment
Shopify users can use the Shopify Fulfillment network to get third-party logistics. You can send your products to them and get recommendations about where to store them within the vast network. Shopify might recommend that you ship some items to Michigan. However, other products could be more popular down south, so it is good to store them at the Oklahoma and Georgia warehouses.
Video: Shopify Fulfillment Service
The Shopify Fulfillment center is also fantastic because you can sell on any channel. Amazon orders go through the same fulfillment processes as those from Shopify. Shopify is the most trusted fulfillment center in America for all your needs.
Shopify Key Features
All the support you need for your online store, including fulfillment.
Shipping rates at major transport providers such as UPS, FedEx, and USPS are markedly discounted.
Transparent pricing with a simple bill that includes your Shopify subscription and fulfillment fees
Many fulfillment centers in the USA can ship to customers near you.
Real-time analytics and reporting, as well as smart replenishment tools, allow you to replenish your items quickly and ensure that everything runs smoothly.
Regular online store support and B2B wholesale and subscription order fulfillment.
Support sales via different channels such as Amazon, Etsy, and eBay.
Excellent data control with custom data at your fingertips. End-to-end tracking of packages whenever an item is sent to a customer.
Return processing and inventory management
If you need something to be sent out quickly, we can provide fast and same-day fulfillment services.
Sleek branding options are available with custom packaging slips, packaging, and marketing inserts.
Shopify Locations
Shopify Fulfillment Centers in the USA are, as of this article:
California
Georgia
Nevada
New Jersey
Ohio
Pennsylvania
Texas
Shopify has an Ottawa, Ontario-based shipping center.
Shopify Fees
Shopify Fulfillment Network bills its customers using two payment methods. One is per fulfillment (picking and packing, shipping, and shipping), and the other is per month (storage or special projects).
Shopify will provide a custom quote for every company. However, they also outline how they arrive at specific pricing for each brand.
You are charged monthly for your storage space when you use the Per Month plan. When necessary, they add any additional project fees.
Wholesale orders are charged separately.
The Per Fulfillment Plan includes picking and packing fees. This includes finding the items in the warehouse and packing them with inserts and supplies.
Shipping costs include shipping cost elements such as the weight of the package and the shipping carrier.
Shopify Admin page shows pricing that is unique to your company.
3. Deliverr Fulfillment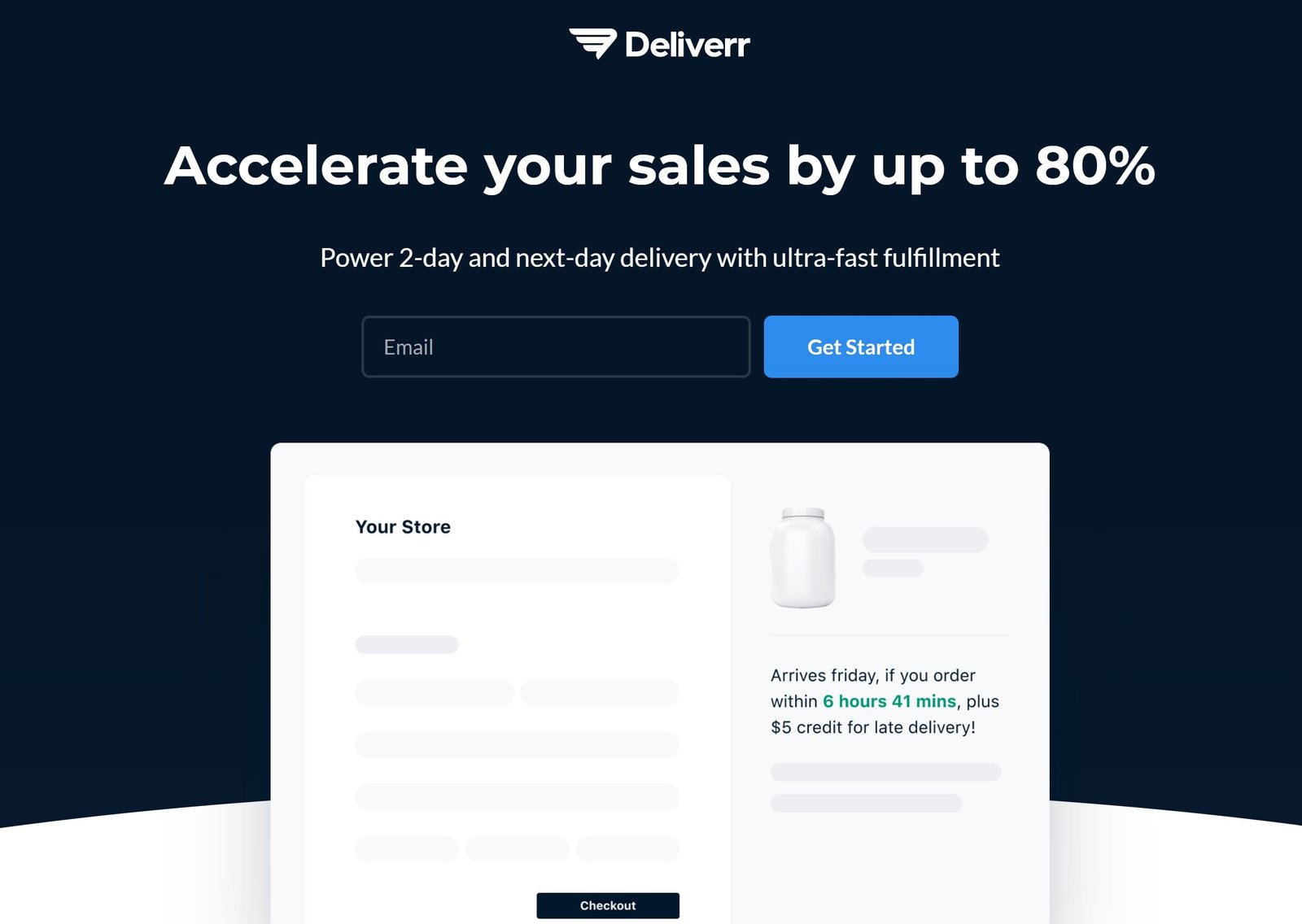 Deliverr offers the unique advantage that it focuses on multichannel fulfillment. This includes Amazon, Google, Facebook, Instagram, and Amazon. Your central ecommerce platform supports links to Shopify, Bigcommerce, and many other platforms. Deliverr provides affordable pricing that can be customized to suit the size and style of your shipments. Partner sites like Shopify and Facebook can offer next-day delivery.
Delivery's prime-like badge is what makes it unique. This allows items to be shipped quickly, such as the Walmart 2-day option. You can make your online store more attractive by displaying these badges. This will encourage people to purchase faster because they are promised free shipping. Deliverr is easy to use for those who don't need bulky items. You can also increase your sales by using faster shipping badges.
Deliverr Key Features
Shopify, Amazon, and Walmart offer individual shipping and fulfillment options.
Two-day free delivery to the most popular online marketplaces and top ecommerce platforms
A reasonable pricing policy that is always transparent.
You can use a badge system to increase sales and promise faster shipping. To guarantee that the product will arrive within a specified time, you could add a badge on eBay for one product.
Inventory management tools allow you to see where your products are moving to and from.
There is a solid warehouse network that spans the USA with fulfillment centers located on the east coast, west coast, Midwest, east coasts, and in the south.
Deliverr Locations
Deliverr's warehouse network allows you to ship your products directly to fulfillment centers that make sense.
These states currently have a fulfillment center in the USA.
Georgia
Pennsylvania
Ohio
Texas
Colorado
California
Indiana
Missouri
Kentucky
Tennessee
South Dakota
Louisiana
New York
Arizona
Nevada
Deliverr Fees
The Deliverr pricing is transparent and straightforward. It allows ecommerce shops to understand exactly what they are paying and when it makes sense for them.
The exact amount depends on the business. Here are some general fees.
Fulfillment – Starting at $3.99 per unit
Storage – Starting at $0.75 per square foot per month
To get a better estimate, you can use the Delivery Cost Calculator.
4. Shipmonk Fulfillment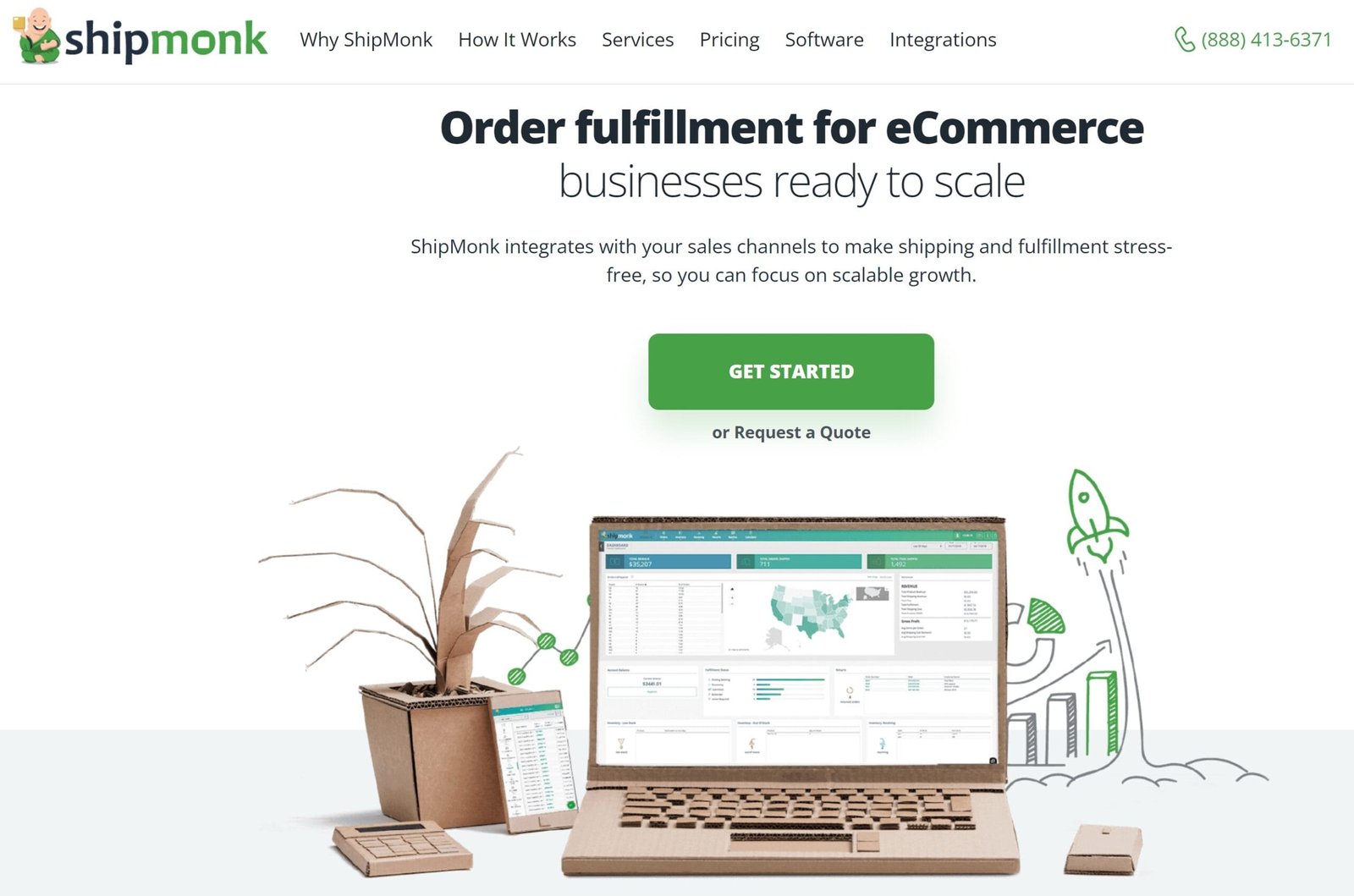 Shipmonk offers ecommerce order fulfillment, integrations with top-selling channels, and a hassle-free shipping and storage process. It is a cloud-based software that offers tools for inventory management and shipping and warehousing. Shipmonk offers three fulfillment centers in the USA spread across different areas to ensure your customers get the best service.
Shipmonk supports all types of ecommerce fulfillment. Shipmonk partners offer shipping discounts and high-quality customer service via chat, email, and phone. You can create a connection to fulfill subscription boxes or even send products out for crowdfunding campaigns. FBA prep is a great option, and retailer fulfillment options are also available.
ShipMonk Key Features
There are many locations across the USA where you can store your products.
You can manage returns for your customers so that they return their items to the original places, not to your office.
Special projects support your scope not covered by the standard fulfillment procedures.
You will receive actionable reports that include breakdowns of orders, costs, and units sent throughout the U.S.
Transparency in billing lets you keep costs low and understand what you will pay.
Integrations with top ecommerce platforms are free and over 100 other integrations.
All-in-one software for managing shipping, warehousing, and orders.
ShipMonk Locations
Shipmonk currently has three fulfillment centers in the USA
Los Angeles, CA
Pittston, PA
Fort Lauderdale, FL
These warehouses were strategically placed on the U.S.'s three major coasts, opening up possibilities for quicker shipping.
ShipMonk Fees
Shipmonk claims that pricing information is open and transparent, which seems to be true.
For pricing information about Amazon fulfillment prep, subscription box fulfillment, and retail, visit the Shipmonk website.
Here are some things to look out for when pricing ecommerce fulfillment.
Start at $2.50 per order. $0.50 for additional choices. Promotional inserts are $0.20.
Additional items eligible for return processing at $2.00 +0.50
Storage: $1 per month for a small container; $2 per month for a medium container; $3 per month for a large container; $4 per Monthly for an XL-sized bin; $20 per Monat for a pallet
Additional fees may apply $45 per hour for special projects; container unloading fees; $250 minimum pick-and-pack fee; $.15 to $.2 for packaging materials.
5. Red Stag Fulfillment
https://redstagfulfillment.com/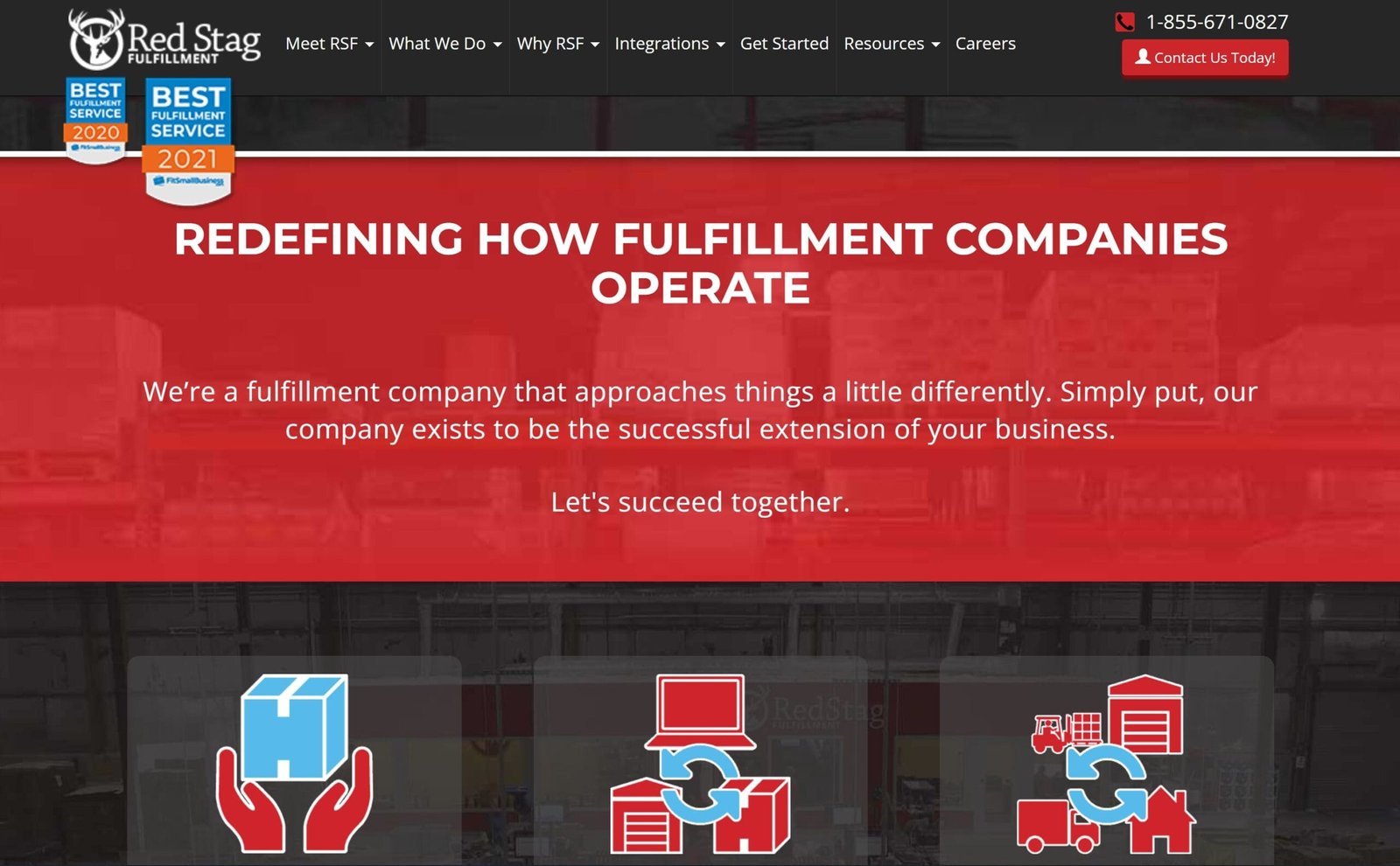 There are a few reasons it is considered one of America's best fulfillment centers. Red Stag Fulfillment offers top-notch rates, professional shipping, and storage. All this is merged into one dashboard that allows you to work with the right shipping companies and ship your products to specific warehouses.
Red Stag has a strong connection with top ecommerce platforms such as Shopify and WooCommerce. It offers shipping labels at a discount, tracking and shipment tracking, and streamlined returns that are hassle-free.
Red Stag, a USA fulfillment center, is everything you need. There are warehouses on both the east and west coasts so that all customers can be reached. You can use it as an Amazon Fulfillment alternative.
It offers same-day shipping, fulfillment, order management and tracking, and web-based inventory. It has lower storage costs and a high-quality customer service team for any questions.
Red Stag Key Features
Design and manufacturing of custom packaging.
You can expect exceptional speed and customized processes for return processing.
Many discounts available for shipping carriers, storage fees, and inventory storage
Ecommerce users have the option of same-day fulfillment and fast shipping.
A web-based inventory and customer order management system allows you to monitor your products online and see where they are going.
Integrations with top ecommerce platforms like Shopify, WooCommerce, and Volusion.
These are some of the most prestigious fulfillment centers in the USA.
Red Stag Locations
Red Stag Fulfillment does not have an extensive network of fulfillment centers. However, it is efficient and focuses only on two centers. Another center will be coming soon in Los Angeles.
Currently, both the Knoxville and Salt Lake City fulfillment centers are located in T.N. Customers in these areas receive one-day delivery, while the rest of the U.S. will get two-day shipping. Only two lower 50 have delivery times of three days, one small area of Montana and a few bits of New England.
Red Stag Fees
Red Stag will require a sales consultation to determine your total shipping costs. The company does, however, break down the usual costs as follows:
Receiving
Warehousing
Picking and packing
Shipping
Returns
They don't charge hidden fees like other competitors. You shouldn't be surprised by charges for account management, minimum monthly payments, or SKU management.
6. Shipbots Order Fulfillment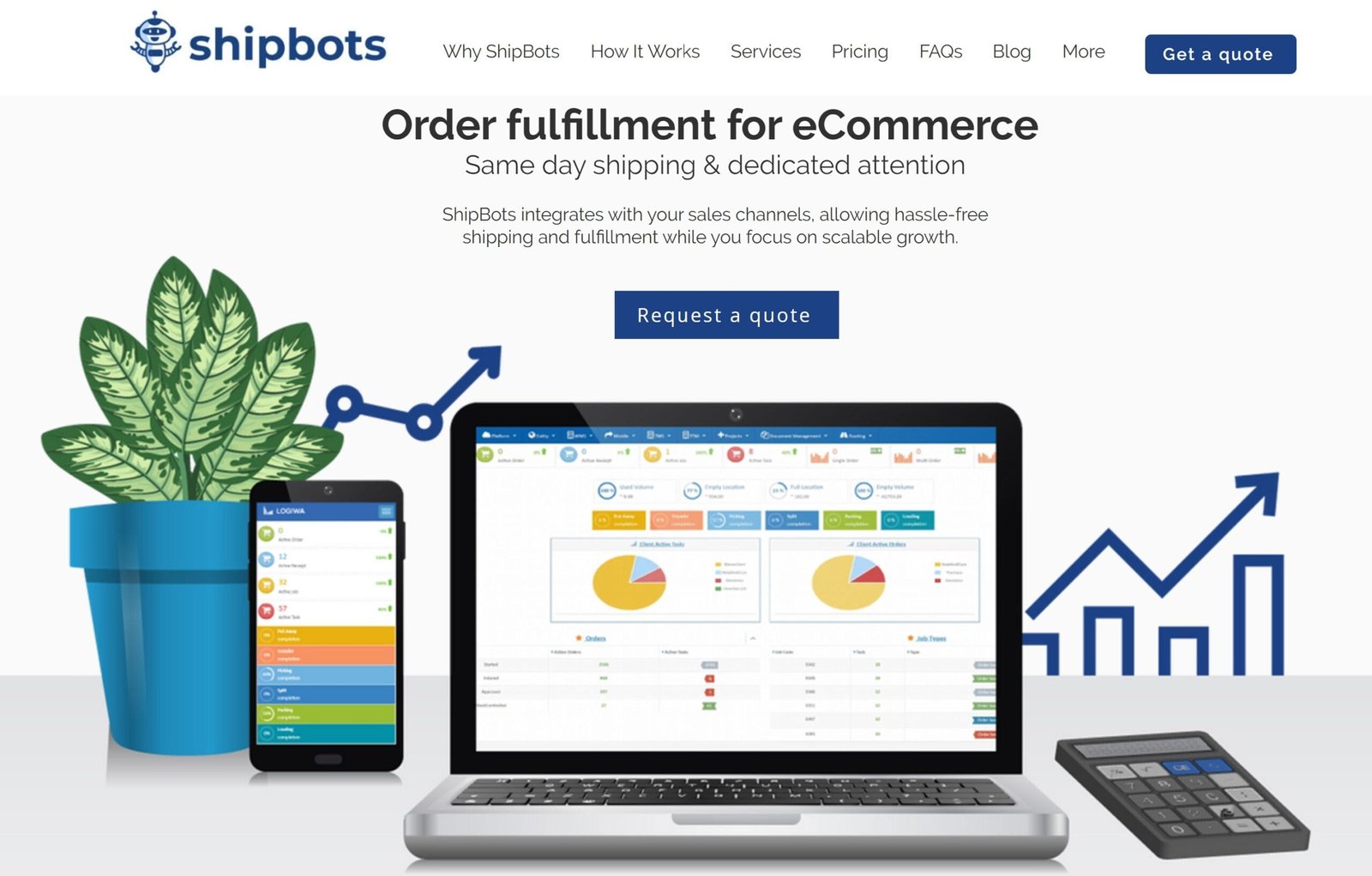 The Shipbots fulfillment company offers many software tools and three US-based locations to reach customers on the Westcoast and Eastcoast. The fulfillment company is known for its fantastic shipping discounts, intuitive inventory management software, and the ability to track all orders, shipping, warehouse logs, and blacklisted SKUs.
Partnering with Shipbots is easy. Simply connect your store to the software, sync your products, and then you can send all the items to the warehouses you choose. You might want to store your items in Kansas City, while others are stored in Los Angeles.
Shipbots also has some unique features that merchants will love. For example, Shipbots has temperature-controlled storage facilities and shipping options if you need to protect products from the heat or cold. Shipbots also offers a returns management program, which alerts ensure that the product is returned to the correct warehouse. You also get everything you need, including transparent billing, actionable reports, enterprise-grade security, and freight management.
Shipbot's Key Features
Shipbots offers several excellent fulfillment centers throughout the USA. Shipbots has fulfillment centers in all regions and coasts, with one warehouse in the Midwest and another in the West.
Shipbots works with major couriers to get you the best shipping rates.
Its inventory management software integrates order management, inventory tracking, and shipping software to make it the most efficient.
You can opt for temperature-controlled storage and shipping.
You can contact the company for any questions regarding your shipment.
Shipbots uses a return management system to make return labels and receive notifications when the returns are sent back to the warehouse. Shipbots also handles returns by placing them on the shelves.
You will receive actionable reports that include information about costs, orders, and unit movements.
You have the option to choose where your products will be stored. You can also choose to store your products in any Shipbots warehouses.
Integrate with the most popular ecommerce platforms such as Bigcommerce and Shopify.
Shipbots allows you to select who in your company can see your shipping data and take control of your inventory.
Shipbots offers freight management services that help you import and coordinate freight shipments.
Shipbots provides fulfillment for ecommerce shops and more unique fulfillment services such as retail, subscription boxes, and crowdfunding.
Shipbots can receive your products and prepare them for shipment through Fulfilled By Amazon.
Shipbot Locations
You can also choose where to store your products, depending on the location of your customers. Shipbots, as we have already mentioned, has three warehouses in the United States to cover its bases. One warehouse is located in the Midwest, and the other two are responsible for the coasts.
These are the Shipbots fulfillment centers and warehouse locations:
Los Angeles, CA
Kansas City, MO
Rocky Mountain, NC
It is essential to have as many products as possible to get their products as quickly as possible. Shipbots allows you to divide your inventory among different locations. This is the best option, as some customers will live on the east coast while others will be closer to the Rocky Mountain or Kansas City warehouses.
Shipbot Fees
To get a customized quote for your company, you must contact Shipbots' sales team. Shipbots offers a cost calculator that can help you determine what your pricing might look like.
While your numbers may vary, this is an example of ecommerce fulfillment cost.
Start at $2.50 per item
All additional items added to the order are $0.50
Starting at $0.20 per order for promotional inserts
Return processing starts at $2
As you place more orders per month, the rates will go up. Sending out more than 5,000 orders per month will result in a $1.50 first pick fee. Additional items are $0.30 each, a lower rate than the one listed above.
These are other fees associated with Shipbots
$5 per month for large bin storage containers
$10 per month for each shelf you use
$30 per month for each pallet that is stored
Special projects: $45 an hour
Unloading a 20-foot container costs $300
Unloading a 40-foot container costs $500
Minimum pick-and-pack fee $250 per month
All packaging materials cost $0.15 to $2.00
You can also create your packaging materials. Customers can also get the following services and features for no extra charge:
Shipping rates at a discount
Customer support
Reception of photos
Freight management tools
Software for inventory and order management
Preparation and processing of orders
Management of Claims
Validation of address
7. Fulfillment by Amazon: FBA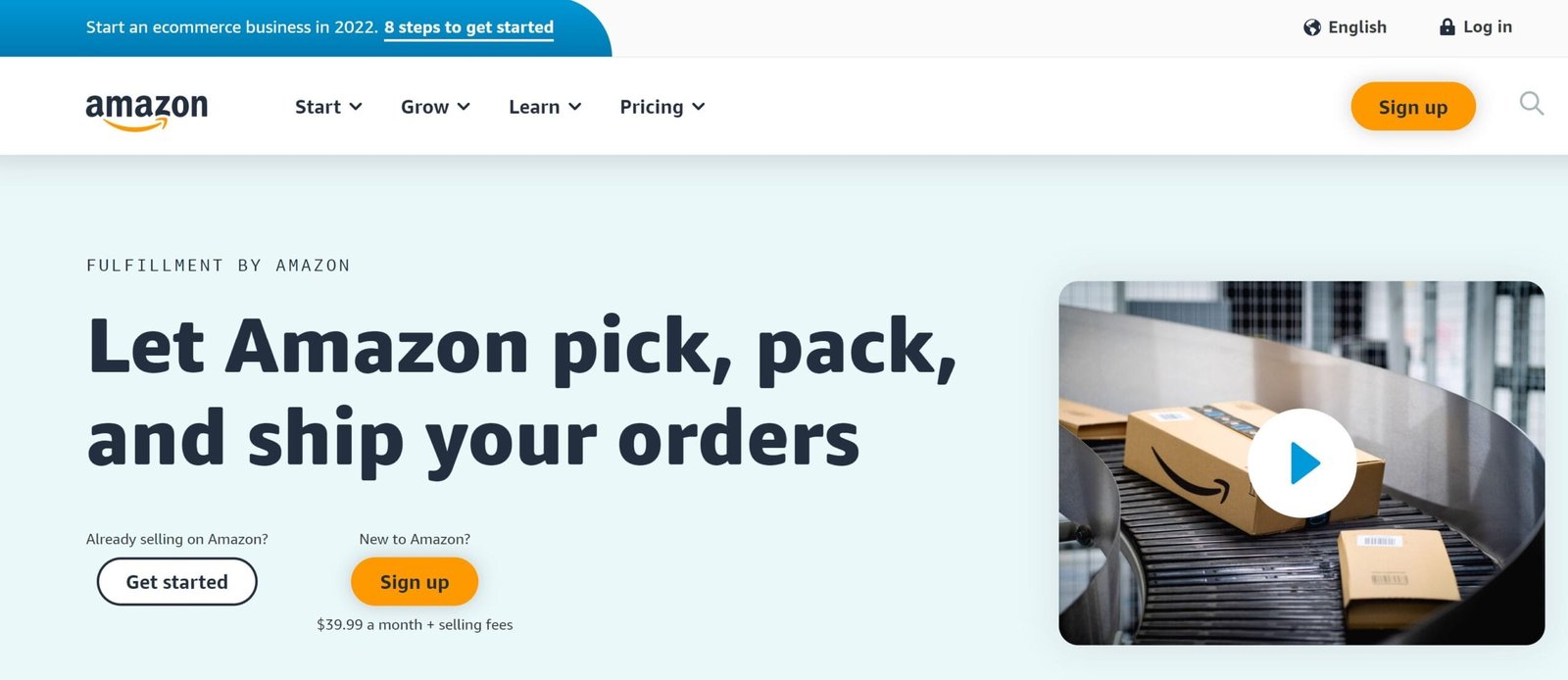 https://sell.amazon.com/fulfillment-by-amazon
Fulfillment by Amazon is the best fulfillment option for Amazon sellers. FBA is an excellent choice for Amazon sellers as it handles customer inquiries, processes refunds, and orders fulfillment. FBA comes with an automatic Prime designation, allowing you to have greater access to Amazon's more than 150 million Prime subscribers.
FBA's pricing procedures and pricing are more complex than other fulfillment warehouses. This is especially true if you don't sell small or light products. To avoid paying unnecessary fees, make sure to understand how FBA works.
Although it isn't the most efficient or economically viable operation, the benefits it offers Amazon sellers more than makeup for it in some cases. High storage costs and expensive multichannel fulfillment fees affected the company's score. In addition, the company had to lose points in the pricing category due to a lack of common value-add, shipping options, and order accuracy.
Fulfillment by Amazon Key Features
Prime shipping subscribers have access to more than 150 million Prime subscribers
Shipping times and quick turnaround
Hands-off refund and return management
No order minimums
110 U.S. Warehouse Locations
Amazon Prime listing automatically includes this item
Amazon takes care of all customer questions, returns, and refunds
It can be used for non-Amazon orders
Undisclosed error rate
Utilizes inventory pooling to identical group products from different sellers
FBA Pricing
Onboarding
$0
Onboarding and account setup is free

Receiving
$0 if shipments meet standard requirements; $35–$40/hr otherwise
Inbound stock receipt, unpack, and check-in

Inventory Storage
$8–$15 per pallet/month
Storage with the climate-controlled option, security, and inventory management

Pick and Pack
40 cents per unit, including standard packing materials
Picking items from inventory and packing them for shipment
Shipping
Discounted FedEx rates
Shipping costs vary depending on your goods' size, weight, and destination.
Brian Wilson is the content manager and founder of LLC Radar.
Brian grew up in North Texas, just outside of Dallas, and has a bachelor's degree in business journalism from Southern Methodist University. Since graduating from SMU, Brian has gained over 10 years of experience in business writing for several online publications.
Brian resides in Plano, Texas and he can be reached by email:   info@llcradar.com
Phone: 972-776-4050