Printful vs. Printify – Comparison Tables
Printful vs Printify: We compare print-on-demand services Printful and Printify, including pricing, features, and capabilities.
Do you want to test the waters of ecommerce? Are you looking for reliable print-on-demand companies to help you source products or fulfill your orders?
Running an ecommerce store is more than selling products. Print-on-demand companies such as Printify and Printful make it easy to create your ecommerce shop. Printful and Printify, however, are two different companies.
Printful and Printify: Brief Summary 
Printful

Printify

Printful is the best option for most US-based print companies. 

 

Printify is a better option if your business expands internationally or ships primarily internationally. Besides that, these two services are similar.
Printful vs.
Printify

: Comparison Tables
| | |
| --- | --- |
| | |
| Printful makes everything in-house. It supplies all of its products independently. | Printify sources its products from a variety of third-party suppliers (Printify Outsources) |
| Printful works with Bonanza and many other platforms. | Printify can be embedded on Etsy or eBay. |
| Printful supports neck labels, pack-ins, and logos on packages. | Printify only offers custom branding via neck labels |
| Printful does not offer print provider options  | Printify lets you choose a print provider or location. |
Compare Printful and Printify Services
| | | |
| --- | --- | --- |
|   | | |
| Subscription |   |   |
| Free sign-up | Yes | Yes |
| Monthly fees | Premium plan from $9/month | Premium plan $24.99 |
| Currency | USD, EUR, JPY, GBP, AUD, CAD, CHF, DKK, NZD, SEK, NOK, SGD, PLN, MXN, BRL, HKD, KRW | USD |
| Production |   |   |
| DTG | Yes | Yes |
| Embroidery | Yes | Yes |
| Sublimation | Yes | Yes |
| Cut & sew | Yes | Yes |
| Fulfillment locations | USA, Mexico, Latvia, Spain, Japan, Australia, Canada, UK, Brazil | USA, Europe, China, UK, Australia, Canada |
| Customer Support |   |   |
| Live Chat | Yes | Yes |
| Email | Yes | Yes |
| Phone | No | No |
| Branding Options | Front print, Back print, Outside labels, Inside labels, Sleeve printing | Custom neck label (inner and outer), Custom sleeve printing |
| Product Branding | White-label packaging, Brand logo, Pack-ins, a Custom packing slip | White-label packaging, Shipping labels |
| Packaging Branding | White-label packaging, Brand logo, Pack-ins, a Custom packing slip | White-label packaging, Shipping labels |
| Design Generator Tools |   |   |
| Product mockup generator | Yes | Yes |
| Embroidery mockup generator | Yes | Yes |
| Text Tool | Yes | Yes |
| Clipart tool | Yes | No |
| Product personalization tool | Yes | No |
Comparing Integrations
| | | |
| --- | --- | --- |
| Integrations | | |
| Ecommerce platforms | Shopify, WooCommerce, Wix, Squarespace, BigCommerce, Ecwid, Weebly, Prestashop, Gumroad, Magento, Big Cartel, 3dcart, Launch Cart, Webflow, Nuvemshop | Shopify, Wix, WooCommerce, Prestashop, Bigcommerce |
| Online marketplaces | Amazon, Etsy, eBay, Storenvy, Wish | Etsy, eBay |
| Custom API | Yes | Yes |
Products Comparison 
| | | |
| --- | --- | --- |
| Products | | |
| Product count | 316 | 500+ |
| Sample order discount | Yes | No |
| Most affordable tee in black color | $9.07 | $7.09 |
Comparing Shipping Rates
| | | |
| --- | --- | --- |
| Shipping | | |
| Flat shipping rates | Yes | Yes |
| Live shipping rates | Yes | Yes |
| Custom return address | Yes | Yes |
Warehousing
| | | |
| --- | --- | --- |
| Warehousing | Printful | Printify |
| Warehousing services | Yes | Yes |
| 24hr fulfillment | Yes | Yes |
| Visit their website | Printful | Printify |
Information on prices, products, and service specifications are as published by named print-on-demand drop shipping websites, and maybe updated at any time.
What is Print on Demand?
Print-on-demand is, as the name suggests, an online fulfillment process in which the seller collaborates with a supplier to create custom-printed products on an order basis.
A supplier, primarily a print-on-demand service and has a warehouse and an internet platform that integrates to the drop shipper's online selling channel, customizes white label products under the seller's brand or a customer's pre-made printing design.
These products include caps and T-shirts, a tote bag, leggings, hoodies, pillows, and curtains. The list is endless.
Like drop shipping, this model doesn't require you to keep any inventory or pay upfront fees until the product is sold. It is the ideal way to test your business idea because it has low overheads and doesn't have a high barrier to entry.
More Extensive Comparison: Printful vs Printify
Printify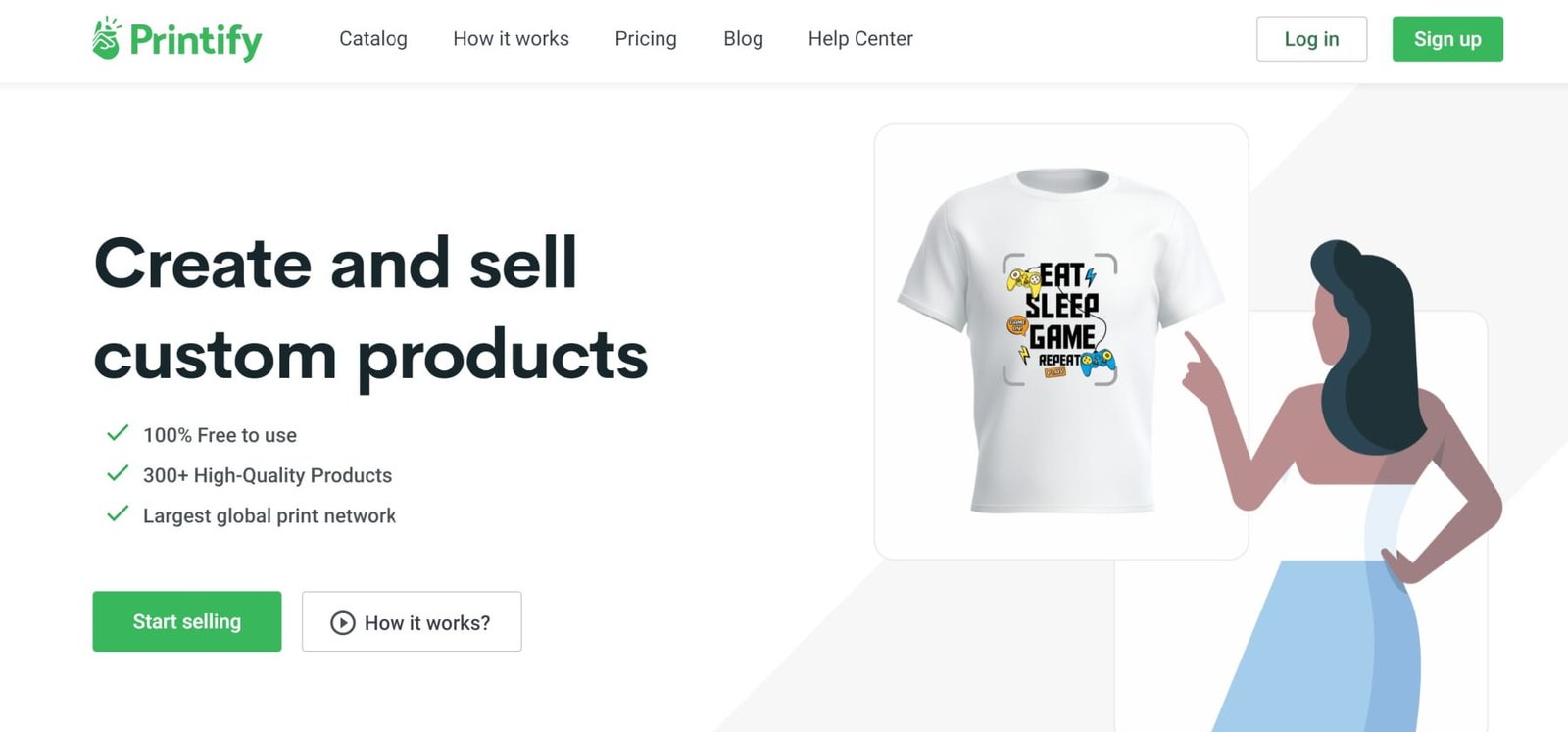 Printify aims to simplify the ordering process.
Printify is the same as its top competitor. The interface is very user-friendly and easy to use. It uses a mockup generator to reduce the stress of designing print designs.
Printify offers a wide range of color options to create high-quality 3D product images. Printify also offers a wide selection of products to choose from.
The POD service works closely with brands and print designers to improve the quality of products.
Printify organizes these print-on-demand gurus based on their bestselling locations, prices, and pricing. You must choose the right printer provider to grow your POD dropshipping company to fulfill your orders.
The product list is comparable to its competitors. Your print designs can be customized to appear on hoodies, T-shirts, canvas prints, leggings, and other products.
Handpicking your supplier is a convenient option for your business and your customers. Dropshipping allows you to retain your brand's authority and work with the best print provider.
Request samples. You can feel the product's quality and design firsthand. If you are satisfied with the product, you can list all the products in your shop.
Printify handles the entire fulfillment process, just as you would expect. Printify promises to not fall behind in order management priorities, helping you get out of deficit territory.
You must ensure that quality control is maintained and that each shipment can be tracked when you sell.
The marketing strategy is all that remains. Printify seems to operate in the same way as its competitor when it comes to its method of operation.
Printful: An Overview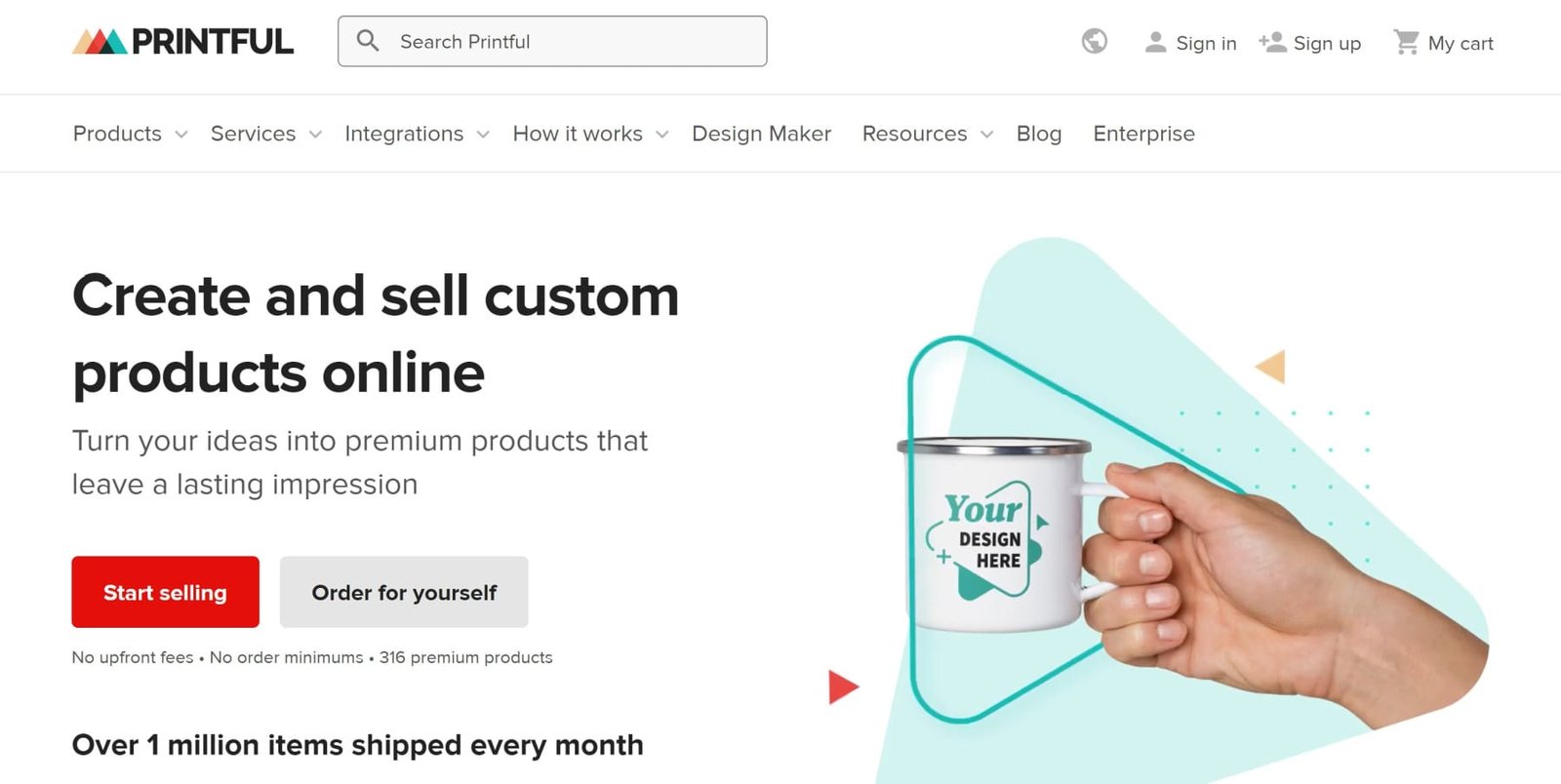 Printify's Printify is not much different from Printful, which offers print-on-demand services. Printful is also a cloud-based service for printing on demand that provides all the resources and tools you need to fulfill custom-printed orders.
Printify is a similar platform to Printify. This platform primarily targets drop shipper businesses from all over the globe via e-commerce platforms. Printful can be integrated with your online shop, and you don't need to worry about order fulfillment or inventory.
Inventory is sourced internally. You heard it right. Printful does not source products from suppliers. Instead, they produce everything themselves.
It's not a secret. However, this doesn't mean that it has limited product options. Printful, on the other hand, has built a good collection of customizable options. It's almost as many as Printify.
Printful also offers customization tools that allow you to specify the type of print you want on your products. Printful lets you choose the products you want to sell and allows you to modify or apply your preferred print designs with its Mockup Generator.
Printful takes care of the rest. Printful coordinates fulfillment activities with fulfillment centers in the USA, Mexico, and Europe once an order has been placed.
Each product is sent from Printful's warehouses. After that, the chosen designs are carefully printed along with the label. Finally, packaging and shipping rates prices follow.
Printful saves you the hassle of fulfilling orders and processing them. Printful reduces your role as a merchant to selling and not worrying about fulfilling orders.
Printify vs. Printful: Pricing
Printify Pricing
Free Plan:
Printify recommends this plan for merchants who are just starting their dropshipping business. You can upload as many product designs as you like to your online shop.
You can integrate up to five POD dropshipping shops with this free account. This plan has everything you need. You know that cheap is not always easy.
Printify's free package includes a self-serve help center, 24/7 merchant support, customer service, manual order creation, and integration with Shopify Etsy, eBay, Shopify, and other services. It also offers unlimited product designs and five stores per account.
Premium Plan:
Most users choose to go with the Premium Plan. This package allows you to store ten accounts for $29/month under the premium pricing plan. You also get a 20% discount on all products, custom orders import, 24/7 merchant support, manual creation, integration with Shopify Etsy eBay, Shopify, and many other services, as well as unlimited product designs.
Enterprise Plan:
You will pay a customized rate according to your needs. It includes branded customer support, an account manager, custom API integration via an API key, early access to new features, and up to 20% off all products.
Printful Pricing
Printful is an excellent option for white-label sales. It has a low price that will suit your needs. Inside labels can be requested to be attached to any POD product you wish to sell.
A label inside a garment usually includes its size, material information, and the manufacturer's tag or logo.
Print-on-demand allows you to personalize your label to reflect your brand. Many entrepreneurs use this marketing strategy to increase brand visibility on the market. Printful charges $2.49 per label.
You might consider setting a budget for Inside labels to build customer loyalty. It is very straightforward in technical terms. You can choose a template label and personalize it to suit your brand.
Printful also offers drop shippers other services, such as:
Outside label – $2.49 per label
Long sleeves print – $5.95 per sleeve
Print on short sleeves – $ 2.49 per sleeve
Additional placements of the embroidered logo available at $2.95
Printful lets you create a design that incorporates your logo and print it on the packing slips. Most sellers use this option to improve customer relationships, offer discounts and introduce new products in an already established market.
You'll need $0.75 for pack-ins like flyers, business cards, or stickers. This fee can be used to promote your products.
Printful has a profit calculator that helps you determine the best profit margins. It will show you the expected net profit per product.
Printful recommends that you keep a minimum margin of 30%, although there are no limitations on pricing. Users who reach a certain monthly sales are eligible for volume discounts from Printful.
Printify vs. Printful: Fulfillments
Printify Order Fulfillment
Printify's extensive network of international suppliers can be a double-edged weapon when it comes to fulfillment.
Printify was created to automate and streamline the fulfillment process. However, it is the suppliers that are ultimately responsible for order fulfillment. They are, in effect, the fulfillment company. They are responsible for packaging orders and shipping them to customers.
Printify has many suppliers, so all of these factors can significantly impact order delivery times and shipping costs (shipping rate). Printify works with many suppliers, each with its delivery method.
Printify's shipping solutions take longer to ship international orders because they have fewer fulfillment centers. Here is a breakdown of shipping times:
Location
USA: 7-15 business days
Canada: 10- 15 business days
International: 10-30 days
In the end, delivery times and shipping costs can vary significantly from one case to the next.
Printful Order Fulfillment
Printful makes it easy to streamline your order fulfillment process. Everything is done in-house. Printful won't force you to rely on third-party suppliers.
Printful coordinates fulfillment between its North Carolina-based and California centers regarding US orders. International merchants can then take advantage of the Mexico and Latvia fulfillment centers.
Every order is processed the same way, including packaging and shipping. Printful controls everything to ensure a short lead time.
Once an order has been placed, the process starts. Printful estimates that the process can take anywhere from 2-7 business days to produce apparel products and 2-5 days for non-apparel items.
It all depends on the destination of the product. Printful estimates that shipping can take approximately four business days. Printful achieves the goal of more than 3 million orders annually by working with global carriers companies.
FedEx, DHL, and USPS.com are some of the shipping options listed. This company provides a detailed guide that explains how to calculate shipping rates.
This is how your customers will pay to ship for printed products such as T-shirts or long-sleeve shirts, crop tops, or tank tops.
First product
USA: $3.99
Europe: $4.39
Canada: $6.49
Australia/ New Zealand: $6.99
Worldwide: $5.99
Additional product
USA: $1.25
Europe: $1.09
Canada: $1.25
Australia/ New Zealand: $1.25
Worldwide: $1.25
Printiful vs Printful: Customer Support
Printful uses a variety of deep-dyed tactics to connect with customers on a more immediate level. All new users are offered a free onboarding session.
The site's blog section is very resourceful and offers valuable insights into how to run a print-on-demand company. They can be reached by phone, chat, or email.
Printify has a help center with articles about necessary integrations, troubleshooting, and products.
The blog also contains tips, success stories, design trends, and marketing tips. Printful's lack of live support is what makes it fall short.
Printify vs. Printful: Customer Reviews
There are a variety of mixed views on both services. Here we have customer reviews published on Trustpilot, where most of the reviews are positive with a few negative reviews for both Printify and Printful.
Printify Reviews on Trustpilot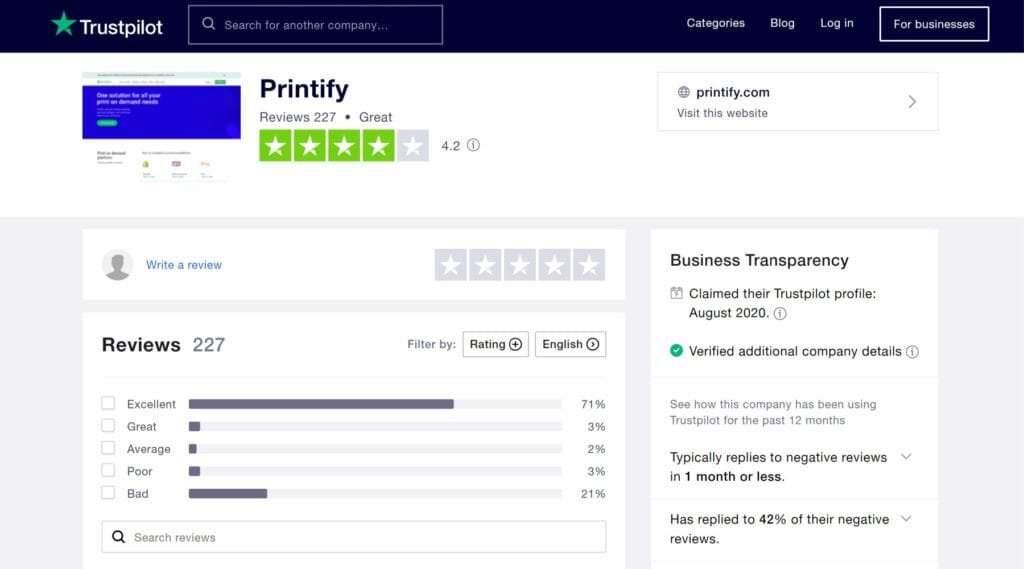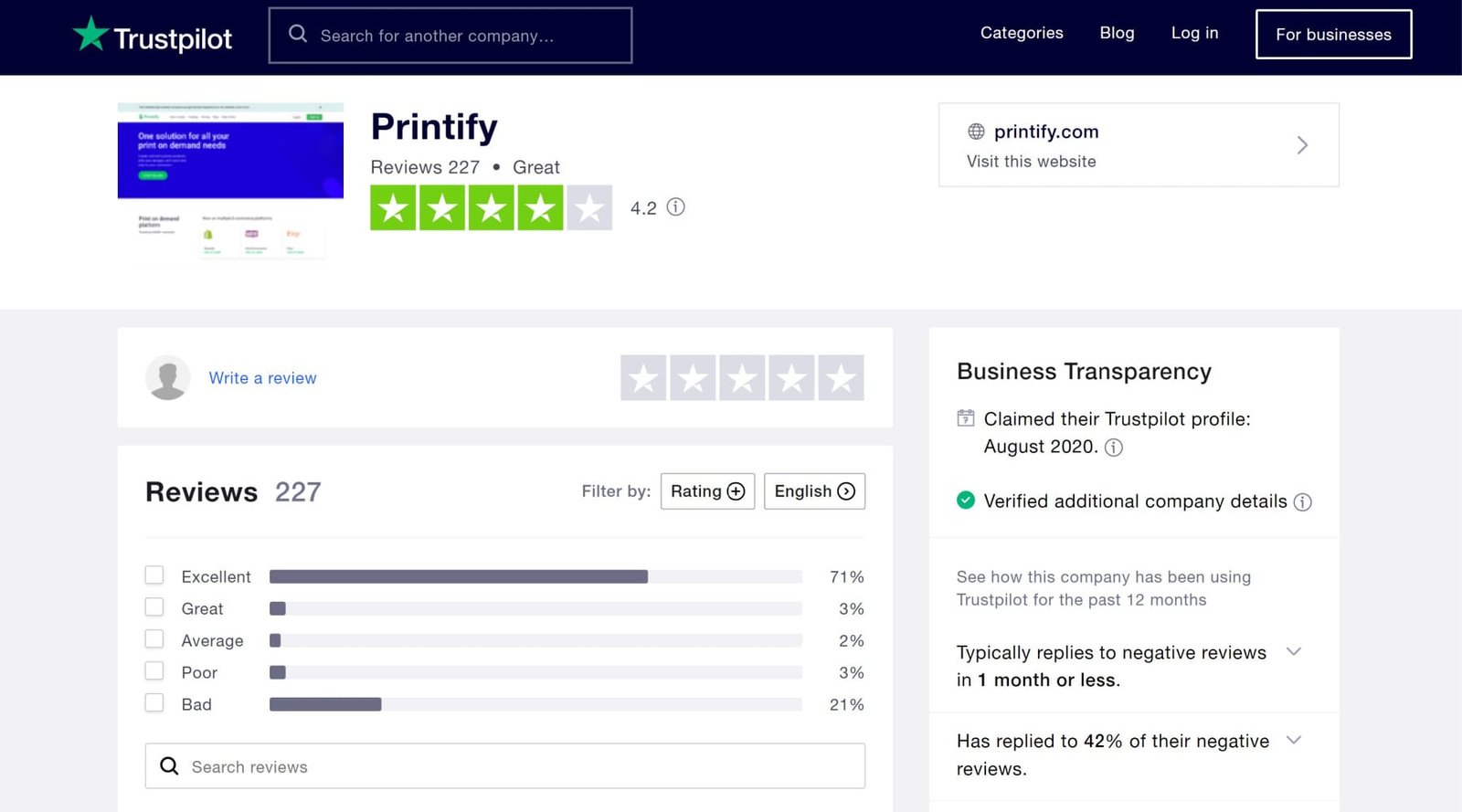 Printful Reviews on Trustpilot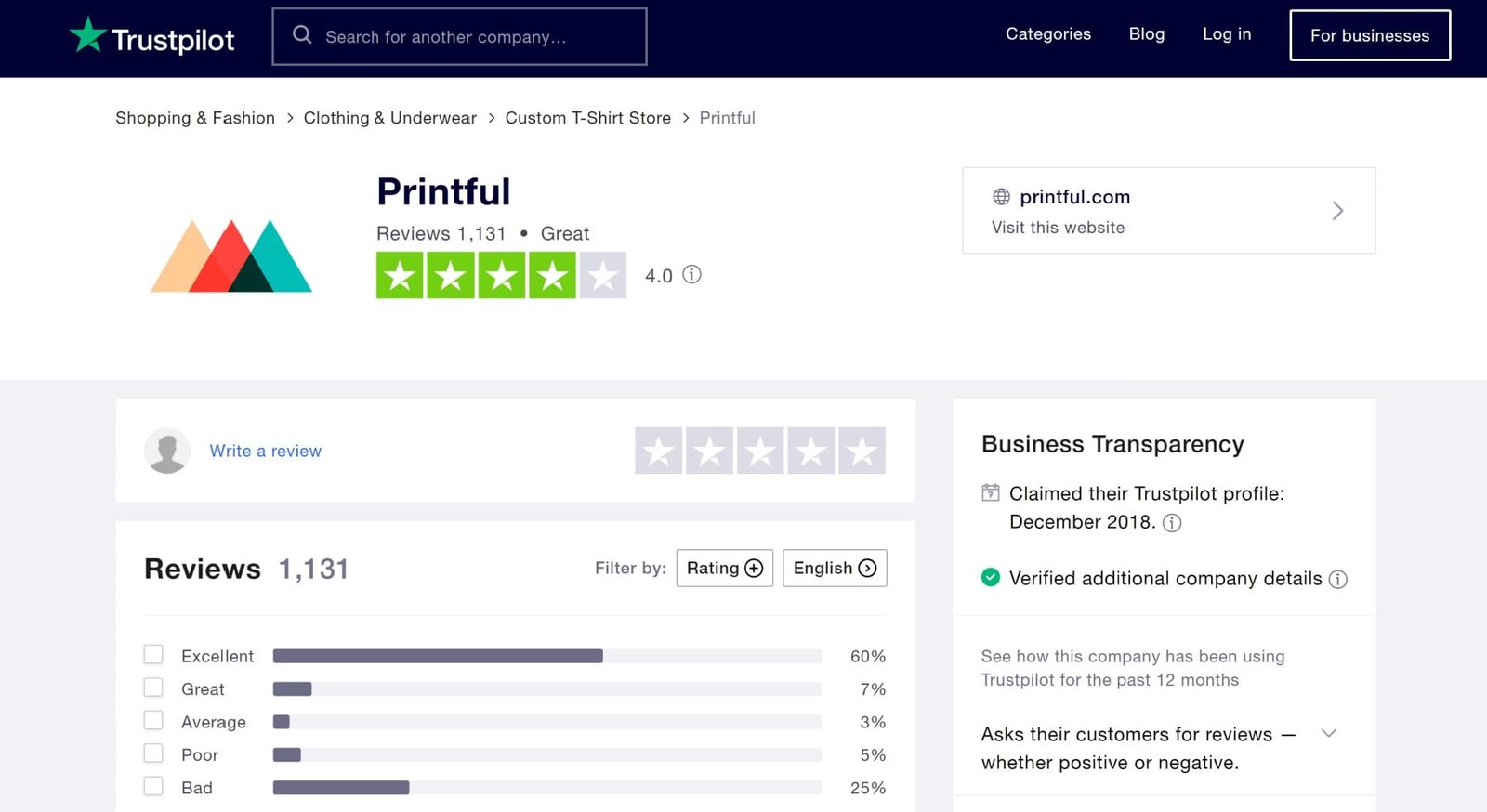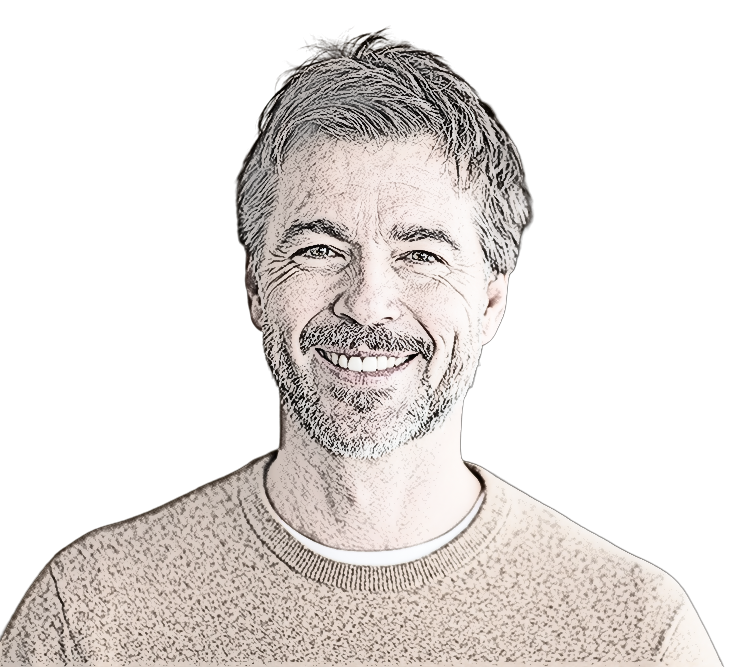 Brian Wilson is the content manager and founder of LLC Radar.
Brian grew up in North Texas, just outside of Dallas, and has a bachelor's degree in business journalism from Southern Methodist University. Since graduating from SMU, Brian has gained over 10 years of experience in business writing for several online publications.
Brian resides in Plano, Texas and he can be reached by email:   info@llcradar.com
Phone: 972-776-4050