Gusto vs SurePayoll: Which One is Best for Your Company
Gusto vs. SurePayroll. If you're looking to automate your payroll process, tools like Gusto and SurePayroll might be familiar. This comparison will show you the differences between SurePayroll service providers and Gusto. This review will provide all the information you need to decide which service provider is best for your needs. 
Payroll creeps in every month, and it takes up a lot of your time. This is especially true for small business owners without an HR department.
You are likely to be responsible for tracking the leave and sick days of your staff, as well as bonuses and payment schedules. It's easy to see the amount of work you have to do!
| | | |
| --- | --- | --- |
|   | SUREPAYROLL | GUSTO |
| What We Like | Online access with a mobile app available Employee portal available Affordable for even the smallest business | Scalable, with three plans available Employee onboarding Integration with top accounting products |
| Could Be Better | Does not include after-the-fact payroll capability Limited report customization Employee onboarding not available | Pricing can be prohibitive for smaller businesses Several vital features only available in the top two plans. Businesses charge a fee for all employees, whether paid or not. |
| Key Features | Auto Payroll Employee self-serve Full-service payroll | Multi-state payroll AutoPilot®️ payroll Employee onboarding |
| Pricing | Self Service: $19.99/month, plus $4/employee/month Full Service: $29.99/month, plus $5/employee/month | Basic: $19.99/month, plus $6/employee/month Core: $39.99/month, plus $6/employee/month Complete: $39.99/month, plus $12/employee/month Concierge: $149/month, plus $12/employee/month |
| Support | Toll-free phone support Email support Chat support | Toll-free telephone support Email support Chat support |
| Ease of Use | Streamlined user interface Limited data entry required Payroll dashboard | Intuitive user interface Dashboard reminders Easy system setup |
Go to Gusto
https://gusto.com
Summary
What is the best solution for small businesses? SurePayroll is the best solution for small businesses with less than ten employees. However, it's not ideal for solopreneurs.
Fast-Growing Business? Gusto is a more straightforward and more accessible solution.
Freelancer? However, Gusto also offers a better experience to solopreneurs or freelancers.
Are you here for a quick overview? It's easy! These are just a few of the differences and similarities between these tools.
Gusto vs. SurePayroll: Differences
Differences
SurePayroll doesn't list its pricing. You will need to get a customized quote from them. Gusto charges per worker per month in addition to a flat monthly cost. Gusto's website has the pricing information.
SurePayroll offers a mobile app for Android or IOS. Gusto suggests that you use your browser to open their software.
Gusto doesn't offer a three-month free trial with SurePayroll.
Gusto doesn't offer the same service that SurePayroll's Nanny Payroll.
Gusto vs. SurePayroll – The Similarities
Similarities
Both offer telephone support.
Direct deposit integrations.
Gusto and SurePayroll offer similar core payroll features.
Gusto, SurePayroll, and other tools allow you to manage workers' compensation and retirement plans.
Both are available in all 50 US states.
Both offer unlimited payroll, i.e., Both offer unlimited payroll, i.e., you can pay staff multiple times per month and process payments as needed.
Gusto, SurePayroll, and other software allow you to create employee profiles. They can be organized by team or department.
Employees have access through SurePayroll or Gusto to self-service options. You can view, print, and fill out time-off request forms, as well as track your time.
Many solutions are available to streamline your payroll. These platforms make it easy to ensure that staff is paid on time and without hassle.
6 Best Payroll Services for Small Business 2023
About SurePayroll
Visit SurePayroll
https://www.surepayroll.com
SurePayroll has been around since 2000. They began by providing payroll services for businesses with 1 to 100 employees. SurePayroll joined the Paychex Inc group back in 2011. This enabled them to expand their business and offer more resources to customers.
SurePayroll now has over ten million payrolls and has been awarded Stevie Award in Service for ten years! Impressive, right?
Gusto Online Payroll Service
Gusto's payroll program was designed for small businesses. Gusto software does more than perform payroll functions. Gusto software aims to simplify HR.
Gusto offers many tools to help you manage your teams, such as employee surveys, directories, and whole HR resource centers. Gusto provides everything you need to manage employee satisfaction, onboarding, and payroll setup, as well as hiring.
Here's a list that will help you understand what an HR resource center is.
A customized employee handbook tailored to your needs
Guides for HR
Policy template
Job description templates
Harassment Prevention Training
Information on compliance
It is used primarily by HR managers to cover core HR needs.
Gusto is an ideal partner for your company. Gusto is well-known for its transparency and will do everything possible to ensure your company succeeds. More than 100,000 small businesses and teams use Gusto payroll today.
Gusto Features and SurePayroll: Which Payroll Software Offers More?
Let's start with SurePayroll…
SurePayroll
SurePayroll provides online payroll services to meet the needs of small businesses. SurePayroll's online payroll service can help small businesses handle payroll taxes and process deductions. One of their core services is payroll processing. They guarantee that it will take less than two days.
Access your account online or from your mobile device. You will receive quarterly reports and end-of-year reports for 1099 and W-2 forms.
This service will also notify the government about new hires and provide all documentation necessary to comply with state laws.
SurePayroll templates are great for creating labor law posters. These posters are an inexpensive way to communicate your company's HR policies quickly and cheaply.
You can also set up custom reminders or alerts to remind you of deadlines, milestones, tax due dates, due payment dates, etc. This is an excellent way for you to keep track of everything!
SurePayroll offers full-service payroll features.
Run unlimited payrolls
In two days, process payments
All 50 US States are eligible for your operation
Set automatic payroll schedules
Payday processing: Next-day and same-day
Make payroll reports
Individual 1099 contractors may be paid.
Multiple pay rates, bonus, and calculation options
Employees have access to mobile access to HR-related matters and pay-in emails. They can also manage their paystubs.
Surepayroll offers employee profiles, which allow you to set reminders to birthdays and anniversaries, organize employees by team or department, track attendance, and track time.
Surepayroll integrates seamlessly with your bookkeeping and time clock software to simplify your accounting. This includes accounting software like NOVAtime or Shift2Work.
Nanny Payroll Software
SurePayroll lets you easily outsource your payroll to a private employer, even if you have a babysitter. Enter the hours worked and the salary to create an automated schedule to be paid. All this while following IRS tax regulations.
Human Resources and Benefits
SurePayroll can help you navigate regulations regarding mandated benefits. SurePayroll can help you navigate regulations regarding mandated benefits such as worker's comp or retirement planning.
SurePayroll makes it possible to provide affordable health insurance for your employees as well as worker's comp pay-as-you-go coverage.
SurePayroll provides pre-employment screening, including background checks and drug testing on demand. If you're looking to hire, this is a great tool.
Gusto
Gusto is much more than a payroll program. Gusto is a platform that provides small businesses with a better HR experience without having a dedicated HR department.
Gusto's website also has valuable resources like an employer tax calculator, a salary comparison tool, or a burn calculator. A checklist is available for new hires.
Payroll Software
Gusto's intuitive dashboard simplifies managing your payroll each month. Payroll can be used to complete W-2 and 1099 contractor forms in all 50 States. Gusto lets you review your team's hours, additional earnings, tax reimbursements, and benefits. It also allows you to pay taxes.
This is done using the following features:
This simple time tracking function allows employees to log their hours quickly.
Integrations can also be done with accounting software like Quickbooks, Xero and Tsheets.
You can pay staff manually or automatically.
Handle garnishments refer to any debts or deductions that are automatically taken from your payroll. This includes child support payments for any other states than South Carolina.
You have the power to control your holiday and paid time off
Export and view payroll reports
Automated filing of and payment for federal, state, and local payroll taxes
Onboarding and Team
Gusto's HR features make it easy to manage your employees and onboard them. The HR center allows you to create an employee directory, send surveys, and set up private surveys. This can be used to determine the workplace satisfaction of your employees, gauge morale, and get advice on ways you can improve.
For team members, a dashboard can be created. The dashboard can be used in the same way as an employee directory. Employees can also access it. You can include any information about employees, including names and job titles. This is a great way to welcome new members to your staff.
Advanced payment plans enable you to access an employee manual and assist with creating onboarding programs and setting up company policies. You can easily access policy templates and policies that you can share with employees.
In summary, Gusto's team and onboarding features include:
An employee directory
It is possible to create anonymous surveys for employees and send them.
Access to job offer templates
Onboarding software access. These tools allow employees to set up payroll and encourage them to sign and submit all forms.
It is possible to arrange employee profiles in departments, teams, or managers.
You can set up reminders on your calendar to remind you about birthdays and anniversaries at work.
Gusto allows you to easily send electronic greetings and welcome emails to your new hires. This is a great way to introduce them and give them helpful information. You can also direct them towards the employee directory.
You can create custom fields for your employees to record personal information, such as coffee orders and t-shirt sizes.
Access to job description templates
Plans and benefits
Gusto lets you monitor college savings, benefits, 401(k) plans, and medical and dental plans. Gusto tracks any changes in your employees' salaries and stores all information within a digital "employee vault."
Gusto or SurePayroll: Pricing
What will these payroll tools set you back? Let's start with Surepayroll fees.
SurePayroll's Pricing
We stated at the beginning that SurePayroll does NOT provide pricing information online. Contact their sales team for a quote. To find out if the software is suitable for your needs, you can download it. The software is available for a three-month free trial so that you can try it out.

Gusto's Prices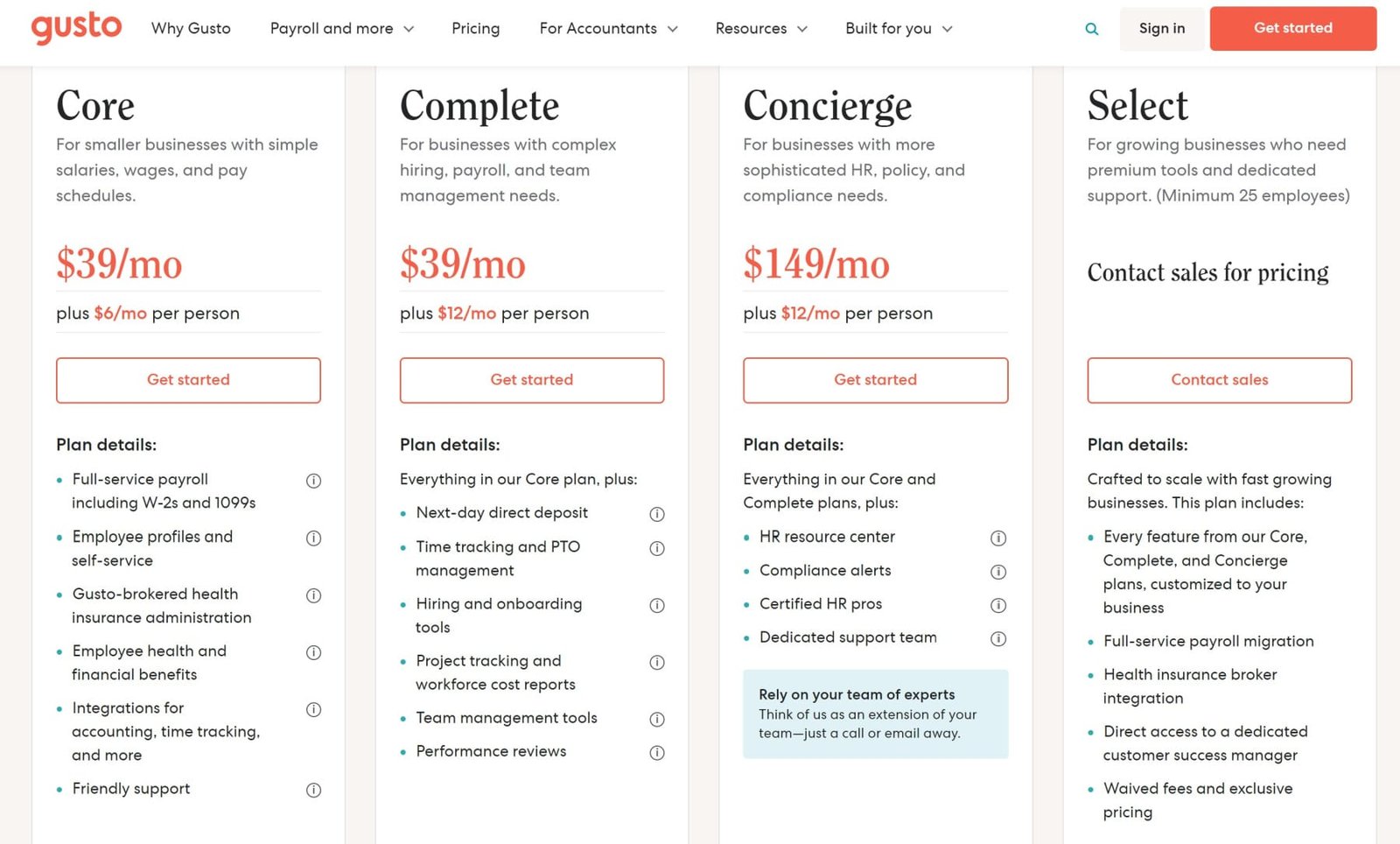 Gusto's monthly flat fees are more traditional than its per-employee monthly expense.
Gusto can help you pay 1099 contractors and W-2 employees if you do not have any W-2 workers. The monthly cost of the contractor plan is $6 per person, with no additional fees.
Contractor payments can be unlimited, and contractors can access self-service options such as viewing their payments or year-end 1099 forms. Gusto makes it simple to file 1099 forms using this package.
Gusto offers three pricing options. All three offer unlimited payroll processing in all 50 US States. They can also handle tax filings and payments. They can be used to fill out W-2 and 1099 forms. Gusto automatically pays federal and state unemployment insurance and deducts garnishments.
All plans include unlimited customer service via chat, email, and phone.
Now that we have all the information let's take a closer view of each plan.
Core Plan ($39 per month, plus $6 per individual per month)
The Core plan provides full-service payroll tools as well as employee self-service.
Administration of health benefits
Administration of worker's comp
Paid-time-off policies
Employees can access Gusto Cashout. Employees who need financial security to pay for emergency bills can use this system. You can borrow money interest-free from your next paycheck to pay unexpected expenses. However, you can set reasonable limits to ensure that they don't borrow too much.
The Complete Package ($39 per month plus $12 per Person per Month)
These Core plan features are available in addition to the core plan features.
Job offer templates
Onboarding tools can be used to quickly and efficiently introduce new employees into your company.
Employees can log their time efficiently and track their time.
Assistance in managing time-off policies or time-off requests
You can create and manage an employee directory and survey.
Permissions for managers
Gusto's document vault is available to you. You can store employee details and documents here.
You can e-sign custom documents to simplify internal communications and contracts.
You can also create paid holidays as part of your company policy.
The calendar allows you to request holiday time and take time off automatically. This allows you to see who is at work and when.
Concierge Plan ($149 per month plus $12 per person per month)
This plan is designed for HR professionals. It provides resources that can streamline their work. Concierge unlocks additional benefits to the packages already mentioned.
Gusto's HR professionals are certified SHRM- and HCI-certified specialists.
Access to the HR Resource Center includes a job description template, a job manual, and HR guides. It also contains policy templates, harassment prevention training, and proactive compliance updates.
Administrator permissions may be granted.
You will be provided with dedicated support and a number to call whenever you need it.
Online Customer Reviews
TrustRadius: Gusto Reviews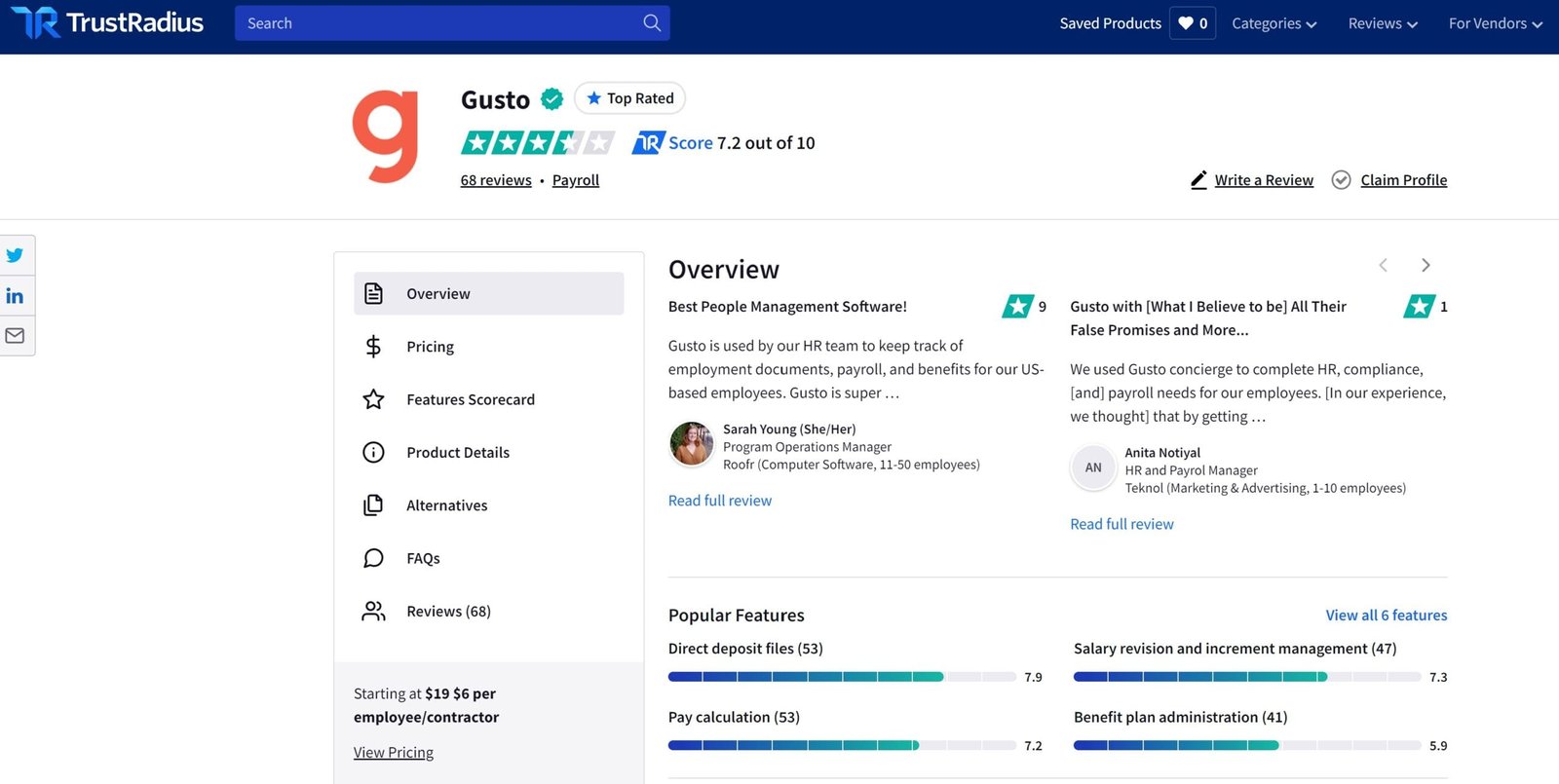 TrustRadius: SurePayroll Reviews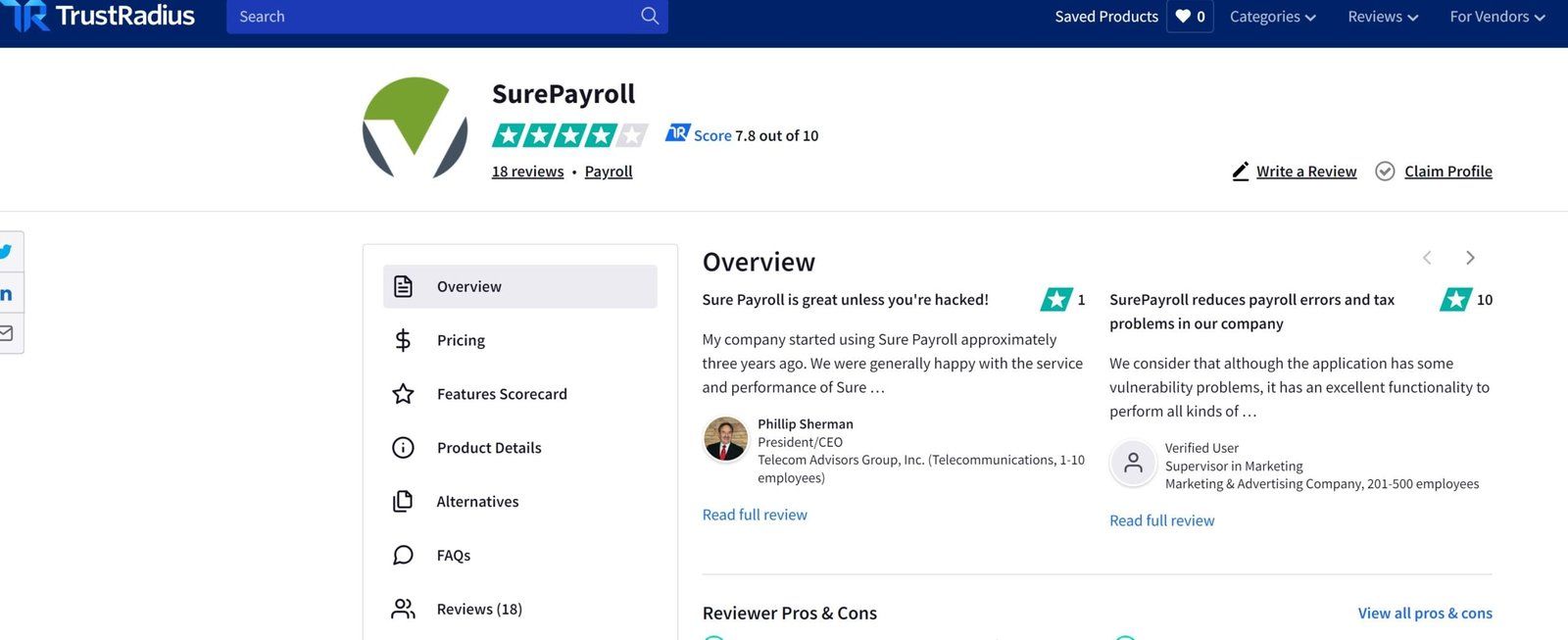 SurePayroll has 18 user reviews on TrustRadius with an average score of 7.8 out of 10

SurePayroll vs. Gusto: Customer Support
You don't want any errors when HR and managing high-paying staff salaries. It is even more crucial to provide top-quality support.
Which is better Gusto, or Surepayroll?
SurePayroll
SurePayroll can also be reached by live chat or phone at (877) 956-7873.
0, Monday through Friday, 7 am – 8 pm Central Time The team is available Saturdays between 9 and 1 Central. You can also fax SurePayroll at 847-676-515.
You should also know that they offer support in English and Spanish.
Gusto
Gusto's support staff is available via phone, email, and live chat. You can count on friendly and knowledgeable support staff to offer unlimited assistance. Telephone lines are open Monday through Friday, 6 am to 5 pm PT.
Concierge plans, however, will give you a phone number to assist with your needs.
SurePayroll vs. Gusto – The Pros and Cons
Now you have an idea of the key features offered by each provider. It is now time to choose the one that suits you best. To make it easier for you to decide, we have created a simple list of pros and cons.
SurePayroll
Let's start with the positives about SurePayroll.
The Pros of
SurePayroll manages your tax filings
You can manage your mandatory and optional benefits, workers comp, savings, retirement plans, and worker comp.
Access to flexible, tailored-to-your-business pricing
SurePayroll's industry knowledge will be of benefit to you.
Employers may apply for Nanny Payroll.
The mobile app can be downloaded and used for free
SurePayroll offers a free three-month trial
Access to a tax calculation is available. There is no penalty tax guarantee
The Cons:
For a quote, you must contact us
SurePayroll is a payroll company. It does not offer HR or team management tools.
Gusto
Let's take a closer look at Gusto and its pros and cons.
The Pros:
Transparent pricing
They provide a flexible method to pay contractors (without a flat monthly cost).
Features for hiring and onboarding
Tools for creating and conducting surveys, profiling employees, and reminding. You can also create an employment manual to help you manage your HR beyond the payroll-related tasks.
Employers and employees will find the interface user-friendly, fun, and modern.
The Cons:
Gusto can be accessed via your mobile browser. You won't, however, be able to use a mobile application.
Pricing can quickly go up if you have many employees.
Only people who are willing to pay more for Gusto's advanced HR center have the opportunity to use it.
Gusto also offers tax-advantaged spending accounts, but these are more expensive. To unlock Gusto's full potential, you will need a bigger budget.
FAQs
Gusto: Is it secure?
Gusto is an online, secure platform. The provider tests its software regularly to prevent security problems from turning into serious problems. They use industry-standard encryption for added security. Gusto has a security team on-site that can assist in any emergency.
What guarantees can SurePayroll offer you?
SurePayroll offers both a tax calculation guarantee and a no-penalty tax guarantee. SurePayroll will correct any errors and deal with any interaction with IRS if necessary. They will also pay any fines and charges that may result.
Note that SurePayroll's tax calculation guarantee is dependent on accurate and timely information.
Can these Providers manage more than one Payroll at once?
Yes! Gusto and SurePayroll provide unlimited payroll processing as a core function.
Gusto or SurePayroll? Which Payroll Service Can You Enlist With
It's now time to conclude the review and recap what we have learned.
Gusto and SurePayroll provide a variety of payroll features that make this part of HR much more accessible. This is especially true for tax filing and calculation of additional benefits.
If price is important, SurePayroll can offer a quote. This will help you weigh your options.
Both service providers are geared towards small businesses. We would recommend them for these reasons if we had to choose:
Gusto is ideal for modern-minded freelancers and small- to mid-sized business owners. Gusto is an excellent tool for anyone without an HR department who still wants to improve employee experience, streamline payroll-related tasks and streamline payroll.
Gusto's intuitive interface, many team management features, and other HR management tools make it a complete package. It does more than manage payroll. Gusto can also be used for job offers, onboarding, and hiring. This platform is expensive, but it's a powerful tool for HR that is well worth the cost.
SurePayroll is designed for small businesses, especially less than ten employees. This provider is more focused than team management and doesn't offer as many employee-friendly options. SurePayroll is reliable and easy to use.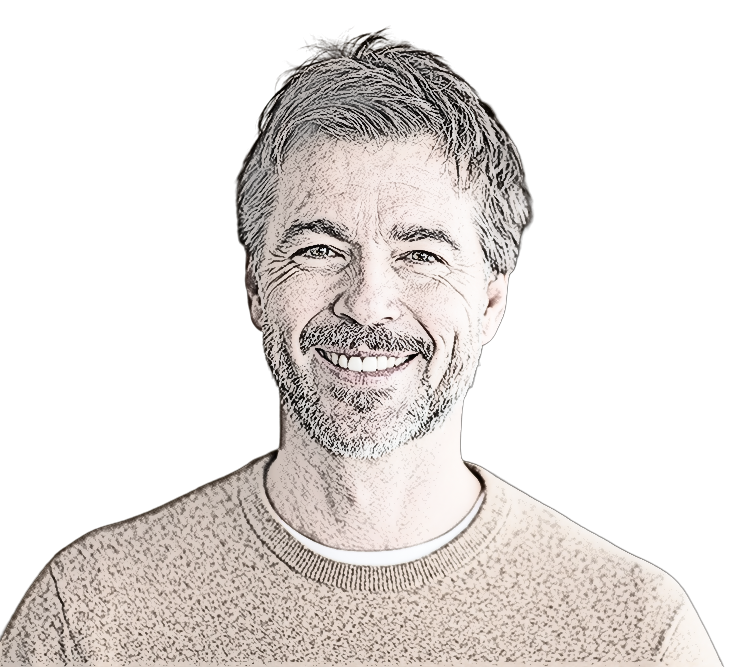 Brian Wilson is the content manager and founder of LLC Radar.
Brian grew up in North Texas, just outside of Dallas, and has a bachelor's degree in business journalism from Southern Methodist University. Since graduating from SMU, Brian has gained over 10 years of experience in business writing for several online publications.
Brian resides in Plano, Texas and he can be reached by email:   info@llcradar.com
Phone: 972-776-4050