ADP vs. Gusto: Payroll Comparison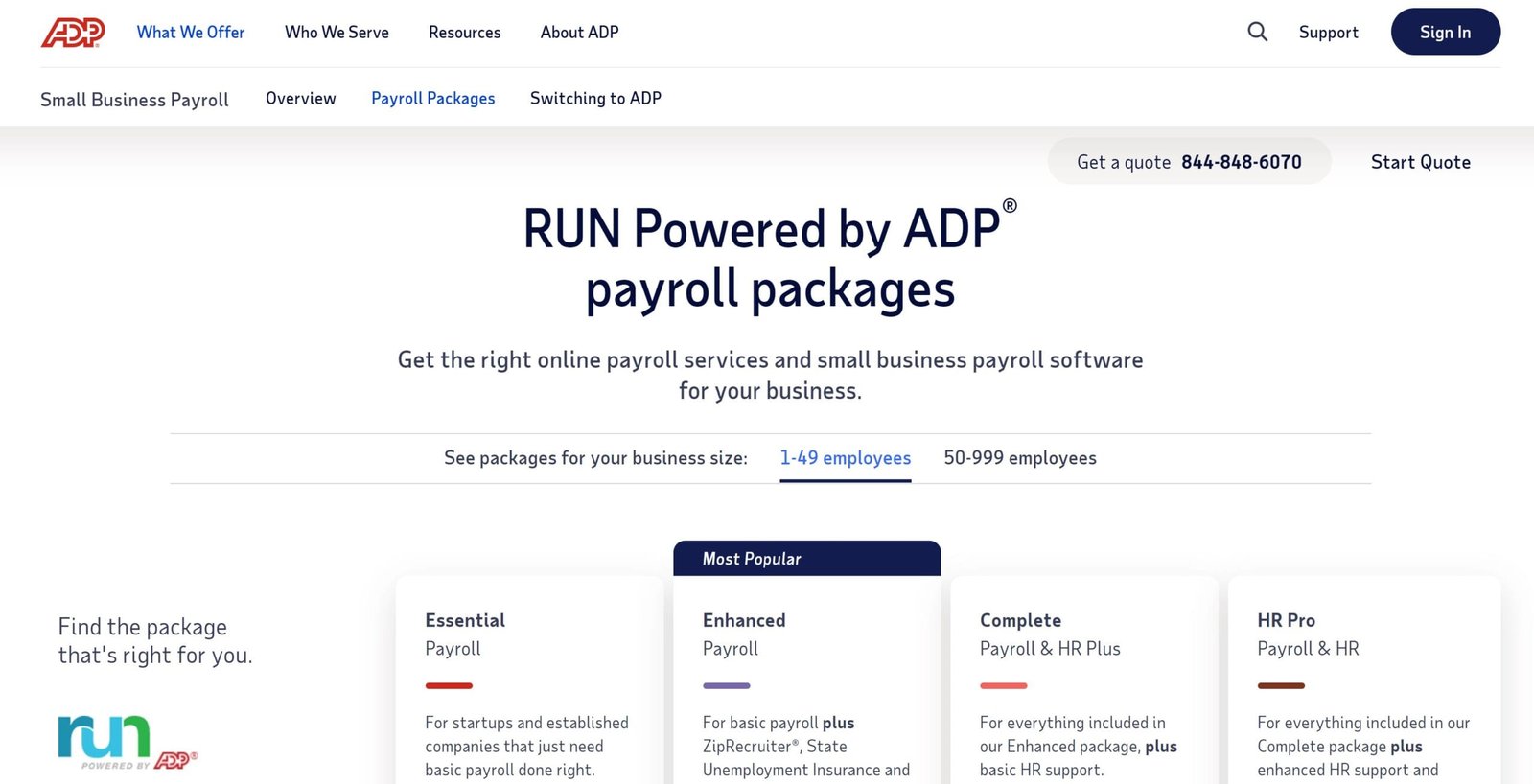 ADP vs. Gusto Payroll:  ADP, also known as Automatic Data Processing, and Gusto are two of the most popular cloud-based payroll systems. Both of these software systems can be used to add up hours, calculate payroll and pay taxes, and comply with federal regulations. Which is best for you and your company?
This Gusto vs. ADP guide answers that question by comparing each service based on six criteria: price, features, ease-of-use, support, integration, and customer reviews.
ADP vs. Gusto: Comparison Table
|   | Gusto | ADP Run |
| --- | --- | --- |
| Pricing |   |   |
| Monthly fee | Starting at $39/mo. + $6/mo. per user | No upfront pricing |
| Setup fee | Free |  Extra fees |
| Payroll |   |   |
| Unlimited payrolls | |  Pay per payroll |
| Automated federal and state tax filing | | |
| Direct deposit | | |
| File W-2s | |  Extra fees |
| File 1099s | |  Extra fees |
| Multiple pay rates and schedules | | |
| Multiple states | |  Extra fees |
| Contractor payments | | |
| E-sign I-9 and W-4 | | |
| Lifetime access for employees | | |
| Household employer payroll | | |
| International payroll | |  Extra fees |
| Benefits |   |   |
| Health benefits | Pay premiums only | Premiums + fees |
| Workers' comp | Pay premiums only | Premiums + fees |
| Available add-ons | 401(k) retirement529 college savingsCommuter benefits Life and disability has and FSA | 401(k) retirement computer benefits life and disability has and FSAHRA |
| HR tools |   |   |
| Time tracking |  (Complete and Concierge) |  Extra fees |
| Team directory and org chart |  (Complete and Concierge) |  Extra fees |
| Time-off requests |  (Complete and Concierge) |  Extra fees |
| Online offer letters |  (Complete and Concierge) |  Extra fees |
| Secure document vault and e-signing |  (Complete and Concierge) |  (Run Complete & HR) |
| Custom employee handbook |  (Concierge) |  (Run Complete & HR) |
| Job description and policy templates |  (Concierge) |  (Run Complete & HR) |
| Proactive compliance updates |  (Concierge) |  (Run Complete & HR) |
| Certified HR pros |  (Concierge) |  (Run Complete & HR) |
| Direct phone line for dedicated support |  (Concierge) |  (Run Complete & HR) |
| Custom Onboarding Checklist |  (Complete and Concierge) | |
| Software Provisioning |  (Complete and Concierge) | |
| Integrations |   |   |
| QuickBooks | | |
| Xero | | |
| Google (G-suite) SSO | | |
You don't have to stress if you look for payroll software that will work for your small business.
Visit Gusto
https://gusto.com
Visit ADP
https://www.adp.com
6 Best Payroll Services for Small Business 2023
Instead, you can take a look at our side-by-side comparison of these two popular applications for payroll. This will provide you with all the information you need to determine which is best suited for your small business.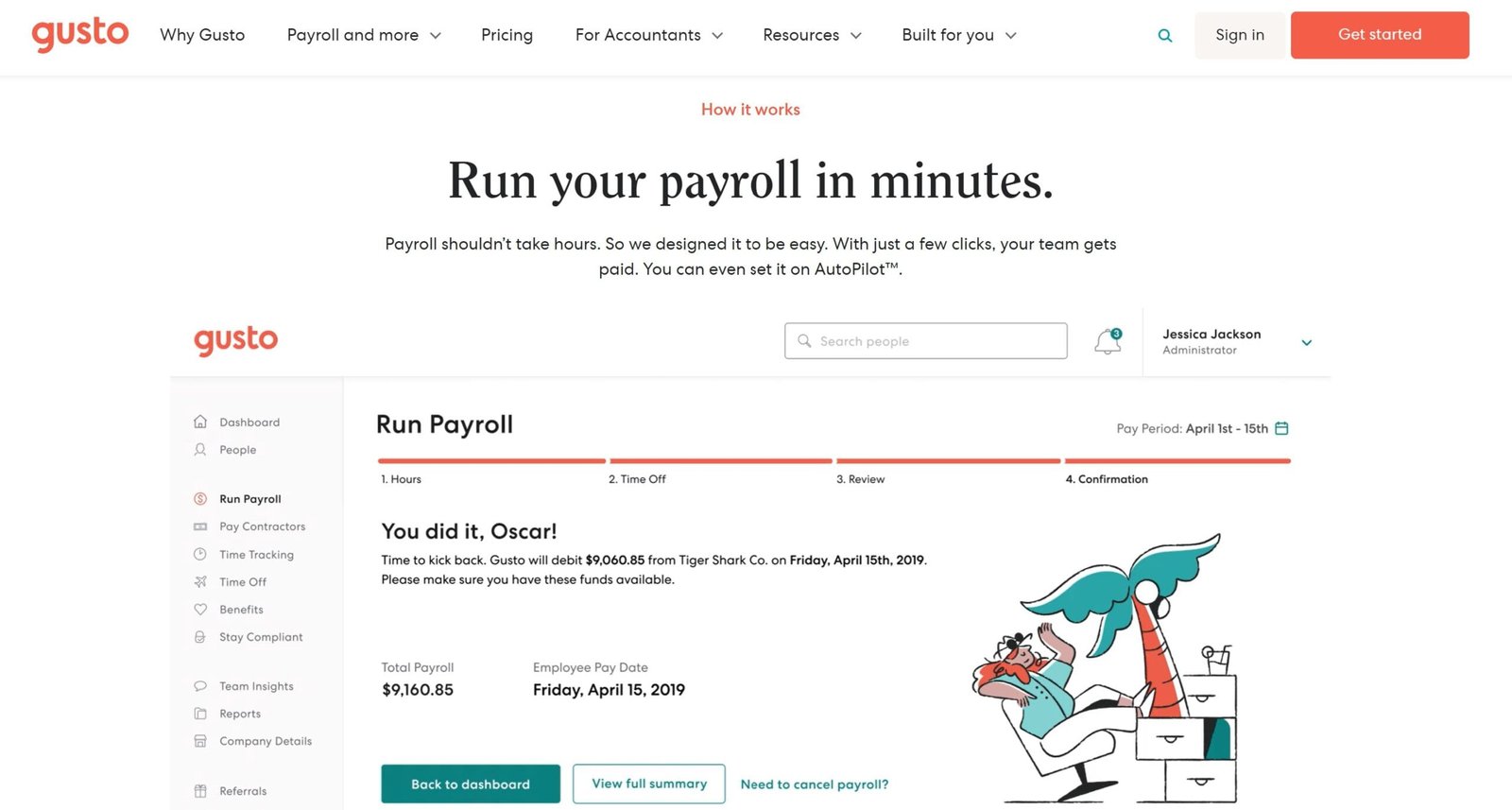 ADP vs. Gusto: Payroll Service Overview
Gusto has four plans available: Basic, Core, and Complete. All its plans provide full-service payroll. The company charges a monthly subscription and per-employee fees.
Today, instead of focusing on paying your bills, let's compare Gusto and Run Powered By ADP.
Who is Gusto's Payroll for?
Gusto is a small business management tool that offers robust features and is well-suited for growth. Gusto provides three payroll plans to make it simple for growing businesses to move up to the next one if they wish.
Gusto has excellent restaurant payroll features. It also includes payroll for accountants. Gusto does NOT support a mobile application. However, you can access the payroll app from your smartphone via a web browser.
Who is ADP's Payroll for?
ADP makes payroll processing simple. It can be done on a computer, smartphone, or laptop. A mobile app, however, must be purchased separately.
RUN Powered – ADP is designed for small businesses with between 1 and 49 employees.
RUN Powered – ADP is payroll software that restaurants can use. It also includes payroll for accountants.
ADP vs. Gusto: Customer Reviews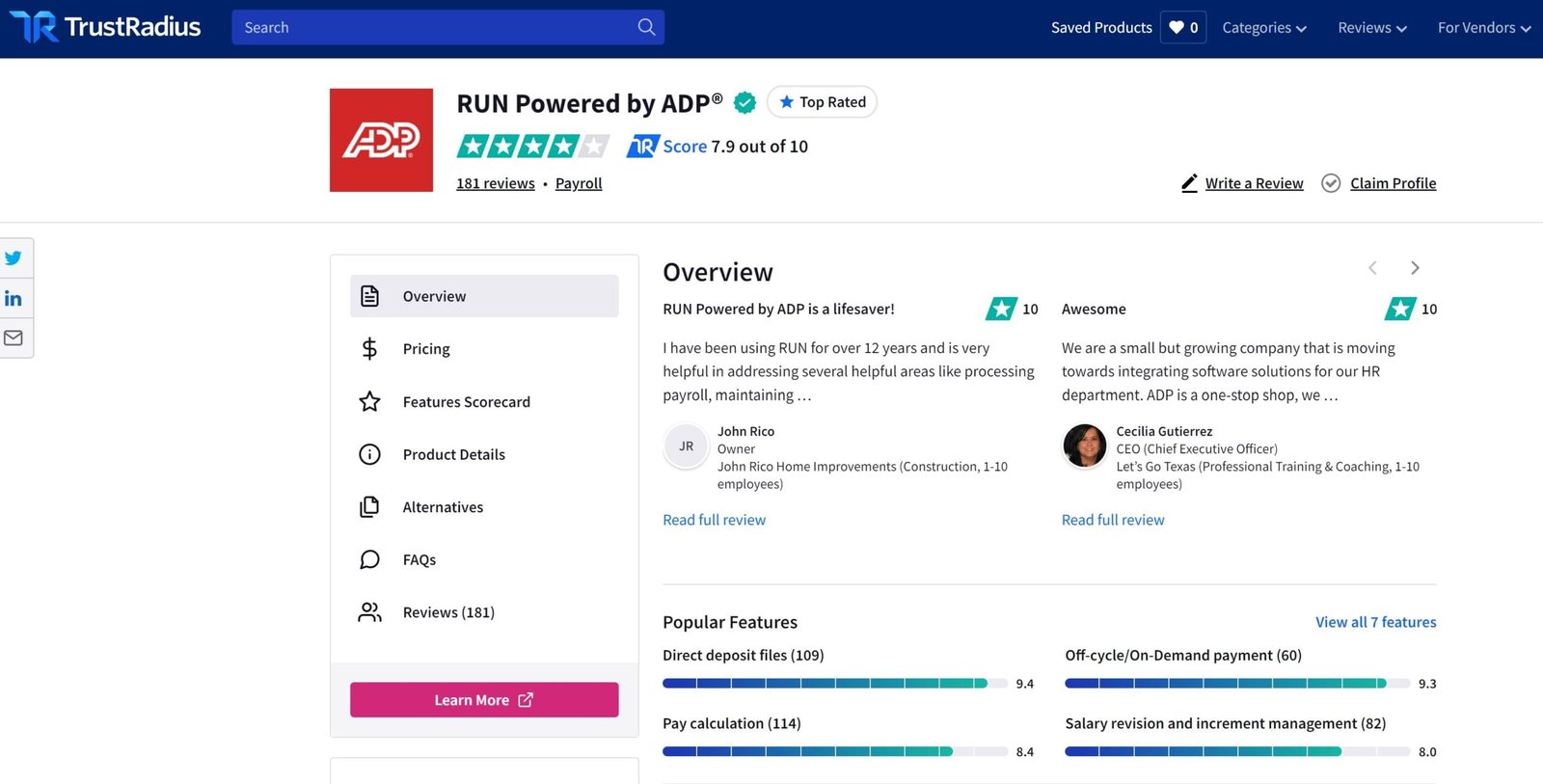 On TrustRadius, Run Powered by ADP has 181 user reviews with an average score of 7.9 out of 10.
RUN Powered by ADP is a lifesaver!
I have been using RUN for over 12 years and is very helpful in addressing several helpful areas like processing payroll, maintaining …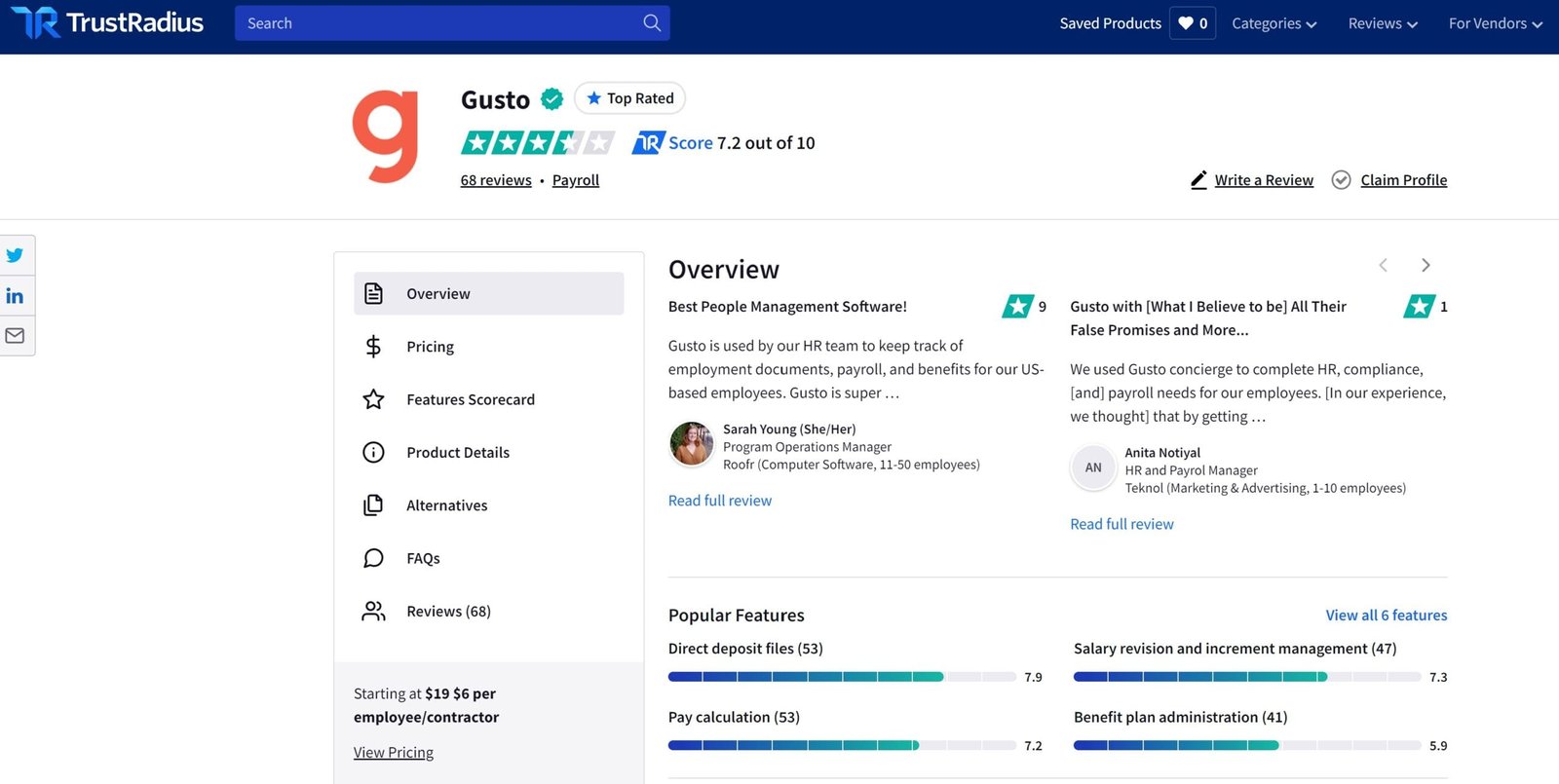 Gusto has 68 customer reviews on TrustRadius, with an average score of 7.2 out of 10.
Sarah Young uses Gusto payroll and wrote this review on TrustRadius,
Gusto is used by our HR team to keep track of employment documents, payroll, and benefits for our US-based employees. Gusto is super …
ADP vs. Gusto: Comparing Features
Gusto, RUN Powered By ADP, and Gusto have many features to help small businesses prepare and process payroll.
What Gusto has to Offer
Gusto provides various features for small businesses, depending on which plan is purchased. These features include:
New Hire Reporting: Gusto will notify the government of all new hires.
Flexible payroll schedules: Ideal for businesses with irregular pay schedules and those with biweekly or weekly pay schedules.
Unlimited pay runs. This is essential if you pay regular bonuses and commissions.
Multistate Payroll: Employees who live in more than one state. Gusto will take care of them at no extra charge.
Direct deposit Nearly all people want to receive direct deposit payments. Offer direct deposit to employees.
Gusto allows users to view payroll before they are processed. 
Many of these features are already standard in payroll software, but Gusto provides additional features to increase its value.
Employee Onboarding: Once you have granted new employees permission, they will sign into Gusto to complete their onboarding process. This includes filling out the I-9 W-4 and all details regarding direct deposits. While the Concierge and Complete plans do not include onboarding, it is worth considering.
Completely processes all tax forms: Gusto manages your payroll taxes. Gusto also processes year-end tax forms such as Form 940, filed annually under the Federal Unemployment Tax Act. Gusto also prepares contractor 1099s and employee W-2s each year.
AutoPilot (r) payroll: Instead of spending time entering employee pay information, why not use AutoPilot to run the payroll for your company every pay cycle?
Users can easily enable the AutoPilot feature in Gusto for automatic payroll runs. 
You can create your regular payroll and then enable AutoPilot from your Settings. The payroll will automatically run at the specified time.
Employees will be able to view and download their pay stubs at any moment. They can also download year-end W-2s.
What does ADP payroll have to offer
Like Gusto, RUN Powered and ADP have a wide range of features. Some of these features are only available in higher-end plans. These features are included in all RUN Powered by ADP Plans:
Full-Service Payroll: Full-Service Payroll is available in all plans. It includes the option to use your phone, a mobile device, or your computer to report hours worked.
Direct Deposit: Your employees will want to be paid via direct deposit. Run Powered by ADP offers this option at no extra cost.
New Hire Reporting: RUN Powered By ADP manages state and federal reporting requirements for new hires to ensure your business complies.
Payroll delivery ADP still delivers paychecks to offices, although check signing, stuffing, and delivery are not included.
You can also preview payroll before you run it. This preview will include the entire Payroll cash Required amount to ensure that payroll is adequately funded.
RUN Powered – ADP will also process year-end forms for employees (W-2) and contractors (1099) for an additional fee.
RUN Powered – ADP software offers a payroll preview summary that displays the total cash requirements. 
RUN Powered with ADP has a few additional features.
Past payroll amounts wizard When migrating to Run Powered by ADP using another payroll software, this feature will save you time and allow you to enter payroll totals accurately for tax reporting and year-end documents.
New employee Onboarding: A feature that will help you save a lot of time is the employee-onboarding feature. This allows employees to fill out their new-hire forms, such as I-9, W-4, and direct deposit details online.
Pay contractors and employees: RUN Powered By ADP lets your company process payroll for employees and contractors through one interface.
Comprehensive HR features are only available in ADP RUN Powered plans. However, they provide excellent resources for small businesses that don't have an HR department.
Results
Gusto Winner: Gusto
Gusto wins. Gusto is the winner. While RUN-Powered by ADP offers many of these same features, Gusto only has specific options, such as unlimited payrolls and W-2/1099 processing. RUN-Powered by ADP charges extra for both.
Gusto vs. ADP: Support
It is crucial not to underestimate the importance and value of product support.
This is particularly true when you are using payroll software for the first time. Gusto, as well as RUN Powered By ADP, provide excellent customer support.
What Gusto has to Offer
Gusto has several support options. You can reach them via phone, email, or chat during regular business hours.
Gusto's Help Center has many HR-related instructional articles and payroll support options. Gusto offers a searchable knowledge base and FAQ pages.
What RUN Powered By ADP has to Offer
RUN Powered – ADP provides different support options for administrators and employees and a FAQ page for administrators. Online help and support are also available via the application.
RUN Powered and ADP's website has calculators and articles relating to payroll. However, they are not specific to the application.
Results
Winner – RUN powered ADP
RUN Powered – ADP wins this award by a nose for providing 24/7 telephone support.
Gusto vs. ADP: Ease of use
Don't underestimate the importance of an application being easy to use.
Many small business owners don't have the patience to learn new software applications. The easier the application, the better.
What Gusto has to Offer
Gusto provides step-by-step instructions for many features and complete instructions on how to set up the product. Gusto staff is available to assist with product setup.
Gusto features an intuitive user interface with a dashboard display with valuable details such as reminders and time-off approvals.
You can access all Gusto features and the Gusto Help Center from the vertical menu bar to your left.
Gusto provides the AutoPilot option, which allows for automatic payroll. Gusto makes it simple to run payroll even if your payroll has changed from period to period. All you need to do is enter the data in the appropriate fields, add vacation or sick time, and then submit the payroll run.
What RUN Powered By ADP has to Offer
RUN Powered with ADP has an intuitive user interface that includes a series of icons that give access to payroll and any other add-on features.
Run Powered by ADP offers an intuitive user interface.
Below the icons is an infographic that shows your last payroll, including the date and payment date. You will find a to-do listing of any outstanding tasks and links to any system messages to the right.
RUN Powered – ADP provides a range of wizards to help new users navigate the application. The Company Setup Wizard guides you through the company formation process and the New Hire Wizard that makes it simple to add new employees.
Results
Winner: This is a tie.
Although they provide different user experiences, both solutions make access to features and functions easy and quick.
Gusto vs. ADP: Pricing
Gusto or RUN Powered by ADDP is neither cheap nor easy to use. Still, both apps offer solid payroll functionality and HR and employee management capabilities that are only available with the more expensive plans.
What Gusto has to Offer
Gusto pricing varies according to the plan you choose. The Basic plan has been added. This plan is for one- or two people. The Core plan follows, which is quite robust. But if your company needs to provide employee onboarding and HR functions, then you'll need a higher-priced plan.
Gusto provides three plans for small-sized businesses—source: Gusto Payroll software.
Gusto has the following plans available:
Basic The basic plan includes full-service payroll and employee self-service. It also offers four-day direct deposits for $19/month, and a $6/per worker charge monthly.
Core The Core plan offers full-service payroll and employee self-serve. Administration of small business insurance and workers' comp administration are also included. The Core plan costs $39/month and $6 per employee monthly.
Full: The Complete plan includes all the features of the Core plan. It also adds product permissions and employee onboarding. PTO and time-off requests can be made. An employee directory is also available. The Complete plan costs $39/month plus $12/per employee per month.
Concierge – Small businesses can use the Concierge plan to create a virtual HR department in addition to all the Core and Complete features. It offers access and certification to HR pros and an HR Resource Centre. The Concierge Plan costs $149 per month, with a $12/per-employee charge.
What RUN Powered By ADP has to Offer
RUN Powered – ADP is specifically designed for small businesses that employ between 1 and 49 people. RUN plans are tailored for this population.
RUN Powered by ADP offers four payroll plans for small businesses. 
ADP pricing is variable, with four plans available to small businesses.
Essential This is for small and startup businesses that only need basic payroll information.
Enhanced: Provides the same features of the Essential plan but adds wage garnishment and State Unemployment Insurance processing.
Complete RUN's complete plan includes both payroll AND HR PLUS, which gives you access to the HR Help Desk, HR forms, documents, and HR tracking.
Pro HR: Offers both HR and payroll, as well as access to many resources and tools for employee management, including training, assistance programs, and the Enhanced HR Help Desk.
RUN Powered Typically, it costs $150 to $180 per month for 10 people.
ADP does not have a set price, so it is best to get a quote from an ADP representative. You will have to pay an extra fee for any additional pay runs, such as bonuses or commissions.
Results
Winner: Gusto.
Gusto may not be the most affordable payroll program, but it is transparent about its pricing. You'll know exactly how much you'll pay before you go. ADP pricing can vary from business to company, so there may be some sticker shock when getting a quote.
Gusto vs. ADP: Integration with Other Software
Integrating your accounting software with your business system can make a big difference. It will reduce errors in data entry and save you time.
Gusto and Run Powered by ADP both offer excellent integration capabilities.
What Gusto has to Offer
Gusto is compatible with many small business accounting programs, such as QuickBooks Online, FreshBooks, or Xero. Gusto integrates well with timekeeping applications like When Do I Work and Homebase.
What RUN Powered By ADP has to Offer
RUN Powered b ADP integrates with many popular small-business accounting applications like Wave, QuickBooks, Wave, Xero, and TSheets.
Results
Winner: This is a tie.
Gusto, as well as RUN Powered and ADP, have excellent integration capabilities. It is hard to say which category this category belongs in.
Gusto vs. ADP: Reporting Options
Payroll reports can be an integral part of any payroll software. Both Gusto and RUN Powered Powered by ADP provide solid reporting options.
What Gusto has to Offer
Gusto offers payroll-related reports such as a payroll journal, benefits, employee summary, and contractor payment reports.
Reports can also be customized by year or grouped by employee, state, and work location. Reports can be saved to PDF or exported as CSV files for further customization.
What RUN Powered By ADP has to Offer
Report creation is more complex than in Gusto. RUN Powered – ADP offers excellent tax, payroll, and benefits reporting. Custom reporting options are also available. All reports are exportable to Microsoft Excel for further customization.
Results
Winner: Gusto.
Gusto takes this award. Gusto has a better reporting interface than both Gusto and Excel.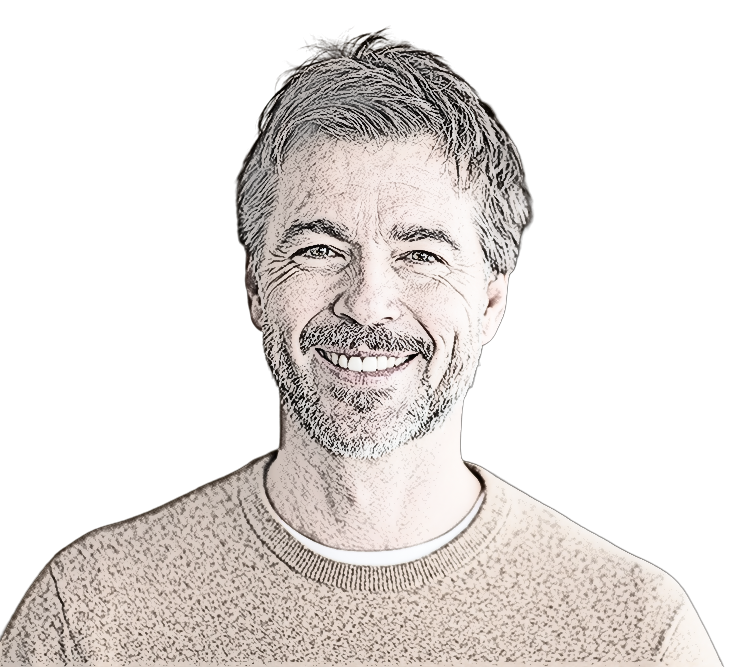 Brian Wilson is the content manager and founder of LLC Radar.
Brian grew up in North Texas, just outside of Dallas, and has a bachelor's degree in business journalism from Southern Methodist University. Since graduating from SMU, Brian has gained over 10 years of experience in business writing for several online publications.
Brian resides in Plano, Texas and he can be reached by email:   info@llcradar.com
Phone: 972-776-4050