Gusto vs. OnPay: Which One is Best for Small Business?
Gusto vs. OnPay: You know the struggles of keeping your business compliant. An HR platform that automates some tedious admin tasks can help. It can also keep you on top of your business and make it easier for your employees to work more efficiently. This is why we offer a Gusto vs. OnPay comparison.
It is up to you to decide which one is better: Gusto or OnPay.
The bottom line: OnPay is our favorite today, especially for smaller businesses. Gusto has some great features for employees. However, you can read on to learn more.
Let's take a closer look at each to help you decide which one is best for your company. Let's begin by comparing the differences.
Visit Gusto
https://gusto.com
---
Gusto vs. OnPay: Comparison Overview
OnPay's pricing system uses a sliding scale per employee. On the other hand, Gusto has established pricing plans that offer different features in each tier. These are the key differences that make OnPay and Gusto different:
OnPay does not have a lot of scheduling features. For example, punching in or out is not possible with OnPay. Gusto, however, has a system for punching out and in.
OnPay's customer service team quickly responds while Gusto's can take a little longer.
OnPay does not allow employees to withdraw money from the next paycheck. Gusto allows this.
Gusto and OnPay are very similar, but there are some key differences. OnPay's pricing system is very different. We believe that OnPay is better for small businesses because you don't need to pay as much for one or two employees.
Gusto offers a few more features for employees. However, OnPay's customer service team is better.
The Similarities
There are many similarities between them:
Both make it simple to remain compliant
Both are great for managing payroll quickly
Both allow employees to manage their onboarding process.
Both offer templates that you can customize and use.
Both companies offer benefits to employees
Both platforms offer excellent reporting
Both services can be integrated with other services well
What is OnPay?
OnPay is a cloud-based HR/payroll platform that helps small businesses stay compliant while automating admin processes. It was launched in 2011.
What is Gusto?
Gusto, a cloud-based payroll and HR service accessible to any size business, is available. It was launched in 2011. It assists businesses in staying compliant with hiring and payroll by automating processes and flagging issues that might otherwise go unnoticed.
OnPay's Main Features
Let's have a look at the offerings of OnPay.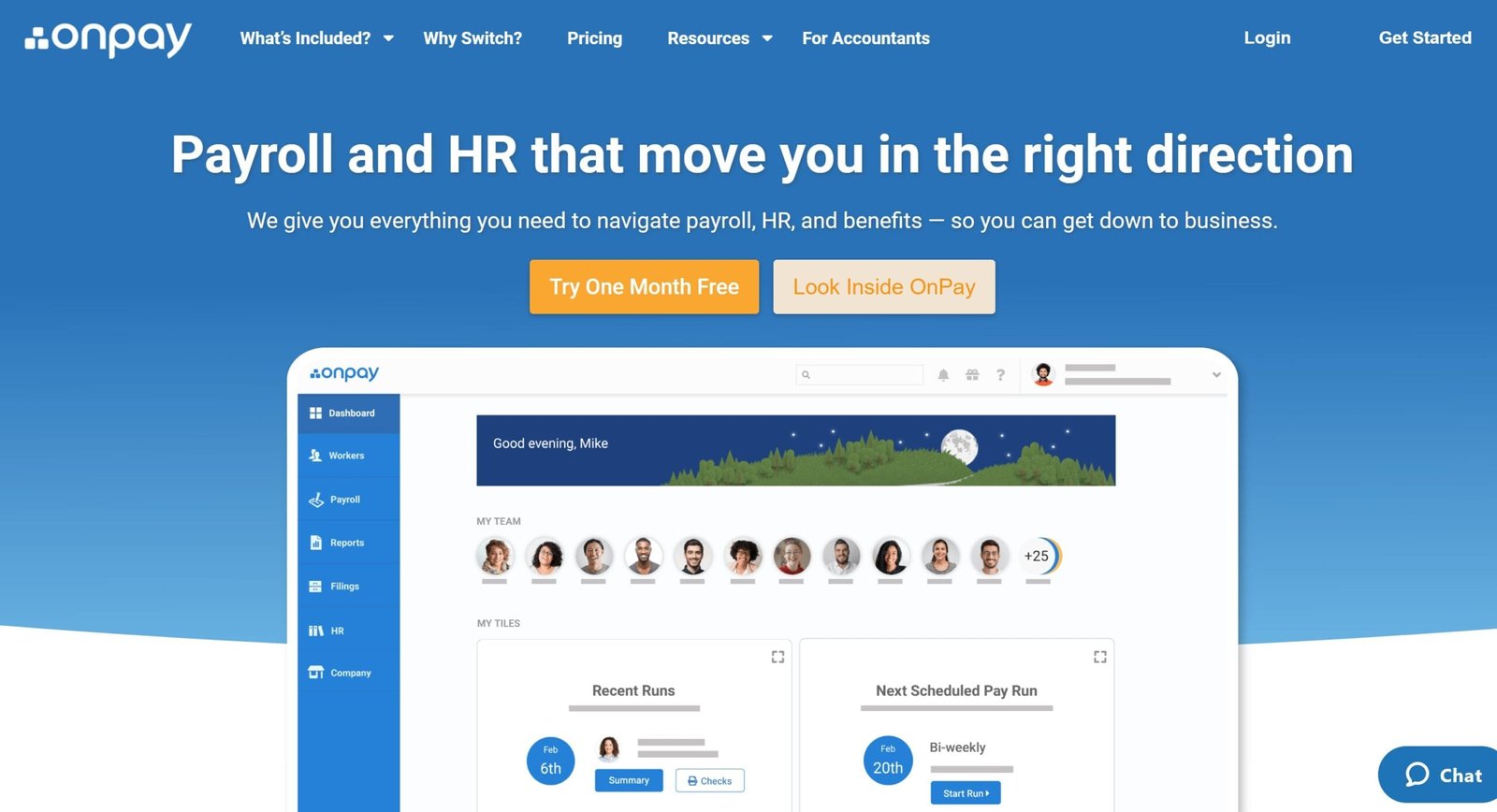 Payroll
OnPay offers many features that make it easier to manage payroll. OnPay allows you to run payroll as many times as you want and create different payroll schedules for different employees.
Direct deposit, debit card, or check can all be used to pay employees. Direct deposits and debit card payments are free of hidden fees, a bonus.
Paying freelancers or contractors can be done using the same dashboard to pay regular employees. There are no additional fees for dealing with taxes in other states. This is ideal for businesses with multiple locations and employees who work remotely. Each employee can set their rate of pay.
OnPay works well on both mobile and desktop, so employees and managers can access their payroll information from wherever they are.
You can grant permissions to payroll staff. Employees can view their payroll information while payroll administrators can access additional tools and features.
It automates all tax filings and payments, including federal and state payroll taxes. They also file Form 941 every quarter and Form 940 each year in the end.
HR
OnPay makes it easier to onboard employees. OnPay makes it easy for employees to manage the onboarding process by filling in their profiles and signing documents via e-signing.
Onboarding tasks can be assigned to employees and managers, such as getting new computers ready. New employees are automatically provided with tax forms such as Online I-9 or W-4 to sign. This helps to ensure compliance.
OnPay allows you to create a library using the built-in templates or create your own. You can create an offer letter to new employees that you customize, saving you time every time you hire a new employee.
All documents created in OnPay are stored and accessible by employees at all times.
OnPay will also automatically report any new hires to your state. This saves you time and hassle.
Creating a checklist of documents and tasks for events such as annual review cycles or incident reports can be time-consuming. It is possible to create checklists completed by certain employees, such as those who need more training. This will help you keep track of everything and give your management team some peace of mind.
It's also possible to delegate tasks not directly related to HR. For example, you can designate someone to be your onboarding buddy. This is a great way to ensure every employee feels welcome at your company.
A built-in messaging service is also available. This makes communication easier for managers and employees. It also creates a paper trail that makes it easier to recall actions taken in meetings.
Administrators will be notified if a document becomes obsolete. This allows them to fill in the necessary paperwork quickly.
Time Management and Scheduling
OnPay makes it easy for employees to request time off. Managers can approve or deny these requests and add comments to their responses.
In calendar form, you can view all time-off requests that have been approved or pending. This makes it easy for employees to keep track of PTO requests. This is a straightforward but helpful feature.
Gusto has similar scheduling features to OnPay, but it does not have OnPay. Employees can't punch in or out of shifts.
It is possible to see who is in and out of your office at any given moment. However, it lacks some of the Gusto features. To address this aspect, integrations such as TSheets can be used.
Benefits
What about employee benefits. OnPay offers employee benefits at every price point, including vision, medical, and dental plans (with licensed brokers).
You can also get automatic withholdings and safe harbor plans, contribution matching, employee onboarding, and education for 401(k) retirement plans. This integration is made more accessible for admin staff to handle.
OnPay also handles workers' comp. OnPay will make sure you are compliant in all states. You can also get workers' compensation pay as you go. Automated payments are available, so you can easily and quickly update the system if your team changes.
Reporting
OnPay provides payroll reports via the desktop app.
Register for Payroll
Earnings summary
Summary for employees
Forgiveness of PPP loans
You can also access many other reports. You can save your custom views and make changes.
Integrations
OnPay has many useful integrations, such as:
QuickBooks
QuickBooks Desktop
Xero
FreshBooks
TSheets
ThinkHR
Magnify
Gusto's Main Features
Let's now take a look at Gusto.
Payroll
OnPay automatically files taxes with the appropriate agencies for payroll. Notifications of missing signatures and forms will be sent to you so that you don't have to worry about losing anything. Even if your employees are scattered across the country, you can still be compliant.
Employees can track their work hours anywhere by punching in and out via their mobile phones. This data feeds into the payroll system and ensures that each employee is paid as they are owed. They can also access their W-2s and pay stubs online. You can also send payday emails to employees.
Gusto Checkout can be an excellent feature. Employees can access funds between paydays if they use them.
HR
You can use Gusto to manage to onboard, just like OnPay. Employees can handle their onboarding. It is possible to create custom messages of welcome and sign-up forms, which new employees can use. They can also use e-signing for necessary forms. This allows you to go paperless.
Templates can also be used to send offer letters. These templates can be customized. The documents are kept in an employee document vault. This vault is safe and encrypted so that you can access them whenever you need it. Some tasks, such as notifying the employee's state, are taken care of automatically.
You can access a variety of templates through OnPay. These templates include job descriptions, job evaluations, and termination requirements.
You can get anonymous feedback from employees. This anonymous survey is an excellent way for employees to give feedback and feel secure giving their opinions.
Time Management and Scheduling
You can customize your time-off policies to fit your business. Additionally, you can make certain days of importance for your company black so that no one can request time off. Employees can quickly request days off and paid time off. All approved requests will automatically be synchronized to the team calendar and the payroll.
You can also use Google, iCal, or Outlook to schedule essential dates.
Benefits
You can either continue to use your existing benefits broker or use one of Gusto's brokers. With more than 3500 options, you can keep up with your dental, medical, and vision plans.
You can also manage 401(k), retirement plans, life and disability insurance, savings accounts, commuter benefits, and more. All of this is linked to the payroll system.
Reporting
Gusto makes it easy to create and download reports. These include:
The Payroll Journal provides detailed payroll information for every pay period.
The Benefits Report shows the deductions of employees and contributions made by companies.
Agency Payments – Shows federal, state, and tax deposits
Bank Transactions – All payroll-related bank transactions
Year-to-Date Report – Shows total earnings, taxes, and pay for every employee
These reports are easy to understand and can easily be shared with other team members.
Integrations
Many integrations are available for Gusto.
Xero
QuickBooks Computer
QuickBooks Online
FreshBooks
TSheets
Shopify
OnPay vs. Gusto – Support
What is the difference in support between them?
OnPay
OnPay offers a help center with articles and guides to help you make the most out of your services. Customer support can be reached via email, phone, and live chat. The customer service team is friendly, helpful, and prompt in responding to questions.
Gusto
Gusto offers a support center that provides articles and helps users get started with their platform. To access customer support, you will need an account. Support is available by phone or via a ticketing system. Although they have an excellent reputation for being helpful and friendly, they may take a while to respond to your queries, especially during busy times.
OnPay vs. Gusto – Pricing
OnPay and Gusto have very different pricing models, so let's compare them.
OnPay
OnPay's pricing depends on the number of employees. Instead of having different pricing plans for certain features, OnPay allows you to access all the tools it offers. However, the pricing will vary depending on how many employees you have.
They charge $4 per person per year and a $36 base rate per month. Take this example:
Ten people – $76 per month
50 people – $236 per month
100 people – $436 per month
500 people – $2036 per month
Only the amount of people you pay in a month will be charged to your account. For example, if you are paying freelancers or contractors, you will only be charged for the month they work for you.
Smaller businesses can also benefit from this feature since you won't pay for any features you don't need. OnPay can be used by any business, even if you only have one employee.
Gusto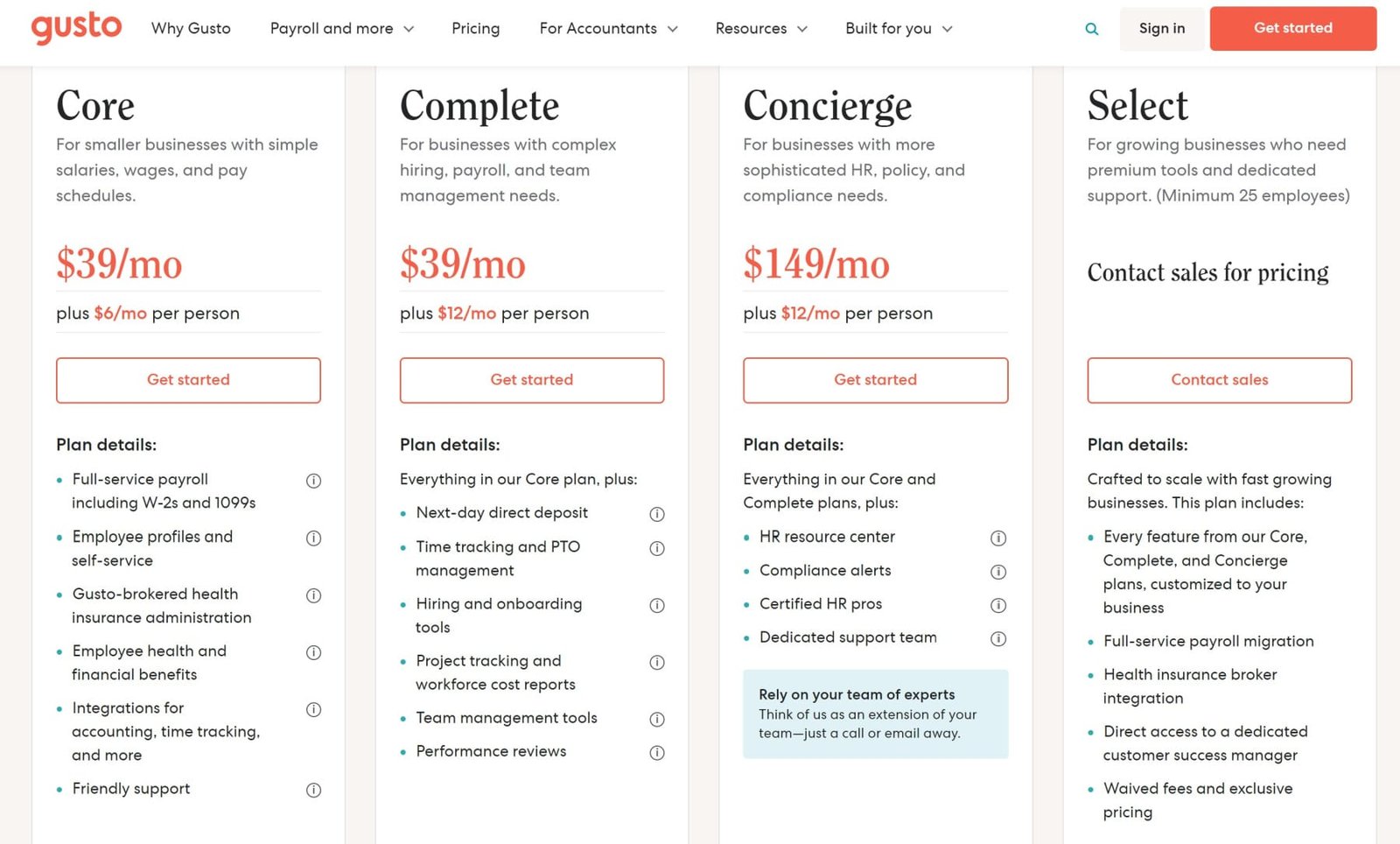 Gusto offers four pricing options:
Contractor – $0 per month base price + PS6 per month per person

Unlimited contractor payments
Self-service for contractors
Filings and creation of Form 1099
Core – $39 per month base price + $6 per month per person

Full-service payroll
Profiles and self-service for employees
Administration of health benefits
Administration of workers' compensation
Best-in-class support
Paid time-off policies
Gusto Cashout access for employees
Complete – $39 per month base price + $12 per month per person

Everything in the Core Plan
Permissions
Onboarding and employee offers
Simple time tracking
PTO policies and requests for time off
Surveys and employee directory
Concierge – $149 per month base price + $12 per month per person

The Complete plan contains everything
Support that is best in class
Certified HR Professionals
HR Resource Center
You can find out more about their pricing plans.
Gusto vs. OnPay – Pros and Cons
OnPay
Pros
Simple, flexible pricing
It is simple to use
It makes it easy to remain compliant
Employees have easy access to their personal information
Cons
Some features are missing from similar platforms, such as performance review cycles.
No mobile app, they say it is not needed
Gusto
Pros
Future paychecks are available for employees to withdraw money.
It is straightforward to get onboard
It's easy to remain compliant.
It is easy to run your payroll every month
Cons
Is there no mobile app?
Sometimes customer support is slow to respond
Most Frequently Asked Questions
These are the top questions regarding OnPay and Gusto.

Question: Can I send employees abroad?

Answer: Yes. You can pay employees from overseas as you would with US-based employees using both Gusto and OnPay.

Question: Will my employees receive emails each month with their pay stubs?

Answer: Yes. With both OnPay and Gusto, you can send employees automatic emails with their paystubs.

Question: Can OnPay and Gusto be used on a Mac and PC?

Answer: Yes. Both are cloud-based platforms which means that you can access them from any internet browser.
Question: What alternatives do you suggest?
Answer: We can recommend a few other options.
Paychex lets you manage payroll, keep compliant, and monitor employee benefits. It is easy to use. Learn more about our Paychex Comparison.
Zenefits offers a great platform that provides many benefits to employees. This includes a quick onboarding process, a focus on well-being, and an easy onboarding process. It is available in the Zenefits comparison.
Justworks offers an excellent payroll and HR management platform. It focuses on employee happiness and includes harassment training. It is available in our Zenefits vs. Justworks comparison.
SurePayroll can be an excellent choice for small businesses, such as hiring a cleaner or nanny. This will allow you to keep up with your taxes and paperwork. You can read more in our Gusto vs. SurePayroll comparison.
Let's sum it all: Which is Better?
Both platforms are well-designed and can be used by your management and admin teams to keep track of essential tasks.
If we had to choose a winner, OnPay would be it. We like the simplicity of the pricing system. It is easier for small businesses to get started.
OnPay is available to anyone, even if they only have one employee. You can still enjoy all the benefits of OnPay without having to worry about paying extra for some features. The customer support team is very responsive. This is especially important if you are new to HR services or get stuck.
We do believe that Gusto has a robust platform. Employees find it helpful to access funds before payday and be able to clock in and out wherever they go. Gusto has many benefits, so it is worth looking into.
We hope you found this helpful in helping you choose the right platform for you.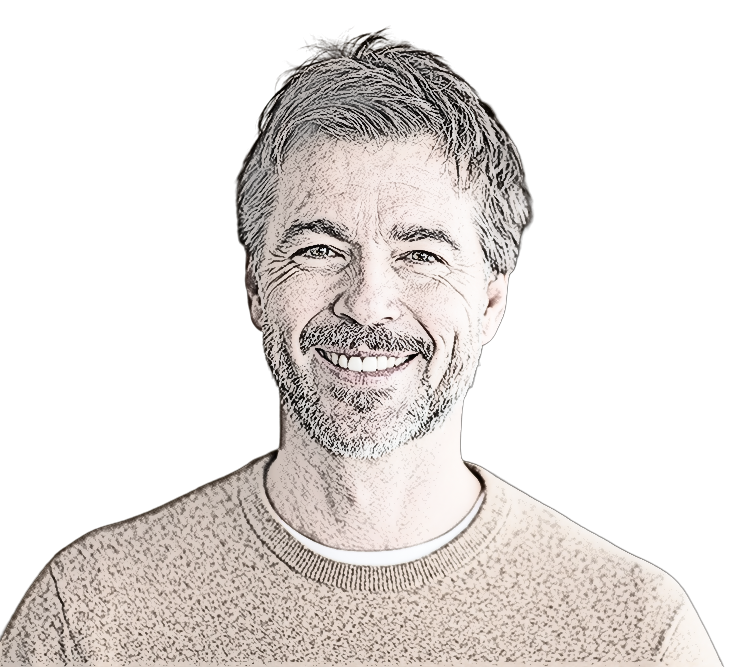 Brian Wilson is the content manager and founder of LLC Radar.
Brian grew up in North Texas, just outside of Dallas, and has a bachelor's degree in business journalism from Southern Methodist University. Since graduating from SMU, Brian has gained over 10 years of experience in business writing for several online publications.
Brian resides in Plano, Texas and he can be reached by email:   info@llcradar.com
Phone: 972-776-4050