Best Incorporation Services (December 2023)
Best Incorporation Services: Forming a startup? These startup incorporation services can assist you with creating your new business venture.
The formation process requires legal assistance, filing documents, and additional steps that must be completed precisely. It can lead to delays, rejections, or issues for your newly-formed company.
These online incorporation services are fast and cost-effective ways to start a business error-free. Online LLC formation plans are available with any of these services on our lists. You can create a single-member LLC or a multi-member LLC. 
This guide covers everything you need to know about the best online incorporation companies available in today.
Starting a new business can be made easier with any of these business incorporation services.
 Our Top 8 Best Incorporation Services
Northwest Registered Agent
Incfile
Swyft Filings
ZenBusiness
LegalZoom
Inc Authority
Incorporate.com
Rocket Lawyer
Prices: Incorporation with One-Year Registered Agent Service
Northwest Registered Agent
$39 + state fee
Or choose a monthly option,
that includes the state fee.
California $37/mo total
Georgis $37/mo total
Texas $54/mo total
Incfile
$0 + state fee
Swyft Filings
$299 + state fee
ZenBusiness
$299 + state fee
LegalZoom
$499 + state fee
Inc Authority
$399 + state fee
Incorporate.com
$400 + state fee
Rocket Lawyer
$250 + state fee
The Editor's Top 8 Picks For Best Online Incorporation Service
Below are the pricing, plan information, and benefits for each of our highly recommended incorporation services.
#1 – Northwest Registered Agent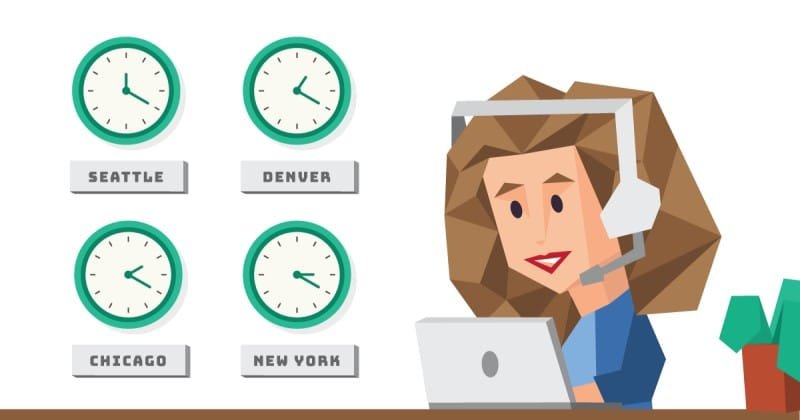 The Best Overall Online Incorporation Service and Best Registered Agent Service
LLC Formation and One Year Registered Agent Service!

$225 Just $39 Our readers get a big discount!

The Leader In Professional Incorporation & Registered Agent Services
LLC, Corporation, and Nonprofit Formations
Business Address & Mail Forwarding
Privacy by Default

North Incorporation Service for Just $39
Northwest Registered Agent offers a national service for registered agents with offices throughout the 50 states.
You can use this organization to form LLCs and corporations in addition to their services as registered agents.
They have everything you need for forming your business, including compliance and document filing.
Northwest Registered Agent is a great registered agent and my favorite because privacy is their specialty. They include a business name and mail forwarding free of charge in your plan.
Video: How to Name Your LLC
Northwest Registered Agent BBB reviews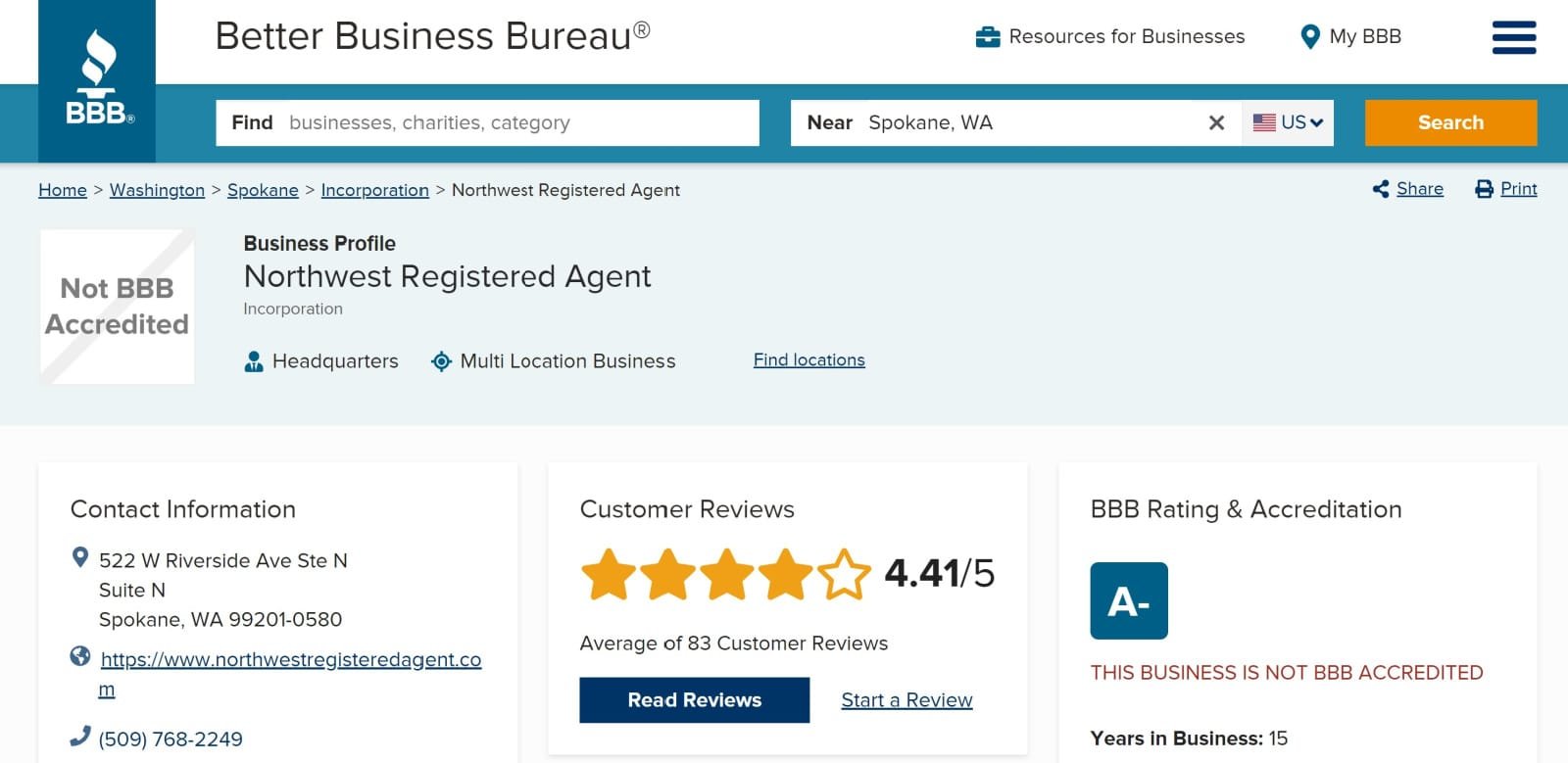 LegalZoom vs. Northwest Registered Agent
 
LegalZoom
Northwest Registered Agent
Notes
LLC price:
$149 + state fee
$39 + state fee
Northwest's filing costs are $110 less
Price for a Registered Agent 
$249 a year
First-year free, then $125/year

Many LegalZoom customers feel that this service can be difficult to cancel.

Approval time:
30 days (unless you pay more)
3-5 business days (in most states)
Northwest is three weeks on average faster
Google reviews:
LegalZoom has 3.6 stars
with 459 user reviews
Northwest has 4.5 stars with
271 user reviews as of
Northwest gets better reviews
Customer support:
It is not easy to get in touch with them. They may try to sell more products.
They are known as the industry standard in customer service with 'Corporate Guides.' No sales pitches.
Northwest offers better customer service. And no "pushy" salespeople.
Data privacy:
LegalZoom sells customer information.
Northwest does not sell any customer information.
 
This incorporation service provider is available to help you obtain an EIN and file your articles. They offer free business name search and assist with business banking. Northwest has positive customer reviews on the BBB.
Prices may vary from one state or another. The Northwest Registered Agent website allows you to view the fees for your state. Visit our Northwest Registered Agent review
---
#2 – Incfile – Best Low-Cost Incorporation Services

Free Registered Agent service for the first year
20 Years Experience
500,000+ Formations
Quick Processing
Incfile is one of the best and most experienced business formation platforms on the market. Incfile was launched in 2004 and has been used to create more than 500,000 businesses.
It's quick, simple, and affordable.
Incfile provides business formation services to LLCs, S-Corporations (C-Corporations), and nonprofits.
Incfile makes it easy to create your business. You only need to pay the state filing fees.
All plans include verifying company name availability, preparation and filing articles next-day, online status tracking, and online document access.
Solid Incfile customer reviews on Shopper Approved average 4.8/5
Registered agent service is also available for free for one year.
Incfile allows you to add premium incorporation services such as EIN services and operating agreements to your base package. You can also upgrade to a package to get all the benefits of your plan. Prices can vary from one state or the another.
---
#3 Swyft Filings – Quickest Incorporation Service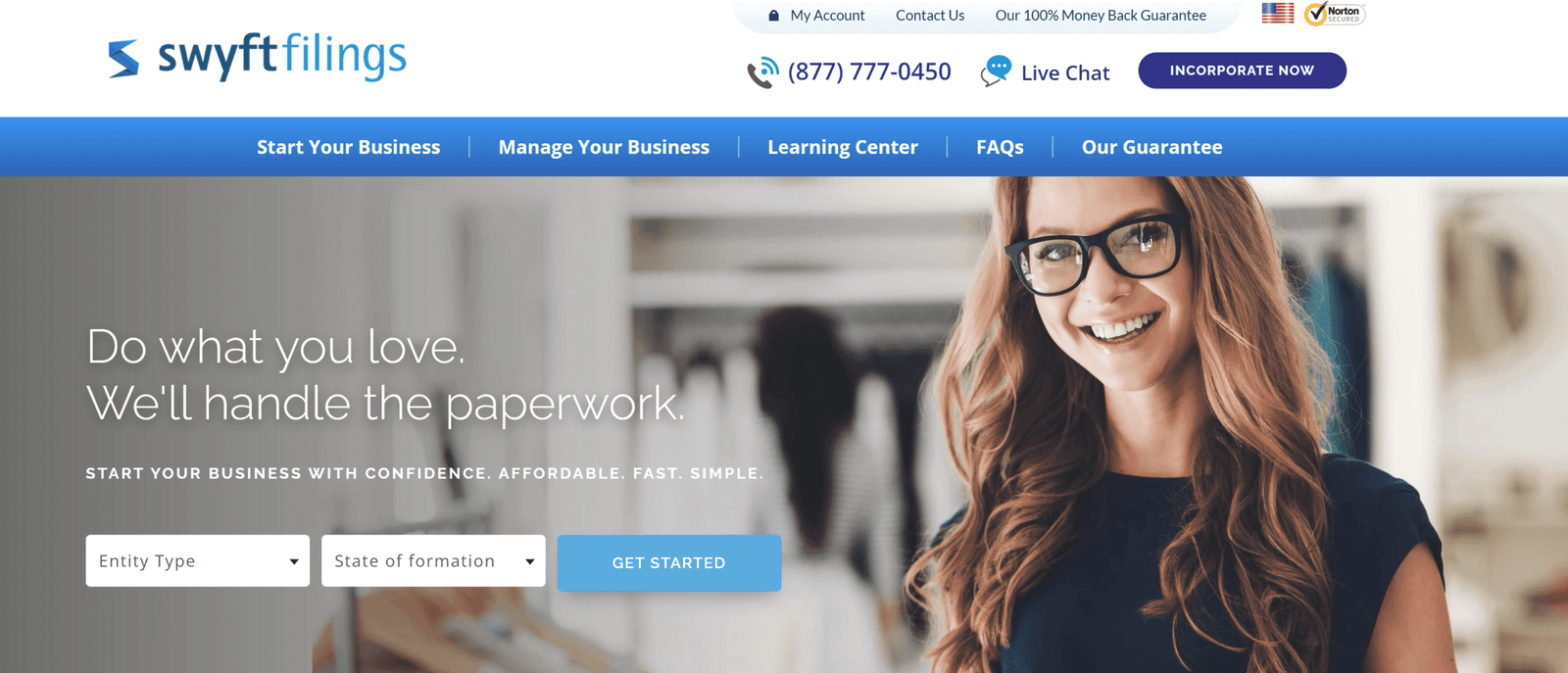 Free Business Name Request
Direct Line To Personal Specialist
Multiple Entity Types
Registered Agent Services
Swyft Filings allows you to quickly and easily form your business online. This service provider can assist with filings and paperwork for LLCs, C Corporations (S Corporations), and nonprofits.
Swyft Filings' incorporation services are trusted by thousands of businesses across all 50 States.
Select your entity type, and then select your state. Swyft Filings also provides EIN services, registered agents services, DBA applications, and 501(c),(3) applications.
Swyft Filings is also available to help you manage your business after being formed. They offer name changes, business dissolution, and changing your registered agents.
Swyft Filings is known for its outstanding customer service.
After signing up, you will automatically be assigned to a business specialist. This person will be your primary contact. You can reach them by email or telephone. You will always be working with the same person to resolve any issues.
Swyft Filings also offers free services for business name searching, which you can access without signing up.
Swyft Filings is an excellent resource for support. Visit their site today to enjoy the many benefits.
---
#4 – ZenBusiness – Best New Incorporation Service
It starts at $49 a Month
LLC Services
Incorporation Services
Registered Agent Services
ZenBusiness allows anyone to quickly and easily start a business.
They offer LLC services, incorporation, and registered agent services. ZenBusiness also provides DBA services (doing business under) names, EIN services, and business name reservations.
ZenBusiness offers many different services. However, the LLC is the most popular.
ZenBusiness makes the process simple, from naming your LLC to selecting a registered representative and applying for your EIN. They can handle all of the filings for Certificate of Formation, Articles of Organization.
Incorporation plans start at $49 per month plus state fees.
The rates may vary based on the state you are located in and your business type. All incorporation plans include name availability searches, online document access, registered agents services, free accounting consultations, and much more.
ZenBusiness has very positive customer reviews on Trustpilot
However, it is worth noting that the Entry-Level Starter Plan does not include an EIN filing. However, it is available with the Pro and Premium plans. ZenBusiness offers fast filing speeds so you can have your documents ready in days instead of weeks.
ZenBusiness is an online platform that makes it easy to incorporate online.
---
#5 LegalZoom – Most Popular Business Formation Services

Incorporations start at $79 a month
Multiple Entity Types
Extensive List of Services
Attorneys Available in All 50 States
LegalZoom helped more than two million people start their businesses. This includes more than 1.6 million LLCs and over 400,000 corporations.
LegalZoom would be an understatement to call them a leader in the field of business formation. You'll find the most extensive range of services offered by LegalZoom in this industry.
LegalZoom can help you decide which type of entity is best for you. They will provide suggestions based upon your business needs.
LLCs
Incorporations: S Corp and C Corp
Nonprofits
Sole Proprietorships
LPs (Limited Partnerships)
LLPs (Limited Liability Partnerships)
DBA (Doing Business As)
LegalZoom is an excellent tool for obtaining business licenses and seller's permits. It also allows you to apply for federal tax IDs (EIN), state tax IDs, and other legal services. You can also use it to get legal advice before or after your business is formed.
Incorporation packages start at $79, plus filing fees. but LegalZoom's pricing is not very great when you consider the needed add-ons that they charge extra for. LegalZoom is the place to go if you are interested in one of the most comprehensive business formation and incorporation services anywhere in the world.
---
#6 – Inc Authority (Nevada LLC Service)
It starts at Free+ state fee (Limited Features)
Consultation in Tax Planning
Premium Plans From $399
Inc Authority makes it easy and quick to incorporation a business online.
The basic incorporation plan is free. You read that right. You just need to pay fees to your state.
Inc Authority will help you to create your corporation for free
Over 5000+ reviews on Trustpilot
Register as a free agent for one year
Name check for business
Preparation and submission of entity formation documents
Formula 2553 preparation and submission
Consulting in tax planning
Digital document storage
However, you can add many valuable additional, such as an EIN ($49), an operating agreement ($89), or express processing ($49) to your free file.
Want to start your LLC? Inc Authority.
---
#7 – Incorporate.com – Best for C-Corp and S-Corp Formations
100+ Years of Incorporation Experience
Registered Agent Services
Excellent Support
Services For Corporations, LLCs, and Nonprofits
Formally Corporation Services Company (CSC), The Company Corporation, Incorporate.com boasts more than 100-years of combined experience in business formation. They have assisted 750,000+ organizations over the years.
Incorporate.com can help you form a C Corporation and S Corporation.
Incorporate.com is well-equipped to deal with the many complexities of forming a C-Corporation. You can also use Incorporate.com to create LLCs and nonprofit organizations.
Incorporation.com is my favorite because it's so simple.
After you give them information about your company, they will handle everything. They are available 24 hours a day to answer any questions.
They provide registered agents, business licenses, bylaws, operating agreements, DBA names, and other business-related services.
Incorporate.com is a quick way to get your C-Corporation or S-Corp off the ground.
---
#8 – Rocket Lawyer – Best for Ongoing Legal Advice
Rocket Lawyer offers many online legal services. It's also a popular choice for business contracts and company formation.
Rocket Lawyer will help you every step of the way, from starting your business to running it after it's launched.
Here's how it all works. Rocket Lawyer is available in two options: per-service or premium members. You will receive the following:
No state fees, free incorporation filing for new members
25% discount on registered agent services (usually $19.99)
30-minute consultations are available for all other legal matters (usually $59.99).
Free document defense (normally $9.99/document)
Online questions are free (usually 49.99 USD per question).
A monthly membership fee of $39.99 is all it takes to get legal advice.
Rocket Lawyer can be tried for free with a 7-day trial.
---
Honorable Mentions
Other Online Incorporation Services
MyCompanyWorks — Fast Setups
MyCompanyWorks is another industry leader within the online incorporation sector. More than 60,000 businesses have been created on this platform since 2001.
They can provide formation services for LLCs as well as S-Corps and C-Corps.
MyCompanyWorks makes it easy for anyone in a hurry to create a company. Orders received before 3 pm EST are processed on the same day. Orders placed after 3 pm EST will be processed the following business day.
MyCompanyWorks can also be an excellent option for your business formation.
Register agent services
DBA file
Simple online dashboard
Lifetime company alerts
Status of your order in real-time
Support by phone from the United States
Pricing starts at $79 and includes state fees.
MyCompanyWorks boasts an industry-leading guarantee of 100% satisfaction. No questions asked; if you are unhappy with any aspect of your purchase, you can ask for a full refund (minus applicable taxes) within 90 calendar days.
Are you in a rush to start your business? MyCompanyWorks will help you.
---
MyCorporation
MyCorporation is another popular option for incorporations. They provide solutions for LLCs, C-Corps, and S-Corps. MyCorporation's LLC pricing is not very great.
Here's a closer view of the pricing and business formation plans at MyCorporation.
Basics — $99 plus state fees
Standard — $124 plus state fees
Deluxe — $224 plus state fees
Premium — $324 plus state fees
The entry-level plan includes articles of incorporation and name availability search. Register agent services begin at the Deluxe level.
MyCorporation allows you to easily manage your filings, change company details, and make other changes after the business has been established. You can also get additional services such as trademark filings or copyright applications.
MyCorporation gives you a free EIN to help you start your business.
---
LegalNature
Registered Agent Services
Incorporations and LLC Formations
LegalNature offers one of the most comprehensive online legal services. They provide legal documents for individuals, landlords, and businesses in a broad range of areas.
LegalNature's business documents are the most requested products on the website.
LegalNature can help you create your LLC, S Corp, C Corp, C Corp, and nonprofit. LegalNature allows you to create, store, and edit your legal documents.
Employer identification number
Register agent services
Articles of amendment
Certificate of good standing
Register foreign entity
Articles of dissolution
Certified copies
LegalNature offers incorporation services starting at $40 per company. Additional services are available for $20 (certified copies) and $125 (registered agents services). Legal document plans start at $84 annually.
Register online, choose your state of formation, and create an account.
How to Choose the Best Incorporation Service For You
There are many options, so finding the best incorporation services can seem daunting. These are all factors to consider when shopping for and evaluating different service providers.
Following the steps below will make it easier to narrow down your choices.
Type of Entity
You must first determine what type of business your goal is to start.
Limited Liability Company
C Corporation (C-Corp).
S Corporation (S-Corp).
Certified B Corporation (B Corp).
DBA (Doing Business as) Name
Sole Proprietorship
Limited Liability Partnerships (LLP)
Nonprofit
Some incorporation services might not provide solutions for all these options. Even if all providers offer the same services, they might be more proficient in one area than another. You can choose to have a formation service help you determine which type of entity is best for you.
Value
Consider more than the cost of the services for business formation that you're considering. What are the actual benefits?
The term "free" is not always a guarantee that you will pay zero dollars. Incorporation service providers may offer many freebies but charge more for essential services. Do not fall for the lowest price advertised on the site's homepage.
Although other providers may advertise higher prices initially, those plans provide everything you need to start your own business.
Additional Services
You must choose a company formation service that can handle all aspects of your business. There are also other services you should consider:
Register agent services
EIN filings
Legal consultation
Search for available business names
Legal document management
Trademark and copyright registration
Tax consultation
Articles of amendment
Certificate of good standing
Licenses for business
You can go on. You'll be better off choosing some services if you expect to have many questions for an attorney once the business is established.
Customer Service
What kind of support are you looking for in the service?
You will sometimes be connected to a dedicated business expert by phone. Other providers offer live chat, ticketing, and email support.
Also included in this category is the time taken to set up your business. Some services will offer quick processing automatically, while others may charge extra for expediting the process.
---
Nolo
Nolo has been providing legal services for longer than any other website. Unfortunately, this hasn't led to a top-quality LLC creation service. Nolo has prolonged turnaround times and offers unnecessarily expensive partners to purchase services.
We didn't enjoy these things:
Unnecessarily high cost of partner services – unlike the services we recommend, Nolo relies heavily on third parties for many of its formation services. Adding insult to injury, Nolo marks up the costs of these services for no reason.
BizFilings
Even though it's a highly-specialized service with more than two decades of experience, BizFilings failed to impress us due to multiple factors that include,
their overall cost

their filing speeds

and their policy of registering customers into their registered agent program with no option to opt-out at the time of online sign-up
Things we didn't like:
Pricing – The basic BizFilings service is priced at $99, while the more expensive tiers cost $229, $359, and so on. Additionally, the registered agent service costs $199 per year, significantly more than the typical. It's because they don't offer sufficient value to justify these high prices.
Harbor Compliance
Harbor Compliance provides various business and corporate compliance services for corporate and industry compliance. Harbor Compliance also offers a limited LLC formation service. However, we do not recommend it due to its unreliable pricing and expensive cost.
What we didn't like:
Harbor Compliance offers very expensive LLC registrations. Harbor Compliance only has one pricing level, which costs $399. This price is unjustified when you consider that you can avail of all the same included services at less than half the total cost with alternative firms.
---
FAQs About Incorporation Services
What is an incorporation service?
Many incorporation companies offer additional services for starting and running a business. Incorporation services assist new business owners in filing and submitting their Articles of Incorporation, which are the documents that officially register a business in a state. Online incorporation services offer many services, including registered agent, corporate bylaws, annual reports, and business license searches.
Can I incorporate it online?
Yes, you can! You can fill out the Articles of Incorporation by yourself or an incorporation provider. Then, send them digitally to the appropriate authorities (usually the Secretary of State office in the state where you are incorporating).
Which is the best service for online incorporation?
Northwest Registered Agent was our highest-scoring service. Northwest Registered Agent was a great service, with excellent customer support and competitive prices. They also had a fantastic website and received many positive reviews. Also, Incfile and Swyft Filings scored well.
Which is the best way to incorporate?
Many incorporation services, such as Active Filings and Inc Authority, offer free incorporation services in their most basic plans. However, basic free bundles often do not include services we consider essential such as corporate bylaws drafting or registered agent service.
Where can I register my online business?
Many companies offer online incorporation services, but Northwest is our favorite.
What are the advantages of having my business incorporated online?
Online incorporations are often faster and more affordable than traditional ones. Your overall processing time can be extended by sending your documents via postal mail. This could add up to days, if not weeks. Online incorporation providers also have the expertise to make sure your documents are correctly filled out and filed with the proper authorities.
How does incorporation work?
Although the process may vary from one state to the next, incorporation involves filling out and filing Articles of Incorporation. These documents contain basic information about the business's name, address, industry, and owner. These documents allow a business's official recognition by the State.
Which state is best to be incorporated?
In most cases, your home state is the best. Some states like Delaware have very business-friendly laws and tax codes. Delaware, for example, has very business-friendly laws. However, incorporating your business in another state will often result in you paying unnecessary taxes and fees.
What's the difference between an LLC and a corporation?
Although both LLCs (Limited Liability Companies) and corporations are business entities, they are treated and taxed differently. While LLCs are owned individually by members, corporations are owned and controlled by shareholders. However, both LLCs and corporations offer substantial liability protections.
---
Conclusion
Which is the best service for business formation? It all depends on what you're looking to achieve.
Northwest Registered Agent, ZenBusiness, Incfile, Inc Authority, MyCorporation, and MyCorporation are all low-cost options for LLC services. If you are looking for outstanding customer service, Swift Filings is an excellent option.
This guide can help you find the best service for your business regardless of your need.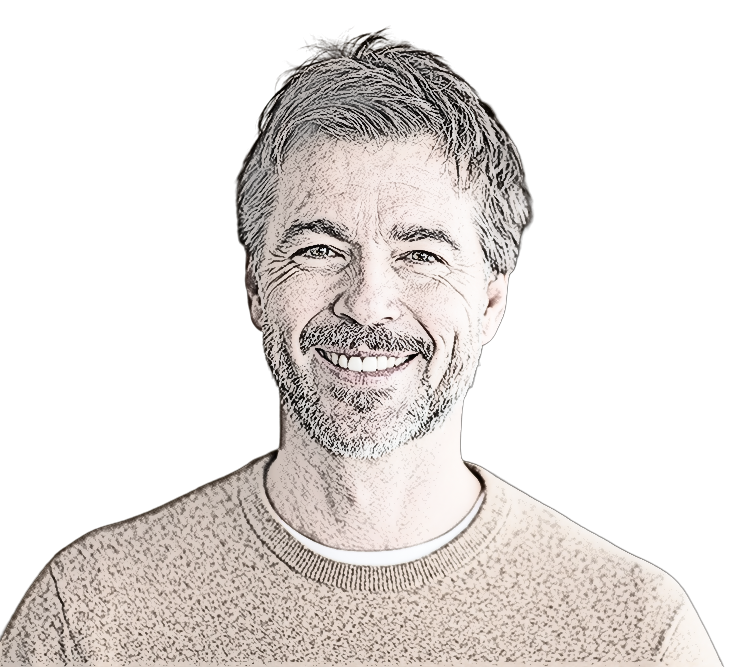 Brian Wilson is the content manager and founder of LLC Radar.
Brian grew up in North Texas, just outside of Dallas, and has a bachelor's degree in business journalism from Southern Methodist University. Since graduating from SMU, Brian has gained over 10 years of experience in business writing for several online publications.
Brian resides in Plano, Texas and he can be reached by email:   info@llcradar.com
Phone: 972-776-4050