CorpNet Overview: Pros and Cons (December 2023)
Learn the pros and cons of CorpNet, a business formation company that provides services related to the formation and registration of businesses.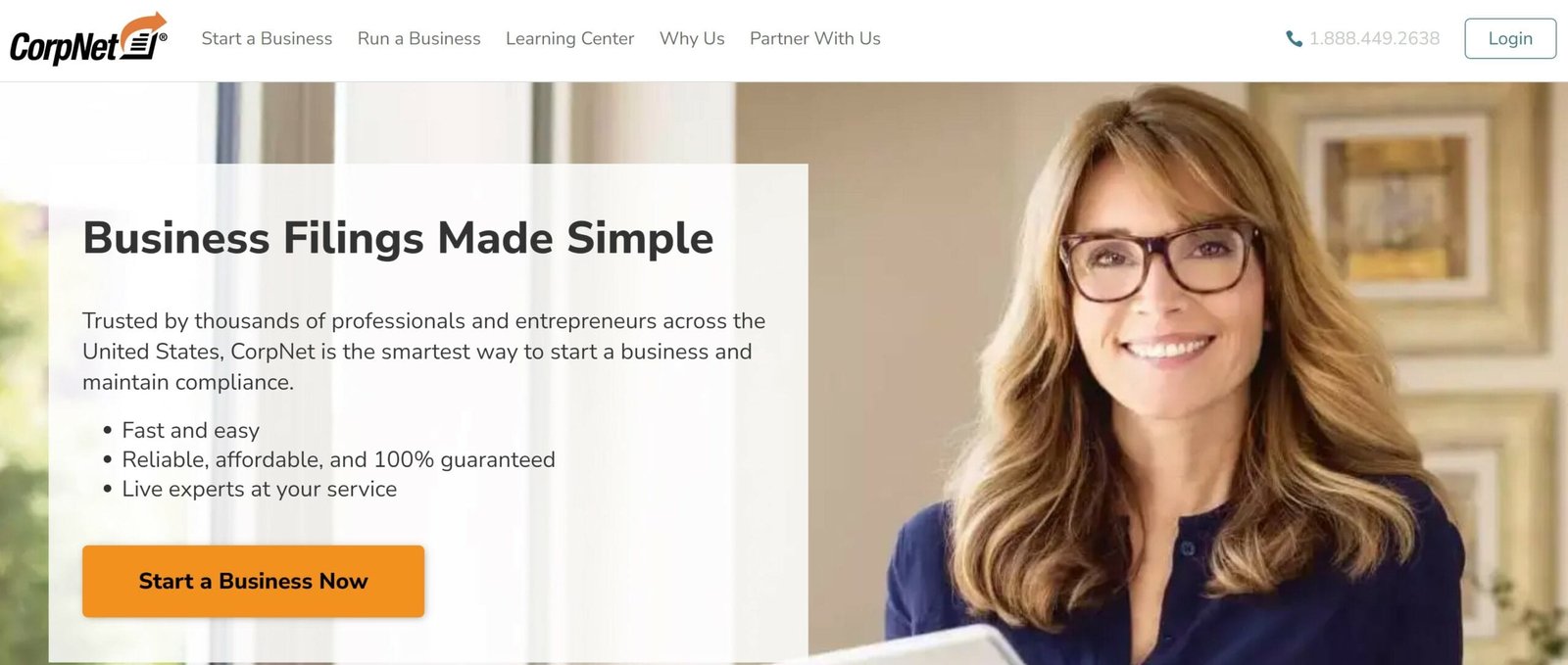 Who Uses CorpNet?
CorpNet is a business formation company that provides services related to the formation and registration of businesses.
1. Entrepreneurs and Startups: CorpNet's services are often sought after by entrepreneurs and startups who are in the early stages of establishing their businesses. These individuals may be launching a new venture or converting their sole proprietorship or partnership into a formal business entity like an LLC (Limited Liability Company) or a corporation.
2. Small Business Owners: Small business owners looking to incorporate their existing operations or form a new business structure might utilize CorpNet's services. They may be seeking the benefits of liability protection, professional credibility, or tax advantages that come with establishing a separate legal entity.
3. Freelancers and Independent Contractors: Many individuals working as freelancers or independent contractors choose to form a legal entity for their business. CorpNet can assist in the formation of such entities, such as single-member LLCs, to separate personal and business liabilities and gain certain tax advantages.
4. Online Businesses: Given CorpNet's online presence, their services are often accessed by individuals operating online businesses. This includes e-commerce stores, digital agencies, content creators, and other internet-based businesses that require proper legal registration and compliance.
5. Business Professionals: Professionals such as lawyers, accountants, consultants, and other service providers often turn to CorpNet when forming their own professional corporations (PCs) or professional limited liability companies (PLLCs). These entities allow them to operate as licensed professionals under a separate legal structure.
6. Franchisees: Individuals interested in becoming franchisees of an established brand may require assistance in setting up the legal framework for their franchise business. CorpNet can provide guidance and services to help franchisees navigate the complexities of business formation.
For more information, I recommend visiting CorpNet's website or contacting them directly.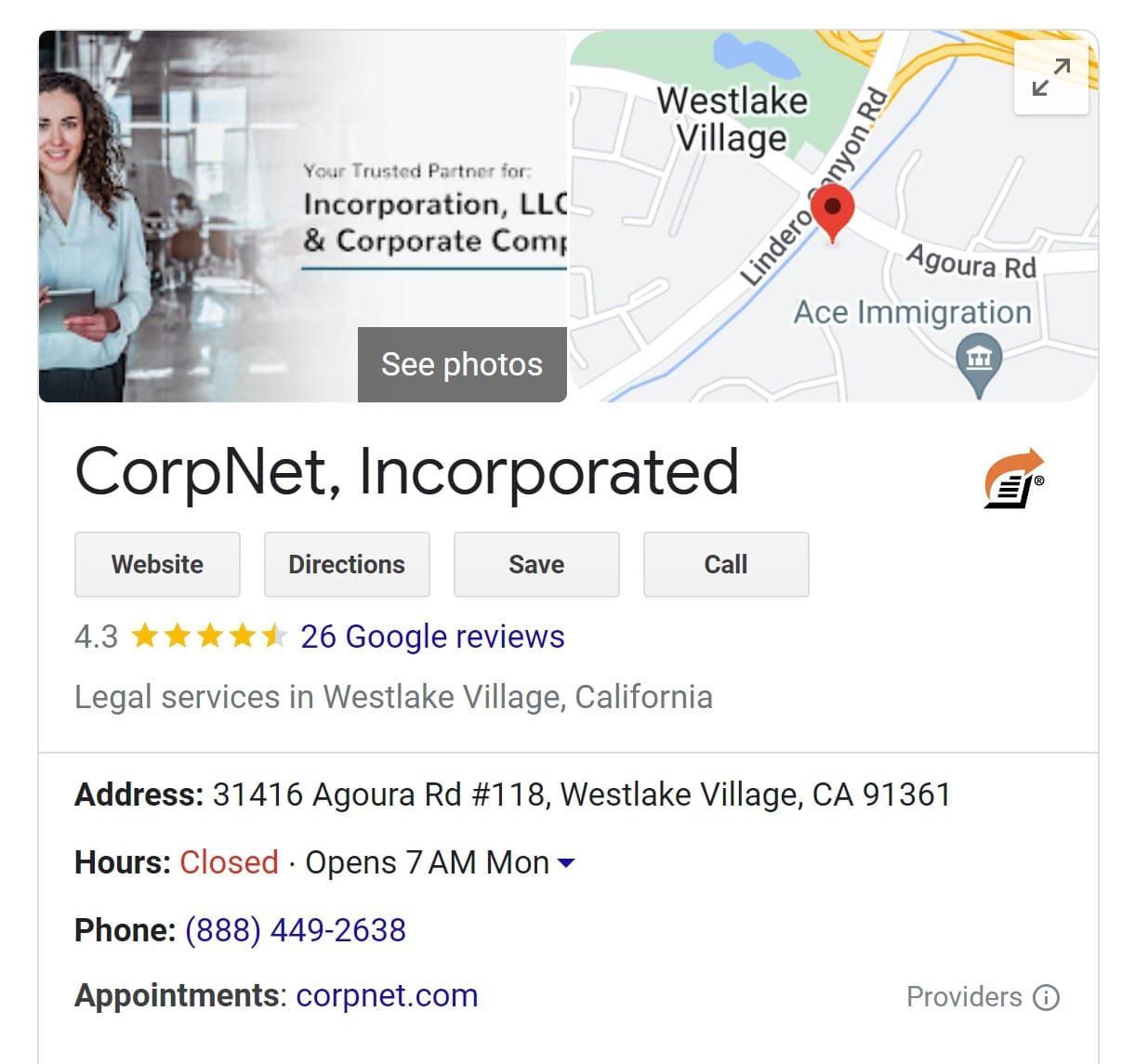 Is CorpNet Legit?
Yes, CorpNet is a legitimate business formation company. It has been in operation since 1997 and has established itself as a reputable service provider in the industry.
CorpNet offers a range of services related to business formation, including entity formation (such as LLCs, corporations, and partnerships), business name searches, registered agent services, and compliance filings.
CorpNet has received positive reviews and feedback from many customers who have utilized their services. However, it's always a good idea to conduct your own research and due diligence before engaging with any service provider.
This can include reading customer reviews, checking their accreditations, and verifying their credentials. Additionally, it's advisable to consult with a legal or financial professional to ensure that the services offered by CorpNet align with your specific business needs and goals.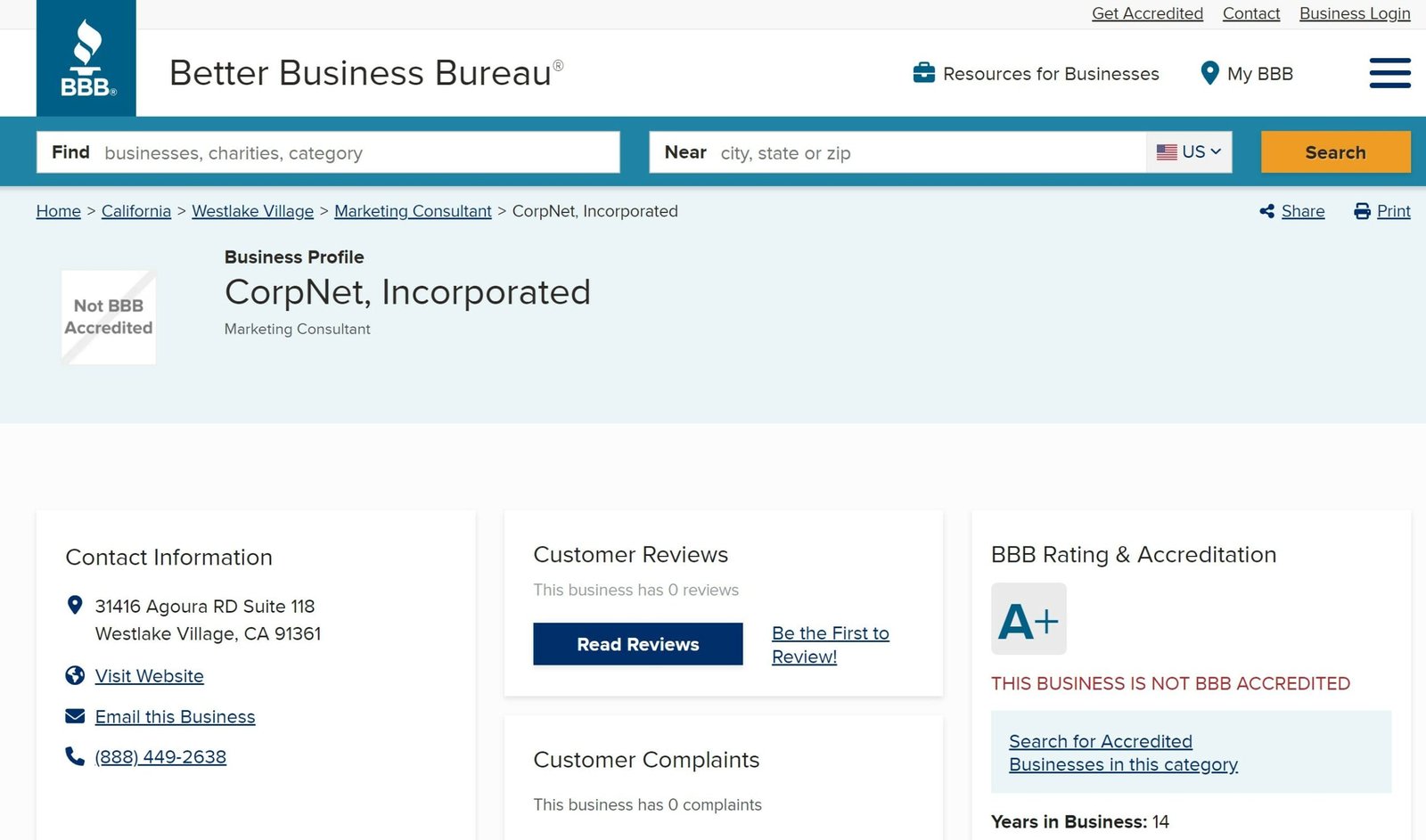 CorpNet Pros and Cons
Pros:
1. Expertise and Experience: CorpNet has been in business since 1997, indicating their extensive experience in assisting with business formations. They have knowledge of the legal requirements and processes involved, which can be valuable in ensuring accurate and efficient service.
2. Range of Services: CorpNet offers a comprehensive range of services related to business formation, including entity formation, business name searches, registered agent services, and compliance filings. This can provide convenience and a one-stop solution for entrepreneurs and small business owners.
3. Online Convenience: CorpNet operates primarily online, allowing customers to access their services conveniently from anywhere with an internet connection. This can save time and provide flexibility, particularly for those with busy schedules.
4. Customer Support: CorpNet aims to provide responsive and reliable customer support. They offer phone and email assistance, allowing customers to seek guidance and clarification on their services and processes.
5. Competitive Pricing: CorpNet's pricing structure is designed to be competitive, offering various service packages at different price points. This can be beneficial for individuals and businesses looking for cost-effective solutions.
Cons:
1. Limited Personalized Advice: While CorpNet provides assistance with business formation and related services, they may not offer personalized legal or financial advice. Depending on your specific situation, you may need to consult with a professional outside of CorpNet to address complex legal or financial matters.
2. Additional Costs: While CorpNet's service packages are competitively priced, there may be additional fees associated with certain services or optional add-ons. It's essential to carefully review the pricing structure and understand any potential extra costs before engaging their services.
3. Limited Physical Presence: CorpNet operates primarily online, which means there may be limited in-person support or face-to-face interactions. If you prefer a more hands-on, in-person experience, CorpNet's online-centric approach may not align with your preferences.
4. Changing Legal Requirements: Laws and regulations surrounding business formation and compliance can vary and change over time. While CorpNet strives to stay up to date with legal requirements, it's important to independently verify any legal information and ensure compliance with the latest regulations in your jurisdiction.
5. Customer Experience Variances: Like any service provider, individual customer experiences with CorpNet may vary. Factors such as customer support interactions, turnaround times, and overall satisfaction can differ from case to case.
It's recommended to read reviews and gather feedback from multiple sources to gauge the overall customer experience.
If you are searching for the best LLC formation service or registered agent service, our top 3 recommended services are Northwest Registered Agent, Incfile and ZenBusiness.
---
What Are CorpNet's Main Services and Features
CorpNet offers a range of services and features related to business formation and compliance. Here are the main services and features typically associated with CorpNet:
1. Business Formation: CorpNet assists with the formation of various business entities, including:
– Limited Liability Companies (LLCs)
– C-Corporations
– S-Corporations
– Nonprofit Corporations
– Partnerships (General or Limited)
2. Business Name Search: CorpNet conducts comprehensive business name searches to ensure the availability of your desired business name and avoid potential conflicts with existing entities.
3. Registered Agent Services: CorpNet can act as a registered agent for your business, providing a physical address to receive official correspondence and legal documents on behalf of your company.
4. Compliance Filings: CorpNet helps businesses stay compliant by handling various compliance filings, such as:
– Annual reports
– Statements of information
– Business licenses and permits
5. DBA (Doing Business As) Filings: If you choose to operate your business under a different name than your legal entity name, CorpNet can assist with filing the necessary paperwork to establish your DBA.
6. Foreign Qualification: If you plan to expand your existing business to operate in additional states, CorpNet can help with the process of foreign qualification, ensuring compliance with each state's laws and regulations.
7. Federal Tax ID (EIN) Acquisition: CorpNet can assist in obtaining an Employer Identification Number (EIN) from the Internal Revenue Service (IRS), which is necessary for various business activities, such as opening bank accounts and filing taxes.
8. Trademark Search and Registration: CorpNet offers trademark search services to determine the availability of your desired trademark and can assist with the registration process to help protect your brand.
9. Business Compliance Monitoring: CorpNet offers services to help monitor important compliance deadlines and send reminders to ensure businesses stay up to date with their filing and reporting obligations.
10. Document Filing and Retrieval: CorpNet can handle the preparation, filing, and retrieval of various business documents, such as articles of incorporation, operating agreements, and amendments.
It's important to note that specific features and services may vary, and CorpNet may introduce new services or modify existing ones over time.
Therefore, it's advisable to consult their website or contact CorpNet directly for the most accurate and detailed information based on your specific requirements.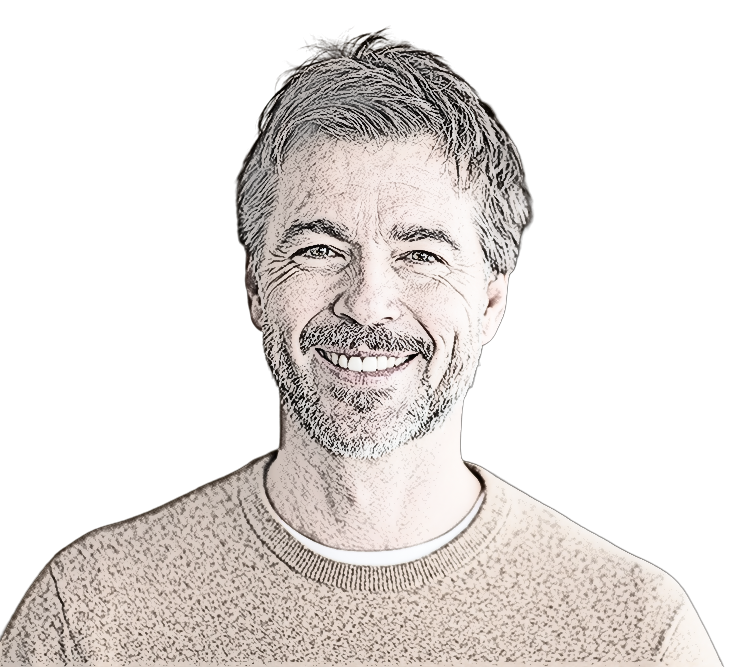 Brian Wilson is the content manager and founder of LLC Radar.
Brian grew up in North Texas, just outside of Dallas, and has a bachelor's degree in business journalism from Southern Methodist University. Since graduating from SMU, Brian has gained over 10 years of experience in business writing for several online publications.
Brian resides in Plano, Texas and he can be reached by email:   info@llcradar.com
Phone: 972-776-4050