Gusto vs TriNet: Which One is Better for Small Business
Gusto vs. TriNet: Overview
Gusto vs TriNet online payroll services.  What's Gusto? Gusto says that they are the easiest way for you to pay your employees. Formerly known as ZenPayroll, Gusto is a modern, delightful payroll.
Businesses can set up and manage payroll from any internet-enabled device in minutes with our comprehensive payroll service.
All taxes and reports related to government payroll are handled automatically and without paper.
Visit Gusto
https://gusto.com
What's TriNet?
TriNet offers HR solutions to businesses, including payroll, benefits, and risk management. It provides leading human resource services to small and medium-sized businesses.
Visit TriNet
https://www.trinet.com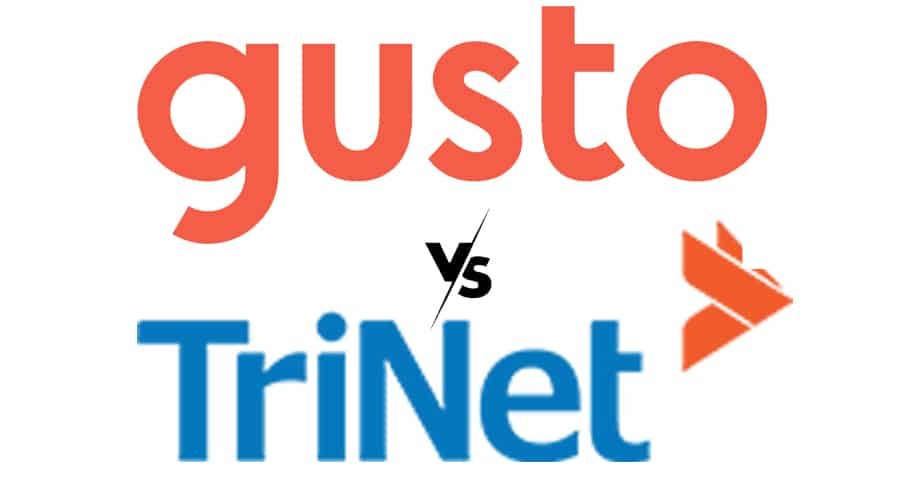 Gusto vs. TriNet and other "Payroll & Benefits" tools can be classified.
Gusto offers some of these features:
Direct Deposit and Checks
Pre-Tax Health Benefits
Deductions and Garnishments
TriNet, on the other hand, offers the following key features.
Management of human resources
Payroll processing is seamless
Secure payroll preparation
TriNet's Main Features

Employee Benefits
TriNet partners with thousands of small businesses such as yours to offer a discount rate on health, retirement, and wellness plans. You can choose from health, vision and dental, 401k, commuter, auto, home, and access wellness programs.
Your company will also be able to manage COBRA and ACA. TriNet offers discounts for employees through an online marketplace.
HR and Compliance
TriNet will connect you with HR professionals familiar with your industry, area, and business size. This is an excellent resource if you have questions regarding compliance in your area or need help managing your staff.
TriNet's HR features include employee onboarding, HR reporting, analytics, policy development and recruitment, termination and dispute management, as well as HR reporting and analysis.
Additional compliance services cover OSHA and workers' compensation. TriNet makes it easy to participate in workers' compensation by offering a pay-as-you-go plan with no deductions or deposits.
Payroll Processing and W-2s
TriNet's payroll software integrates time and attendance tools so you can automatically track your employees' hours, PTO/sick days, and more. This platform allows for direct deposit and expense tracking.
TriNet will prepare W-2s for employees at tax time and comply with compliance guidelines according to federal and state tax regulations.
Training Courses
TriNet has over 500 courses that employees can use to obtain professional certifications. These are organized by industry. The courses cover three main areas: best practices, business skills, and software skills.
All courses are interactive and cover relevant topics. They are also cloud-based. Employees can keep track of their progress and keep track of which courses they have completed.
Security
TriNet employs industry-standard technology to protect your data. All TriNet employees must complete privacy and security training once a year.
Mobile App
TriNet offers a mobile app that works on both Android and iOS. Access tax documents like W-2 forms and W-4 forms. Employees have quick access to their earnings, direct deposit transactions, as well as a breakdown of their checks, including taxes, deductions, and year-to-date (YTD) totals.
The app allows you to submit expenses, and it will let you know if they have been approved or denied. You can also get discounts on tech, groceries, and fitness through TriNet Marketplace. You can log in using FaceID and your fingerprint.
Gusto's Main Features
Full-service Payroll Services
Payroll can be a time-consuming task, but Gusto can run payroll with a few clicks, and it offers an automatic option.
Pay contractors and employees quickly, either hourly or salaried.
Gusto handles all payroll tax filings and forms. It also supports workers from different states.
Gusto can be integrated with popular accounting software such as Clover and QuickBooks Online.
Employee Benefits
Are you a Gusto payroll user but already have benefited from Gusto? Gusto does more than provide payroll software. Gusto integrates financial investments, insurances, and life insurances. Gusto can assist you with transfer services to access multiple services from one location.
Gusto doesn't charge fees to serve as your administrator for your insurance needs. The premiums are a cost that is standard across all plans.
Vision, medical, and dental insurance
Savings accounts for health
Flexible savings accounts
401(k) retirement plans
Commuter benefits
529 College Savings Plans
Insurance for life and disability
Time tracking
Do you have hourly employees? Gusto can help you comply by keeping track of your employees' overtime, lunches, and breaks.
Compliance Assistance
Online access to all employee tax forms (payroll taxes) is possible. Gusto handles all local tax laws, so you don't need to worry about changes in tax laws. Gusto users warn that tax changes may take longer to become effective.
Gusto assists you in complying with the regulations of the following agencies: ACA, ERISA, Dept. of Labor, IRS, and HIPAA.
Onboarding Employees
Are you looking to attract the best talent to your company? Gusto allows you to send personalized offers letters that your prospects won't accept.
Gusto allows employees to sign up for the online payroll service. There is no paperwork to complete upon your onboarding. To reduce errors, employees can input personal and banking information.
Employees have access to pay stubs and benefits packages and the ability to request paid time off (PTO). You don't need to search for essential documents if you have key employee records in each employee file.
Gusto Cashout(TM)
Gusto Cashout benefits are something that your employees will love. This allows employees to borrow money between paydays in case of an unexpected expense.
In just a few clicks, employees can select a customized amount and have money in their accounts within a matter of hours. The amount will be automatically deducted from the employee's current paycheck when the next payday arrives.
The service is free of interest and fees. Employers can also use this service for free.
Employers can protect their employees from over-borrowing by setting borrowing limits based on the estimated earnings of the employees.
Gusto Cashout does not affect your books and payroll. Gusto Cashout is only available to W2 employees of 18+ and has direct deposits. Gusto Cashout is available in all 50 states, except AZ, MA, and ME, WV. IL, NV. NH. NJ. ND. PA. VT. There may be other requirements.
Gusto is currently developing a savings option to funnel money directly from your paycheck into a personal savings account.
Employee surveys
Gusto allows you to collect anonymous surveys from employees. This will allow you to be in the loop when an issue occurs or where improvements can be made.
Gusto vs. TriNet: Pricing
Gusto
TriNet

Starting from $39/mo
The pricing model is based on features
Gusto has four pricing plans available, Core, Complete, Concierge, and Select
Free trial available

No published pricing
No free trial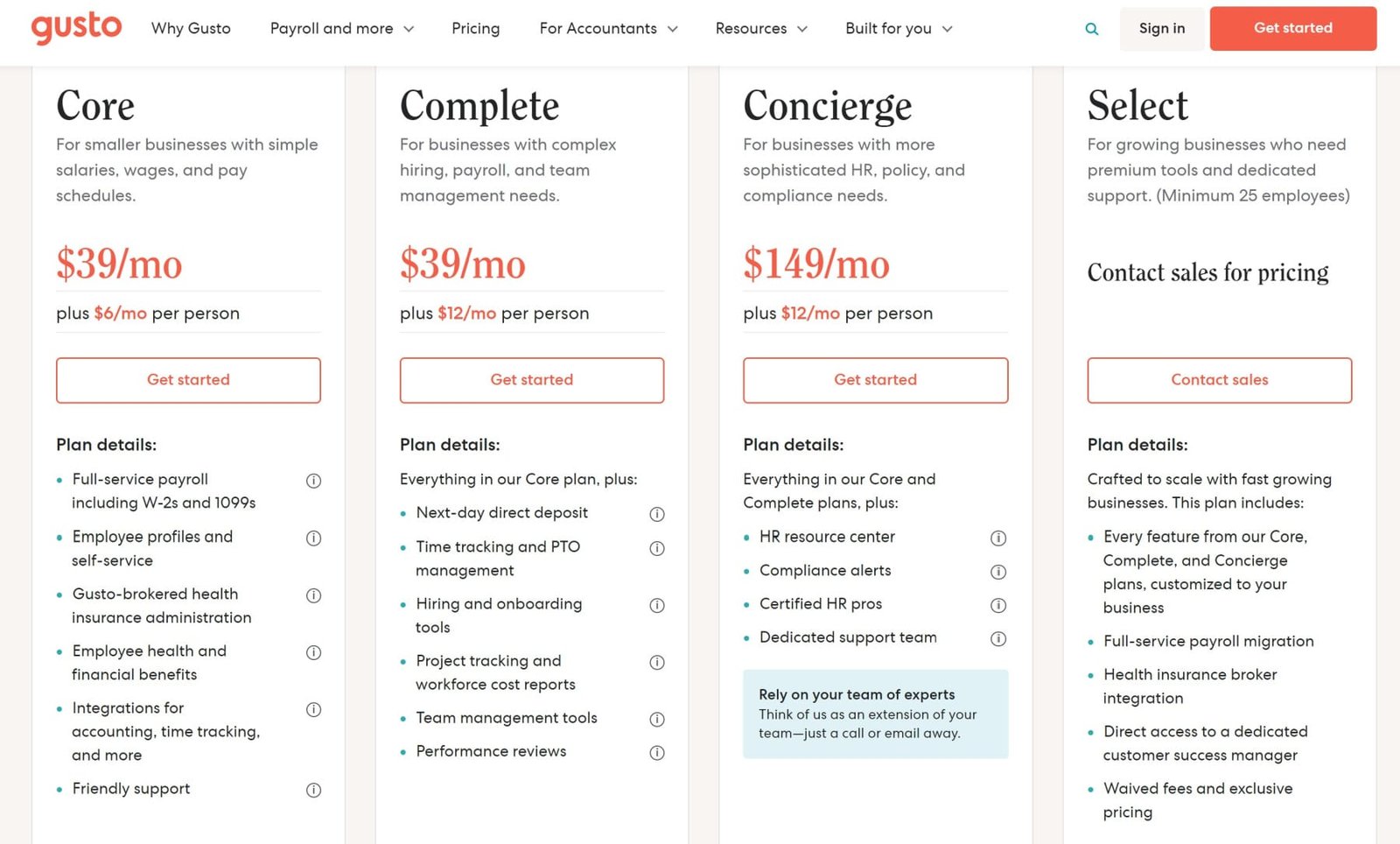 Gusto vs. TriNet: Which one is better?
TriNet vs. Gusto shares many features. Both can handle small- to medium-sized companies' payroll and HR services. Employee onboarding can reduce personal information errors and automate tedious tasks.
Both platforms offer customer service via email, chat, and phone.
TriNet and Gusto offer per-employee pricing, so your monthly bills are predictable.
You may need to choose one of the PEO platforms if the other is unavailable.
TriNet offers a nationwide service that is ideal for remote workers. It offers over 500 courses that are categorized by industry. You don't need to worry about hiring staff or teaching skills. TriNet is an all-or-nothing package, so you may end up paying more than you need.
Gusto offers an EAP program, time tracking options, and employee performance management. You only pay what you use with the a la carte approach to HR offered by Gusto.
Pricing can be complicated because each company selects the services it offers. Also, there are no standard pricing options for health care. With all of the features being considered, I recommend Gusto to small businesses. You can create a customized system with advanced tools and a-la-carte options.
You can also have a dedicated contact for each customer service category (HR, benefits, etc.) This can save you a lot of time if you have a problem that needs immediate attention.
Brian Wilson is the content manager and founder of LLC Radar.
Brian grew up in North Texas, just outside of Dallas, and has a bachelor's degree in business journalism from Southern Methodist University. Since graduating from SMU, Brian has gained over 10 years of experience in business writing for several online publications.
Brian resides in Plano, Texas and he can be reached by email:   info@llcradar.com
Phone: 972-776-4050